Artist eats $120,000 banana at exhibition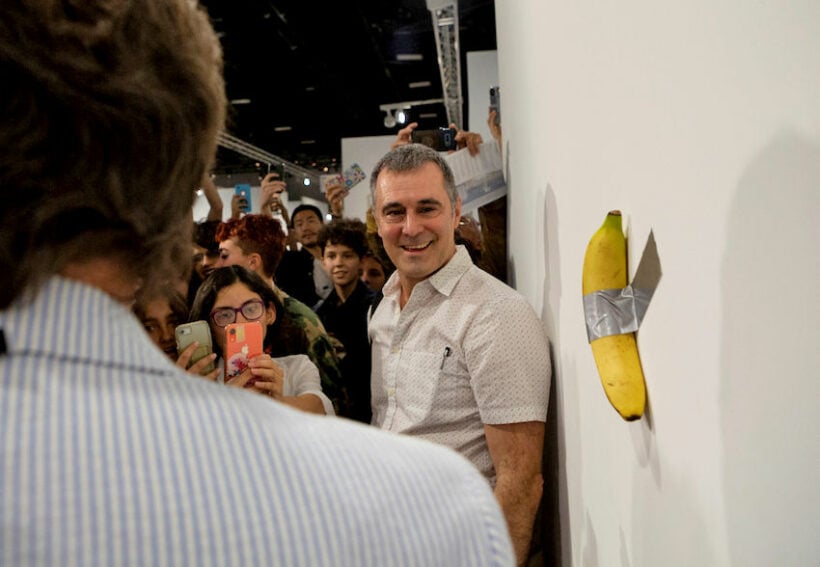 A performance artist shocked a crowd at the Art Basel show in Miami by eating a very expensive snack: an art exhibit that had already been sold for US$ 120,000.
The exhibit, a banana duct-taped to the wall at Galerie Perrotin, was a work by Italian artist Maurizio Cattelan titled "Comedian," and had already been sold to a French collector.
David Datuna, a self-described "Georgian-born American artist living in New York," posted a video on Instagram in which he walks up to the banana, pulls it off the wall with the duct tape attached, and eats it.
"Art performance … hungry artist," he says as he peels the fruit and takes a bite.
"Thank you, very good," he says in the video.
Gallery guests can be heard laughing before staff whisk Datuna away for questioning.
But the commotion was resolved without a food fight, according to The Miami Herald.
"He did not destroy the art work. The banana is the idea," the director of museum relations Lucien Terras told reporters.
"The value of the work is in the certificate of authenticity. The banana is meant to be replaced."
A replacement banana was taped to the wall about 15 minutes after the stunt.
"This has brought a lot of tension and attention to the booth and we're not into spectacles. But the response has been great. It brings a smile to a lot of people's faces."
Cattelan is best known for a fully functional 18 carat gold toilet titled "America" which he offered to lend to US President Donald Trump.
Valued at 5-6 million dollars, the toilet was in the news in September when it was stolen from Britain's Blenheim Palace, the birthplace of Winston Churchill.
SOURCE: Bangkok Post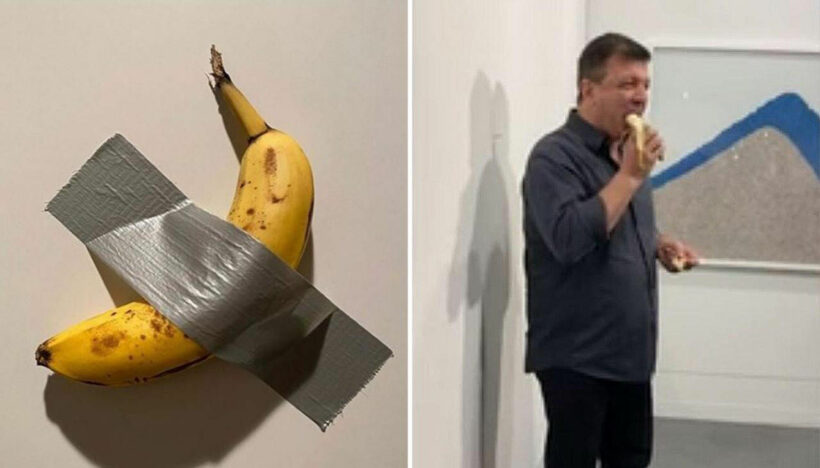 Keep in contact with The Thaiger by following our
Facebook page
.


Find more SE Asian News courtesy of The Thaiger.

Broke? Find employment in Southeast Asia with JobCute Thailand and SmartJob Indonesia. Rich? Invest in real estate across Asia with FazWaz Property Group or get out on a yacht anywhere with Boatcrowd. Even book medical procedures worldwide with MyMediTravel, all powered by DB Ventures.

Coronavirus UPDATE: President Xi addresses "grave situation of the rapid spreading epidemic"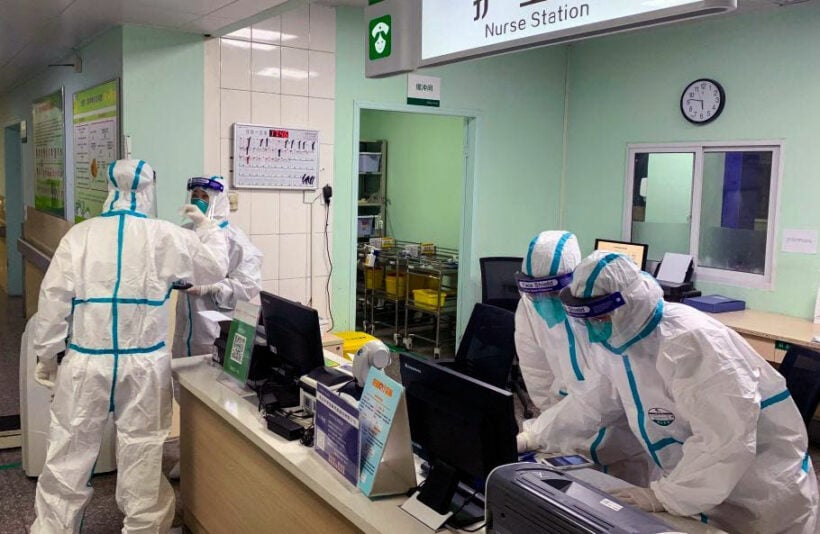 The Novel Coronavirus that infects the respiratory tract and gives patients flu-like symptoms, is now responsible for at least 42 deaths in central China (40 in Hubei), with 15 new fatalities reported yesterday, and more than 1,409 cases in total. At this stage the spread of the virus outside China has been extremely isolated with overseas authorities quarantining any confirmed cases detected. Confirmed cases outside of China remain at 38 this morning (below).
China's President Xi Jinping chaired a meeting with top officials of the ruling Communist Party on the prevention and control of the outbreak yesterday. Xi made it clear that in facing the "grave situation of the rapid spreading epidemic" of the new coronavirus, it is necessary to strengthen the centralised leadership team".
Meanwhile, in France, where 3 cases were detected on Friday, a leading doctor treating two Paris patients says that the illness "appears less serious than comparable outbreaks of the past and that the chance of a European epidemic appears weak at this stage".
• Yesterday, the trade association of Chinese travel agencies announced it would suspend overseas tour groups and flight/hotel vacation packages for all Chinese citizens, effective tomorrow (Monday).
• Chinese President Xi has ordered officials in the Hubei Province (where Wuhan is the capital) to take more rigorous measures to prevent the virus from spreading and to locate all patients in centralised quarantine. He is urging the country's party committees and governments at various levels to fully implement the decisions and policies made by the Party's Central Committee, and make all efforts to mobilise resources to curb the spread of the virus.
• President Xi called for "strengthening the protection of medical staff, ensuring the market supply of materials in need, intensifying disclosure of related information to guide the public opinion as well as the mobilisation of social forces to uphold the overall stability of society".
• All Chinese domestic group and packaged tours were stopped on Friday.
• The Chinese central government says it is sending more than 1,200 health workers, along with 135 People's Liberation Army medical personnel, to Wuhan. The announcement is an unprecedented effort to control the spread of the virus.
• The US government has announced a charter flight for diplomats in Wuhan, according to CNN. The French government has also chartered a bus to transport its citizens out of the city.
• Videos and witness accounts from Wuhan indicate packed hospitals and overworked staff. A new, 1,000 bed hospital is being built on the city's outskirts, which will be ready by February 3.
• In the US, the first two cases of coronavirus were confirmed this week – a man in his 30s who is under observation in Washington State and a Chicago woman in her 60s.
• Confirmed cases of coronavirus in China and around the world now stand at more than 1,400 globally. China has already restricted travel for more than 30 million people, a move considered unprecedented. Medical facilities are struggling in Wuhan, the epicentre of the outbreak, as authorities race to build a new hospital for those affected.
• US President Trump has tweeted his thanks to President Xi and China's efforts to contain the Wuhan coronavirus.
• A Hong marathon running event marathon, due to take place in a couple of weeks, has been cancelled amid fears of the coronavirus outbreak. Organiser assured the event's 70,000 participants that they will receive refunds. Meanwhile, Hong Kong has raised its response level "emergency," and the city's Chief Executive Carrie Lam has cancelled the Spring Festival and Lantern Festival events for Chinese New Year.
Cases outside mainland China…
Hong Kong: 5
Thailand: 5
Australia: 4
Taiwan: 3
Malaysia: 3
Japan: 3
France: 3
Singapore: 3
US: 2
Macao: 2
Vietnam: 2
South Korea: 2
Nepal: 1
SOURCE: CNN
Keep in contact with The Thaiger by following our
Facebook page
.
Coronavirus UPDATE: 15 Chinese cities are now in lockdown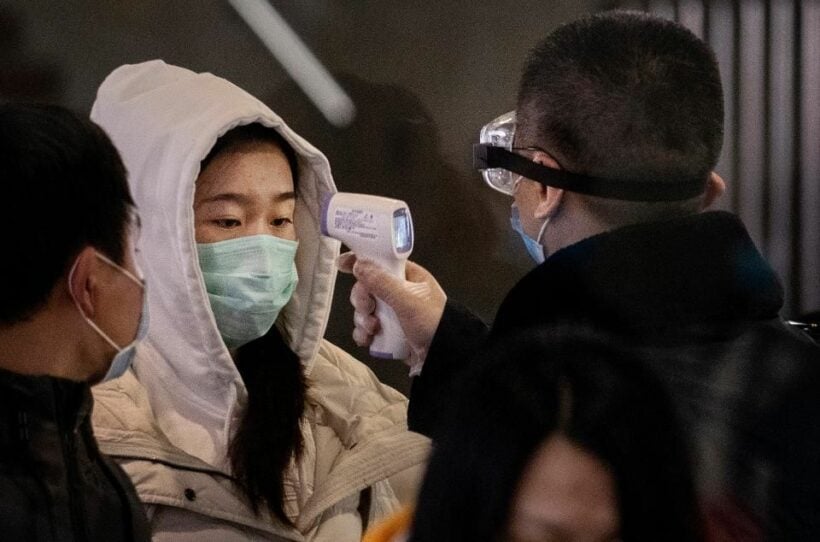 Things are moving fast with the Wuhan novel coronavirus (2019-nCoV) outbreak. Amid dramatic lockdowns of at least 15 Chinese cities, affecting millions, much remains uncertain about the coronavirus and its method of transmission, or the extent of its spread outside central China. International health authorities continue to scrutinise the virus' spread and effects with the World Health Organisation meeting daily to assess the latest situation.
This is what we know today…
• Dozens of people are now dead in China as the Wuhan coronavirus continues to spread throughout Asia and new cases pop up in all corners of the globe.
• To date the death toll stands at 26.
• Almost 1,396 have been infected across the world (as of 6pm Thai time Saturday), the vast majority in mainland China at this stage.
• Today is the first day of the Lunar New Year, but festivities have been canceled in Beijing, Hong Kong and other major cities to control the spread of the virus.
• UK health officials are trying to track down hundreds of passengers who recently arrived from Wuhan into the UK.
• Three cases of the coronavirus have been "confirmed" in France, the first in Europe. The first case involved a 48 year old patient in hospital in the southwestern city of Bordeaux while the other was in Paris. A third person, also in Paris, who is reported to be a close relative of one of the other two, has also been confirmed to have the virus. All three had recently travelled to China and had now been placed in isolation.
• The cases mark the first confirmed cases of the virus in Europe, after the outbreak began in China.
• 56 Indian students have been trapped in Wuhan for three days, with some afraid to leave their accommodation and fear that they'll out of food.
• The previously unknown virus has caused alarm because of its similarity to SARS (Severe Acute Respiratory Syndrome), which killed hundreds across mainland China and Hong Kong in 2002-2003.
• The outbreak emerged in late December in Wuhan, an industrial and transport hub of 11 million people in China's centre, spreading to several other countries including the United States.
• Australia has now declared 4 cases of the Wuhan coronavirus. The first in the state of Victoria, with the patient hospitalised in a stable condition in a suburb of Melbourne. The Chinese national, in his 50s, arrived from China on Sunday on a flight from Guangzhou. Three other cases are in Sydney who arrived from Wuhan. All patients have been isolated.
• The government of Wuhan City is building a 1,000 bed hospital in six days to fight the recent coronavirus outbreak. As the quarantined Wuhan City's existing hospitals are overwhelmed, they have turned to social media for medical supplies and have begun to turn away patients.
• The rapid construction project is a reaction to hospitals running out of beds in an effort to better address the coronavirus outbreak.
• Confirmed cases of the coronavirus have been reported in the US, Vietnam, Thailand, Hong Kong, Japan, South Korea, Macau, Singapore, Malaysia, Nepal and Taiwan.
• On Thursday morning at 10 a.m. local time, the city of Wuhan—a city of 11 million and ground zero for the outbreak of the virus—was locked down. No one was meant to get out of the city. Huanggang, a second major central Chinese city, with a population of 7.4 million, was also locked down. It's the first time such a radical approach to quarantining a virus in an entire city has been attempted.
• 15 Chinese cities are now in formal lockdown, affecting more than 57 million people. All 15 of the cities are in Hubei Province, central China.
• Lunar New Year holiday in China starts today, which normally leads to hundreds of millions taking to the air and to trains to move around the country. But public transportation between cities is being discouraged and some transit stations across the country now closed.
Hong Kong: 5 cases
Thailand: 5 cases
Australia: 4 cases
France: 3 cases
Japan: 3 cases
Malaysia: 3 cases
Singapore: 3 cases
Taiwan: 3 cases
Macao: 2 cases
South Korea: 2 cases
United States: 2 cases
Vietnam: 2 cases
Nepal: 1 case
Keep in contact with The Thaiger by following our
Facebook page
.
A quick guide to the Year of the Rat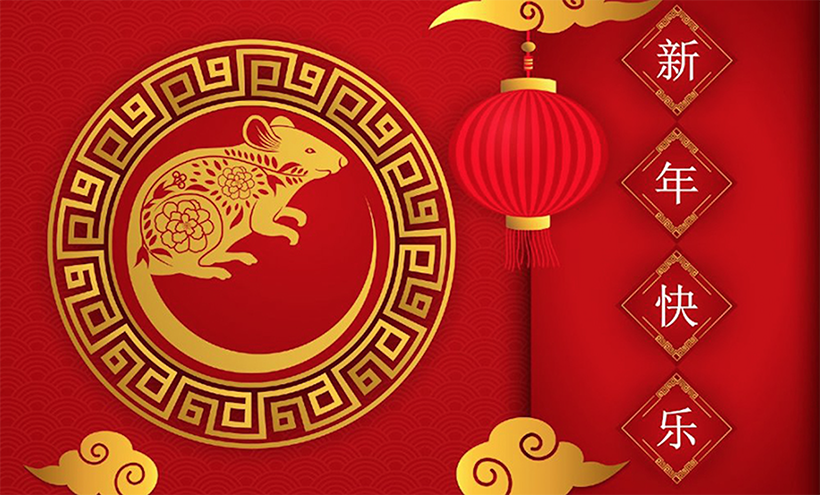 It's the biggest annual celebration of all and sparks off a yearly exodus from the cities of China as families head home, or in many case to travel to other provinces or overseas during the two week festival.
25% of the 7.7 billion world population will Chinese New Year from today. The holiday is also called Lunar New Year and spring festival. People of Chinese heritage take a break and reunite with family and friends.
But why is Chinese New Year at different times each year? Like Easter in the Christian calendar, Chinese New Year is based on the phases of the moon. It begins with the New Moon, so this year it starts on January 25. The festival lasts for two weeks and ends with a lantern festival on the date of the next full moon–February 9, 2020.
The Moon's determining of Chinese New Year means you have to be mindful if you're born in January or February when wondering what your Chinese birth year's sign is.
What's so special about the Year of the Rat?
It's actually a "Gold Rat" or "Metal Rat" year. If you are born in the Year of the Rat, you are said to be quick-witted, resourceful, versatile and kind by Chinese astrologers. You are also driven to create order.
Known as 'Sheng Xiao', the Chinese Zodiac has a 12 year cycle, and every year has a different animal sign. Each 12 year cycle starts with a year of the Rat. But added to that are also five elements that are added to the animals – wood, fire, earth, gold (metal) and water. So it's actually a 60 year cycle. First come Wood Rats, then Fire Rats, Earth Rats, Gold (Metal) Rats and Water Rats. In Chinese astrology each kind of rat, for example, is given different fates and characteristics based on their nature signs.
The 12 signs in Chinese astrology were derived from myths circulating during the times of the Jade Emperor in China. He developed a calendar in the sixth century BC. All the animals in the world were summoned to race against each other. The first 12 animals to cross the line would be awarded signs in the Chinese zodiac.
In the Chinese zodiac, it's your birth year, birth month, birth day, and birth hour that's astrologers take into account, not what month you were born in. The Rat, Ox, Tiger, Rabbit/Cat, Dragon, Snake, Horse, Goat, Monkey, Rooster, Dog and Pig won the prize (must have been a very fast snake!)
So Chinese astrologers study calendars and animal traits, while Western astrologers are more interested in imaginary celestial alignments of constellations, along with the planets, stars and moon.
So what are the next 12 years of animals in the Chinese zodiac?
Rat – 2020
Ox – 2021
Tiger – 2022
Rabbit/Cat – 2023
Dragon – 2024
Snake – 2025
Horse – 2026
Goat – 2027
Monkey – 2028
Rooster – 2029
Dog – 2030
Pig – 2031

Keep in contact with The Thaiger by following our
Facebook page
.