The wheels are rolling for today's Bike Un Ai Rak around Thailand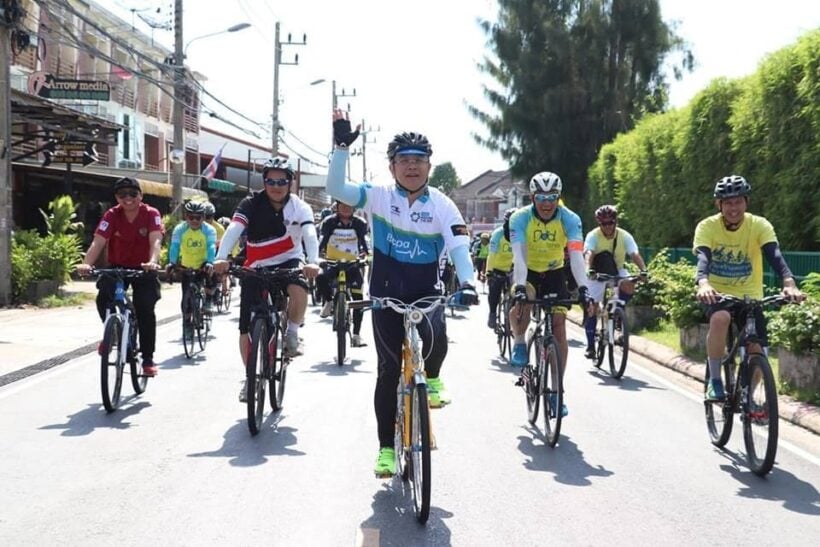 Cyclists were enthusiastically preparing on Sunday morning for the "Bike for Love and Warmth" ride to be led in Bangkok by His Majesty the King and coinciding with other rides starting simultaneously around the country in the afternoon.
Citizens are expected to line the King's 39km route from Dusit Palace's Royal Plaza to Lat Pho Park in Samut Prakan.
The bicycle ride officially opens the second annual "Un Ai Rak" fair taking place in Bangkok from Sunday through January 19.
Immigration Police Bureau chief Maj-Gen Surachate Hakparn affirmed that officers were ready to facilitate both Thais and foreign tourists participating in the rides.
Immigration officers will be at Dusit Police Station ready to help foreigners.
Surachate urged people to wear appropriate clothing and beware of pickpockets in the crowd. Uttaradit was already bustling on Sunday morning as an estimated 6,000 people began gathering at City Hall, many wearing commemorative yellow shirts, ready for a 29km ride.
Among them was 65 year old Prasopsak Sornlam, who'd already cycled 60 km from his home in Pichai district, starting out at 6am, and five year old Plairung Akarapitak, participating with her family.
In Phuket, more than 6,000 people registered for the ride from Phuket Town to Nat Chalong and back. Today's event will cover 27 kilometres.
In Chiang Mai, some 10,000 people have registered for a 27 km ride from the International Exhibition and Convention Centre, passing various attractions before returning.
Provincial health official Dr Thoranee Kayee said 10 ambulances, 26 first-aid bikes and 40 medical personnel were ready if needed, and participants could undergo health checks and get medical advice prior to the start.
In Lampang, 5,400 people had registered for a 29km ride from the Government Complex past the city pillar shrine, Wat Saen Muangma, the train station and the Prince Bunyawat Wongmanit Monument to the Lampang Clock Tower.
Merging with the main riding group at different points will be disabled riders starting from Bunyawat Road, elderly cyclists coming from Ban Chiang Rai and Tha Krow Noi roads, and a youth group starting from Chatchai Road.
Keep in contact with The Thaiger by following our
Facebook page
.
Never miss out on future posts by
following The Thaiger
.
Khao San Road remains empty during the day, night crowds keep the street alive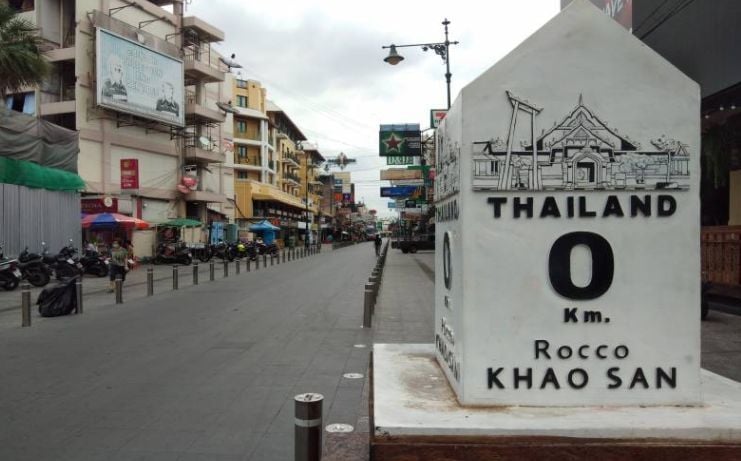 Without foreign tourists at Bangkok's infamous backpacker mecca, Khao San Road has gone quiet. While nights draw local crowds, it's not what it used to be and the once bustling street remains empty during the day time.
While locals frequent the nightclubs and bars on the street, Khao San Road is not nearly what is was like before the pandemic. The deserted street during the daytime is an ongoing problem, according to the head of Khao San trader's association Sanga Reungwattanakun. He says before 5pm, the street is empty.
Before the pandemic, Khao San Road generated a revenue of 1 billion baht each year and 99% of the customers were foreigners, Sanga says. Visiting the street has been considered a "rite-of-passage" for foreign backpackers.
The area is known for being crazy with party hostels, cheap alcohol and balloons filled with laughing gas. It's also known for its eclectic street food like scorpion on a stick. During the day (pre-pandemic), tourists would get massages, go shopping, get some food or grab a drink. (or 2.. or 3…)
Without the foreign tourists, many of the hotels on the street are closed and Sanga says some traders were just too slow to adjust to the new market conditions.
During the lockdown, Khao San Road had a facelift. More than 48 million baht was put into the area for major renovations like leveling out the road and footpaths, adding some gutters and designing space for emergency vehicles.
Since the road's official reopening with a Halloween event in October, local officials have been trying to figure out ways to pump more life into the street. The campaign "Go to Khao San 2435" was recently launched to try to draw more people to the area. Nightly opening hours have been extended to 1am, but the daytime still remains a problem.
SOURCE: Thai Visa
Catch up with the latest daily "Thailand News Today" here on The Thaiger.
Keep in contact with The Thaiger by following our
Facebook page
.
Never miss out on future posts by
following The Thaiger
.
Thai Constitutional Court official files contempt charge against protest leader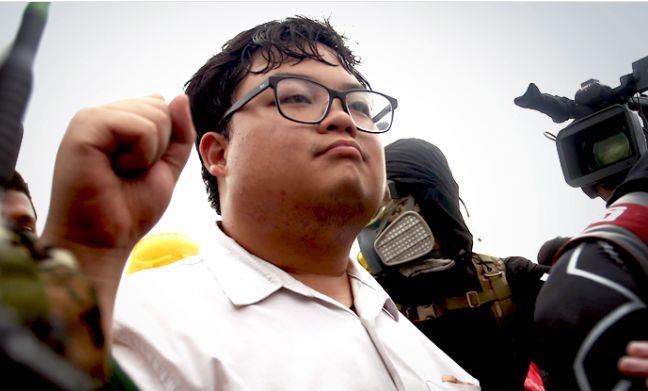 A student protest leader is facing charges of contempt after he made statements on Facebook critical of the Constitutional Court ruling to acquit PM Prayut Chan-o-cha, allowing the Thai prime minister and former Army General to continue occupying a military-owned residence. Critics have argued that allowing Prayut, a retired general, to say at the Army residence is a conflict of interest.
Director of the Constitutional Court's litigation office and police officer, Montri Daengsri, filed the charge against pro-democracy protest leader Parit "Penguin" Chiwarak. Montri says the Facebook posts made by Penguin were defamatory to the court and had tarnished its reputation.
In addition to the Facebook posts, Montri says the protest leader made an offensive speech following the court ruling at the Lat Phrao intersection in Bangkok. He says the speech was defamatory and violated Thailand's Criminal Code. Police are investigating the claims to determine if charges should be pressed.
Prayut occupies a military reception house at the 1st Infantry Regiment residential area on Phahon Yothin in Bangkok, according to the Royal Thai Army. Tenants in army welfare houses have to pay for utility bills while those who live in the reception houses, like retirees, do not pay for household expenses and the utility bill is covered by the Army.
The Constitutional Court ruled this week that Prayut did not violate the Charter by occupying the residence. The court says under military regulations, former officers can remain at their Army residence after their retirement at the discretion of the Thai Army commander.
SOURCE: Bangkok Post
Catch up with the latest daily "Thailand News Today" here on The Thaiger.
Keep in contact with The Thaiger by following our
Facebook page
.
Never miss out on future posts by
following The Thaiger
.
Schoolgirl bursts into tears meeting Panasaya, fearing for activist's safety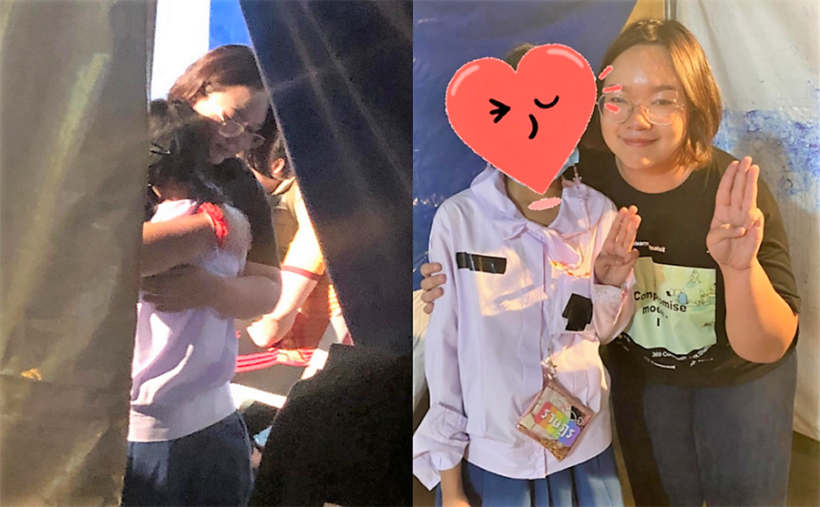 Protest leader Panusaya Sitthijirawattanakul, aka, "Rung", has been pictured consoling a young schoolgirl who broke down in tears, concerned about the activist's safety. Rattapol Kaiipah Promsuwan, who witnessed the exchange, has shared a photo of the moment on social media. She says the girl, who is in Grade 6 (making her around 11 years old), had gone to the organisers' area during Wednesday's rally at the Lat Phrao intersection in Bangkok. There, she asked to meet Panusaya, a hero of hers.
The girl's sister says her sibling has an interest in politics and is concerned about reports that Panusaya faces lèse majesté charges. Thailand's lèse majesté law prohibits insulting, defaming or threatening the nation's revered Monarchy, and carries a punishment of up to 15 years' imprisonment. During her meeting with Panusaya, the girl cried for half an hour, with the student activist trying to console her, and a Facebook photo showing her hugging the child.
Panusaya has received a new summons from the Technology Crime Suppression Division, as a result of a police complaint lodged by royalist supporter, Nitipong Honark, a music composer. She is now being summonsed on December 9, to hear additional charges of lèse majesté and violating the Computer Crimes Act .
Meanwhile, the BBC has named her in its list of the world's 100 most influential and inspirational women of 2020.
SOURCE: Nation Thailand
Keep in contact with The Thaiger by following our
Facebook page
.
Never miss out on future posts by
following The Thaiger
.