Swedes skate from Chiang Mai to Singapore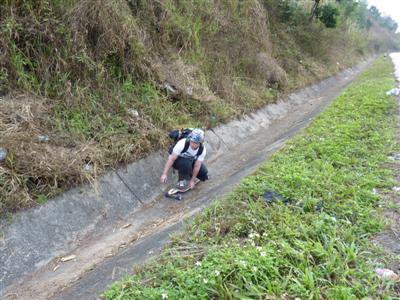 PHUKET TOWN: Two Swedes who are skating almost 5,000 kilometers from Chiang Mai to Singapore are on course to roll into Phuket next month for a quick respite – and maybe a foot massage or two.
Education workers Jim Petersson, 25, and his girlfriend Maria Larsson, 29, have endured high speed spills, heat and exhaustion, but say they're relishing the long slog south.
Skating from 30 to 90 kilometers a day, Petersson is riding a long board skateboard and Larsson is strapped into rollerblades.
At the time of writing, the pair had skated through 10 Thai provinces and were 160 kilometers from Bangkok. They left Chiang Mai on January 16.
The pair plan to arrive in Singapore in June.
"No one has ever skated this route before. It has taken over a year of planning for us to prepare," Petersson said.
The couple are skating to raise funds for the Swedish Childhood Cancer Foundation.
They have already raised 18,000 Swedish krona (81,000 baht). Their target is 50,000 krona (223,000 baht).
Petersson said he drew inspiration from the distance skating Guinness World Record holder New Zealander Rob Thomson, who skateboarded 12,000km across the USA, Europe and China in 462 days, ending in Shanghai in October, 2008.
With 8,180 fans following their progress on their Facebook page and plenty of Swedish media interest, Petersson welcomes the positive response for their cause.
Thais have also shown support for the pair's adventure on this country's highways.
"People in the North have been stopping and asking what we're doing. Most of them clap and cheer for us," he said.
One family invited the pair into their home for food, but as much as they enjoyed the local fare, Petersson has to be mindful of what he eats due to his allergies to curry, nuts, beans and peas.
With no support vehicle and the daily slog of skating busy highways, avoiding potholes and living out of small backpacks, Petersson said life on the road is tough, "but it's the only way for us."
Maria fell badly after hitting a pothole on their skate between Kamphaeng Phet and Nakhon Sawan, sustaining cuts and bruises to her leg.
Petersson has a sprained back and bruised foot and elbow after he lost control of his board on a steep descent en route from Mae Tha to Lampang City in Lampang Province.
But breaking his board, not bones, is Petersson's greatest fear.
Petersson said they trained hard in Sweden to prepare for the trip.
Training involved 100 kilometer skates from his home in Eringsboda to his girlfriend's hometown of Kristianstad in southern Sweden.
"At home I never use my car. I skate to work, I skate everywhere," he said.
Jim's custom long board is specially designed for distance skating: "Super-light carbon fiber, suspension and oversize wheels built to withstand small stones in the road," he explained.
Maria's inline roller blades are also designed for endurance and have 90mm wheels built for speed and durability.
Traveling light for obvious reasons, the pair carry three changes of clothes, a towel, a camera, a laptop and Petersson's numerous allergy medications.
Sleeping wherever they can find guesthouses along the way, the pair said they are indebted to locals who have helped them bed down for the night.
In Thailand on 60-day tourist visas, the pair say they will arrive in Phuket on March 10, extend their visa 30 days and roll on down to Satun and enter Malaysia.
They plan to coast down Malaysia in under two months before eventually arriving in Singapore.
If they make it, the pair will fly to Bangkok and then back to Sweden.
Petersson said plans are already in place for his next international skate.
"My brother and I will skate from Germany to Italy this summer, but we'll have to wait and see how our Asian adventure works out first," he said.
For more information, see Petersson's blog at mrjimonlongboard.blogspot.com or visit www.mrjimonlongboard.com.
— Fraser Morton
Keep in contact with The Thaiger by following our
Facebook page
.
Less monitoring, more enforcement – Prawit warns northern officials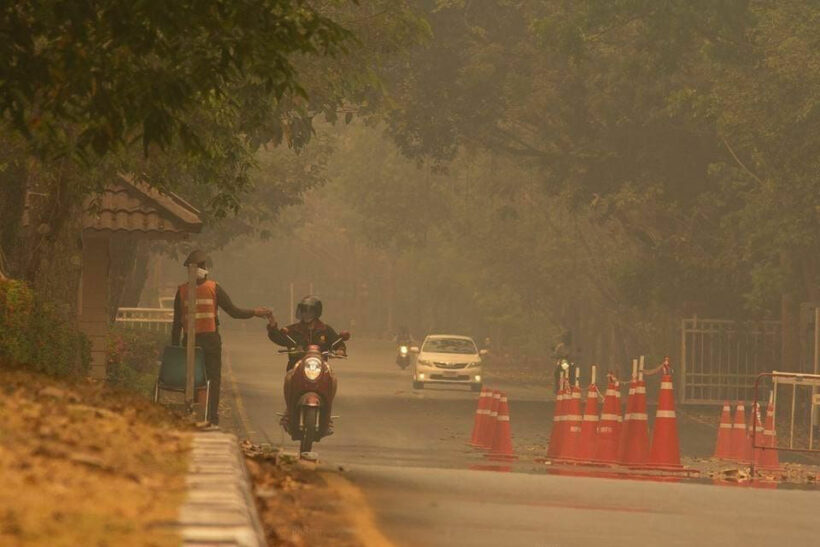 PHOTO: The Thaiger
Thai Deputy PM Prawit Wongsuwan and Natural Resources and Environment Minister Varawut Silpa-archa were in Chiang Mai yesterday to give provincial governors and state agency officials a 'heads up' in preparation for another looming season of forest fires and haze.
The North suffers perennial choking smog from approximately February to April, and Prawit passed on a message from PM Prayut Chan-o-cha who, he said, was fretting over the impact on people's health.
He said the Environment Ministry would take the lead in coordinating with neighbouring countries and related local authorities to monitor the fire problem both in and outside Thailand.
The fires are lit in northern Thailand, and over the border in Myanmar, as burn-offs to prepare for the next year's crops. Last year's choking smoke haze was headline news for months.
SOURCE: The Nation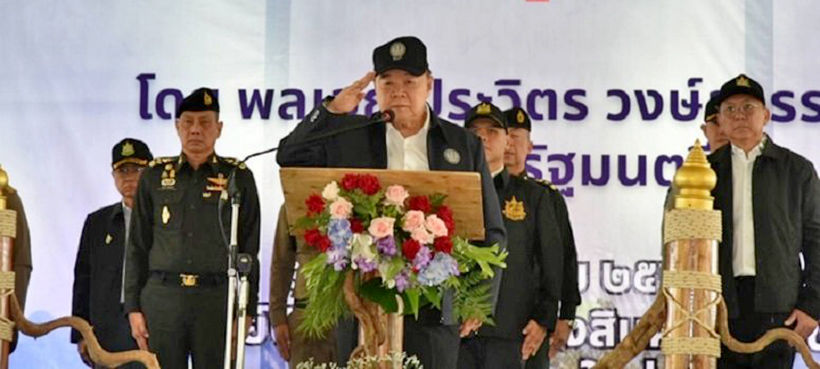 Keep in contact with The Thaiger by following our
Facebook page
.
Chiang Mai hotels face a quiet end to 2019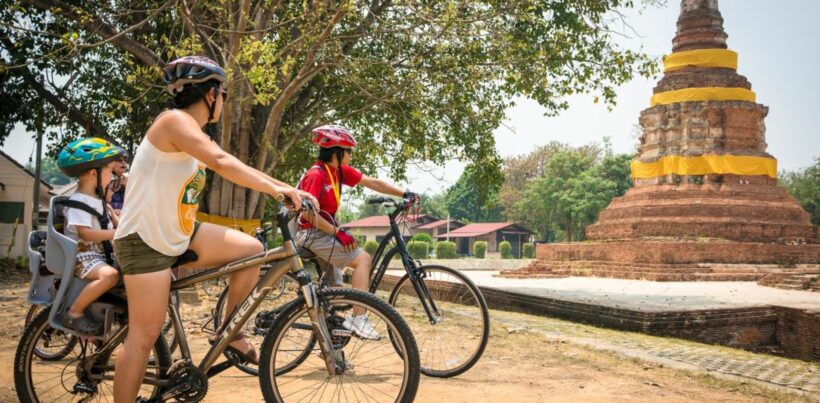 PHOTO: Spice Roads
Chiang Mai hotels are bracing for a quiet end to 2019, along with other Thai tourist hotspots, due to the strength of the baht, an over-supply of rooms and the growing popularity of home-sharing accommodations like Airbnb.
Hoteliers in the northern city are also suffering the fall-out from the smoke haze crisis earlier in the year which put off a lot of forward tourist bookings.
Occupancy rates have fallen in Q3 20%, compared to an 80% rate at the same time last year. Hoteliers say that, usually, this is a relatively busy time for the northern city with school holidays in Europe and China. This year's Chinese 'Golden Week' (October 1-7) was also very quiet compared to previous years.
They predict the average occupancy rate of less than 60% may be the 'norm' for the rest of the year. At the same time the number of rooms in Chiang Mai has risen an additional 10,000 rooms to 60,000 rooms in just two years, so there is a glut of rooms competing for dwindling business.
The rise of home-sharing accommodation in northern Thailand is further exacerbating the problem for the traditional hotel market. Hoteliers are also blaming this year's negative publicity about the smoke and haze during March and April.
According to the Bangkok Post, in the first eight months of this year Chiang Mai welcomed 6.38 million tourists, down 2.2% compared to the same period last year.
SOURCE: Bangkok Post
Keep in contact with The Thaiger by following our
Facebook page
.
Burmese man arrested for dealing in methamphetamine pills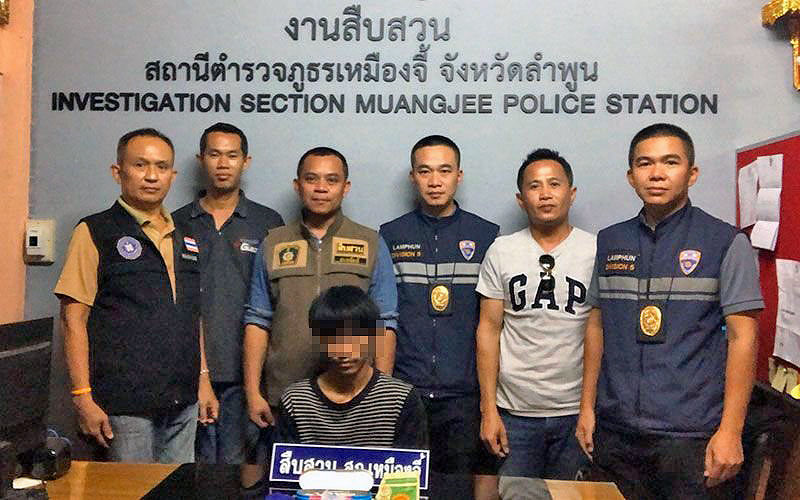 PHOTO: Naew Na
Naew Na reports that a joint operation between Lamphun immigration and the Muangjee police has resulted in the arrest of a 27 year old Burmese man. Lamphun is just south of Chiang Mai and has a large population of Burmese migrant workers.
'Thun' was arrested yesterday along with drug taking equipment and 206 methamphetamine tablets. He was charged with possession of an illicit drug with intent to sell, and using the drug.
He has now been handed over to the Muang Lamphun police for processing and probably deportation.
SOURCE: Naew Na
Keep in contact with The Thaiger by following our
Facebook page
.