Phuket's Soi Dog Foundation opens cat hospital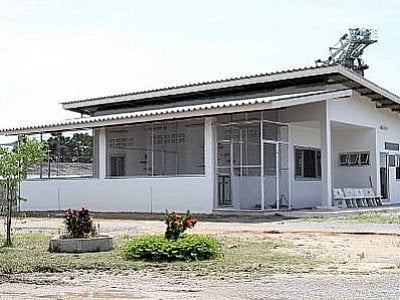 PHUKET: Phuket's renowned animal welfare charity Soi Dog Foundation has opened the island's first facility dedicated to providing medical treatment to cats.
The new "Cat Hospital", which cost more than a million baht to build and equip, opened quietly last week and already has 10 cats in its care.
"Previously, cats have had to be kept in small cages, often surrounded by dogs. The new facility will help to reduce stress and promote rapid healing for injured cats. From what we've witnessed so far, the cats are thoroughly enjoying their new surroundings," said John Dally of the Soi Dog Foundation.
"The hospital will provide much-needed facilities for the many cats that come to Soi Dog for sterilizing and treatment. The hospital boasts its own operating theater, three separate cat 'suites' and two separate outside runs, with the first occupants already enjoying what is probably the best cat facility in Thailand," Mr Dalley said.
Ten 10 felines currently at the hospital are receiving treatment for a variety of ailments, ranging from bites and injuries sustained from traffic accidents to Feline AIDS virus and Feline leukemia.
"Both of these infectious diseases, [feline AIDS and leukemia] sadly, are very common in Phuket," Mr Dalley said.
Construction of the facility was made possible through donations of the many Soi Dog supporters and a generous donation from the registered UK animal welfare charity, the Jeanne Marchig Trust, which donated US$25,000.
"In addition, the wonderful 5th graders of the American School of the Hague in the Netherlands had a successful fund-raising effort to help towards the fitting out of the hospital, which includes operating tables and large individual fitted cages as well as toys and climbing frames for convalescing cats," said Cindy Amey, Soi Dog's volunteer Adoptions Coordinator.
The official opening is planned for January 2012 when Jeanne Marchig is hoped to visit the site in person.
The Soi Dog Foundation has treated 1,476 cats from January 1 through August 31 this year alone.
"Most of the cats are brought to us for de-sexing, although treatment for sickness or injuries is required at times.
"Just recently two kittens brought to us had suffered cuts because they were sleeping on a fan that was switched on by a man. Fortunately for cats, opposed to the ill treatment given to dogs, this is a rare occurrence," Mr Dalley explained.
Upon completion of treatment, cats are normally returned to where they have come from, but kittens are handed over to the Thalang Veterinary clinic for re-homing.
"Generally, Soi Dog does have felines available for adoption. We have a one-eyed kitten rescued on Phi Phi going to France next month," said Mr Dalley.
For more information about the Soi Dog Foundation and its cat hospital, call Cindy Amey on 081-788 4222.
Want more from the Thaiger family?
📱 Download our app on Android or iOS for instant updates on your mobile
📧 Subscribe to our daily email newsletter
👍 Like/Follow us on Facebook
🔔 Subscribe to or Join our YouTube channel for daily video updates
Phuket tightens restrictions: No parties, no visits from friends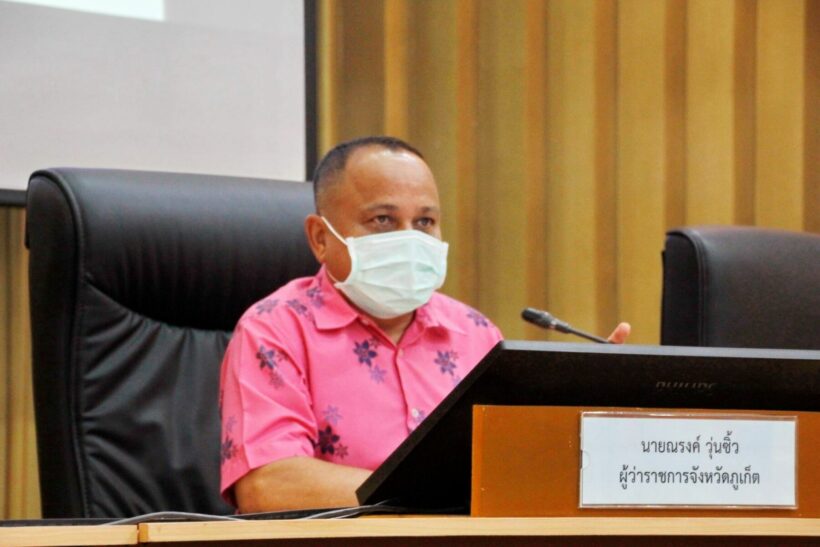 No, your friends can't come over. No parties. No drinking with friends. No large gatherings. As part of Phuket's efforts to stop the spread of Covid-19, local authorities have tightened restrictions and say friends are not allowed to gather at private homes.
"No parties of any kind allowed… No house party, no friends gathering in the residence."
Along with temporary closures of some businesses and venues, the order says, parties involving alcohol are banned and gatherings of more than 30 people are banned. The only gatherings allowed are religious ceremonies like weddings and funerals.
Foreigners who violate any of Phuket's disease control measures could be deported and lose their permission to stay in Thailand. On Sunday, 2 British men in Phuket were each fined 6,000 baht for having a "party." Only 6 people were gathered at the home. Police from the Cherng Talay station came by the home after a call from a neighbour.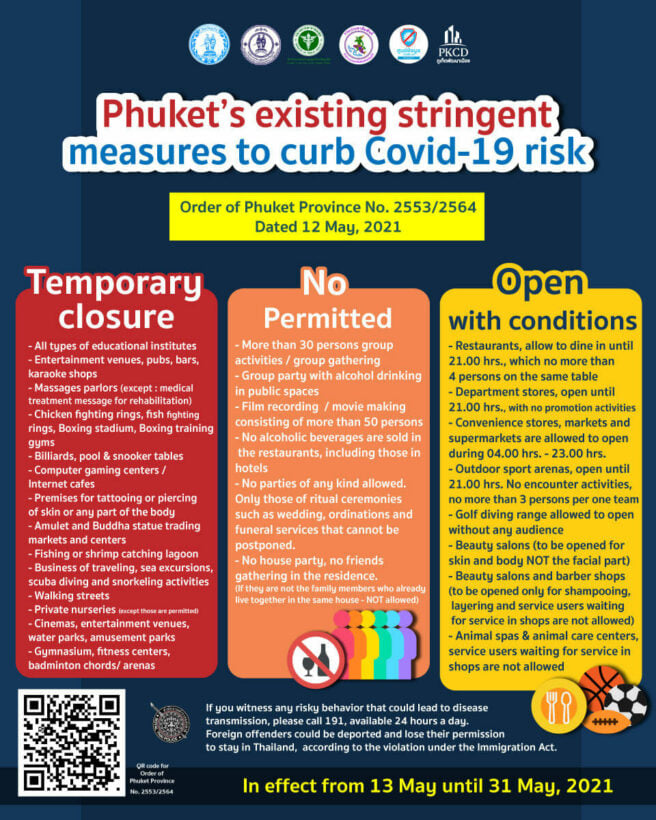 Want more from the Thaiger family?
📱 Download our app on Android or iOS for instant updates on your mobile
📧 Subscribe to our daily email newsletter
👍 Like/Follow us on Facebook
🔔 Subscribe to or Join our YouTube channel for daily video updates
3 organisers of Phuket's Kolour superspreader event charged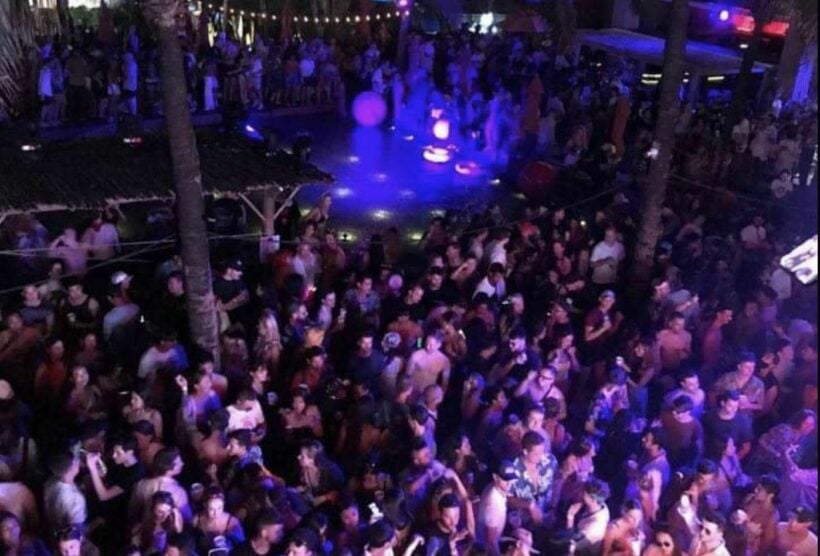 As Thailand still wrestles to control the third wave of Covid-19, much of which stems from entertainment venues in Bangkok and a massive party in Phuket, Patong police announced that the managers of the Phuket venues that hosted the Kolour superspreader event will be charged under the Emergency Decree. The case report was filed with the public prosecutor yesterday according to the Patong police chief, confirming that 3 people will be prosecuted for the event.
The Kolour Beachside Festival was held April 2 and 3 with events at Café Del Mar Phuket in Kamala, and Shelter Phuket Dance and Night Club and Illuzion Nightclub, both in Patong. Before the festival, Phuket had gone more than a hundred days without any new Covid-19 infections, but by April 7 the Phuket provincial Public Health office announced 8 new infections, half of which had been at the Kolour parties. In the following weeks, officials plead for attendees to be tested as infections spread.
Charges were delayed in being filed to the Phuket Public Prosecutor's office as a special investigation committee was ordered to be created to oversee the investigation at the request of Region 8's Police Commander. That committee brought together officials from various law enforcement in the area including the Patong Police, Kamala Police, Phuket Provincial Police, and the Region 8 Police to investigate the Kolour event before anyone was charged.
The manager of Café Del Mar, along with the managing director and the manager of Shelter and Illuzion, which are under the same management team, will be charged for the Kolour festival violating Thailand's Emergency Decree that was declared to help protect the country from Covid-19 outbreaks. A breach of the Emergency Decree can be held liable for up to 40,000 Baht and 2 years in jail under Section 9 of the Decree.
The latter 2 are also facing charges of operating an unlicensed entertainment venue. This carries the possibility of another year in prison and a fine of up to 60,000 baht, in accordance with Thai Law under Section 26 of the Entertainment Place Act.
SOURCE: The Phuket News
Want more from the Thaiger family?
📱 Download our app on Android or iOS for instant updates on your mobile
📧 Subscribe to our daily email newsletter
👍 Like/Follow us on Facebook
🔔 Subscribe to or Join our YouTube channel for daily video updates
Phuket woman impaled by steel rod in motorbike accident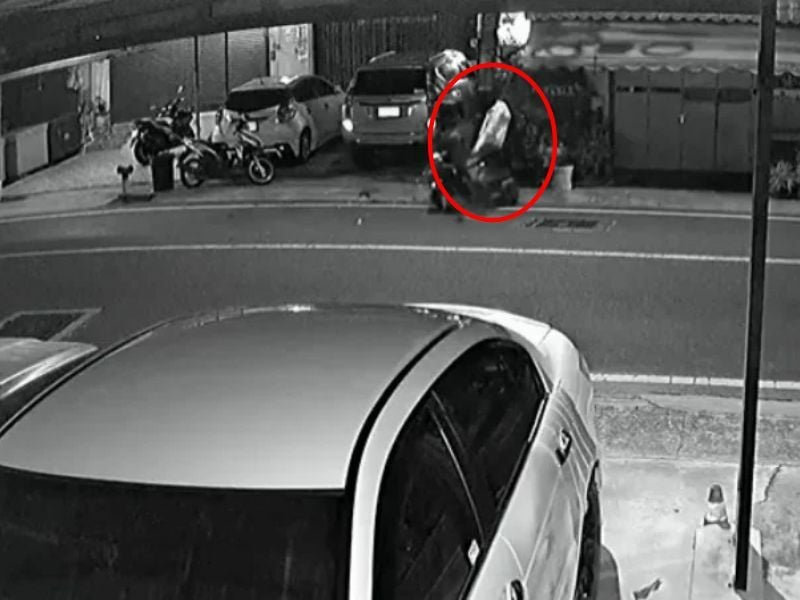 Police were called to the scene of a gruesome motorbike accident just after midnight in the Kathu area of Phuket, where a woman was impaled by a steel rod. The 34 year old woman crashed her motorbike into a concrete power pole on Wichit Songkram Rd between the Kathu Shrine and Kathu Municipality. rescue workers responded, and together with police, they arrived to find the woman still hanging from the power pole.
Khanuengnit Onoaun was driving a black and pink Honda Click motorbike and may have been speeding just before being impaled by the rod on the electric pole. Her motorbike was lying nearby the pole with significant damage to the front of the bike and the front wheel.
CCTV footage recovered from the scene suggest that the woman may have fallen asleep and crashed into the power pole. The pole had steel rods protruding from its side that utility workers use to climb when service or repairs are needed to the electrical lines, which is what impaled her when her motorbike hit the pole.
The metal rod pierced the woman's upper chest and went all the way through her body with about 2 inches exposed on the other side of her as she hung from the pole. Rescue workers could not remove her from the steel rod at the scene of the accident safely and instead chose to cut the rod to take her off the electric pole and into an ambulance. Cutting through the steel took about 5 minutes for the rescuers.
She arrived and was admitted into Vachira Phuket Hospital with the metal rod still impaled through her chest. The hospital had no updates about the woman's condition after her motorbike crash other than that she is alive and receiving treatment currently. The police plan on questioning her once she has had time to recover and investigating the incident further if necessary.
SOURCE: The Phuket News
Want more from the Thaiger family?
📱 Download our app on Android or iOS for instant updates on your mobile
📧 Subscribe to our daily email newsletter
👍 Like/Follow us on Facebook
🔔 Subscribe to or Join our YouTube channel for daily video updates