Phuket Sports: She's "Dear' to the heart of Indigo Pearl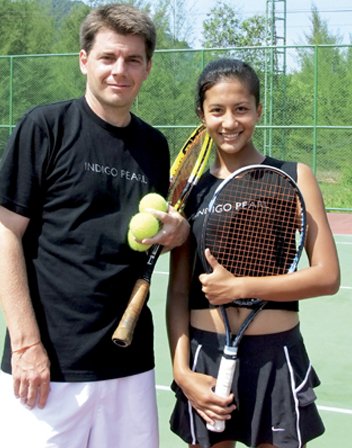 PHUKET: Tennis played well at any level is an enviable pursuit. Those with the physical skill and coordination required to spot a ball traveling in excess of 100 miles per hour, then choose a shot before returning the two and a half inch diameter projectile over a three foot obstacle and land it accurately within a 27ft by 39ft area, deserve admiration. To do it repeatedly over an hour or two requires abnormal focus, and to become a world champion simply defies belief.
Sumitra "Dear" Basnyat is such a talent. This Phuket tennis prodigy presents herself with a grace and maturity that belies her 15 years of age, while her focus and intelligence when she speaks of her chosen sport is a joy to absorb.
Dear and her 'adopted tennis family' kindly arranged to speak with the Phuket Gazette over the sumptuous Sunday Brunch at Indigo Pearl recently to help highlight her quest to be a tennis professional. Indeed, it is Indigo Pearl's GM Kelly Lewis, his family and staff who are championing young Dear in her endeavors.
"Dear's coach Darran Ferre came to work for the resort and brought her to train at our tennis facility. After seeing her play we knew she could do well and decided to offer support," Kelly said.
Living near Phuket Town, Dear makes her way to Nai Yang on a daily basis to go through her drills with Darran, and when possible helps out at the resort with kids' coaching and has even been known to take on a few guests at the resort who are willing to pay for the pleasure of being soundly defeated by the young tennis star.
Speaking with Dear, it becomes evident that she has the mental toughness that top modern sports players require. Her words are deliberate and exude a strength that originates from playing a game requiring a belief in one's own ability.
"I try not to think about things in the game that I can't control. 'Unproductive worries' we call it. Off court, I meditate and keep my mind clear and try to master the game. I don't mind losing a game physically, but to lose a game mentally is more damaging to me," Dear said.
"Patience is very important. For me it's about who is more willing to do the right thing… who can keep it together for the match, and I try to put my strengths against my opponent's weaknesses. I reckon I'm more of an adaptive player than others who just try to dominate the competition," she added.
Darran Ferre offered more insight into his charge's background and future, beginning with how their relationship began.
"Dear came through a community based program set up shortly after the tsunami. She was initially part of a large group who I taught regularly, and then became part of a more select group once my involvement with Indigo Pearl started," he said.
Once Darran had seen her play and Dear herself realized that while her friends had tired of the sport, she was still interested and becoming quite good at tennis.
"I have been teaching for 20 years, and, simply put, she has more self-motivation and drive than anyone I have taught. She is willing to make the necessary sacrifices and has the determination to succeed. This is what sets her apart," Darran said.
As with Dear's attitude, Darran believes her physical strength will develop, but now is the time to reinforce her mental abilities.
"It is now time to focus on learning how to handle pressure and keeping things simple when on the court, and to not get distracted," Darran advised.
All young players have their role models or idols and Dear indicates that Novak Djokovic is a player she admires. However, Darran suggests Dear is reminiscent of Chris Evert.
"Like Evert, she has nice balance, solid ground strokes coupled with very good control, and a creative, all-court game. And, unlike many girls her age, she also plays excellent doubles," Darran enthused.
"Dear's intention is clear, and that's is to be a great tennis player, but as with all sports hopefuls the road is long and arduous, but made a little smoother with support from family and friends.
"Having the backing from Indigo Pearl gives her a feeling of security and that is a great feeling to have when you are that young.
It is vitally important as we go through each stage of her development that Dear feels unconditional support, as that will relieve any possible pressures. Indigo Pearl over the years has become like extended family," Darran said.
It was important for Kelly to also add that while Indigo Pearl is doing as much as they can, Dear still needs as much financial support as possible.
"We provide as much as we can for Dear and we will continue to drive and support her. Head is her sponsor for equipment and we provide clothes and a training facility, but it comes down to money for travel to tournaments That's why we reached out to the Gazette to see if we can generate interest in Phuket to promote her career," Kelly said.
There are many worthy causes around the island and Dear's may not be the most needful, but here is a talent that deserves to go far. And wouldn't it be magic to see a genuine Phuket homegrown sports talent push through the ranks and win at Wimbledon?
For more information, please email yamonpon@indigo-pearl.com or call the resort at 076-327015, ext 8606.
— Neil Quail
Keep in contact with The Thaiger by following our
Facebook page
.
Never miss out on future posts by
following The Thaiger
.
Re-opening Thailand to tourism will be vaccine dependent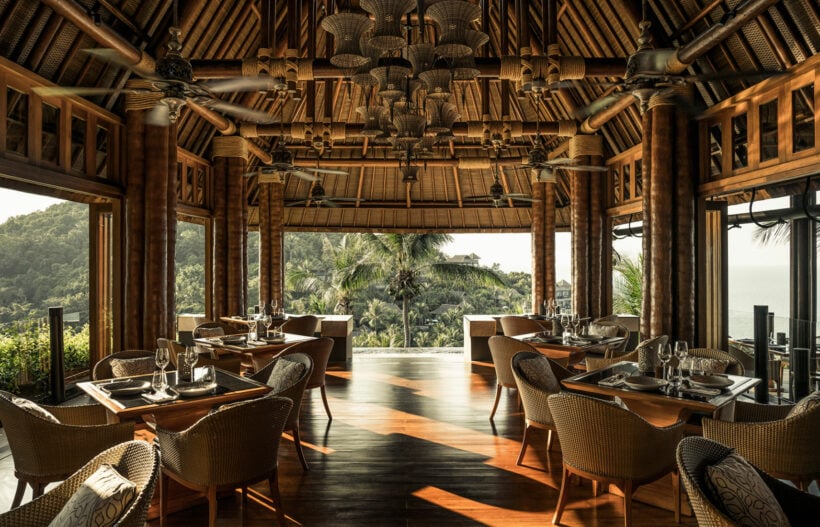 Bill Barnett from c9hotelworks.com continues to follow the difficult journey of the Thai hospitality industry. Traditionally, now would be the start of the country's highly profitable high season for the tourism industry. But not this year. Thai hotels find themselves in the middle of an existential crisis – either still closed, only partly open, or one of the few converted to limited ASQ traffic. The situation is dire, when you consider that between 15-20% of Thailand's GDP is linked to tourism.
In a speech this week Thailand's Prime Minster Prayut Chan-o-cha spoke clearly that only when a vaccine is approved, produced, and implemented, would the country open to substantial tourism. Given the current timelines and forecasts, this may not be likely until mid-2021 at the earliest, though subject to advancement if the process could be accelerated, which is unlikely.
For tourism and hotel stakeholders, the writing is on the wall that 2021, for the most part, will see a continued reliance on domestic travellers, and only in 2022 will there be a large-scale return in numbers of overseas visitors.
Given the winter spike in Asia, Europe, and North America of Covid-19, Thailand is not alone in relying on the vaccine to return tourism but the process will not be instant and the re-openings of borders will most certainly be staged.
HERE's a list of 113 Alternative State Quarantine hotels.
The business reality for Phuket and across Thailand is to plan for the worst in the coming six months and only expect 2022 to see a notable uptick.
Currently, the hotel sector continues to advocate to the Thai government and Central Bank for debt and financing relief measures and assistance in a social security supplement to retain staff.
While it's negative news, it at least allows for hotels to understand the challenges ahead, plan and adjust their operating models going forward. 'Survive the downturn' is the new mantra.
No vaccine, no entry. Read more HERE.
No vaccine, no flight. Read more HERE.
Keep in contact with The Thaiger by following our
Facebook page
.
Never miss out on future posts by
following The Thaiger
.
Phuket workshop helps residents cope with high stress brought on by the economic crisis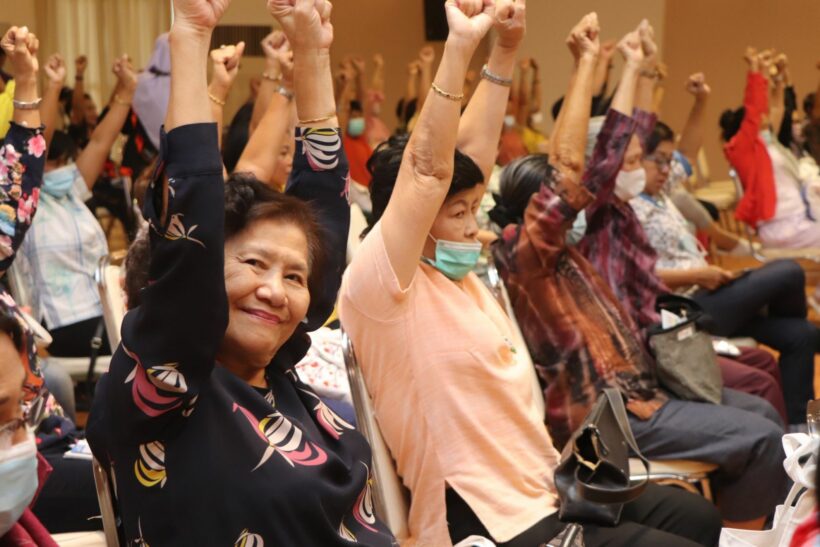 Hundreds of residents in Phuket's Wichit subdistrict attended a workshop focused on reducing stress from to the pandemic-induced economic crisis. A psychologist was even on site to help those who had extreme mental stress and a Buddhist monk taught meditation techniques to reduce physiological effects of stress.
The event was planned in response to an online survey conducted by the municipality asking residents about how much stress they were experiencing from the economic climate. They found that some residents had serious stress issues brought on by the pandemic and financial problems, according to Wichit Mayor Kreetha Chotiwichphiphat.
"The loss of income due to the economic crisis brought on by the Covid-19 situation has resulted in some people in the area suffering serious stress, which can lead to serious mental health issues."
Around 350 people attended the event. The mayor says it was the first step in caring for the residents' mental health. Local officials plan to hold similar workshops in the future.
"It was a good opportunity for people to realise the importance of mental health and to learn techniques of how to deal with stress, which will help people to maintain their physical health and avoid developing mental health problems."
SOURCE: Phuket News
Keep in contact with The Thaiger by following our
Facebook page
.
Never miss out on future posts by
following The Thaiger
.
Phuket's Soi Dog Foundation opens Humane Education Centre at Mai Khao shelter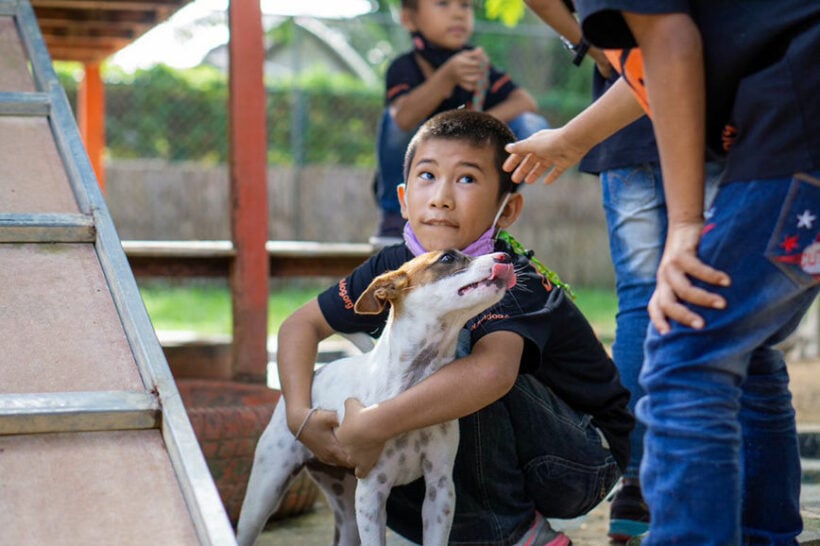 The Soi Dog Foundation has officially opened its Humane Education Centre, the first of its kind in Thailand dedicated to the welfare of stray animals. The centre, located at the Soi Dog shelter in northern Phuket, forms part of the foundation's Humane Education program. Rolled out in 2017, the program sees a team visit Thai schools to teach the next generation the basic principles of animal welfare and promote empathetic attitudes towards both owned pets and free-roaming strays.
The program has reached a total of 15,058 students and 861 teachers to date. With a dedicated classroom as well as educational tools and resources now on site at the shelter, Soi Dog will be able to expand the programme and reach an even greater number of young minds.
Co-founder and president of Soi Dog Foundation International John Dalley said, "The cornerstones of what we do – what I believe very firmly are the answers to the stray dog problem throughout Asia – are large-scale sterilisation of stray dogs and cats and education of, particularly, the next generation.
"We see all the time the problems that are being caused through us not respecting the environment and not respecting the other animals with whom we share this planet. That's why education is so important."
John also thanked the supporters and donors who made the construction of the centre possible. After cutting the ribbon, the students filed into the brand-new facility for the very first on-site class – a fun and interactive hour of roleplaying, brainstorming and problem solving.
Humane Education Manager Nuttawut "Film" Kumngern. said… "We want to encourage kindness toward animals, especially free-roaming dogs and cats, and teach youngsters to be responsible pet owners. This will sustainably reduce animal cruelty and pet abandonment."
"We hope to one day see animal welfare incorporated into the curriculum in Thai schools, and our education centre is a great start."
Soi Dog is ready to welcome school groups from Phuket and other provinces to the centre which can accommodate up to 40 students at any one time. Schools interested in participating are encouraged to email film@soidog.org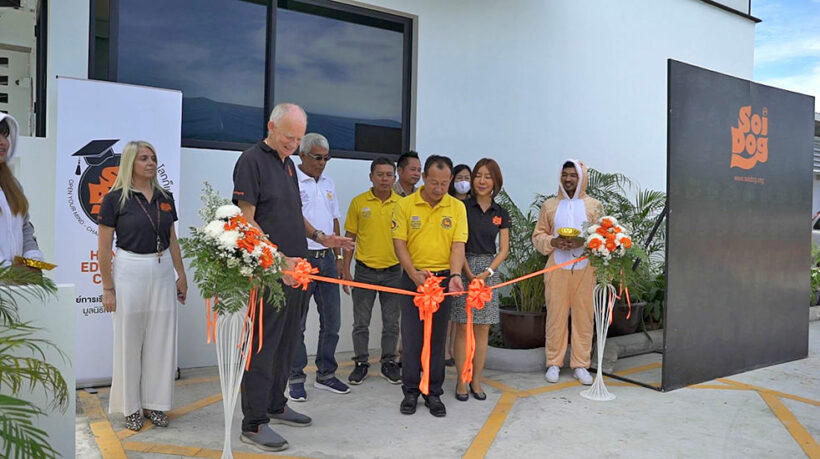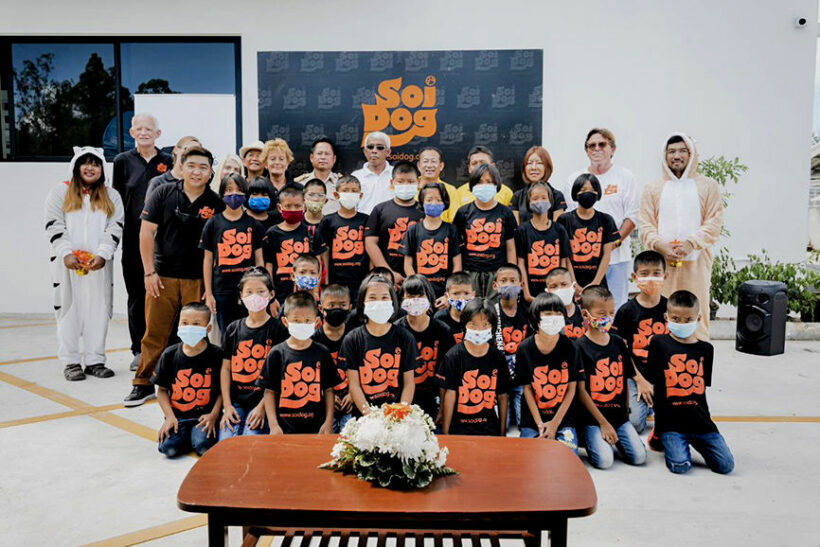 Keep in contact with The Thaiger by following our
Facebook page
.
Never miss out on future posts by
following The Thaiger
.