Phuket Live Wire: How Twitter is changing the way news breaks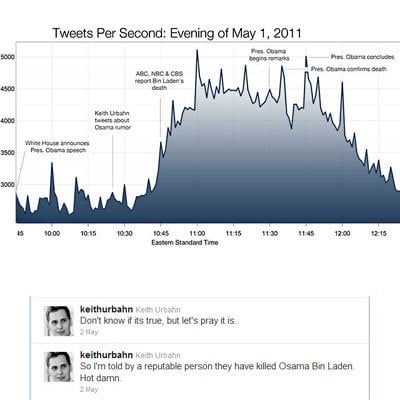 PHUKET: News of Osama bin Laden's death came to international attention when, around 11:40pm Washington time on May 1, US President Barack Obama announced that American forces had entered bin Laden's compound and killed him.
But if you'd been following Twitter starting more than two hours earlier – from about 10:30am in Phuket – you would've already known the whole story.
CNN had a major defining moment when, 20 years ago, they were the only major news outlet with reporters on the ground inside Iraq when the Allied bombing attack began. Suddenly, CNN transformed from an also-ran news network to the head of the class.
A very similar event just happened to Twitter. Obama verified the news story at 11:35pm, but Keith Urbahn – the chief of staff for Donald Rumsfeld, who was Defense Secretary under Bush – broke the news at 10:25pm. His message: "So I'm told by a reputable person they have killed Osama Bin Laden. Hot damn."
While speculation was rife with all of the major news agencies that Obama would announce something much bigger than another shootout in Libya, and rumors were flying among reporters and writers and producers – aided and abetted by leaks from inside the White House itself – nobody in the major networks would get on the air and report a story that was about to unfold with the President at the center.
Instead, the Twitter universe lit up with the story, and had it nailed before the President stepped up to the microphone.
Those who followed the "red shirt" protests in Bangkok learned early on about the advantages of Twitter. Many people have remarked – and I'll certainly add to the refrain – that international network news coverage of the events during those days was patently absurd: overwrought, inaccurate, sensationalistic, and sadly lacking in facts.
The news broadcasts would've had you believe that Bangkok was immolated, riots on every street corner, and the country on the verge of civil war.
But those following the events on Twitter – stories told by people who were there, observing, reporting, posting snapshots on Twitter – had a much different impression.
Granted, the facts being reported didn't come from professional reporters. They came from people who found themselves caught in the middle of traffic, or witnesses to an explosion, or people attending a rally, or watching a shopping complex burn. There's no way to verify the accuracy of the reports: someone could have posted a message that little green men had just emerged from UFOs on Sukhumvit Soi 8, and there would be no way to validate the observation. But that's the nature of the medium.
Don't get me wrong. 98% of the stuff on Twitter is pure junk: teenage angst, rants and raves, useless garbage. But that other 2% can be pure gold. And it's easier than you think to separate the wheat from the chaff.
The idea behind Twitter is pretty simple. You "follow" other people. Other people can "follow" you. Anybody can post a short message, up to 140 characters, on Twitter. If you "follow" someone who posts a message, you'll see it when you log on to Twitter. (If you keep Twitter running on your PC, or on your phone, as I do, the message appears in your Twitter window.) If you post a message, the people who "follow" you can see it.
That's all there is to it. Twitter is a very simple one-to-many form of communication, kind of like SMSing all of the people who have agreed, in advance, that they want to receive your SMSs.
If you "follow" someone and you get tired of what they're "tweeting", you can "unfollow" them, no sweat, and you'll never see their tweets again. You're never forced to follow anybody. You can follow and unfollow at will.
I follow several news sources and a bunch of people in the computer industry. Twitter's turned into my major source of breaking news, in Thailand, in the computer industry, and in the world.
There's no magical tracking mechanism, no Big Tweet Phu Yai Baan in the Sky who keeps track of you – nothing like the iPhone tracking stuff. It's all anonymous, and very easy. Many people use Twitter on their phones, but you can also use it with a web browser, or on an iPad or Android tablet.
If you've never used Twitter, head over to www.twitter.com and sign up. You'll be overwhelmed at first; don't worry, everybody is. The trick lies in finding the right people to follow.
If you want to follow me, click in the appropriate box and sign up to follow @PhuketPC. Leons Kovisars also tweets computer topics with a local slant @leonsk9.
The best source of Thailand-wide news that I've found is @georgebkk, the ThaiVisa.com guru. You'll be following people in no time.
I've been considering organizing a Twitter seminar. I'd particularly like to talk about my favorite Twitter appliance, Tweetdeck. Let me know if you'd be interested in attending – Woody@KhunWoody.com.
Facebook 101 Seminar
Able Wanamakok's third Facebook 101 seminar runs May 14, 21 and 28. Facebook 101, you may recall, takes attendees through the basics, from setting up a business (or organization or charity) page, designing it, drawing attention to it, and then using the page to reach out to Facebook users. Johan Lofgren helps with the more technical parts. You don't need any experience with Facebook to attend the free seminars.
If you're interested in attending, sign up by going to www.facebook.com/SandwichShoppe and on the left click the link marked Facebook Seminar. The seminars are sponsored by Khun Woody's Sandwich Shoppes, the Phuket Gazette, Able's AW PR and Marketing, and Johan Lofgren's onsite.in.th.
Able's planning a series of seminars in Thai, starting June 4. Email her, able@awpr-phuket.com, for details.
FREE Computer Clinics
The next Computer Clinic – and the last one for May – will be on Sunday, May 15, from 10am to midday at the Sandwich Shoppe Chalong, one kilometer north of Chalong Circle on Chao Fa East, in the Fisherman's Way Business Center.
As always, the clinics are free, and open to anyone interested in (or bothered by) computers in Phuket. There's a lengthy question and answer period, and lots of help from kindred souls: if you have a question about computers in Phuket – or PCs in general – drop by and we'll get you some world-class answers. The clinics are sponsored by the Phuket Gazette and Khun Woody's Sandwich Shoppes.
Live Wire is IT guru and Phuket Gazette columnist Woody Leonhard's weekly snapshot of all things internet in Phuket. Woody's written more than 40 computer books including, most recently, Windows 7 All-In-One For Dummies. Follow Woody on Twitter: @PhuketPC.
To see what Woody's up to in the international press, and to keep on top of the latest patches and problems with Windows and Office, drop by— Woody Leonhard
Phuket News

Join the conversation and have your say on Thailand news published on The Thaiger.
Thaiger Talk is our new Thaiger Community where you can join the discussion on everything happening in Thailand right now.
Please note that articles are not posted to the forum instantly and can take up to 20 min before being visible. Click for more information and the Thaiger Talk Guidelines.