Expert in earthquake-proof building design helps ease Phuket fears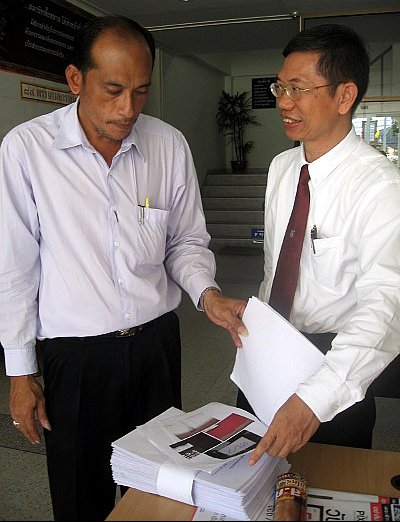 PHUKET: One of Thailand's leading experts in earthquake-proof building design has offered to conduct computer simulation tests to ensure that major buildings in Phuket do not succumb to the recurring tremors the island has been experiencing since April 16.
The news was delivered directly to Phuket Governor Tri Augkaradacha by Assoc Prof Dr Paiboon Panyakapo, who heads the Engineering Institute of Thailand's earthquake and wind load impact study unit based at the Sripatum University Faculty of Engineering in Bangkok.
Dr Paiboon invited Governor Tri to provide the architectural plans of important buildings in Phuket so his team could input the data into a specially created computer program that simulates the stress on structures brought on by earthquakes and strong winds.
The computer program could then calculate how strong an earthquake the buildings could survive.
Based on this data his team could also make recommendations on how to strengthen the buildings to make them more resistant to earthquake tremors.
"After the [4.3 Richter] earthquake in Phuket on April 16, people feel insecure about the buildings and other major structures in the province," Dr Paiboon told Governor Tri Augkaradacha and other high-ranking local officials at a meeting at Provincial Hall.
"To reassure them, I would like to explain that when an earthquake happens, underground energy is released, and [now that the April 16 earthquake has happened] it will take a long time for enough underground energy to amass to cause another earthquake in Phuket," he said.
Dr Paiboon said it would help calm fears of tremor-induced building collapse if local residents were aware of this, and it would be prudent for at least some precautions to be taken.
"Although earthquakes will not happen here often, people in the province should prepare for the unexpected. For example, they should be trained in what to do during an earthquake," he advised.
THE KLONG MARUI FAULT
Dr Paiboon explained that the movement of the Klong Marui Fault, which runs north-south underwater off the east coast of Phuket, was the slowest he has ever seen. It was the submarine movement of the Klong Marui Fault that was identified as the cause of the April 16 quake in Phuket.
"The Klong Marui Fault moves about 0.1 millimeters per year. In comparison, other faults in the north of Thailand, about 13 in total, move about 3-4mm per year, and the faults around Indonesia move about 65mm per year," Dr Paiboon said.
"We cannot exactly tell when an earthquake will happen, but we can reasonably presume that this fault [the Klong Marui Fault] will not cause frequent earthquakes. We can also reasonably presume that a severe earthquake will not happen in Phuket again anytime soon," he added.
Dr Paiboon also explained that, according to the strong motion accelerograph [seismograph] data his office had received, the Klong Marui Fault is capable of causing earthquakes of strengths no more than 5 to 6 on the Richter scale.
"Earthquakes of this magnitude are considered 'middle-strength earthquakes' and these types of earthquakes have a greater effect on multi-storey buildings than single-storey structures," he said.
BUILDING CODE REQUIREMENTS
Looking at the Building Code requirements governing all major structures in Phuket, Dr Paiboon explained that the whole island of Phuket was declared as within an "earthquake warning zone" in 2007.
"The 6.8 Richter earthquake in Burma in 2007 and its aftershocks rattled Bangkok, prompting the government to draft the Ministerial Regulation BE 2550. Phuket was named in those regulations as within an 'earthquake warning zone'," he said.
Under the regulations, all public buildings with a capacity of 300 people or more, such as shopping malls, schools, hotels and indoor markets, and all buildings taller than 15 meters erected before the regulations came into effect in 2008 are be strengthened to protect against earthquake damage, he explained.
"Building owners and developers are required to strengthen the entire structure by using stronger materials or by reinforcing weak parts of the building," Dr Paiboon said.
"Small buildings such as homes and small guesthouses and rental apartment buildings can be strengthened simply by reinforcing the brick walls," he added.
ON THE GROUND
Dr Paiboon concluded his Phuket visit by inspecting houses in Baan Bang Kham, in Srisoonthorn subdistrict, that were damaged by the April 16 earthquake. Baan Bang Kham was identified as the epicenter of that quake.
"I want to see how severe the damage to the houses is so I can suggest how to improve the building structure," Dr Paiboon explained during his inspection of the damaged homes.
"From what I have seen, most of the damaged houses suffered cracks in the wall and the beams. All I can suggest to the homeowners is to rebuild their houses but this time using stronger steel beams to make sure the structure is strong enough in case another earthquake happens in the future," Dr Paiboon said.
— Orawin Narabal
Phuket News

Join the conversation and have your say on Thailand news published on The Thaiger.
Thaiger Talk is our new Thaiger Community where you can join the discussion on everything happening in Thailand right now.
Please note that articles are not posted to the forum instantly and can take up to 20 min before being visible. Click for more information and the Thaiger Talk Guidelines.