Australians warned off Phuket medical tourism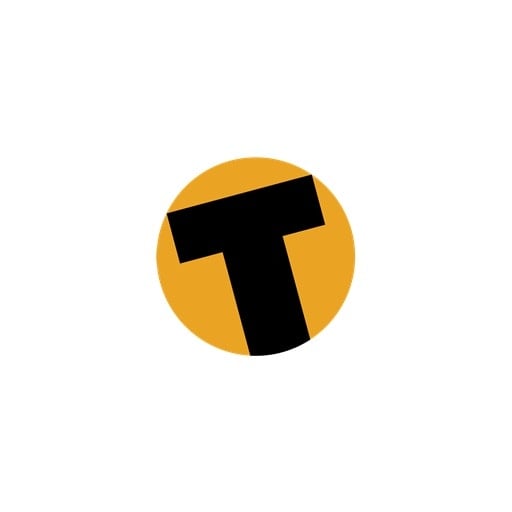 Phuket NEWS Hound
– A daily digest of news from around the world compiled by Gazette editors for Phuket's international community
PHUKET: The Australian Medical Association (AMA) yesterday urged people to be cautious after a Gold Coast business offered plastic surgery and dental holidays in Phuket. For background on the CosMediTour offer, see Tuesday's Phuket NEWS Hound, here.
Although doctors within most countries would not normally call into question the practices or risk levels of each other's services, such restraint may not apply internationally.
According to a Xinhua report late yesterday, the AMA says that holidays and surgery should not be mixed, and that the cost savings on surgery in Phuket "should be weighed up against increased risk and a lack of recourse should something go wrong."
AMA Vice President Steve Hambleton told the Australian Associated Press that, "If you go overseas, you don't have the sort of [doctor] registration systems that we have in this country, and we know that our training is excellent and our doctors' standards are excellent."
But CosMediTour Director Christyna Kruczaj says in defense that, "Thai accreditation is based on the U.S. system of plastic and reconstructive surgery."
As for costs, she says that prices vary with surgery type and individual patient needs, but that packages would normally cost 20 to 40 percent less than having the equivalent procedure in Australia.
And she notes that patients only pay for an initial consultation, flights and accommodation before leaving Australia, leaving them able to opt out of their surgery in Phuket without financial penalty.
As is the case with Singapore and Malaysia, the provision of medical services for foreigners has become a major and rapidly growing industry in Thailand, with several of the country's international hospitals reporting 40% or more of their annual patient intake coming from nationalities other than Thai.
Jet Asia to bring Koreans to Phuket
TTRWeekly
A newly registered airline, Jet Asia Airways, is planning a launch in July, inaugurating a service from Phuket to Seoul, and then Bangkok to Seoul two months later. Both routes will be served five times a week.
When asked about timing in the context of the country's political crisis, the new airline's management said they were confident they could launch on time and that the market from Korea would be strong enough to sustain services to Phuket.
To be profitable in the long-run, the airline will also have to serve the Thai outbound travel market, which is concentrated mainly in Bangkok. There are fewer opportunities in Phuket to build business on the outbound leg, meaning the sector will serve almost exclusively Korean tourists.

Phuket's sister isles boast pristine sands
The Guardian
Despite the millions of tourists visiting Thailand each year, there are still islands untouched by mass tourism. The Guardian's Gemma Bowes finds a perfect example right in the middle of Phang Nga Bay, less than an hour's boat ride from Phuket.
Many Thai islands have allowed their pristine worlds to be eaten away by flash resorts, watersports and nightlife. Now you have to search a little bit harder to find footprint-free sand.
Phang Nga is home to ritzy Phuket in the west and busy Krabi to the east, but at its watery heart the sister islands of Koh Yao Noi and Koh Yao Yai pull in just a trickle of travellers, with a few basic beach-hut complexes, bars and cafes, and the odd barefoot-chic resort.
The primary air gateway to the islands of Phang-nga Bay is Phuket International Airport, and there are a number of scheduled ferry and private hire boat services ready to serve explorers from Phuket's east coast.
Tourist target blasted
TTR Weekly
The Association of Thai Travel Agents' honorary advisor, Apichart Sankary, has blasted Thailand's revised tourist target for 2010. The slightly downgraded figure of 14.1 million was affirmed last week by Tourism and Sports Minister Chumphol Silpa-archa.
"This is only the minister's dream", Mr Sankary said. "It is not the reality we all recognise in the business. If we can reach 10 million, we will be lucky."
Meanwhile, tourism stakeholders agree Thailand must restore confidence in the international arena before kicking off any promotional campaigns.
Tourism Authority of Thailand Governor Suraphon Svetasreni says the priority is to restore confidence in Asian markets before advertising campaigns can be initiated.
"We have to restore confidence in Asian markets such as China, Korea, Hong Kong and Japan because these markets can recover quickly. Then we have to move to medium and long-haul markets to regain the business in time for the high season."
Under the banner 'Together We Can', government officials and private sector businesses have agreed to brainstorm marketing strategies to rebuild confidence, although no specific dates, meetings or action steps have yet been announced.
Car sales booming
Earth Times
Automobile sales in Thailand surged almost 44 per cent last month, despite extreme political unrest in the capital city, industry sources said yesterday.
In April, some 57,128 vehicles were sold on the domestic market, up 43.9 per cent year-on-year, but down 9.42 per cent compared with March, Thai Auto Industry Club spokesman Surapol Paisitpattanapong said.
Thailand's automobile exports in April hit 57,139 units, up 99.35 per cent year-on-year.
In the first four months of the year, 223,930 vehicles were sold on the domestic market, up 51.8 per cent, while 273,824 units were exported, up 63.5 per cent, Surapol said.
— Gazette Editors
Keep in contact with The Thaiger by following our
Facebook page
.
With all patients recovered, Phuket closes its Covid-19 field hospital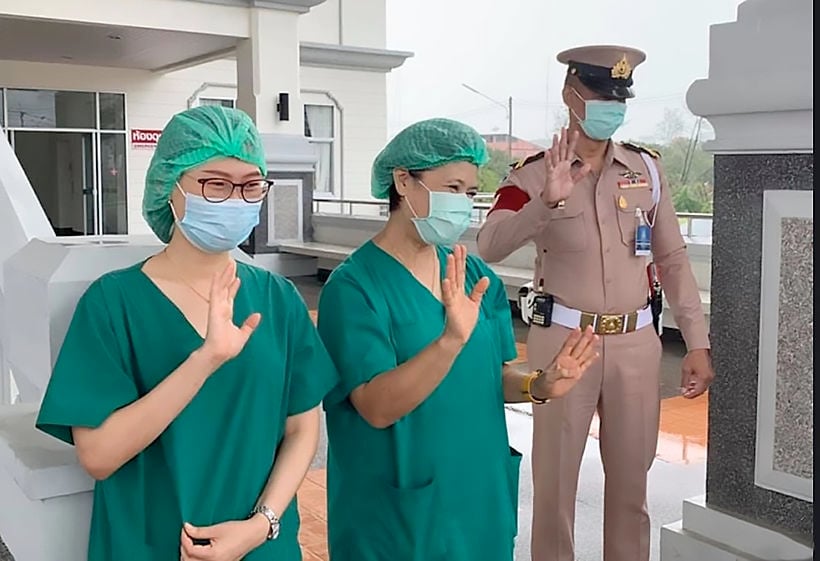 So long, farewell. Phuket, which has had the highest number of Covid-19 infections per capita in Thailand, is closing its first "field hospital" after discharging its final patients. The temporary hospital is closing down, hopefully for good, and will be "put on standby," as the last patients have recovered, the island's governor announced yesterday.
The building was actually the unfinished new provincial HQ for the local Phuket government. The building's completion has been stalled for years with uncompleted contracts and delays. But it has served an important purpose in housing the island's Covid-19 patients and keeping them away from the main hospitals.
"Today is the day that Phuket has zero Covid-19 patients. I would like to thank all officials and Phuket residents for their efforts and cooperation to make our province finally Covid-19-free. Our next job is to rehabilitate the province's economy, especially the tourism industry, which has been severely affected by the outbreak."
The governor was joined at the closing ceremony by representatives from the Tourism Authority of Thailand's Phuket Office, the Phuket Chamber of Commerce and the Phuket Federation of Industries to hand out 600 survival kits to local people affected by the Covid-19 crisis.
Phuket's first field hospital was established in March with 104 beds in a two-storey building. It was staffed with medical professionals from 5 hospitals throughout the province. Some 123 Covid-19 patients were treated at the hospital and all have fully recovered and been discharged. None has tested positive again.
The second field hospital is also on standby, having released its last patient on May 15.
Since the outbreak started, Phuket has reported 227 confirmed Covid-19 cases. Of these, 224 patients recovered and 3 died.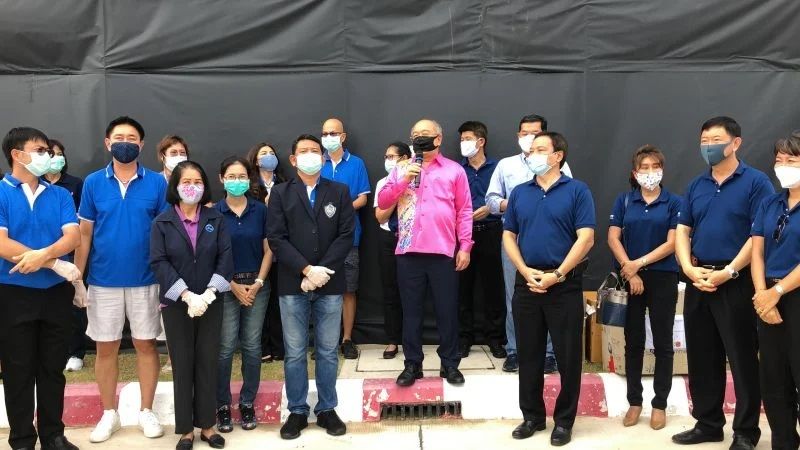 SOURCE: Nation Thailand
Keep in contact with The Thaiger by following our
Facebook page
.
2 killed after truck slams Phuket power pole – VIDEO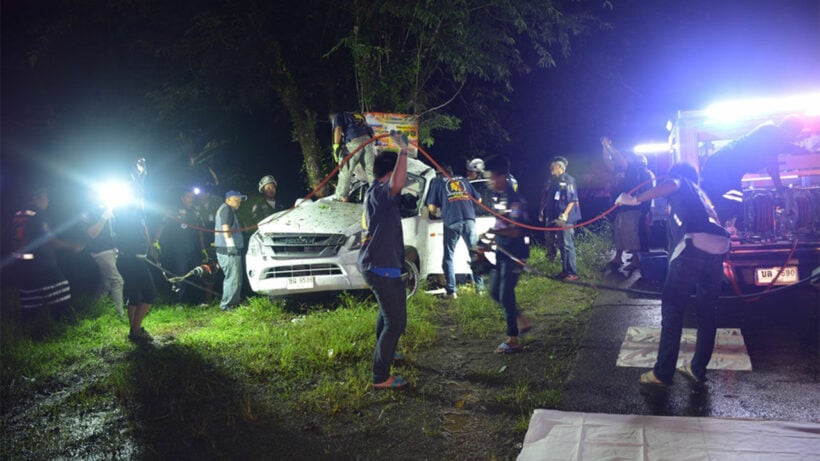 2 men are dead in Phuket after a truck slammed into a roadside power pole on the notorious Kata hill road, just out of Chalong yesterday. Police say the two men killed were a Thai and a Burmese national.
The deputy chief of Karon police says the accident occurred at about 4:50pm at the mouth of Soi Suksan 1 on Patak road – a windy section of road as it heads up the hill towards Kata Beach. The power pole fell across the road after being hit by the pick up truck, killing the man inside. He was identified as 31 year old Thanapon Prachit a native of Chaiyaphum province.
Another man, passing by on a motorbike, was seriously injured by the falling power pole. He was admitted to Chalong Hospital where but was pronounced dead. The passport found on him identified him as 28 year old Win Myo Hlaing from Myanmar.
The bodies of the victims were taken to Vachira Phuket Hospital for an autopsy.
SOURCE: Bangkok Post
Keep in contact with The Thaiger by following our
Facebook page
.
Two men die after truck plows into power pole in Phuket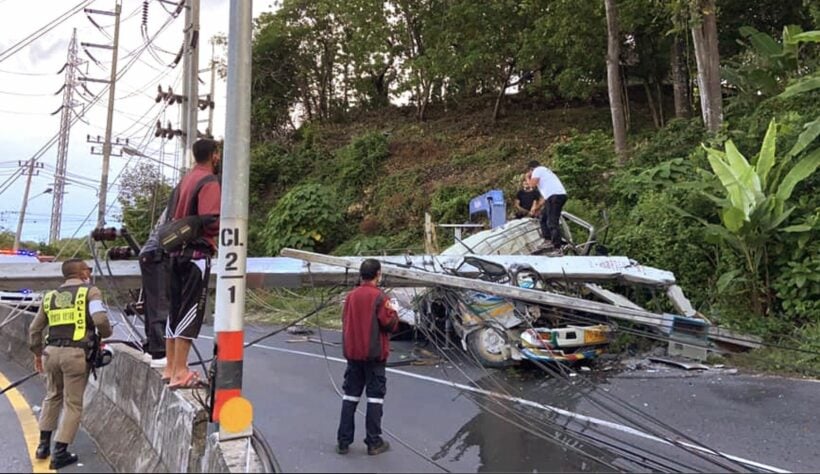 A Thai and Burmese man were killed after a work truck collided with a power pole on Kata hill, southern Phuket yesterday afternoon. The deputy chief of Karon police reported that the incident happened near the turn off onto Soi Suksan 1, on the Chalong side of the hill.
The power pole crashed on top of the truck as it fell, killing 31 year old Thanapol Prachit from Chaiyaphum province.
A 28 year old Burmese man was driving past at the same time and was also injured when the power pole fell. He was rushed to Chalong Hospital where he was later pronounced dead. His name was Hlaing Myo Win, according to the Bangkok Post.
The two bodies were transferred to Vachira Hospital and police are continuing their investigations.
SOURCE: Bangkok Post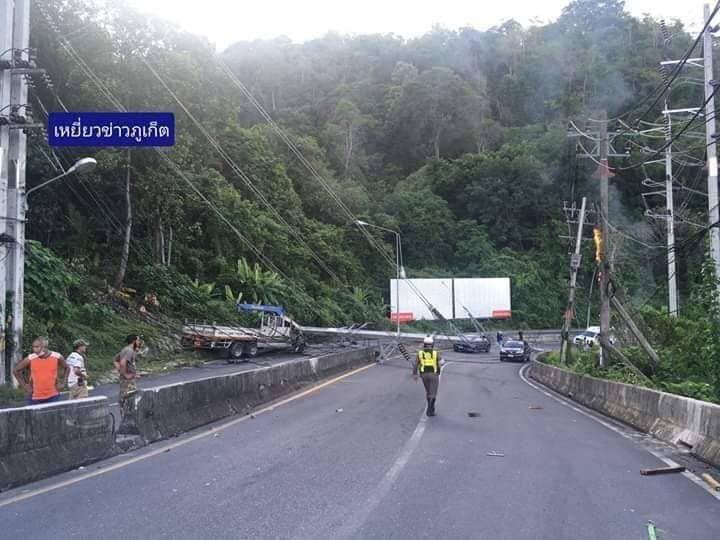 Keep in contact with The Thaiger by following our
Facebook page
.