Pattaya hotel fire causes over a million baht in damages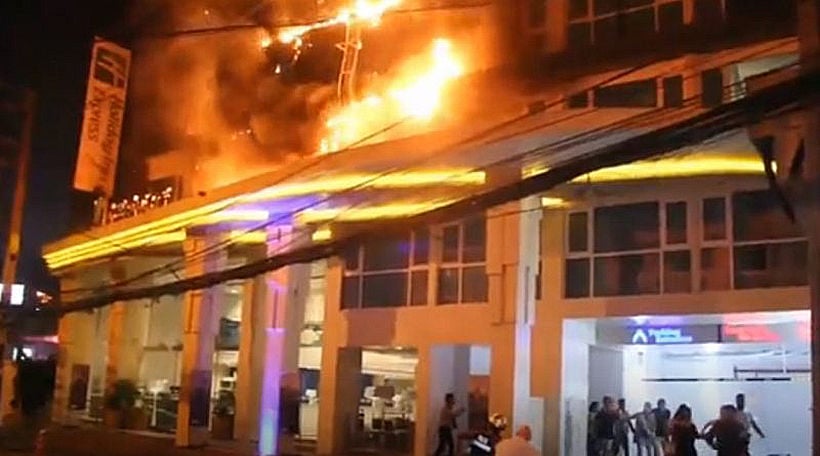 PHOTO: sanook.com
When a hotel in Pattaya caught on fire 400 foreigners, who were stating in the hotel at the time, evacuated without injury. The blaze remained isolated in the front section of the building and didn't have time to spread to guest rooms inside the hotel.
Chonburi Police were notified at 4.30am yesterday morning, December 6, about the fire at a popular Pattaya hotel in Soi Buakhao, Bang Lamung. Emergency responders and firefighters headed to the scene, along with local volunteer rescue workers and a medical team from Pattaya City Hospital.
They arrived to find the front of the 8 level hotel ablaze. Police, locals and the hotel staff helped over 400 guests, including children, seniors, and handicapped persons, evacuate safely. Everyone was accounted for and evacuated in an orderly manner, according to police. The blaze took about 30 minutes to extinguish.
The 29 year old on-duty security guard, Supatchai, told police he saw some smoke coming out from the front of the building. Not long after the flames started and were fanned by the winds that were blowing.
Firefighters headed into the burned out area at the front of the hotel to inspect the source of the fire. They told police that it started in the front of the hotel and didn't have time to spread into the rear section where hotel rooms were located. Even though the fire was isolated to the front of the building, damages are estimated to be valued around 1 million baht.
Police are now questioning witnesses and investigating what caused the fire.
SOURCE: Sanook.com
Keep in contact with The Thaiger by following our
Facebook page
.
2 more alleged call centre scam suspects arrested in Japan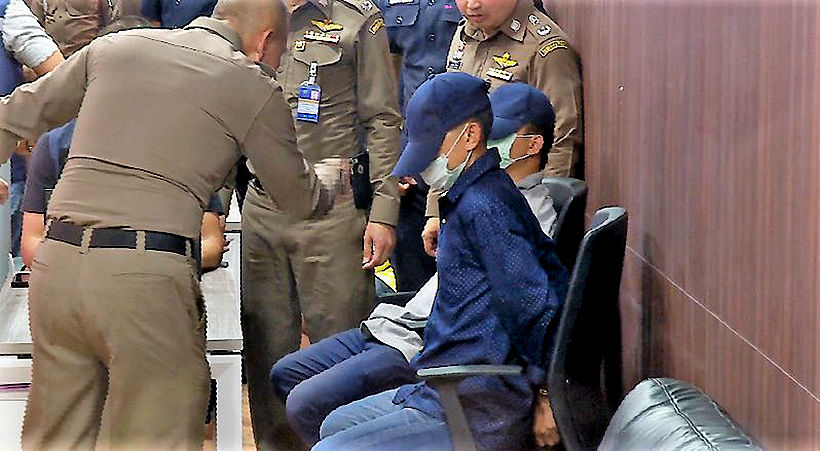 Two men arrested in Japan yesterday stand accused of operating a large-scale call centre scam based in Thailand, bringing the total number of arrests in the case to 28. Japanese police believe 36 year old Kengo Yasutake and 34 year old Shimpei Hirata operated a luxury home in Pattaya, where a team of Japanese men would call people across Japan and tell them their subscription fees for a website were overdue.
Police say the gang has tricked more than 200 people and collected a total of more than 55 million baht. Fifteen Japanese men have already been arrested by Thai police last March at another luxury house location, also in Chon Buri province, and Japanese investigators arrested more in May 2019 as they attempted to leave Thailand for Japan.
Investigators say the group had a well-organised division of labour conducting the scam, with individual members making phone calls, cashing swindled electronic gift cards and as managing the scam web site.
They were arrested on suspicion of scamming a woman and two others living in the city of Fukui, central Japan, alleging in an email that they had failed to pay website subscription fees, and coercing them into purchasing electronic gift cards worth a total 780,000 yen, or about 215,000 baht.
Keep in contact with The Thaiger by following our
Facebook page
.
British and Thai man arrested for flogging fake watches online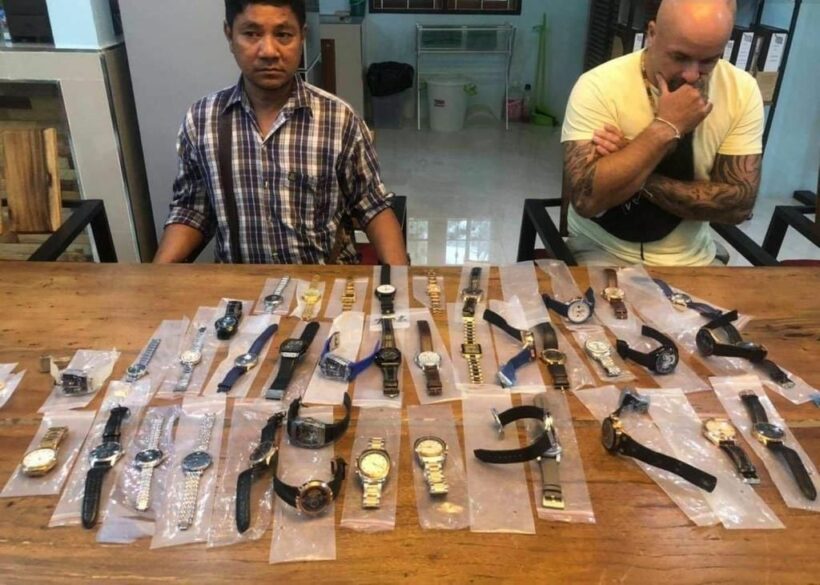 A British and a Thai man are in custody after a sting operation in Pattaya caught them selling counterfeit brand name watches online to foreign buyers at a huge markup. Police identified them as 43 year old Mark Peter Dorey and 45 year old Virut Bua-raem.
After a tipoff, an officer pretended to be a buyer and contacted Dorey. He offered to buy 12 fake Rolex, Patek Phillipe and Cartier watches for 123,500 baht. Police made an appointment to meet at a coffee shop at a shopping centre in south Pattaya. From there, Dorey took the officer by motorbike to another shopping centre on Pattaya Beach Road. Dorey handed over the watches receiving the money and was quickly arrested, according to local media.
Dorey soon implicated Virut, aka "Ae," who was arrested with another 40 counterfeit watches.
Dorey says he bought the watches from Virut for about 500 baht each and resold them online for about 12,000 baht. Dorey told police he advertised the watches on Instagram and sent them to clients by parcel post. He said all of his customers were foreigners and paid directly into a bank account.
The two are charged with possessing counterfeit goods with intent to sell, an offence liable to a jail term of up to four years and/or a fine up to 400,000 baht
More than 2,200 counterfeit luxury brand watches were seized 11 months ago from 10 shops at two popular markets in Hat Yai, southern Thailand. The brand names included Rolex, Patek Philippe, Rado, Gucci, Richard Mille and Chanel.
SOURCE: The Chiang Rai Times | The Pattaya News
Keep in contact with The Thaiger by following our
Facebook page
.
Pattaya police investigate a man's shooting death, the day after his birthday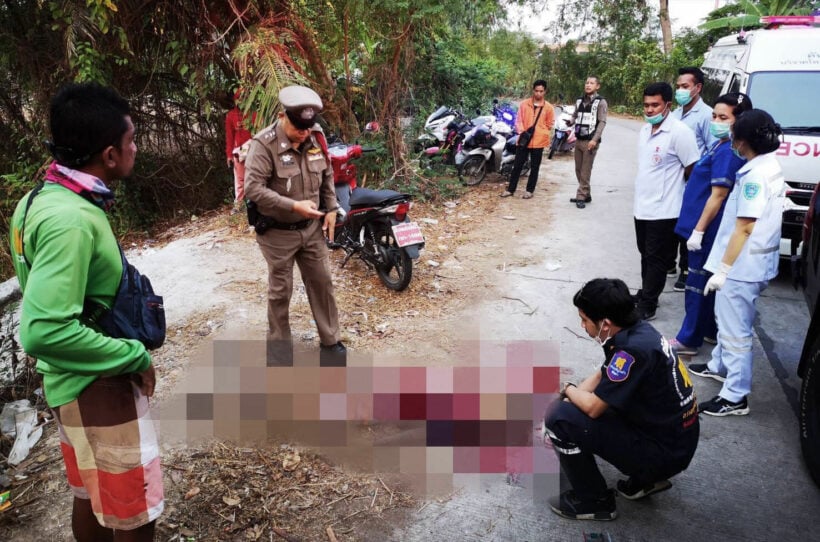 A man in Pattaya has died after being shot. The 32 year old Thai man was found with a gunshot wound to the head. Police were notified of the incident yesterday at about 6:30am and are investigating to determine whether it was suicide or homicide.
Police and emergency responders arrived at the scene on a rural road to find 32 year old Somphon Pokklum with a single bullet wound to his head. Nearby, police found a handmade pistol. The man was still alive but critically injured. Despite efforts at the scene, and being rushed to hospital, Somphon was pronounced dead when he arrived at hospital.
There were no witnesses at the scene, but a friend of Somphon told local media that his birthday had been the day before and had been out celebrating and. Friends say he was in 'high spirits' at the time.
Police are continuing their investigation.
SOURCE: The Pattaya News
If you or anyone you know is in emotional distress, please contact the Samaritans of Thailand 24-hour hotline: 02 713 6791 (English), 02 713 6793 (Thai) or the Thai Mental Health Hotline at 1323 (Thai).
Keep in contact with The Thaiger by following our
Facebook page
.