Thailand News: DiCaprio calls for ivory ban as DNP tries to better regulate trade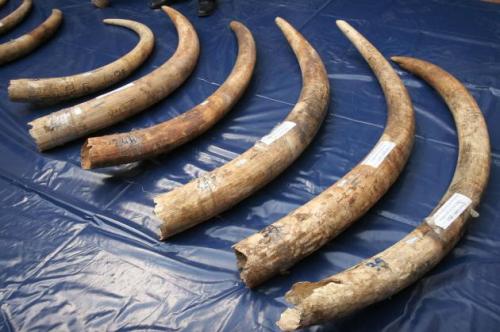 PHUKET MEDIA WATCH
– Thailand news compiled by Gazette editors for Phuket's international community
DiCaprio calls on Yingluck to ban ivory trade
Phuket Gazette / The Nation
PHUKET: Hollywood heartthrob Leonardo DiCaprio has called on Thailand and Prime Minister Yingluck Shinawatra to show leadership on elephant conservation by banning all ivory trade in the country.
"Illegal wildlife trade is the most urgent threat facing species like tigers, rhinos and elephants. These animals are being killed every day to feed an escalating demand for their body parts," he said.
In a personal e-mail, DiCaprio, 38, urged the public to join the initiative, which included spreading the word and signing a global petition. It also called on Yingluck to prohibit any kind of ivory trade.
He is helping to launch the World Wildlife Fund's animal rights campaign called "Hands off My Parts".
"Whole populations are at risk of being wiped out if we don't take immediate action to shut down this illicit trade. As a key step, I am joining WWF and others in calling on Thailand's government to show leadership on elephant conservation by shutting down its ivory market before the country hosts a meeting of 177 nations on wildlife trade in March 2013."
The initiative aims to raise awareness about the rhinoceroses, tigers and elephants that are being slaughtered for their skins, bones, tusks, horns and other parts.
The actor and other celebrity animal-rights activists such as Emily VanCamp, Josh Bowman, Stacy Keibler, Alyssa Milano, Ian Somerhalder and Ethan Suplee have banded together to demand immediate action on the black-market trade in fauna.
The superstar said late last month he was taking a breather from acting.
"I'm a little bit drained," he told the German newspaper Bild.
"I am now going to take a long, long break."
After appearing in three films – "Django Unchained", "The Great Gatsby" and the recently finished "The Wolf of Wall Street" – in two years, DiCaprio says he's "just worn out".
Publicity tours for the films still lie ahead, but he has other plans for when his schedule loosens up.
"I would like to improve the world a bit," he said. "I will fly around the world doing good for the environment."
Crackdown on traders as Cites looms
Phuket Gazette / The Nation
PHUKET: The Department of National Parks, Wildlife and Plant Conservation (DNP) is trying to better regulate the ivory trade in Thailand before the high-profile Convention on International Trade in Endangered Species of Wild Fauna and Flora (CITES) conference kicks off in Bangkok early next month.
The DNP will also work with a CITES team in conducting random checks at ivory shops in Thailand on Thursday as part of a measure to stamp out illegal ivory trade.
DNP chief Theerapat Prayurasiddhi vowed yesterday to enforce the law strictly.
The Secretariat of CITES has informed Thailand to urgently address the smuggling of ivory from Africa.
Parties to CITES will gather in Thailand from March 3 to 14 for its 16th meeting.
Theerapat said the illegal ivory trade was a sensitive issue.
Nearly 300 entrepreneurs are engaged in the production, processing, and trade of ivory in Thailand. The ivory trade is legal here, as many elephants in the country are domesticated and are issued identification papers. Non-government organizations (NGOs), however, have raised concerns about the smuggling of African elephants' ivory into Thailand.
Theerapat said 270 foreigners were arrested at immigration checkpoints in Europe and the United States over the past few years for carrying ivory products they had bought from Thailand. Over three tonnes of ivory was seized from them.
Although Thailand has no plan to ban ivory trade on its soil, Theerapat said the Kingdom would prove to CITES it had cracked down seriously on the trade of smuggled ivory.
Theerapat said his agency had already held discussions with relevant agencies and more than 10 Bangkok-based entrepreneurs to ensure strict compliance with laws governing the ivory trade. For example, entrepreneurs must identify the origin of ivory used for their products.
"If we find any shop fails to comply with our regulations, we will issue a warning the first time or perhaps the second time. But if the offense is repeated, we will ask the Commerce Ministry to revoke its license," Theerapat said.
The DNP would hold similar discussions with entrepreneurs in 16 other provinces including Chiang Mai, Chiang Rai, Nakhon Sawan, Phuket, Surin and Phitsanulok over the next two weeks.
Theerapat said the DNP would also advise that shops avoid selling ivory products to foreign tourists.
Somkuan Maliwan, a representative from an ivory shop, said most ivory-product buyers were foreigners. "So, it will be hard to provide co-operation on this requirement. For others, we are willing to co-operate," she said.
— Phuket Gazette Editors
Keep in contact with The Thaiger by following our
Facebook page
.
Thai app will ease expat immigration woes and make 90 day reporting simple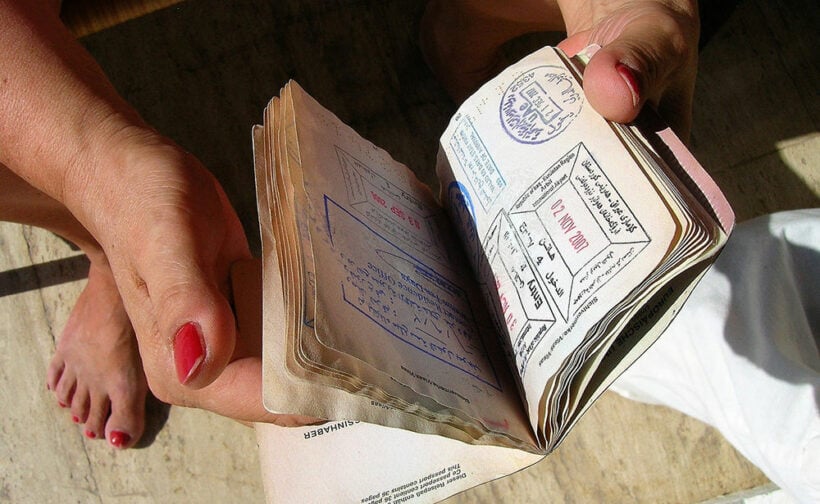 The "OSS Foreigner" app is coming, and you will be able to use it for 90 day reporting, according to the Secretary-General at the office of the PM.
Dr Kobsak Pootrakool says the planned app can be used for all immigration reporting, including 90 day reports, adding that typing in the required data and uploading a selfie will accomplish the same result as filling out paperwork at the local immigration office but without having to make the trip there.
Dr Kobsak has been given responsibility for sorting out the TM30 debate and says the immigration app, called OSS Foreigner, is nearly complete and should make all those who live and work in Thailand feel more welcome and make compliance easier and more convenient.
The TM30 form, and its companion, the TM28, have been a source of expat displeasure over the past five months since the immigration department decided to enforce a little-used 1979 law that required foreigners to report their whereabouts if they had stayed overnight at an address different from their registered address.
This latest move comes as part of a wider program to make Thai public services more efficient, with Dr Kobsak making the announcement while outlining plans for all Thai government departments to embrace digital technology by as early as 2022. Meanwhile, the Deputy PM Somkid Jatusripitak is championing a programme to improve Thai public services for both Thai citizens and foreigners.
"The government's new approach to IT and digital technology is designed to deliver a smarter, easier service as part of the Thailand 4.0 economic model."
SOURCE: The Pattaya News
Keep in contact with The Thaiger by following our
Facebook page
.
Karaoke premises raided in central Thailand, 3 underage sex workers rescued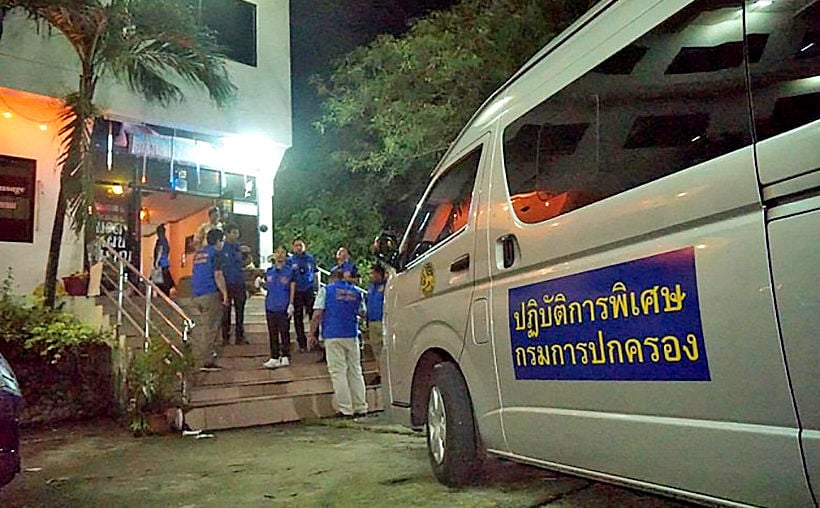 The Nation reports that 3 underage sex workers have been rescued after raids on a karaoke restaurant and a karaoke massage parlour in Ang Thong, central Thailand.
The raids were confirmed at a press conference held by Ronnarong Thipsiri, Head of the Department of Provincial Administration's investigation and suppression division, along with Sakda Bandasak, sheriff of Ang Thong's Muang district. Ronnarong alleges both premises were using the underage girls as prostitutes.
"We collaborated with Damrong Dhama Centre and anti-human trafficking organisations and learnt that two karaoke joints in Ang Thong were employing underage sex workers. These were the Chil Chil Karaoke on Highway No. 3064, Pa Ngiew sub district of Muang district, and Jittra Karaoke on the ground floor of a hotel in Muang district."
During the raids, police identified 6 sex workers offering services to a group of customers. Four of the girls were Thai and two were from Laos. Three were under the age of 18, with the youngest being 15 years old. A large number of used condoms were also found.
Somjit Phetwijit and Aphirom Pheungpracha, the owners of Chil Chil Karaoke and Jittra Karaoke respectively were arrested and charged with human trafficking, solicitation of prostitution, prostitution of an underage person, and opening an entertainment facility without a licence.
A 17 year old girl from Jittra Karaoke told the press she was hired to sit and drink with clients and was paid 50 baht each time a client ordered a drink.
"Clients can buy sex for 1,500 baht a time or pay 3,500 baht for a whole night. They can either use massage rooms in the back or bring the girls to other hotels of their choice."
SOURCE: The Nation
Keep in contact with The Thaiger by following our
Facebook page
.
Singha grabs a 90% stake in Thailand's Santa Fe restaurant chain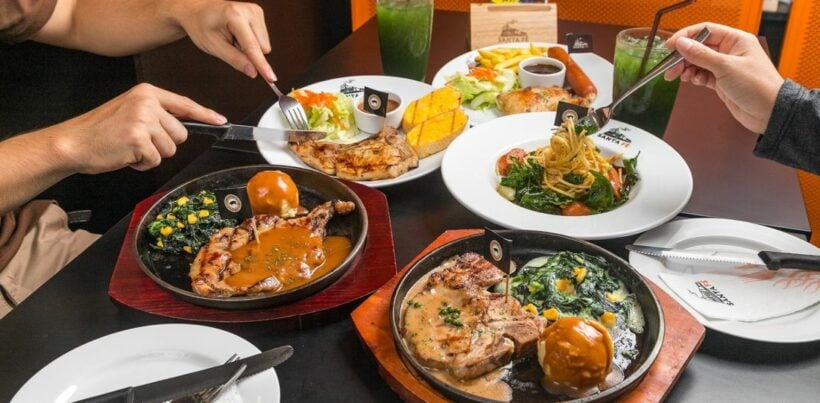 (…or is that a 90% 'steak'?)
PHOTOS: Wongnai
DealStreetAsia, an investor news site reporting on Asian business, confirms that Singha Corporation has purchased a majority stake in the Thai restaurant chain, Santa Fe. It's understood that Singha purchased the shares held by Lakeshore Capital for approximately US$50 million or 1.53 billion baht, giving it a 90% stake in the chain seen in most Thai shopping centres.
The Nation reports that Singha will now oversee over 110 restaurants across Thailand in one of the country's biggest food industry deals of the year. The company first turned its attention to the food industry two years ago, launching Food Factors Company under the Boon Rawd Brewery group.
WongnaiFood Factors aims to make 5 billion baht over 3 years under the stewardship of Piti Bhirombhakdi. The company has an ambitious long-term target of 10 billion baht a year, along with plans to be listed on the stock exchange.
The Santa Fe chain was established in 2003 by Surachai Charn-Anudet's KT Restaurant Company, with the aim of becoming a major competitor to Sizzler, the American chain brought to Thailand by Minor Food.
SOURCE: The Nation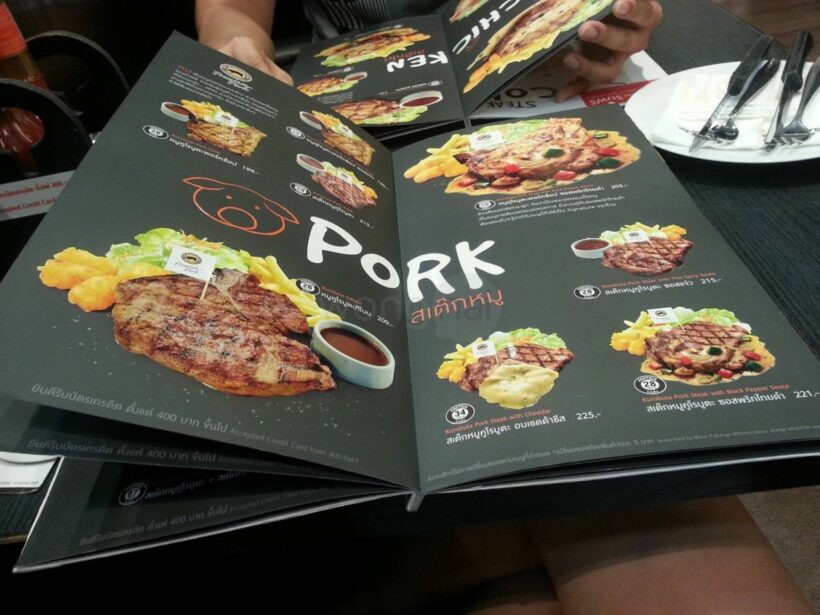 Keep in contact with The Thaiger by following our
Facebook page
.