Thailand
Phuket Gazette Thailand News: Parties wrangle for Senate control; Yingluck to face NACC; Relief for Isarn drought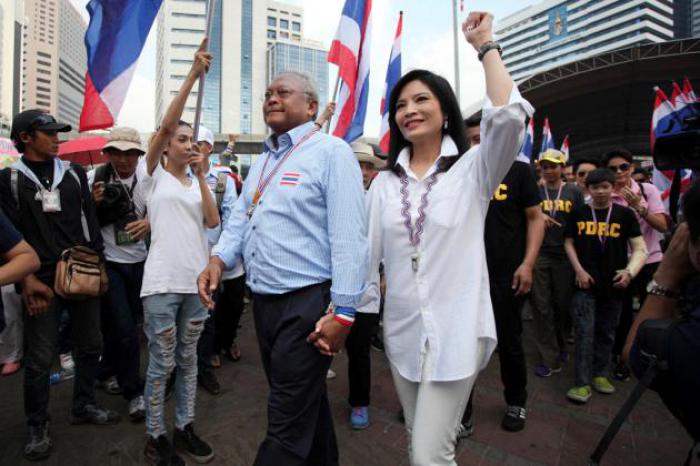 PHUKET MEDIA WATCH
– Thailand news compiled by Gazette editors for Phuket's international community
PM yet to confirm appearance before NACC
The Nation / Phuket Gazette
PHUKET: Caretaker Prime Minister Yingluck Shinawatra said yesterday she has not decided whether she will defend herself in person today before the National Anti-Corruption Commission (NACC) over the rice-pledging scheme corruption case, or send her lawyer on her behalf.
The NACC is investigating the case before resolving whether to indict Yingluck on charges of alleged malfeasance and dereliction of duty for her failure to stop the rice-pledging scheme, which was allegedly rampant with corruption and led to a huge loss to the state.
NACC secretary general Sansern Poljiak yesterday said the NACC would not decide whether to indict the premier today.
However, he urged Yingluck to at least send her lawyer to submit her explanation in document form today and she could ask to give an explanation in person later.
Sansern said that after the explanation was submitted, the NACC would consider any request from Yingluck for it to make further investigations and would decide on that in a meeting the following day.
Yingluck said she had asked the NACC for an additional 15 days to submit her defence statement, after having already been granted an initial 15-day extension, but she was refused this time.
She said she had managed to get information about the charges from the NACC's 280-page case document on Thursday, so she ended up having only three days to study the document to defend herself against the charges.
Yingluck has questioned whether the NACC has treated her fairly, or in the same manner as other political office holders.
"We see that there was no progress in many other cases [involving NACC investigations]," she said.
"Some cases have almost reached the statue of limitations and some have lost it.
"Some cases see no progress because of a lack of documents but I have just been accused after a 21-day investigation and I was denied additional time to be prepared for the interrogation.'
Noppadon Pattama, on the committee for Pheu Thai Party's affairs, raised the following questions with the NACC in connection with the agency's accusations against Yingluck.
1. Why did the agency take more than five years to probe the case against Democrat Party leader Abhisit Vejjajiva over the corruption allegation involving rice distribution and make no progress, while pressing charges against Yingluck after only 21 days?
2. Does the NACC want to bring about a swift prosecution against Yingluck by having a full NACC panel investigating the case instead of appointing a sub panel to do the job, as it normally does with other cases?
3. The NACC pressing charges of malfeasance and dereliction of duty against Yingluck shows that Yingluck had nothing to do with the corruption, so why is the agency pressing charges in the broad spectrum against her?
4. The NACC produced a 280-page document covering the charges against Yingluck and only three days before she is forced to make her defence statement. Is the time given to her too short?
5. Does the NACC carry out its duties fairly?
6. Why doesn't the NACC give Yingluck additional time to submit her defence statement, even though the NACC's decision in this case could result in her being suspended from duty?
Noppadon urged the NACC to give Yingluck ample opportunity to defend herself and rule in accordance with the truth, saying he could not predict how the agency's verdict would impact on the country.
Democrat Party deputy leader Ongart Klampaiboon said Yingluck was not entitled to send her lawyer to defend charges of malfeasance.
"She must defend herself in person, since she used her judgement in signing papers related to the rice-pledging scheme," he said.
"No one knows her mind or thoughts about the issues."
Ongart expects the political mercury could reach "boiling point" this month because independent agencies are finalising many cases against the government.
New Senate could decide PM's fate
The Nation / Phuket Gazette
PHUKET: Polls opened yesterday for 77 Senate seats that could hold the key to the fate of caretaker Prime Minister Yingluck Shinawatra, who, after five months of street protests, may face impeachment for negligence of duty.
While the Senate is officially non-partisan, in reality the two main political camps – the ruling Pheu Thai Party and opposition Democrat Party – are trying to control the 150-seat Upper House in the absence of a functioning Lower House after the election last month was annulled.
From unofficial results last night, it was obvious that winning candidates are likely to come from the two rival parties, or the red-shirt and anti-government camps. Most top contenders are former ministers or party members, MPs, or politicians' relatives. Some of them are close to anti-government protesters.
Former Auditor General Khunying Jaruwan Maintaka appeared to win the Senate poll in Bangkok with more than 500,000 votes while about one million people voted. Jaruwan, who is known as a tireless opponent of ex-premier Thaksin Shinawatra, vowed not to disappoint the people who voted for her. "I will be determined in protecting the national assets," Jaruwan said after she learned the unofficial results.
Appointed Senator Khamnoon Sitthisamarn posted a note on Facebook saying Jaruwan is qualified to contest the post of Senate speaker if she wants.
The anti-Thaksin regime group, or representatives of the Democrat Party, are also likely to sweep seats in several southern provinces and some eastern provinces such as ex-Democrat MP Boonsong Khaiket in Trat.
In Prachuap Khiri Khan, former provincial administrative organisation president Suebyos Baiyaem is the likely winner. He is backed by former Democrat secretary |general Chalermchai Sri-on. In Chumphon, Pol Colonel Narin Butsayawit, son of former Chumphon MP Narrong Butsayawit, got a big boost from a key leader of the People's Democratic Reform Committee and is likely to win
Senate candidates likely to win who are government supporters include former Chart Thai Pattana MP Jongchai Thiangtham in Suphan Buri and Monthien Songpracha in Chai Nat. Monthien is believed to be a Pheu Thai supporter as his wife has become a party member.
In Chiang Mai, Adisorn Kamnerdsiri, former Chiang Mai deputy governor, who has close ties with Pheu Thai, is tipped to win.
In Khon Kaen, red-shirt lawyer Wan Suwanpong has left his competition far behind. In Udon Thani, red-shirt hardliner Kwanchai Praipana's wife Arporn Sarakham won up to 300,000 votes to take the seat.
Anti-government protesters are pushing for the removal of Yingluck as PM. The earliest this could happen would be through an impeachment, which would require votes from three-fifths of the Senate if she is found guilty by the National Anti-Corruption Commission (NACC) on charges of dereliction of duty for her role in overseeing the rice-pledging scheme. Yingluck is due to appear before the NACC today.
Observers said the elected portion could install many pro-government members to help bolster the administration in the face of looming legal challenges. However, a Senate dominated by anti-government politicians could hasten her exit.
— Phuket Gazette Editors