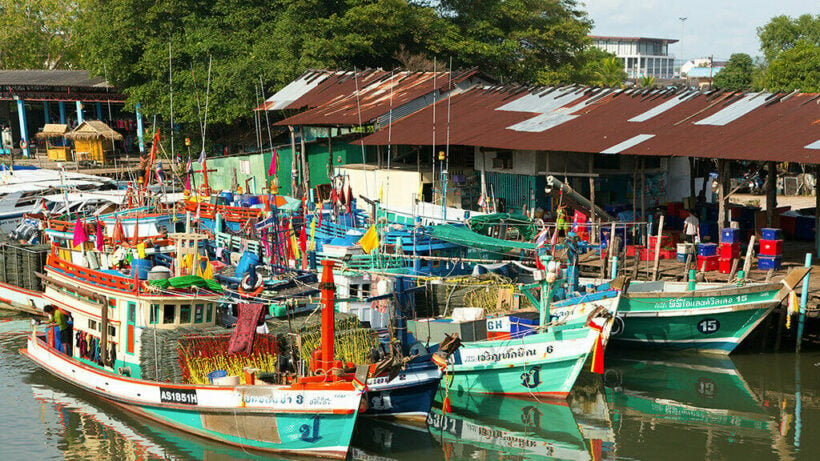 A series of Covid infections on fishing boats has shut down the Phuket Fishing Port, located on Koh Siray, for 14 days. The 2 week closure is to allow all operators and fishing crews who operate out of the port to get tested for Covid.
The president of the Phuket Fishermen's Association, Somyot Wongbunyakul, announced the port closure yesterday. The port will be closed starting tomorrow, Friday, August 20.
Somyot says the majority of the fishermen who work out of the port are healthy and that over 90% of them have already received 2 vaccine doses.
The President adds that last week saw monsoon weather, so boats were unable to fish. He says around 40 boats had to stop work for about 7 to 8 days.
"This caused the fishermen to disembark from the boats and come ashore, and come in contact with those infected with COVID-19 in the community. They then returned to the boats, leading to infections on the boats," says Somyot. He went on to say that before this incident, there weren't many infections found on the boats.
The discovery of the Covid outbreak on fishing boats resulted in discussions among the commercial fishing boat operators. They decided that the port should close for 14 days to give the workers time to get tested.
Somyot adds that anyone who tests positive for Covid will get treatment and if there are any high-risk contracts they can quarantine on their boats. He cautioned that getting rid of Covid from the fishing fleet will take time, but all of the operators are willing to cooperate.
The President continued to say that measures are in place to ensure that all crews are prohibited from leaving the harbour once their ships arrive at the port. He also says there will be an intercepting checkpoint set up to make sure fishing crews can't leave the port.
SOURCE: The Phuket News