Medicinal marijuana by next year in Thailand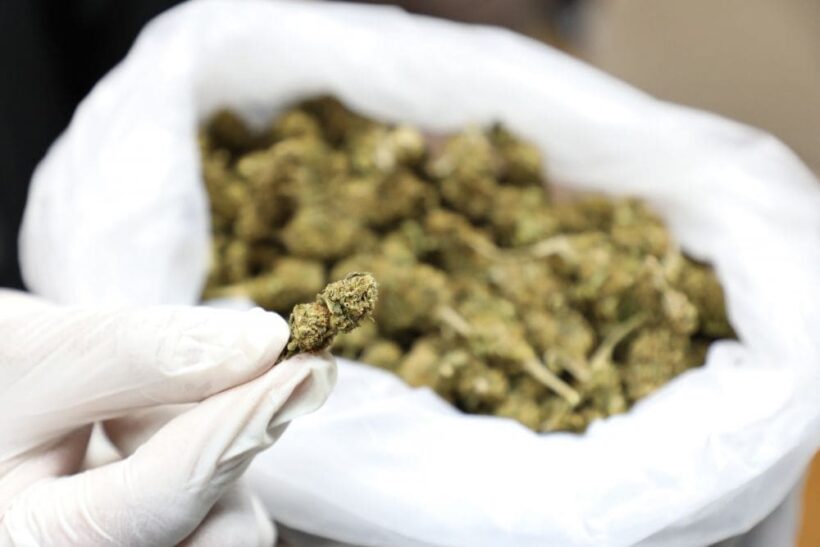 Thailand's Governmental Pharmaceutical Organisation (GPO) is starting researching to develop medicines from marijuana in acknowledgement of evidence that the outlawed substance has health-enhancing properties. It is also seeking to initiate a legal amendment that would permit cannabis for medicinal use, possibly by May next year.
Recreational use will remain illegal.
GPO chairman Dr Sopon Mekthon yesterday says that with the prospect of marijuana being legalised in certain circumstances, his organisation had begun working with the Food and Drug Administration (FDA) and Narcotics Suppression Bureau to launch a research project on developing and mass-producing medicines from marijuana.
The Narcotics Suppression Bureau has already given 100 kilograms of seized marijuana to the GPO as raw material for their research.
Sopon says Thailand has the potential to be a world leader in the development and production of cannabinoid medicines, which would enhance the efficiency of medical care and treatments in many patient groups. Exporting high-priced medical cannabis extracts could also yield the country sizeable profits.
"Despite marijuana still being considered a harmful drug, its medicinal benefits are widely accepted and it is also scientifically proven that marijuana contains many medicinal compounds that can efficiently treat the side effects of chemotherapy, chronic pain, muscle spasticity and epilepsy," Sopon said.
"As a preparation for the decriminalisation of medical marijuana, GPO's research team is now working on a research project to produce a medical cannabis extraction prototype in the form of a cannabis oil sublingual drop, which will be the initial ingredient for drugs production and can also be used as a substrate for further medicine development."
Sopon estimates that the research team would be able to extract 10 to 15 litres – or 18,000 bottles – of concentrated cannabis oil from the first 100 kilograms of marijuana.
He says the GPO expected to produce the preliminary results of its research by the end of this year.
It is estimated that the research team will better understand the quality, cannabinoid substances, and unique medicinal properties of marijuana through various regional sources. These breakthroughs will allow the GPO to assess the feasibility for upscaling the medicine development to clinical trial level and further plan for commercial production.
GPO managing director Dr Withoon Danwiboon revealed that if the outcome of the research indicated hopeful signs for medicine development and commercial production of new medical products, his organisation planned to expand production to an industrial scale.
"Initially at this stage, the main base for medical research and development on marijuana remains at our head office in Bangkok," Withoon said.
"In the next step, for increased production scale and research project expansion, we plan to develop a special facility for the entire chain of cannabis medicine development and production at our land plots in Chon Buri."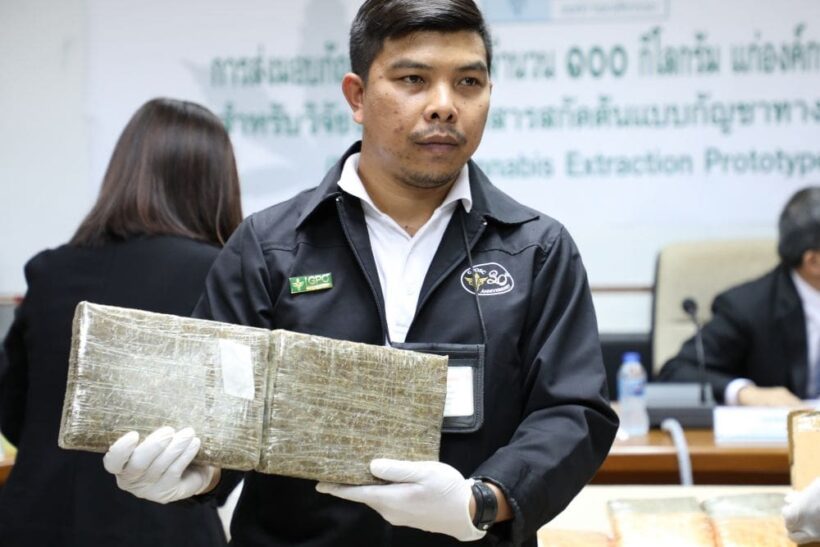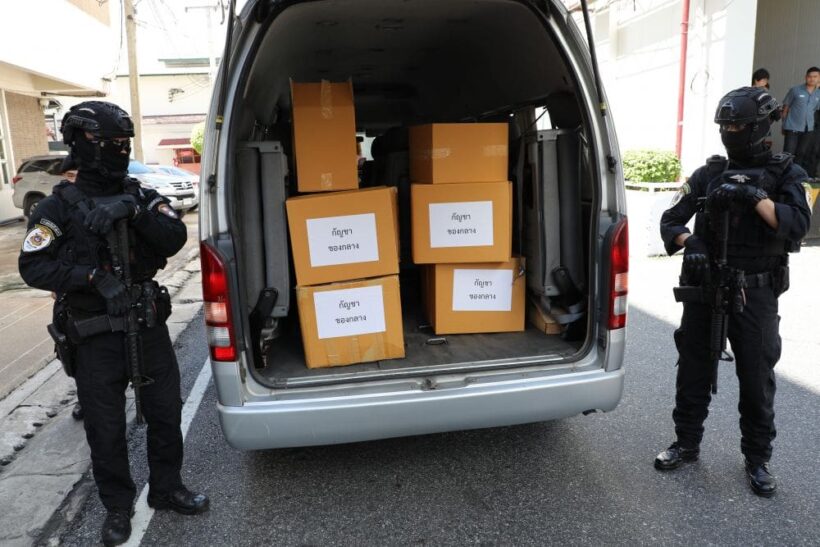 STORY: The Nation

Are you considering a medical procedure abroad? With MyMediTravel you can research hospitals and doctors, choose a destination in Thailand or abroad, and book an appointment today.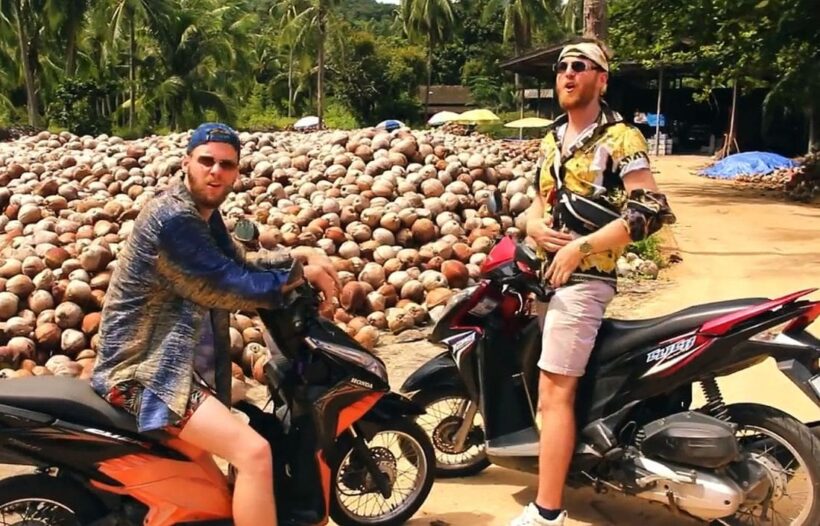 No helmets, but a lot of effort, some cameos by local dogs and a drone, brings together a heart-felt ode to the ubiquitous Hand Click, the favourite scooter rental for Thai tourists for a decade. This unlikely, hastily organised boyband duo deserves 10 out of 10 for effort but a lower score for their singing and fashion sense. Filmed on Koh Phangan. Enjoy!
(The Thaiger reminds everyone riding motorbikes in Thailand to always wear a helmet – because it's the law and it could save your life.)
Ich fühl mich so geil auf meiner Honda…

Posted by Jimbotronic on Sunday, October 14, 2018
Soi Dog Foundation responds to rabies and dog registration stories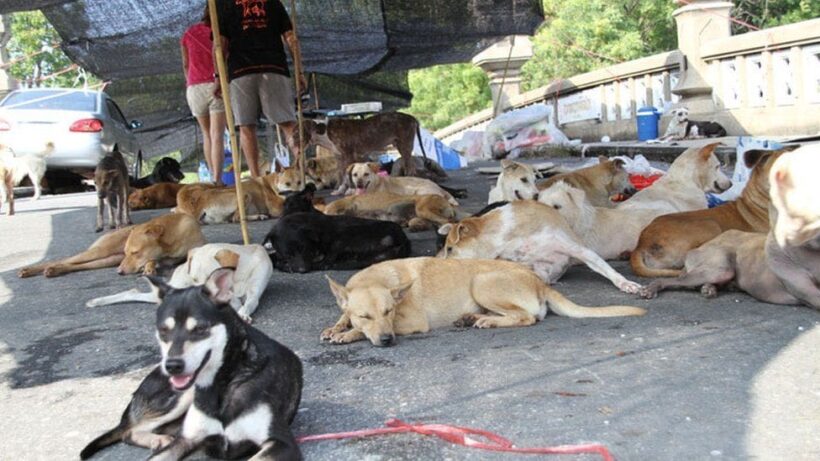 PHOTO: Bangkok Thailand Soi Dog
Phuket's Soi Dog Foundation has sent The Thaiger a response to an article published on October 16. The story was sourced from our Bangkok partners 'The Nation' and, according to Soi Dog, contains some glaring inaccuracies. You can read the original article HERE.
We reprint the response from the Soi Dog Foundation below…
"The Department of Livestock Development (DLD) carries out a survey, twice a year, in an attempt to count the number of dogs and cats in the country, both owned and stray. In 2016, it counted 7.3 million dogs and 3 million cats in Thailand, excluding Bangkok. This year the number of dogs was recorded by the DLD as 7,770,969, excluding Bangkok.
We at the Soi Dog Foundation carried out a census of free roaming dogs in Greater Bangkok two years ago and came up with a figure of 640,000, so a realistic number for dogs nationwide is somewhere around 8.4 million, not – as your story states – 820,000.
Another figure given in your story is that 40 per cent of stray dogs in Thailand could carry the rabies virus. If this were true, there would be hundreds of human deaths a year, if not thousands, and the carcasses of dead dogs would be scattered all over the place.
A story published by The Nation on September 28 ("Expert says rabies still not under control and official statistics may be misleading") gave a DLD figure of 15.3 per cent for the first nine months of this year.
But even that is highly suspect. It was based on a very small sample – just 8,472 dogs. And those were 8,472 dogs that had been caught by the DLD, and their brains examined post mortem for the virus because they were believed to be rabid.
Plainly, to base a percentage infection rate on a sample made up entirely of dogs that are already suspected to have rabies is utterly misleading. It would be like saying, "We checked a bunch of people thought to have diabetes and found that 15 per cent of them did indeed have diabetes."
The real figure must be much lower. We believe it is between 1 and 4 per cent.
At the root of all the problems being discussed is, in fact, Thailand's ineffective garbage disposal problem system, which allows a high number of dogs to survive and even get fat by scavenging from trash bins.
Trying to remove 8 million-plus dogs to "shelters" is futile, and carrying out culls (which would probably be illegal under the Cruelty Prevention and Welfare of Animals Act of 2014) would be equally ineffective. Here's why:
The cost of building shelters to hold 8.4 million dogs would be astronomical and the annual budgets for running them would equally expensive. It would be a huge drain on the national treasury.
Dumping dogs in government pounds would probably lead to large scale suffering and death, as was seen earlier this year when, as a result of the rabies panic, 3,000 dogs were crammed into the government animal quarantine facility in Nakhon Phanom. In just weeks, around 2,300 died from disease, starvation and wounds from fighting.
Dogs that were not caught in this proposed nationwide roundup, or which avoided being killed in a nationwide cull, would swiftly move into the territories of the dogs that had been removed, breeding rapidly and replacing them.
A female dog can have up to three litters of pups a year, each litter averaging seven pups. This means that one female and her offspring – and their offspring and so on – can become 67,000 dogs in six years. This is why an extended campaign of "catch, neuter, vaccinate and release" is so effective.
Even if all the dogs could be removed, the garbage problem remains, Other species would take over, notably cats, who breed even more rapidly than dogs, and monkeys. If they, too, were impounded – and cats and monkeys are far harder to catch than dogs – then the country would see an explosion in rat and mice populations. Outbreaks of bubonic plague transmitted by rats and their fleas would be far more frightening than rabies.
As we have seen in Phuket, large scale sterilisation, coupled with vaccination, works, not only in reducing numbers but also in eliminating rabies. It does require large scale investment, though far less than sheltering would, and spread over several years.
As to the issue of compulsory licensing of pets, whether there is a fee or not, we believe this is not a viable solution. It has been tried by other countries and then abandoned because the majority of dog owners – numbering in millions – simply decided not to comply.
Does Thailand have the resources to find, arrest and bring to court millions of dog owners, in order to extract small fines from them, always assuming that the authorities can prove in the first place that the dogs actually have "owners"?
We doubt very much that the government will find this is an effective measure for controlling Thailand's population of strays, reducing abandonments or reducing the spread of disease. Indeed, it is likely to have the opposite effect.
SDF Founder John Dalley, Soi Dog Foundation, Phuket
Ninth measles victim in Yala, 3 remain critically ill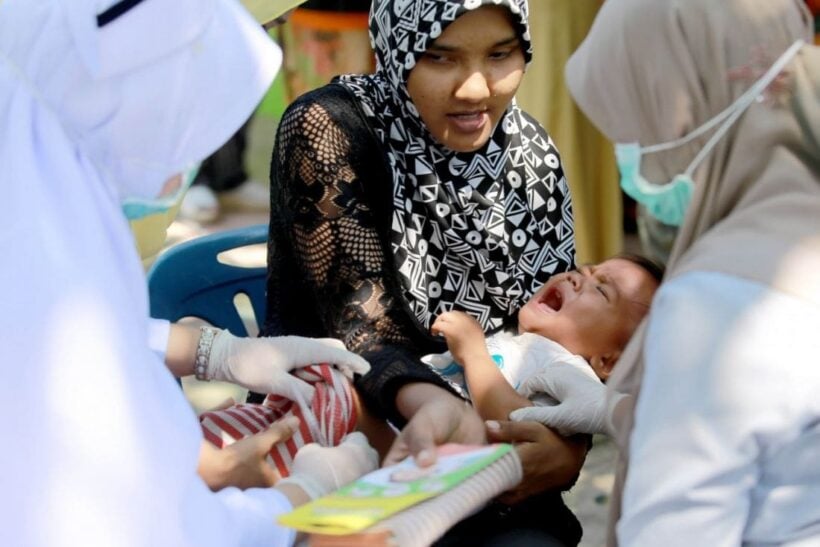 PHOTO: A mother holds her child as nurses at the Tambon Yala Health Promotion Hospital in Yala's Muang district vaccinate him against measles yesterday. – Nakharin Chinnawornkomol
Another child has died as a result of complications from measles in Yala province yesterday morning.
This latest preventable fatality brings the number of deaths from the disease in the southernmost province to nine since June. The Yala Provincial Public Health Office head Dr Songkran Maichum announced the sad news to the media yesterday.
The Nation reports that three other children remain critically ill with measles at Yala Hospital. Admitting the disease outbreak in the province was "worrying", he said his office aimed to have 7,000 at-risk children – especially those aged between five months and five years old – in Yala vaccinated by November 4.
He said the main reasons for the fatalities were that the patients had not been brought to hospital early enough, dying from subsequent health complications, and not been vaccinated at an early age. He also said the 8,000 doses of vaccines available were sufficient, though the office has requested for another batch of 3,000 doses.
Songkran noted that the most-affected districts were Yaha, Bannang Sata and Kabang in Yala province.
Health officials continued vaccinating young children against measles yesterday. Acting director of Tambon Yala Health Promotion Hospital, Nurse Thelma Doyor, led a team to vaccinate 15 children in Ban Pajo (Moo 3) in Muang district.
Aiming to cover the area's 108 toddlers, the hospital will ask for additional doses to cover the rest by November 4, she said.
The hospital had previously vaccinated 35 children. Abdul-Roning Abdulloh, the imam of Ban Pajo Mosque, said he was inviting residents to have their children vaccinated, as he was able to confirm that it is acceptable for Muslims to receive the vaccine. He cited his previous consultation with many Muslim doctors about the vaccine, as some people were afraid that the vaccinations were not in accordance with halal principles.
The Imam added that he will tell people during the Friday prayer assembly that vaccines were necessary to protect young children. Songkran said officials giving the vaccines have been told to download a video clip featuring statements from the Sheikhul Islam Office and Provincial Islamic Committees saying this treatment is acceptable.
STORY: The Nation
Read The Thaiger's editorial about the issue HERE.