Experts warn of northern faultlines as aftershocks rock Lampang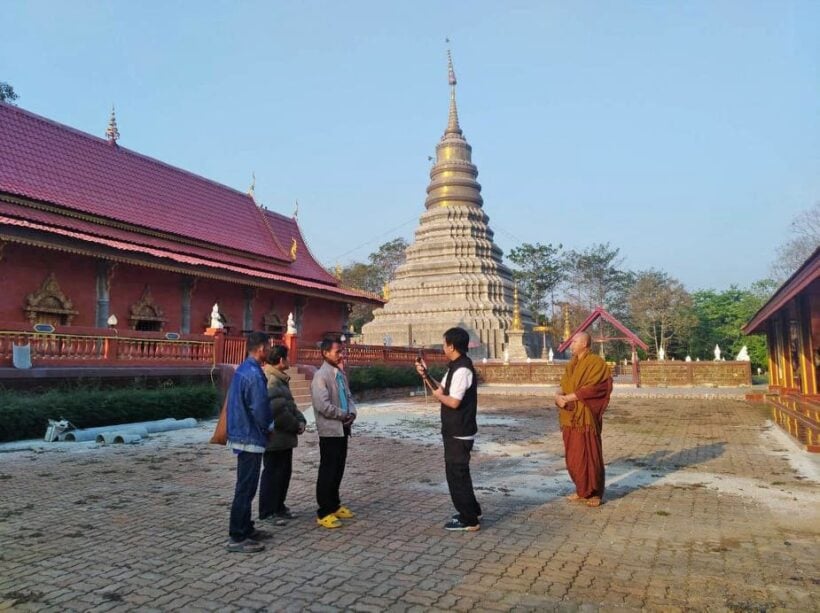 PHOTO: Wat Phra Kerd's abbot leads officials to inspect the damage to the pagoda's visibly tilted tiered umbrella top after Lampang's Wang Nua district on Wednesday suffered a 4.9magnitude quake.
The recent tremors around Lampang slightly damaged a few dozen homes in six tambons, including the tiered umbrella of the Wat Phra Kerd pagoda in tambon Thung Hua.
The 4.9 magnitude quake also cracked some walls and knocked off tiles in the Tambon Rong Koh Administrative Organisation and Tambon Thung Hua Administrative Organisation buildings, prompting officials to evacuate.
Luckily the 25+ quakes and aftershocks in Lampang's Wang Nua district on Wednesday and yesterday didn't cause too much damage. But academics remain concerned about the North, as it has several faultlines scattered across the region.
Penneung Wanichchai, seismologist at the Asian Institute of Technology, who has served as head of the Thailand Research Fund's quake-disaster prevention project, said that in theory, a 4.9 magnitude quake can be dangerous.
He says that the Phayao faultline should not be blamed for the Lampang quakes.
"In reality there are many more faultlines under the earth's surface. These quakes may have stemmed from other faultlines. We may be worried about residents living near visible faultlines, but I'm worried about the entire region."
"There can be a quake at any time, as seen in the May 5, 2014 earthquake in Chiang Rai. The Lampang quakes have made us realise that quakes can happen any where, so people should be aware," Penneung said.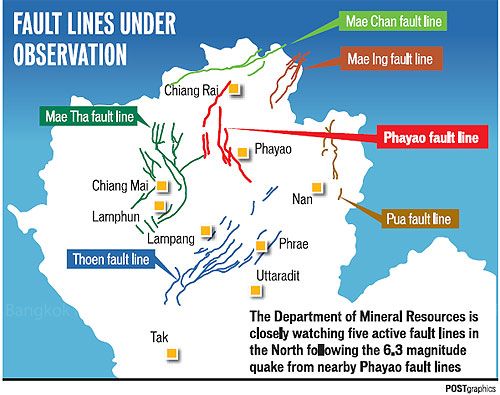 "Houses should be reinforced with metal and larger pillars," he said, adding this team had reinforced four school buildings and were currently working on another four.
He says the government should add another 15 percent to the budget for constructing state buildings – especially schools and hospitals – so they could be suitable reinforced.
The Thai Meteorological Department's Earthquake Observation Division has blamed the quakes on the Phayao faultline, which passes through Phayao, Lampang and Chiang Rai provinces.
So far, the 4.9-magnitude quake at 4.05pm on Wednesday in Lampang's Wang Nua district was the biggest, while the latest 2.6-magnitude aftershock occurred at 6.07am yesterday, the centre said.
Teraphan Ornthammarath, who leads the TRF project for mapping out quake-risk areas in Thailand, said that though the Lampang earthquakes did not cause much damage, people should still stay out of risky buildings in case there are more violent aftershocks.
Citing the inspection of damages in Lampang's tambon Thung Hua, he said the tambon administrative organisation's building only suffered cracks in the wall, while the pillars and beams were unaffected. He said only one house in the tambon was coded "red", as the metal interiors of a pillar had been exposed.
The Lampang quakes could be felt in the provinces of Chiang Mai, Phayao and Chiang Rai. Many Chiang Rai residents worried this might be a repeat of the 2014 6.3-magnitude quake, which had shaken Phan district, damaged buildings and caused "superficial" cracks to the Mae Suay dam.
Mae Suay district chief Kitti Chaidarun said the main dam was not affected by the Lampang quakes.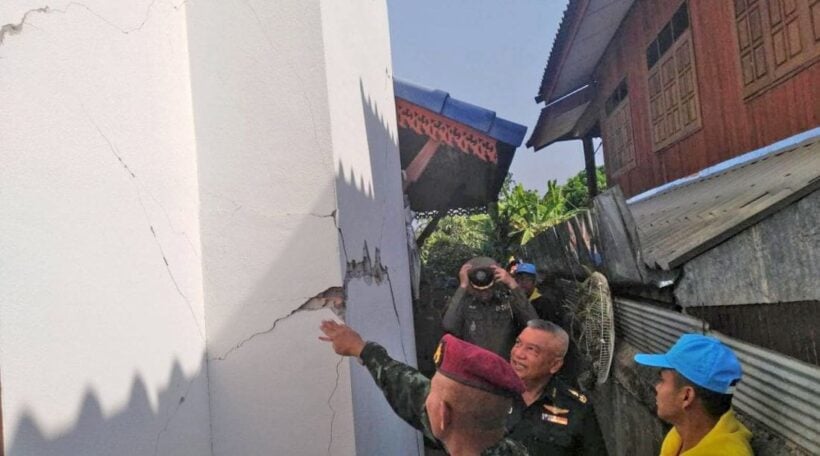 SOURCE: The Nation


Read more headlines, reports & breaking news in Chiang Mai. Or catch up on your Thailand news.
American drug suspect impersonated 'Mr Thomas' for 25 years, arrested in Chiang Mai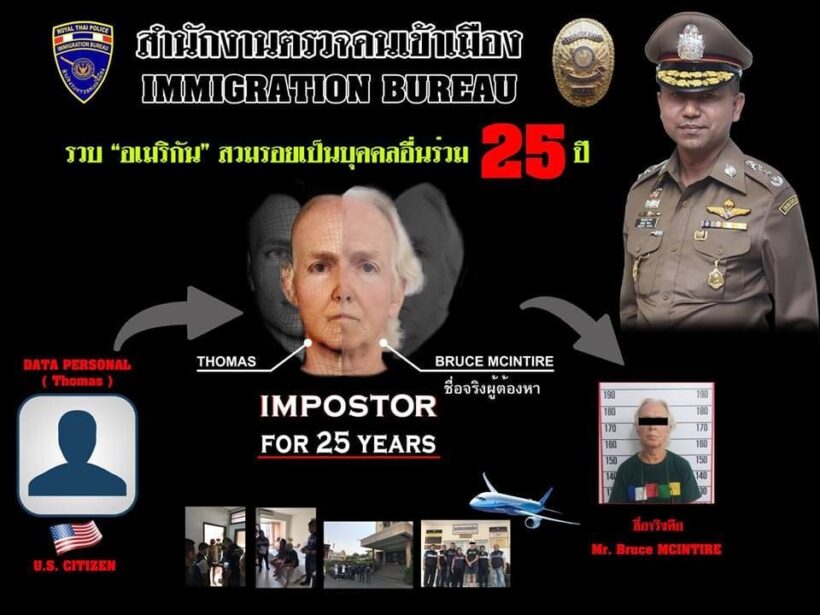 PHOTOS: Surachate Hakparn, Immigration Bureau
A 67 year old American man, wanted as a drug suspect, has been arrested in Chiang Mai this week. He had been living under the identity of another person with whom he shared a similar face, for more than 25 years.
The Thai Immigration Bureau reports that they have arrested a 67 year old American man Bruce McIntire. He is a drug suspect who has been on the run for 25 years and using the identity of another man. He has been living in Thailand for six years.
Officers were notified by the American Embassy that a man named 'Mr Thomas' who shared similar facial features with Mcintire, submitted an application for a new passport. Officers found that his name already existed in another passport.
Mcintire has now admitted that he used fake documents to get a dodgy passport through a Nigerian passport forgery gang. He then used his fake passport in the name of 'Mr Thomas' to apply for a passport renewal.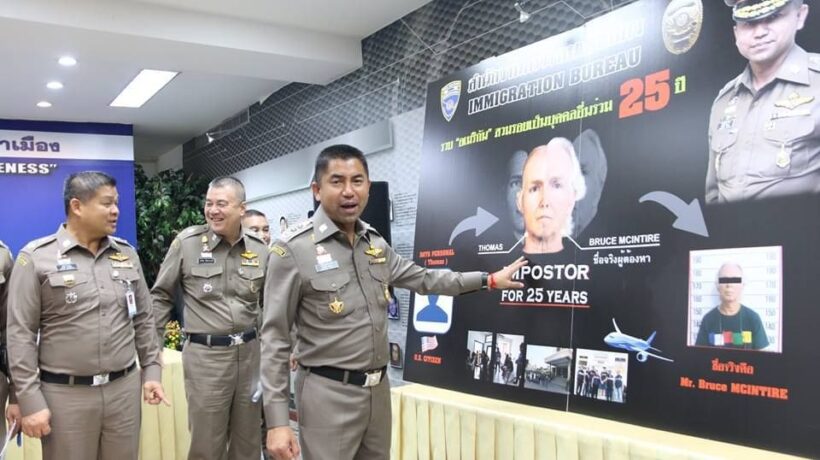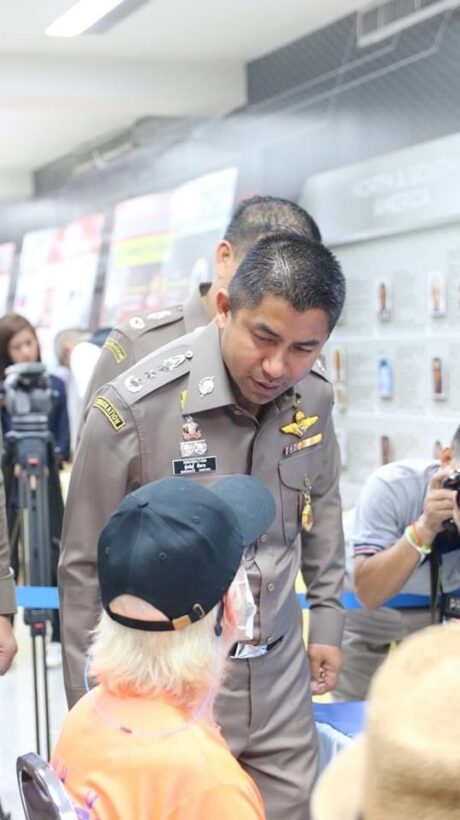 Chiang Mai hit-and-barge-through pickup driver sought by police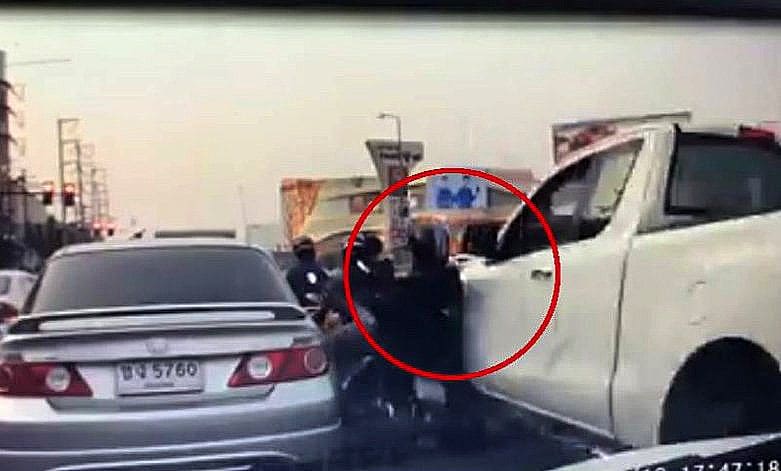 SCREENSHOT: Facebook/เพจคลิปดังเฟซบุ๊ก
Can you help?
Video footage from a car dash cam on the San Dek intersection in Chiang Mai shows a white Mazda pick-up barging its way through some waiting motorcycles sitting in the traffic.
The rear motorcycle rider gets thrown off his bike, his bike is damaged but the surprised rider gets up after the pick-up just keeps plunging through the traffic.
โมโหอะไรมา! บอกกันดีๆก็ได้ จริงๆมันก็เลนพี่อันนี้ไม่เถึยง แต่ด้านขวายังห่างเป็นศอกนะ บางคนก็บอกสมควร บางคนก็บอกไม่สมควร กูไม่ใช่ศาลไคฟง #ดูกันเอาเอง#วันที่สิบแปดเวลาห้าโมงสี่สิบเกิดขึ้นที่แยกศาลเด็กเชียงใหม่cr.Amphan Khempradam

Posted by เพจคลิปดังเฟซบุ๊ก on Thursday, March 21, 2019
The original poster of the footage, Amphan Khempradam, is calling for people to help by sharing the footage. We've done our to help Amphan.
A police report has been made following the incident in late afternoon peak traffic this week.
SOURCE: Daily News
Man caught masturbating in front of election banner in Lampang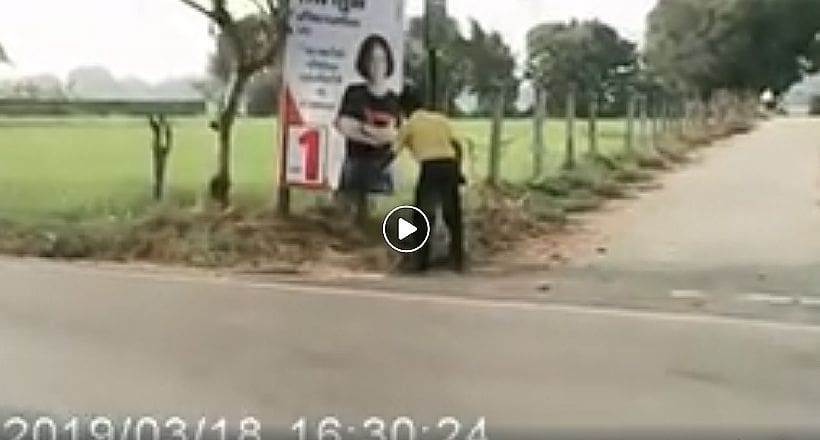 Locals in Lampang in Thailand's north have complained to the media that an older man had been caught on dash cam masturbating in front of an election banner for a female candidate for this Sunday's election.
Sanook reports that the woman in the poster was 'attractive'.
The man, estimated to be between 60 – 70 years old, was shown in Thung Fai sub-district repeatedly rubbing the poster of the female candidate with his left hand before using the same hand to masturbate.
When he realised he was being filmed he abruptly stopped. Locals told Sanook that they caught the man behaving like this before, although The Thaiger notes the last election was back in 2011.
SOURCE: Sanook