Business Buzz: Social Media trends to look out for in 2017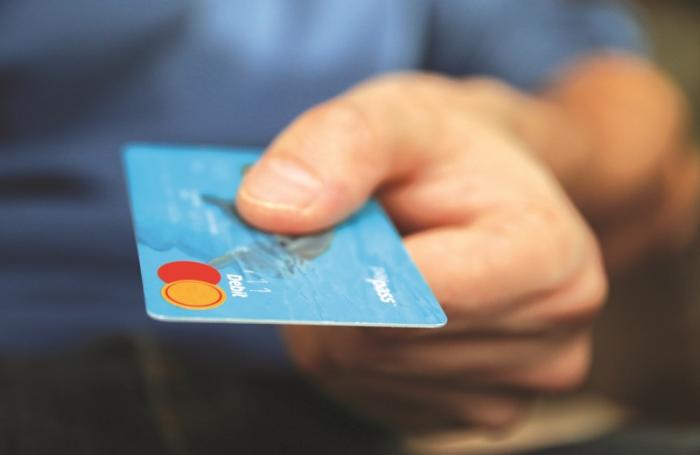 PHUKET: Another year gone and the social media scene has witnessed a lot of changes, with new platforms such as Periscope and Snapchat rising in popularity – while Twitter continues its slide.
Video, 360 degree images and smart graphics will likely continue leading the way in content marketing and branding, appealing to our need for instant gratification and shorter attention spans.
Also live feed platforms and instant content will be even more popular as marketers understand it better.
However, I believe there will be more focus on niche marketing.
Instead of blanket marketing to a large audience, companies should focus on their specific target market. Understanding this will be key. Social media has, up until now, made marketing a lot easier for the masses but it is getting more competitive and this will ensure success if done correctly.
There is also going to be a lot more policing of content, particularly by the likes of Google and Facebook. We are already hearing commentary from Facebook about fixing fake content on their site after the US election outcome, and Google will no doubt further select what content will make our inboxes, all supposedly in the name of quality control. However, I don't think they can ever be more accurate than our own decisions, but Big Brother censorship will be on the rise.
I am sure these platforms will also become more insular. Popular content will be more likely shared if it stays within the platform, and third-party sites will be given less exposure. An example of this is Facebook's lead generation marketing, which creates leads without requiring people to be sent to outside websites to capture their data.
I expect to see a lot more e-commerce 'shops' pop up on Facebook. They will become more successful and raise huge revenues while increasing their marketing appeal for businesses to get on board. However, that might not be so great for the consumers.
Finally, I believe we will see more people using software and strategies with the goal of making posts and content go viral. This will become a common content marketing goal, and those who are successful will have a fantastic year ahead.
So expect to see more offers that invite you to like, comment and share, as well as tag friends with the aim of driving high levels of targeted traffic.
And, if you have a business, I recommend that you read up about these strategies and get out ahead of the rest.
Wishing everyone a very happy and successful 2017.
Simon Wetherell is a registered migration agent and lawyer. He resides in Thailand and has offices in Phuket and Bangkok. For more information, visit AustralianVisaPhuket.com, call 095-085 3355 or email [email protected]
— Simon Wetherell


Do you need help with your business? Are you searching for a new job? Or an employer looking to hire? Try JobCute today.
Hermès opens its first store in Phuket at Central Floresta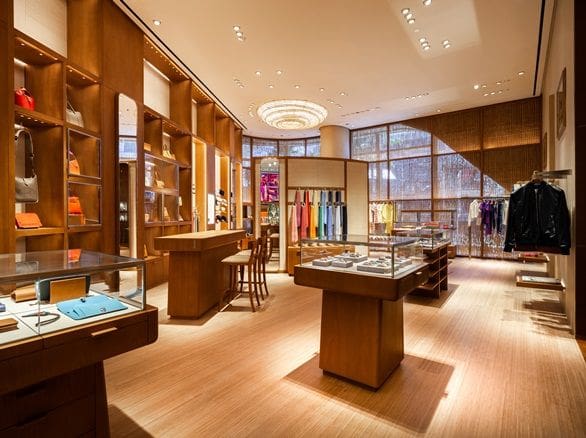 Hermès has opened of its first store in Phuket at Central Floresta, the newly opened lifestyle shopping destination in the heart of the island, opposite Central Festival.
As Hermès' first venture outside the Thai capital, the new Hermès Phuket store makes a significant statement of expansion and confidence in the market. The new address in this world-renowned island will allow the growing population of local residents, along with domestic and international tourists, to discover the abundant variety of Hermès métiers and savoir-faire.
Designed by the Parisian architecture agency RDAI, the elegant 172 m² retail space is located by the shopping centre's main entrance and benefits from a double exposure with an exterior and an interior façade.
A bamboo claustra follows the line of the mall's exterior glass, filtering the daylight that bathes the indoor space, and further illustrates Hermès' high regard for local craftsmanship. The interior façade is composed of a refined lacquered metal, featuring a large window display, complemented by four recesses with illuminated silk scarves.
Upon entering the store, visitors are welcomed by the House's ex-libris and signature Grecques lights, designed for Hermès in 1925. The store is decorated with natural and local materials – bamboo floors and claustra, cognac toned Cherrywood walls, toffee coloured silk and fibre fabrics – tastefully blending various elements of Thai culture and modern architecture. The soft colour palette evokes the sand and the sun in their various shades, providing a delightfully serene and convivial atmosphere.
The overall volume is divided into two main areas by the feminine silk grid facing the entrance. The first one, with the iconic Faubourg pattern mosaic floor, allows guests to explore the silk, fashion jewellery, fragrance, art of living, and equestrian departments.
Opposite the leather goods display, an intimate space invites guests to uncover the watch and jewellery collections. Further along, one can discover the women and men's universes. A sand coloured carpet on the floor outlines the area dedicated to the shoe collections, enriched by a delicate custom-made bamboo light module as the ceiling centrepiece.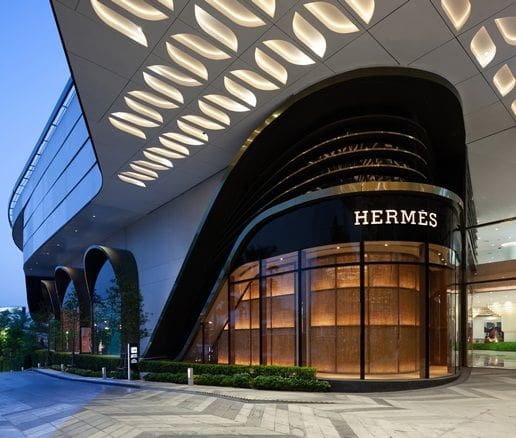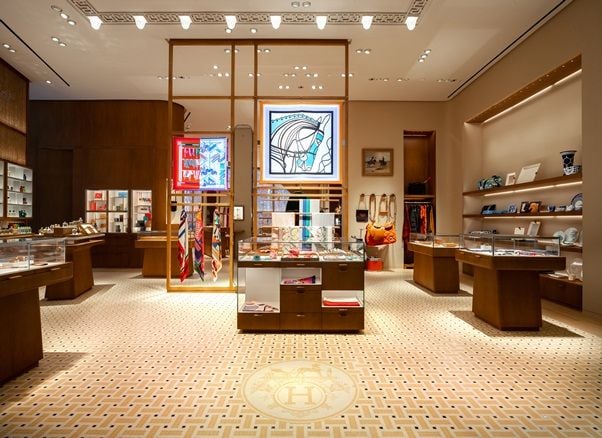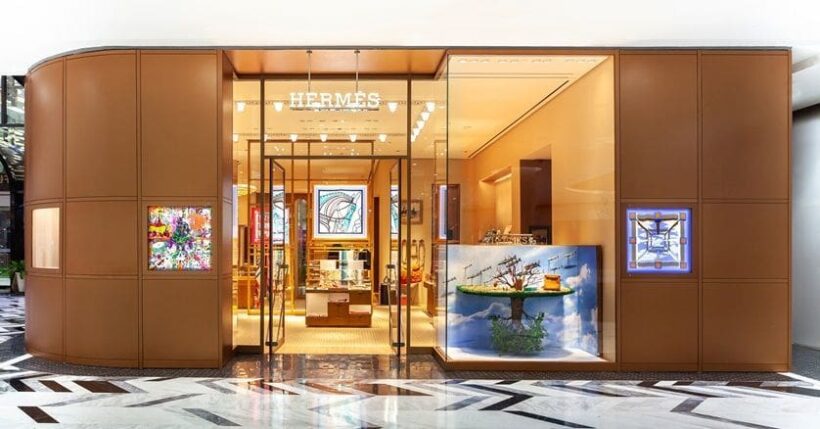 Thailand 'slightly impacted' from a no deal Brexit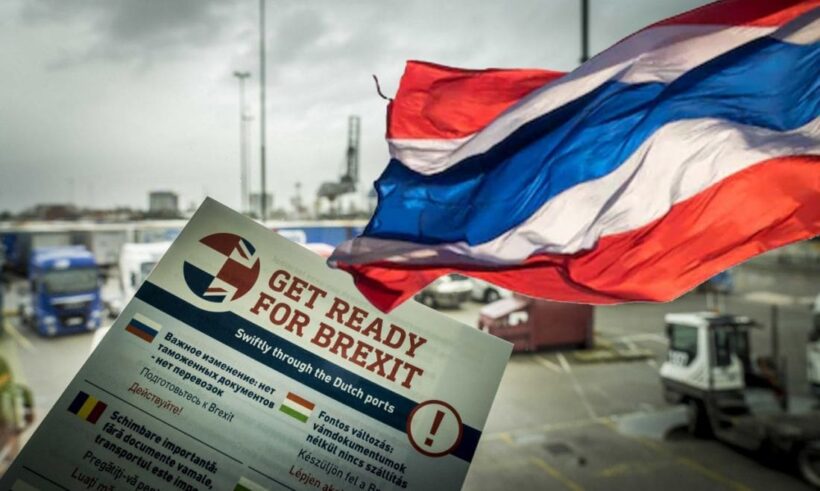 The EU has agreed to postpone Brexit from next Friday and give UK PM Theresa May time to get her deal approved in Parliament.
The PM had hoped to persuade the EU to delay the March 29 Brexit date, set in law, to June 30. But the EU country leaders have offered her two dates…
A delay until May 22 if MPs approve her withdrawal deal in next week's vote.
2. A shorter delay until April 12 if they reject it. But the UK will have to set out its next steps – another extension or leaving without a deal.
But the EU says a further extension beyond April 12 is only possible if the UK agrees to hold EU elections on May 23.
As to how British lawmakers can sort things out in a few weeks after two years of debate remains to be seen.
But economists are warning Thailand to brace for some fallout from the UK exit from the EU because it is more likely to happen than not, just a matter of when.
First of all, no-deal Brexit means the UK will no longer be a part of the EU bloc and will have to revert to World Trade Organisation rules on trade. Made-in-UK goods will be subject to EU tariffs, like that of other non-EU nations. Meanwhile, the price of the EU-made merchandises in the UK may become more expensive as they will have to bear the cost of imported tariffs as well.
According to SCB Economic Intelligence Centre, a no-deal Brexit will impact the UK economy and, consequently, affect British purchasing power overseas. British demand for Thai exports, namely automobiles and parts, and processed chicken meat may reduce.
British expats will also have to face a worsening rate of exchange with the Thai baht, lessening the power of the British pound they bring into the Kingdom for living, retirement or holidays.
Nonetheless, the overall impact on Thai exports should not be significant because the Thai outbound shipment to the UK represents only 1.5 percent of total Thai exports, according to the the think tank of Siam Commercial Bank.
Brexit may also prompt Thailand and the EU to renegotiate some trade deals such as import quota to the EU. Thailand may have to renegotiate the export quota with the EU on processed chicken, as an example. And Thailand may also have to negotiate another chicken export deal with the UK separately after the UK separation from the EU.
Auramon Supthaweethum, Director-General of Department of Trade Negotiations, said Brexit could complicate the process of Thai-EU free trade negotiation, which is scheduled to resume in the second half of this year.
"At any rate, after the Thai general election, Thailand is set to continue to negotiate with the EU on the Thai-EU free trade deal regardless of the UK decision."
On the bright side, Brexit may prompt the UK investors to pay more attention to potential markets beyond the EU border. At present, direct investment from the UK to Thailand is small, accounting for only 3.5 percent of the total foreign direct investment, according to SCB.
Kasikorn Research Centre note that in addition to Brexit, Thai investors should take into account the consequences of the EU and Japan's Economic Partnership Agreement which came into force last month.
The EPA could affect the exports of Thai automobile which is part of the Japanese' supply chains. The EPA will end tariffs of auto and parts between Japan and EU by 2026.
Kasikorn Bank's think tank says, in light of Brexit, some Japanese automakers will likely relocate some of their car production from the UK to other EU countries to maintain the EU trade privileges. Nissan and Honda have already flagged this probability.
Thus, the destinations for Thai exported automobiles and parts, which are part of the supply chains of Japanese automakers, may also change in accordance with Japanese automakers' revised business strategy.
While the actual impacts on trade and investment remain to be seen, Brexit has been chiefly attributed to the volatility of the British pound since the referendum in 2016.
The SCB Economic Intelligence Centre say the weaker British pound could dampen the sentiment of British arrivals. They note that UK holidaymakers are among the high spenders in Thailand with 77,600 baht per trip.
"At any rate, since the receipts from British travelers represent only 2.1 percent of the total, the impact on the Thai tourism industry will be insignificant."
Doubt over 'majority support' in survey about drilling near Si Thep historical park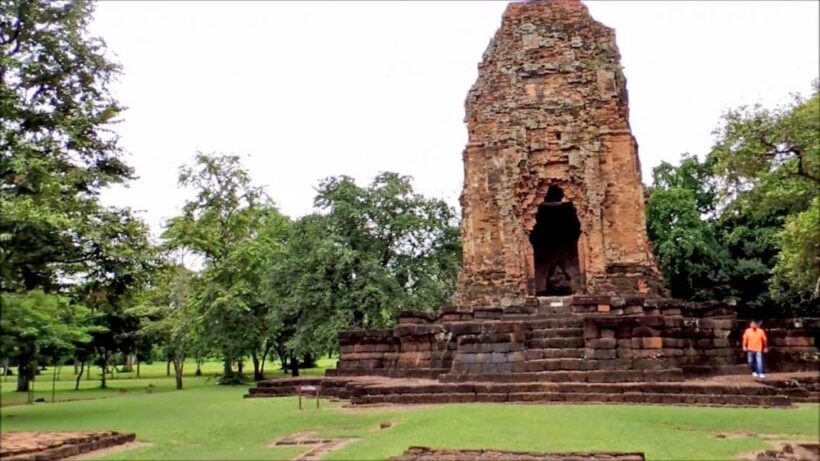 Locals are up in arms about results from a public hearing into oil drilling project near the Si Thep historical park in Phetchabun province (just north of Bangkok). They are expressing doubt and concern over results of a public hearing that appear to show support for the project.
Thai PBS reports that Mr. Prachuab Narkthien, chairman of the club of village headmen and kamnan in Si Thep district, says he doubted the credibility of the result, which shows 62.6 percent are supportive of the drilling project near the ancient temple.
Since most people in Phetchabun province, especially in Si Thep district, have opposed the project from the beginning, Mr. Prachuab said he wondered where the 62.6 percent figure had come from.
Oil drilling by ECO Orient Resources was put on hold due to strong opposition from the Fine Arts Department and the public for fear that vibrations caused by drilling may damage the fragile ancient ruins, which await recognition by UNESCO as a World Heritage site.
Mr. Prachuab said that the public hearing was unusual because only selected people were invited to attend and he was not invited, despite the fact that he represents the district's cultural network. He went on to say that only officials at provincial and district levels support the project while the general public is against it.
The Fine Arts Department earlier proposed the creation of a buffer zone to project the ancient ruins, believed to be those of a city of some 80,000 people at its peak during the first millennium AD.