Thai, Malaysian PMs pledge push for southern peace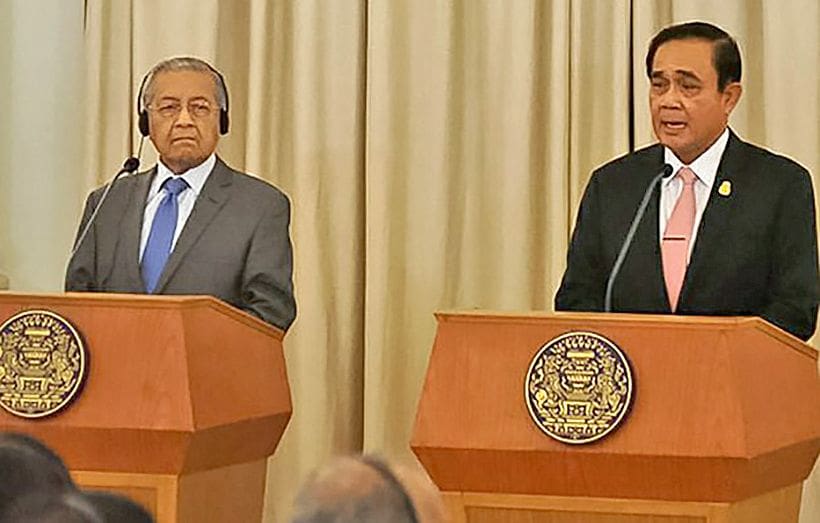 PHOTO: Benar News
Malaysia and Thailand have agreed to expand the scope of bilateral cooperation to contain an insurgency along their shared border after changing peace negotiators. The two premiers have promised to help solve the conflict.
Thai PM Prayut Chan-o-cha has assured his visiting Malaysian counterpart Mahathir Mohamad that the peace dialogue in the deep South will continue and that Malaysia will continue playing the role of facilitator.
However, Prayut said, the dialogue will only be carried out within the framework of Thailand's Constitution.
The two Prime Ministers met at Government House and the main talking point of the meeting was the violence-wracked deep South. Malaysia recently appointed its former national police chief, Abdul Rahim Noor, as facilitator, while the Thai side has chosen former Fourth Army Region Commander Udomchai Thamsarorat to lead negotiations with MARA Patani.
Violence has rocked the predominantly Muslim region since early 2004 claiming over 7,000 lives so far, and dialogue with insurgent groups, initiated since 2013, has yielded no significant results.
"Now, you have the problem in the south and we are pledged to help in whatever way possible to end this violence," – Malaysian PM Mahathir Mohamad
Prayut said that though the situation in the South was an internal matter, cooperation from Malaysia and other countries in the region would make resolving it easier. He added that the discussion with Mahathir showed that both sides understand each other's concerns and limitations.
Apart from cooperating in relation to the South, Prayut said the two countries will also work together on other issues, such as border security, economic development, measures to tackle broader security issues, particularly in countering terrorism, extremism and transnational crimes such as trafficking in drugs and humans.
Mahathir recalled the two neighbours' history of strong cooperation, saying, "When Malaysia was facing the issue of terrorism before, Thailand helped in many ways to put an end to those activities.
"We are grateful to the Thai government and the Thai people."
As for violence in the South, Mahathir pledged to do what is needed to help end it.
"I'm sure when the two countries sincerely work together to solve a problem, the problem will be (alleviated) if not ended altogether," Mahathir said.
The two premiers also discussed trade and other means of cooperation within Asean.
However, he admitted that human-trafficking was one of the problems at the southern border.
"More attention should be paid to this so the smuggling of goods and humans cannot happen," he said.
"We are very concerned about human trafficking. It has to stop. We will take action to stop the exploitation of Malaysia and Thailand (as transit points) to go to other places."
SOURCES: The Nation, Benar News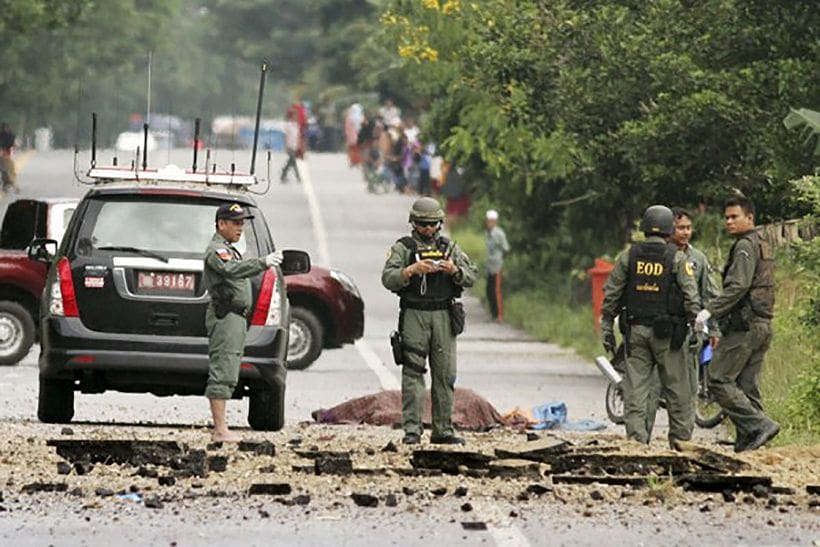 Read more headlines, reports & breaking news in Bangkok. Or catch up on your Thailand news.
Plastic surgery furore and first transgender contestant at Miss Universe in Bangkok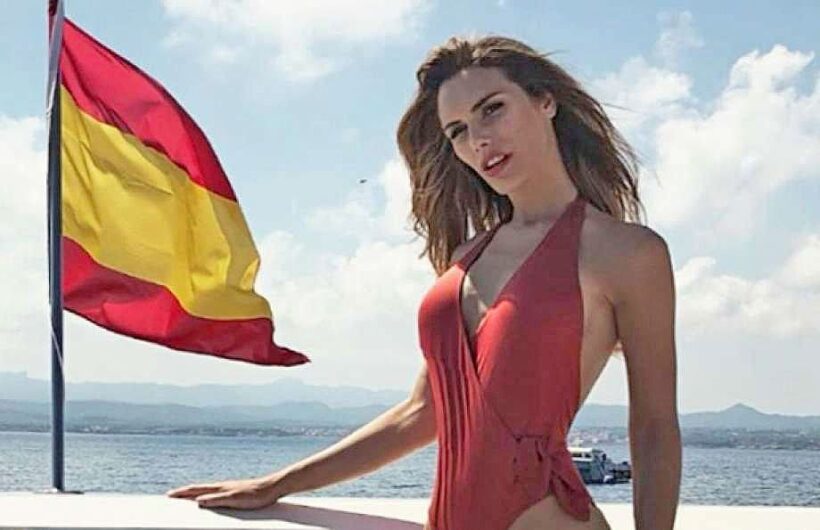 PHOTO: Spain's Angela Ponce becomes first trans woman to compete for Miss Universe
After the beauty dust has settled and the glitter is wiped away, it seems all is not well with the latest Miss Universe Pageant. Taking place in Bangkok recently, new revelations have surfaced surrounding one of its entrants and, notably, her plastic surgeon. 
Aesthetic and rhinoplasty surgeon, Froilan Paez, took to social media in order to post pre and post-op images of one of his clients. Displaying the fruits of his labor, former Miss Venezuela 2017 Stefany Gutierrez's transformation was uploaded to Mr. Paez's Instagram account. 
What looks like part of a 'thank you' posting, Mr. Paez tagged Venezuela's most beautiful woman declaring her "a true diamond that knew whom to trust to get its best shine." However, it appears that the beauty queen is not the first model to crop up in his particular feed. 
Delving a little deeper shows a host of 'nose job' patients who have gone under the knife, including those from previous beauty contests. Utilising various hashtags, it does seem that Miss Venezuela 2017 did undergo rhinoplasty before taking to the stage.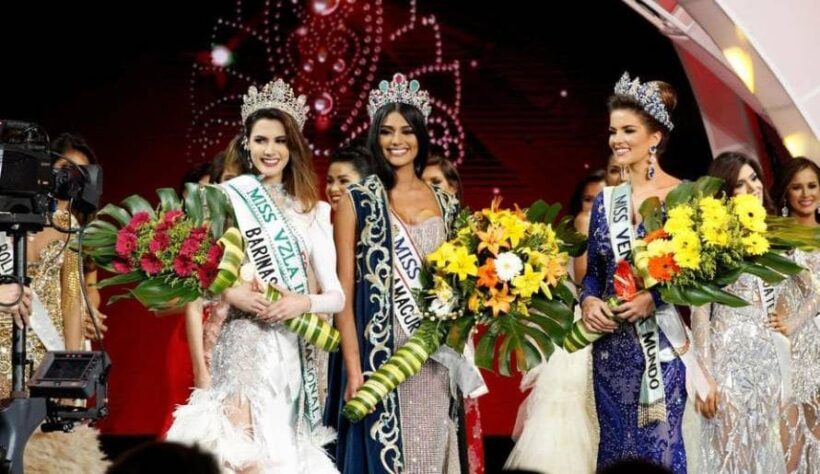 Meanwhile, the event in Bangkok last December also saw the first transgender contestant take part. Miss Spain, Angela Ponce, who underwent gender re-assignment surgery has set pulses racing for different reasons. 
"Trans women have been persecuted and erased for so long. I'm showing that trans women can be whatever they want. I am proud to have the opportunity to use this platform for a message of inclusion, tolerance and respect for the LGBT+ community." she said
Since 2012, The Miss Universe Organisation has lifted its ban on entry for transgender contestants which has raised awareness on the subject. With Catriona Gray from the Philippines taking victory, the Thai capital saw the Miss Universe contest beamed to nearly 200 countries across the world. The TV audience is just as great and usually attracts half a billion viewers every year.
Speaking to Thomson Reuters Foundation, Ponce explained that trans children often have to deal with mental health issues such as depression.
"I was born into a world, into a society which really wasn't prepared for me. So many children face discrimination for being different. It is important to tell them they have a right to be who they are, who they want to be," she added.
In fact, gender reassignment in Thailand has gathered pace as Darren Lyons of MyMediTravel explains;
"Thailand has long been considered at the forefront when it comes to transgender surgery. Gender-affirming surgery is firmly on the map with as many as three patients travelling to Thailand daily for this procedure."
"This is coupled with a growing supply of highly trained surgeons utilising years of experience to provide low-cost medical care to overseas patients. What better way to relax and recuperate post-treatment than at a nearby resort moments from one of Thailand's pristine shorelines."
All of this comes against a large shift in Thai law as the country readies itself to pass a bill allowing same-sex unions. Consequently, they will become the first country across Asia to pass this specific law.
BKK road racing crackdown: 78 arrested with illegally modified motorcycles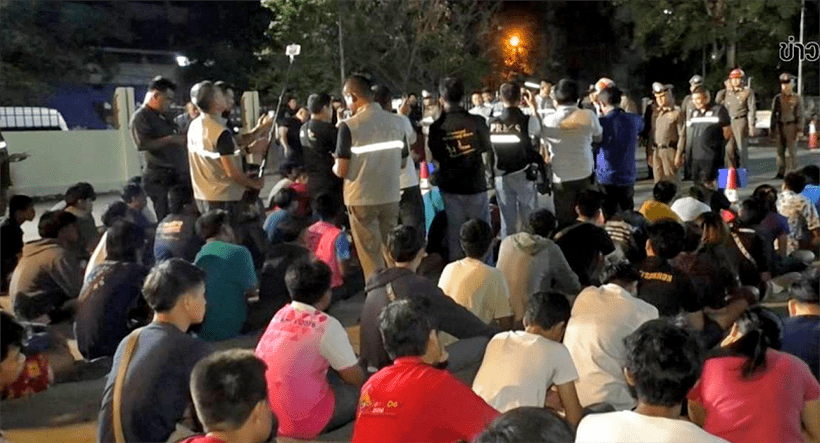 "…those under 18 will be sent for an attitude adjustment in a military camp for seven days."
Samut Prakan police have arrested 78 motorcyclists and seized 85 motorcycles allegedly modified for road racing.
Police staffed the checkpoints on major roads in Samut Prakan last night and into early this morning making the arrests.
Samut Prakan police chief Pol Maj Gen Nithithorn Jintakanon said 25 of the 78 arrested motorcyclists are under 18 and two of the 78 tested positive to drug abuses.
The alleged drug abusers will be sent for mandatory rehabilitation while those under 18 will be sent for an attitude adjustment in a military camp for seven days while the rest were fined, Nithithorn added.
Police also checked 26 motorcycle spare parts shops and found that one shop sold exhaust pipes that were illegally modified to make noises louder than allowed by the law. 21 illegally modified exhaust pipes were seized from the shop.
Police also found 18 big-bike motorcycles making noises louder than allowed by the law so they were prohibited from use for 30 days.
SOURCE: The Nation
Scrapped: Back to the drawing board for Suvarnabhumi Terminal 2 design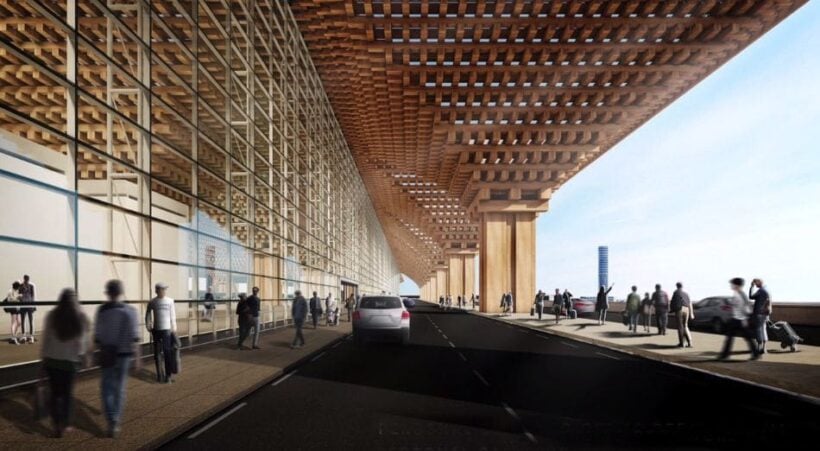 It's back to the drawing board for the AoT and the new Terminal 2 project at Suvarnabhumi Airport. The contract to design the much needed second terminal has been the subject of a lot of bitter criticism in the Thai architectural community.
The board of Airports of Thailand Public Company, the operator of Suvarnabhumi international and five other major airports in Thailand, has scrapped the Suvarnabhumi Airport Terminal 2 project design. With a proposed budget of 329 million baht, the scrapped design contract was originally awarded to the DBALP Consortium, or the Duangrit Bunnag Group.
The AoT board cited the need to overhaul the project's design to meet the requirements of Terminal 2's users in rejecting the group's controversial design, which was approved by the AOT management in August 2018.
Recently, 12 professional organisations, including the Association of Siamese Architects, the Consulting Engineers Association of Thailand, the Thai Contractors Association and the Anti-Corruption Organization of Thailand, voiced strong objections to the AOT's plan to expand Terminal 2 at an estimated overall cost of 40 billion baht, claiming the project was wasteful and citing the high speed train project linking Suvarnabhumi and Don Muang airports in Bangkok and U-tapao airport in Rayong, which combined, can accommodate between 100 and 120 million passengers a year.
Meanwhile, the issue of renting out space at Suvarnabhumi and other major airports for duty-free, retail and other commercial services, it was reported that the AOT board has split the business operations into three major contracts in the next concession auction – one contract for duty-free businesses, another for retailing and other commercial services and the third for duty-free pickup counter services.
King Power International Group is currently the concessionaire for the duty-free business at Suvarnabhumi and other major airports, but its concession expires next year and a new auction will be held at the end of this year to select new operators.
Several Thai and foreign companies have shown interest to joining the bidding for concessions worth several billions of baht each year.