US will consider a review of GSP cuts – ASEAN Summit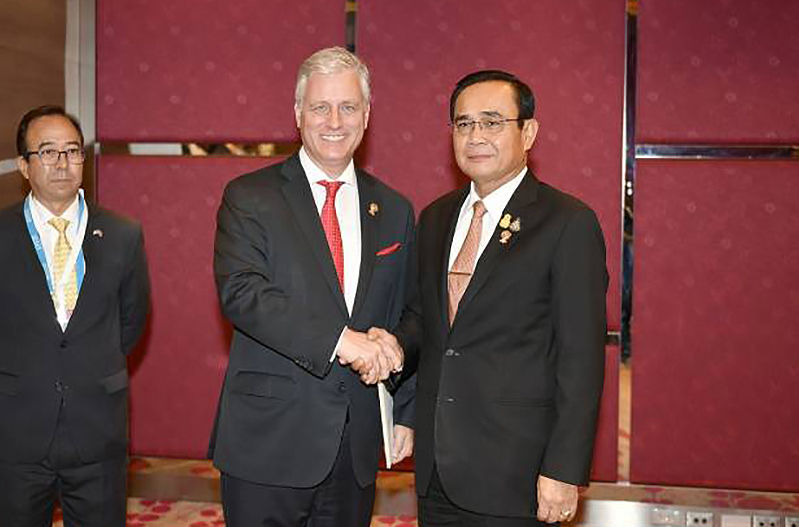 PHOTO: US National Security advisor Robert O'Brien and Thai PM Prayut Chan-o-cha at yesterday's Summit meeting in Bangkok – Thai PBS World
Behind the group photos at the ASEAN Summit in Bangkok, the backroom conversations have been fast and furious.
As a result of several unofficial and official meetings, US officials now says they will consider reviewing the suspension of trade preferences for Thai exports under the Generalized System of Preferences (GSP), to reduce the impact on the Thai private sector.
The US shift was explained to Thai PM Prayut Chan-o-cha by US National Security advisor Robert O'Brien during their talks at the ASEAN Summit yesterday morning.
Mr. O'Brien handed a letter from US President Trump to the Thai PM, in which the president said he values the long and close relationship between the US and Thailand and reconfirmed the US's readiness to cooperate with Thailand and other ASEAN members for mutual benefit.
Both the PM and O'Brien agreed that Monday's Indo-Pacific Business Forum was a good opportunity for the private sectors of ASEAN and the US to enhance investments in fields like energy, digital technology and infrastructure development.
During the meeting, the PM assured O'Brien that Thailand is ready to cooperate closely with the US, is committed to suppressing human trafficking and supports the US's role in the region.
The PM also conveyed his wish to welcome the President and the First Lady to Thailand.
Meanwhile, concern by India, over the prospect of cheap and mass-produced Chinese products flooding Indian shelves is stalling plans to sign the world's largest trade deal, known as the Regional Comprehensive Economic Partnership (RCEP) agreement.
A joint leaders' statement on RCEP says that India has significant outstanding issues, which remain unresolved.
"All RCEP participating countries will work together to resolve these outstanding issues in a mutually satisfactory way. India's final decision will depend on satisfactory resolution of these issues."
The leaders of ASEAN, Australia, China, India, Korea and New Zealand have indicated hope that the agreement can be signed next year.
SOURCE: Thai PBS World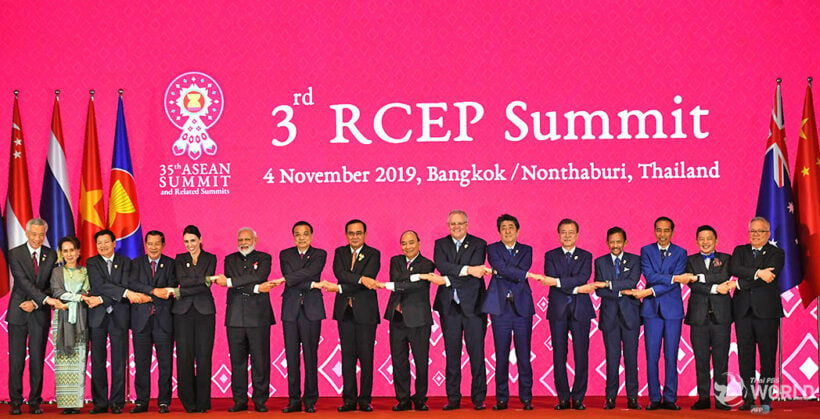 Keep in contact with The Thaiger by following our
Facebook page
.
Thais warned on Hong Kong travel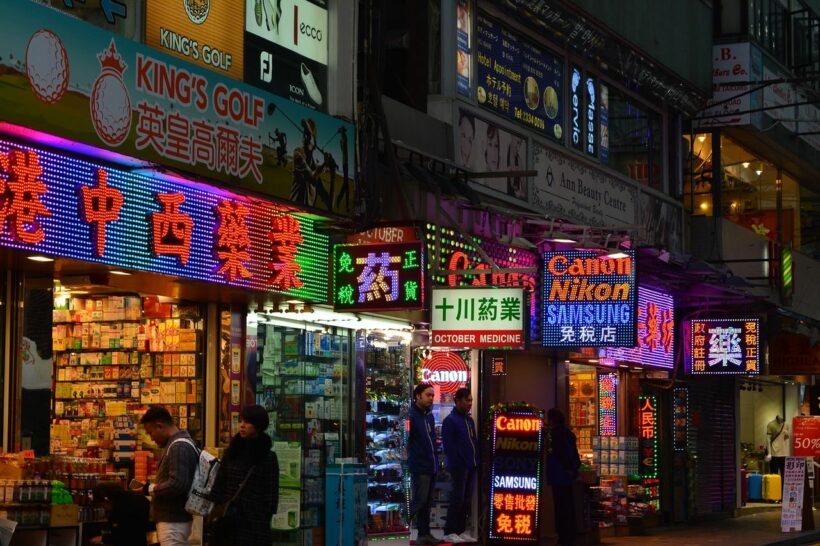 Hong Kong's Thai Consular Office has issued a warning to travellers and Thais living there, of violent demonstrations that may be dangerous and disrupt public transport.
The office tells Thai people to preparefor inconvenience, avoid protest areas and be very cautious.
"Don't photograph protesters or police, and refrain from doing anything that might be provocative," the office warns
Thais in Hong Kong can get updates on the website of the Hong Kong Polic,e and can check public transport information and flights on these websites:
http://www.mtr.com.hk/en/customer/main/index.html
http://www.hongkongairport.com/
They can also call emergency lines at (+852) 6821-1545 or (+852) 6821-1546, or the call centre of Department of Consular Service at (+66) 25728442.
SOURCE: thaipbsworld.com
Keep in contact with The Thaiger by following our
Facebook page
.
Bangkok bombing suspects make their first appearance in court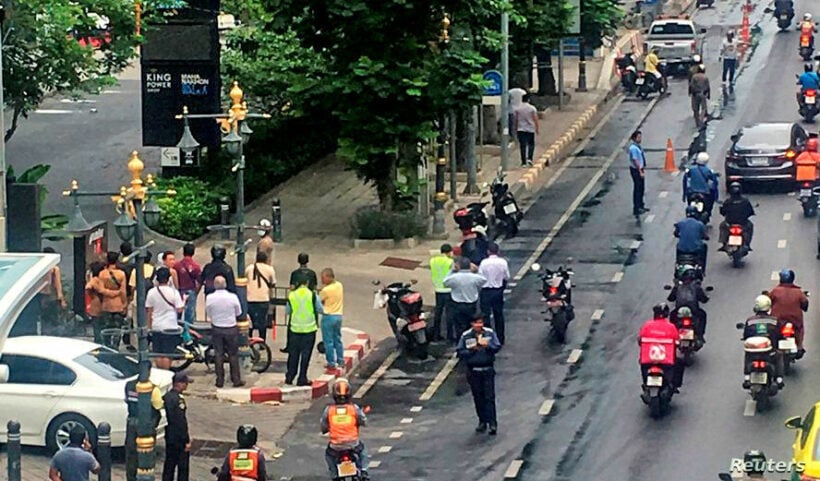 Three suspects are now in custody after being arraigned in the Bangkok Criminal Court yesterday. They had 11 charges read relating to the explosions around Bangkok in early August when the city was hosting an ASEAN Summit.
The three men – 27 year old Widan Maha, 22 year old Lu-ai Sae-ngae, and 27 year old Muhammad Ilham Sa-i – were indicted by prosecutors three days ago. All three are residents of Narathiwat in southern Thailand.
They face a total of eleven charges, including collusion in terrorism, organised crime, illegal assembly, attempted murder, illegal possession of explosives, carrying explosives plus related offences.
They were taken from Bangkok Remand Prison and arraigned in the Criminal Court on Thursday. They continue to deny all charges. The three were remanded in custody. Their next appearance in court will be on December 16.
The general thrust of the police prosecution case is that the attackers carried out the attacks in retribution for deaths of insurgents in the seep south, and that the bombings were politically motivated. They say the timing of the attacks co-incided with an ASEAN meeting in Bangkok for foreign ministers to embarrass the government.
The deputy director-general of the Department of Criminal Litigation says police investigators had submitted their case report on the bombings to prosecutors last August.
Attorney-General Wongsakul Kittipromwong had decided to indict three suspects on all counts recommended by police.
The three defendants, along with another 18 other accomplices, are accused of planning and carrying out bombings at various locations in Bangkok and Nonthaburi at the start of August this year. Read The Thaiger report at the time HERE.
They are accused of planting two bombs in front of the Royal Thai Police HQ on Rama I Road on the evening of August 1, but the bombs were discovered and safely defused, according to the police report.
They're also accused of a bomb blast at the Office of the Permanent Secretary for Defence in Nonthaburi, and planted four bombs at the government complex in Chaeng Wattana.
They've also been charged with similar attacks in Hua Mak, Bang Kapi, Thung Song Hong and Chaeng Watthana districts of Bangkok, and Pak Kret district of Nonthaburi between August 2 – 10.
SOURCE: Bangkok Post
Keep in contact with The Thaiger by following our
Facebook page
.
Malaysian PM confirms Anwar will be successor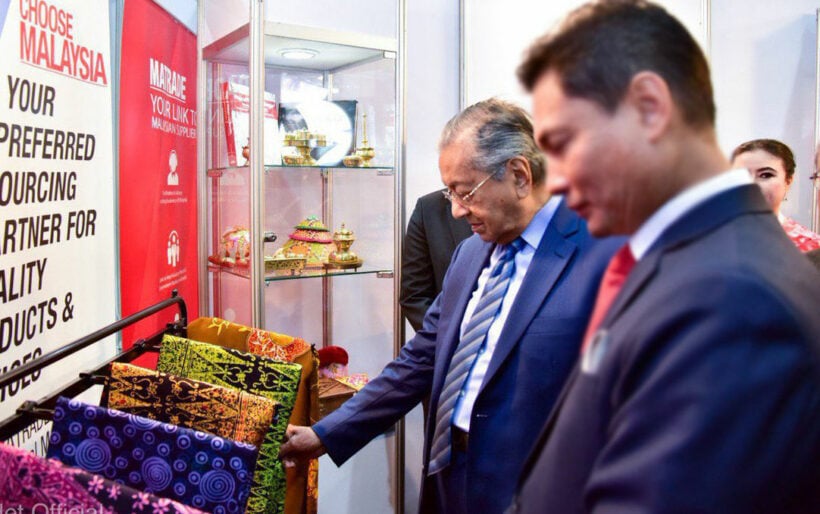 PHOTO: Malaysian PM, Tun Dr Mahathir Mohamad inspecting some Malaysian silks on the sidelines of the ASEAN Summit in Bangkok – Twitter
The Malaysian PM, Tun Dr Mahathir Mohamad has confirmed publicly that Datuk Seri Anwar Ibrahim, president of the Parti Keadilan Rakyat (People's Justice Party) will be his successor. The 94 year old PM was speaking to the Sydney Morning Herald in Bangkok yesterday, where he has been attending the ASEAN summit.
Dr Mahatir confirmed he will stand down before the next general election, despite some calls for him to remain until the end of the current government's mandate.
"Yes, I will. Although there are lots of other people who have been asking me to carry on until the next election but that is their view. My commitment is to step down before the next election, certainly."
The Nation reports that he also re-affirmed that Anwar will be his successor, and not Economic Affairs Minister Datuk Seri Mohamed Azmin Ali.
Dr Mahatir stopped short of providing a transition timeline and his reluctance to commit to a deadline has been a bone of contention in the past.
"I cannot say whether it is two years or three years, but I will certainly step down as I promised."
The two have had a tortured relationship for decades but came together last year to topple the former Malaysian PM, Najib Razak, who is currently battling numerous legal battles over his involvement with the 1MBD development bank scandal.
SOURCE: The Nation
Keep in contact with The Thaiger by following our
Facebook page
.