A Chinese tour bus has collided with a car and a motorcycle then ended up slamming into the barrier walls at the bottom of the hill, on the final turn before reaching the temple at the bottom.
Just before midnight last night (February 13), Patong Police received an accident report, the cause allegedly to brake failure, resulting in 5 injured.
There were 35 tourists in the bus heading back to Patong from Phuket Town. The incident happened just after 11.30 last night at the final curve heading down Patong Hill into Patong. When emergency responders arrived to the scene, they found Chinese tourists climbing through a emergency window out of the bus.
Five were injured, including one motorcyclist and four Chinese tourist, described as 'minor injuries'. Initial investigations from the police indicate that the driver, Utain Kladnaka, claims he had problems with the brakes.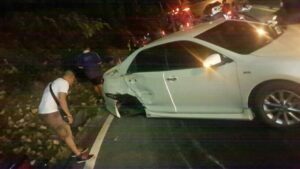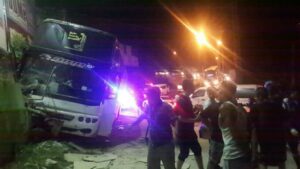 The bus also crashed into a Bangkok-plate car and damaged it.
The driver told the police that the brake failure happened when he turned at the curve just past the Sea Pearl Hotel on the way down to Patong. The bus hit the motorcycle and the car that were driving in the opposite lane before hitting the barrier wall on the side road before the temple.
The driver was taken to the police station to test for alcohol consumption, Police have contacted the Chinese Consul in Thailand.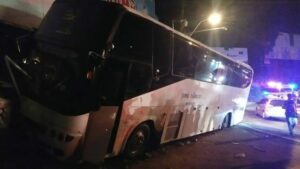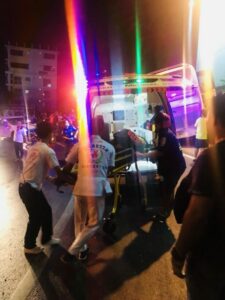 - Kritsada Mueanhawong