7 Krabi King cobras reported in one day – 5 captured and released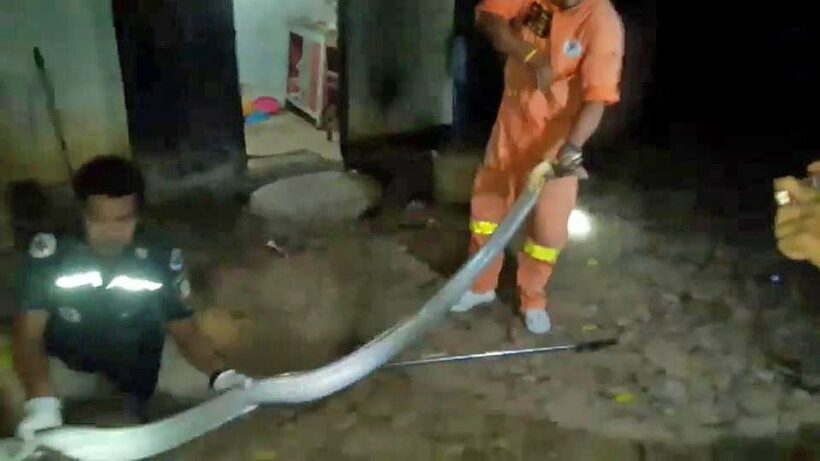 The Ao Luek Rescue Team in Krabi received a report last night (February 20) at 8.30 pm from 23 year old Nutchanart Bangyabyeo, saying that she found a 4 metre king cobra under the dish washing sink.
The team put a snake catcher under the sink and the cobra showed up after 5 minutes. The team tried to capture it up but it took about 10 minutes to take it out of the sink and secure it. That snake has been released back to the forest. The team believe that the cobra might have been chasing a rat which escaped into the house and the cobra followed inside.
"In the same day, we have captured another king cobra which was of similar size, hidden in a pile of plant pots at a plant shop. In this case it took about 20 minutes to capture the reptile," said a rescue team member, Pornthip Paklao.
"Later that day, we received yet another report about 5 king cobras and we managed to capture 3 of them. During the dry season, we found many cases of king cobra and cobra hunting in the city because they run out of natural food in their natural environment."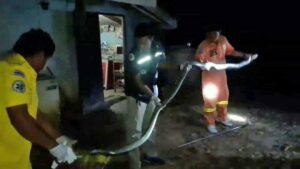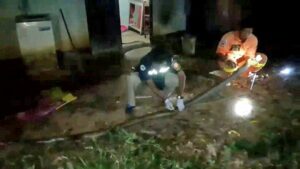 Keep in contact with The Thaiger by following our
Facebook page
.
Never miss out on future posts by
following The Thaiger
.
15 people considered "high risk" following positive Covid test for 57 year old Samui resident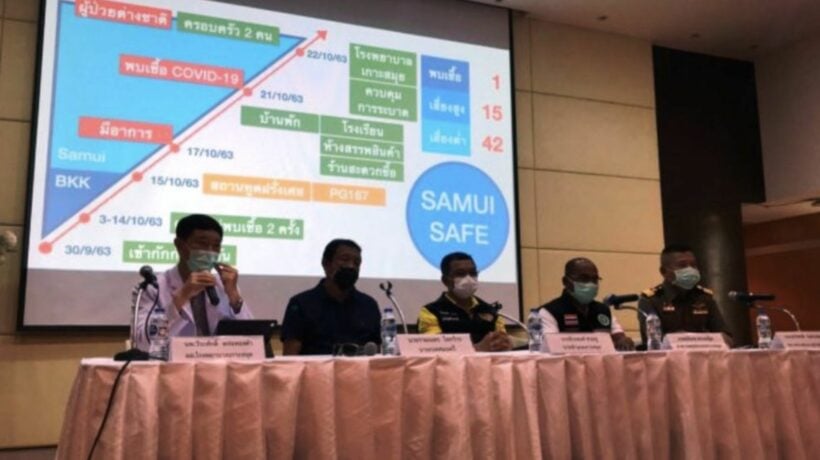 A 57 year old French woman, visiting the Gulf island of Koh Samui with her husband and son, has tested positive for Covid-19, five days after finishing the mandatory 14 day quarantine. The Division of Communicable Diseases director Sophon Iamsirithavorn told the media yesterday about the case which is baffling medical officials to understand where she had been exposed to the virus.
September 30
The family flew from Limoges in France, via Thai Airways, and landed at Suvarnabhumi, Bangkok.
October 3 and 11
The entire family had tested negative for Covid-19 in two tests conducted on October 3 and 11, visiting the French embassy before taking Bangkok Airways flight to Koh Samui.
October 15
The family were then whisked off to an alternative state quarantine site in Samut Prakan, south east of Bangkok, and then headed to Koh Samui.
October 17
The woman complained of a fever but still went shopping at Samui Big C and 7-Eleven store near their accommodation.
October 20
She visited the private Bangkok Hospital Samui in a private vehicle and was admitted overnight. The hospital sent her samples for testing at the Koh Samui Hospital.
October 21
Koh Samui Hospital revealed a positive test result.
October 22
The results were confirmed by the Regional Medical Sciences Centre 11 in Surat Thani. The woman was admitted to Koh Samui Hospital. Some media reports say that the family are residents of Samui, other report that the family were visiting.
The 57 year old's husband and son have tested negative whilst remaining under observation at the Koh Samui Hospital. a family friend, who had picked them all up at Koh Samui Airport, has also been tested.
Public health officials have tracked down and tested 15 people who they believe could be at "high-risk" of infection. They've all been isolated until their results are confirmed. Another 42 people are "under observation" and considered at "low risk".
Bangkok Airways has not yet released a statement on the tracking of passengers on the woman's flight from Bangkok to Samui.
Keep in contact with The Thaiger by following our
Facebook page
.
Never miss out on future posts by
following The Thaiger
.
More catchy than Covid, K-Pop fans raise millions to support Thai protesters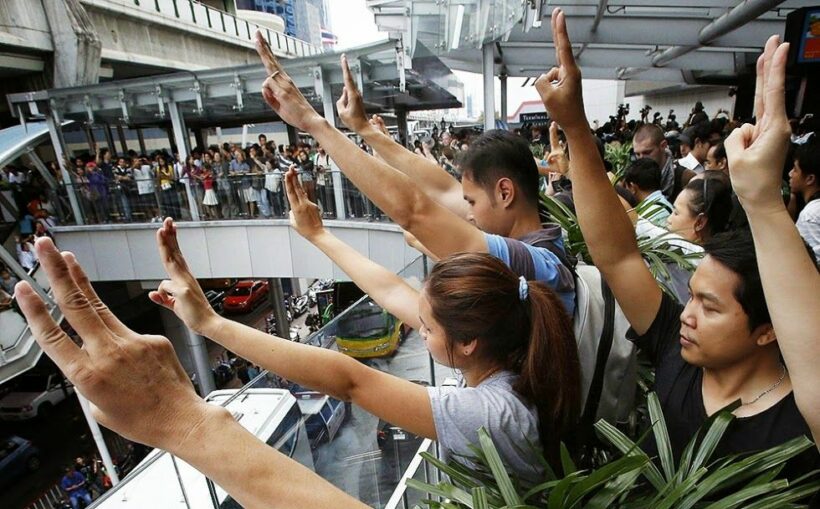 More catchy the Covid and spreading out around the world, this time from South Korea.
Fans of K-Pop groups, South Korea's slick pop music genre, have already raised millions of baht to support Thailand's anti-government protests. The young Thai protesters have been showered with support, supportive K-Pop lyrics, Tweets, messages. And money.
The incredible worldwide reach of K-Pop fans, for over 20 'idol' groups and South Korean celebrities, has been a major force in spreading the plight of the Thai protest movement to a younger audience, across the world.
K-pop fandom have rallied together and pooled their resources to support the anti-government protesters who have been holding rallies around Thailand, mostly in Bangkok, since July. The Girls' Generatin 'Into The New World' is just 1 K-Pop song being taken on as an unofficial anthem for the Thai protesters.
Political statements are relatively unusual from South Korean idols but some defy their tightly controlled public image. It's even led common in Thailand where lucrative endorsements rely on the billionaire clans that control the country's 'establishment'. But last week's use of water cannons against the protesters at the Pathumwan intersection has pushed some to publicly voice their support for the protest movement.
Thai-American K-Pop idol Nichkhun, the so-called "Thai Prince", Tweeted to his nearly 7 million followers that he cannot "stand idly by". Nichkhun is a member of popular South Korean boy band 2PM
"The use of violence is something I cannot watch and stand idly by." His message has been retweeted nearly 100,000 times.
Even Thailand's BNK48 member Milin "Namneung" Dokthian – the group criticised in the past for doing paid promos for the Thai government – has made it clear where she stands in regards to the protests, posting "stay safe" this week.
"We wouldn't have to say 'be safe' if we had a true democracy". Her post was shared by the other band members.
Amanda Obdam, the current Miss Universe Thailand, posted on her Instagram a photo of a young protester facing off against a cordon of riot police.
"A picture says a thousand words. Your job is to protect the people not harm them."
Former Thai beauty queen and TV presenter Maria Poonlertlarp posted on her Facebook page that the treatment of protesters was "completely unjust".
"People have been silenced from speaking up about the double standards and the abuse of power. We've had a lot of injustice going on in Thailand for decades, fighting against our government for democracy."
Thai daily Khaosod reported last week that K-pop fan groups had collectively raised more than 3 million baht to help the anti-government protest organisers. It's now well past 5 million baht.
Thai Actress Intira "Sai" Charoenpura Tweeted that the funds raised from fans of groups including BTS , Exo , Got7 , and Girls' Generation had helped buy equipment such as helmets and raincoats.
Mega group BTS (last week they held the Number 1 and 2 positions on the US Billboard Top 100 singles chart, this week 5 and 6), tweeted that they wanted fans (aka. 'Army') to stop spending money on fan posters for members' birthdays with the owners of the Thai public transport system. The BTS fandom frequently buy expensive poster spots in the Skytrain and MRT statins to wish their favourite idol members happy birthday. Bangkok's skytrain system was closed down last Saturday in a move by the operators to prevent the movement of protesters to rally around the city. The command had come from the police.
The Thai protesters are being funded by donations, in-kind support and the selling of merchandise on their social media platforms. But they'll be happy for the support from the huge worldwide K-Pop fan base.
BTS, 'Not Today' lyrics
All the underdogs in the world
A day may come when we lose
But it is not today
Today we fight!
No not today
Someday the flowers will fall
But no not today
That time is not today
No no not today
Never die, not today
The light pierces through the darkness
The new world. You want it too
Oh baby yes I want it.
If you can't fly, then run
Today we will survive
If you can't run then walk
Today we will survive
If you can't walk, then crawl
Even if you have to crawl, gear up
Aim gun! Ready! Fire!
Keep in contact with The Thaiger by following our
Facebook page
.
Never miss out on future posts by
following The Thaiger
.
UPDATE: World Covid cases surge again, US reports 81,000+ cases in past 24 hours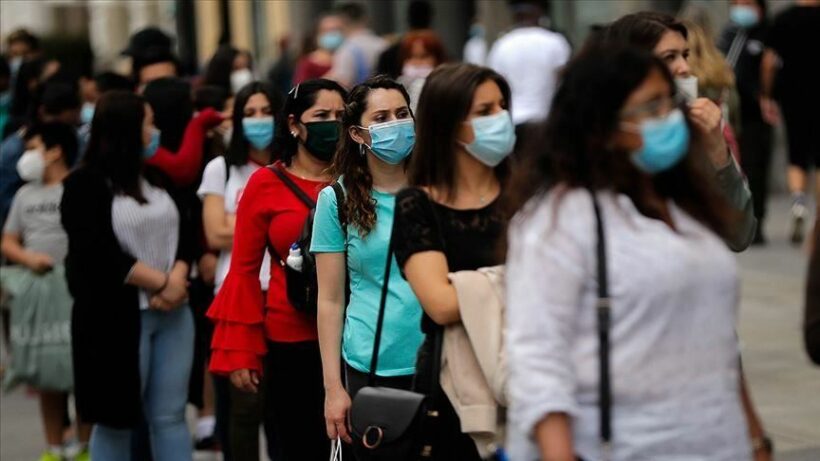 Both the rate of new infections and deaths from the coronavirus has begun to spike in the worldwide totals again with some countries and locations having to go back into lockdowns for a second or third time. In the US and parts of Europe a major new surge of cases is concerning health authorities, especially as these countries are now heading into cooler weather, and people gathering indoors.
As of Saturday morning, Thai time, a total of 42,462,925 people have been infected worldwide with Covid-19, 1,148,698 have died and 31,417,499 have recovered.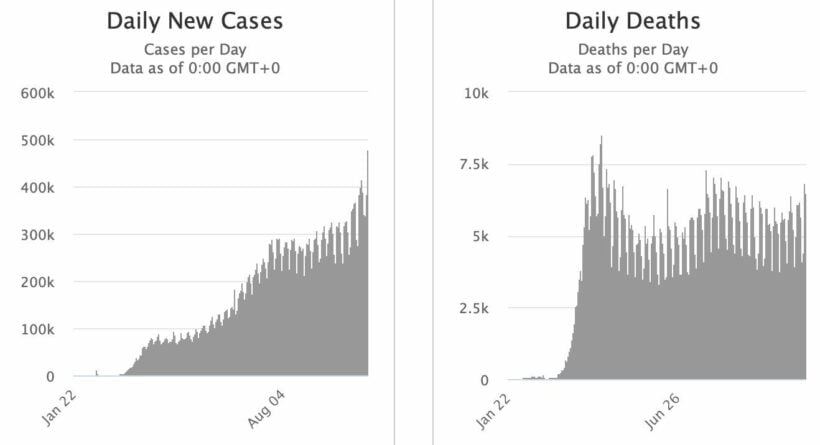 The following graph shows today's top ten countries with the most new infections in the past 24 hours…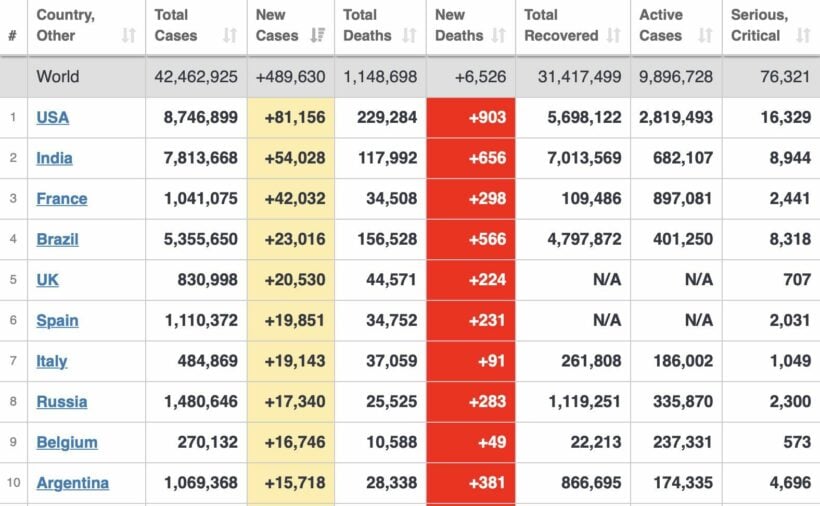 SOURCE: worldometers.info
Here's a summary of some of the main world Covid-19 headlines…
ITALY
Italy has recorded another record with 19,143 new coronavirus cases in the last 24 hours. That's up from Thursday's record of 16,079 new coronavirus cases. 91 coronavirus deaths were also reported on Friday. The governor of Campania in Vincenzo De Luca has made a formal request for a national lockdown and says he will close his region "for 30 to 40 days" to try and control the recent surge.
The governor of Lombardy lamented that it is a "dramatic situation." Lombardy was the epicentre of one of the first, and most dangerous. clusters in the world after the virus first spread out of China.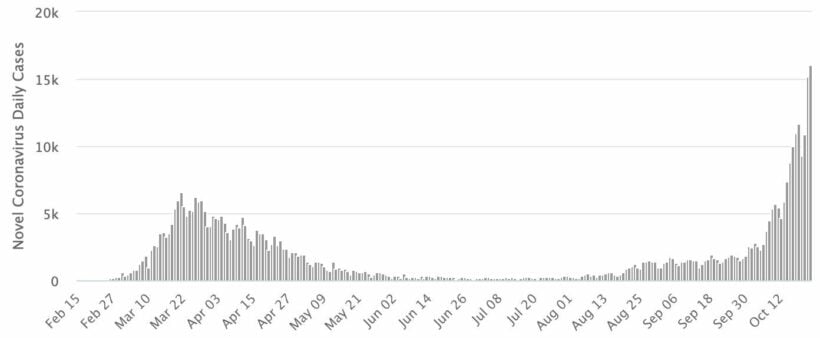 GRAPH: New cases surging across Italy – worldometers.info
US
A study from the Covid-19 forecasting team at the University of Washington's Institute for Health Metrics and Evaluation reports that… if 95% of Americans wore masks in public, more than 100,000 lives could be saved from Covid-19 over the next 4 months.
In a survey done in September, only about 49% of US residents reported that they "always" wear a mask in public.
The study calculated that, if the current extent of mask-wearing were to continue, and states continue with removing social distancing mandates, the death toll across the US from Covid-19 could reach about 1 million deaths by the end of February.
"The study had some limitations, including that the findings are only forecast projections from models and not definitive of what the future holds."
The IHME Director Dr. Chris Murray maintains that the study still helps offer insight into how mask-wearing can make a difference.
URUGUAY
Uruguay is closing its borders during the summer season as a program to help curb the spread of Covid-19. Uraguay's President Luis Lacalle Pou says that it will be "a restricted summer".
"The borders will be basically closed, with exceptions that are already known and perhaps some more.
"Because today there are many cases, or several cases, in the education sector, we have decided to suspend face-to-face classes for two weeks."
"Public safety measures will be enforced… avoid large gatherings and parties. We will be very strict when it comes to the topic of parties."
Uruguay, with a total population of 3.5 million, has reported at least 2,701 confirmed new cases of Covid-19 and 53 deaths as of Friday morning and shares borders with Argentina and Brazil, both heavily impacted with a rise of Covid cases.
FRANCE
The head of infectious diseases at Tenon Hospital in Paris, Gilles Pialoux, says France is paying the price for ending the coronavirus lockdown too quickly.
On Thursday, France announced 41,622 new cases, and on Friday 42,032.
It will be "really difficult to avoid a second lockdown given the circulation of the virus."
Gilles says local lockdowns or lockdowns "by population group" could be the solution. The doctor added the circulation of the virus among the "20-30 year old age group was far beyond the rest of the population".
EUROPE
5 countries with the highest rate of new Covid infections, when measured against population, are all in Europe.
They are the Czech Republic, Switzerland, France, Belgium and The Netherlands. The number of new infections has risen sharply since the start of October, and continues to surge as the European autumn sets in.
As of last Thursday, the Czech Republic had a rolling daily average (across five days) of 10,579 new cases, meaning 988 new infections a day per 1 million population, a four-fold increase since the start of October. Belgium, was in the same situation with an average of 891 new infections per million residents as of last Thursday. The two countries have by far the highest rate of new Covid-19 infections.
UK
The UK has seen a sharp increase in its rolling averages during October, from 9,729 new cases to 19,290 per day. And the situation in Spain is less dramatic "but the daily average remains stubbornly high". Infections per million are lower in other European countries, but they are still rising.
In comparison, the rolling averages of new cases in India and Brazil continue to fall, while the US is seeing a gradual but persistent rise. Its rolling average has risen from 43,089 at the start of October to 59,387 this week, representing 179 new cases a day per million population.
The UK's economic recovery after the first wave of the Covid-19 pandemic has now flattened out and threatens to reverse and trigger a double-dip recession. The government has announced new restrictions to tackle the second wave which are expected to stifle business activity.
A new survey of business activity indicates private sector growth in the UK falling back as hospitality and transport companies struggled to cope with regional lockdown measures.
US
As autumn spreads across North American, 25 states in the US are reporting rising Covid-19 infections. White House Coronavirus Taskforce officials say there are "early signs of deterioration in the Sun Belt and continued deterioration in the Midwest and across the Northern States".
Last Wednesday, at least 14 states had recorded their highest seven-day average of new daily cases, according to Johns Hopkins University. Including Alaska, Colorado, Idaho, Illinois, Indiana, Kansas, Kentucky, Michigan, Montana, New Mexico, Ohio, Utah, Wisconsin, Wyoming.
Meanwhile, more than 41,000 people are currently hospitalised with the coronavirus across the country, according to the CovidTracking Project. Missouri and Idaho health officials say they'll "soon be facing a crisis if hospitalisations continue to surge".
The US reported the highest daily death toll in more than a month, with more than 1,100 new deaths.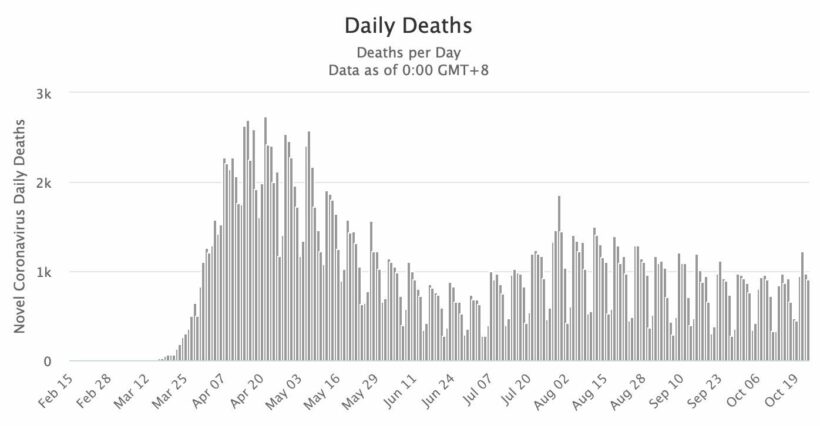 Keep in contact with The Thaiger by following our
Facebook page
.
Never miss out on future posts by
following The Thaiger
.