Live Blog
US Election 2024 tracker: Live news and election updates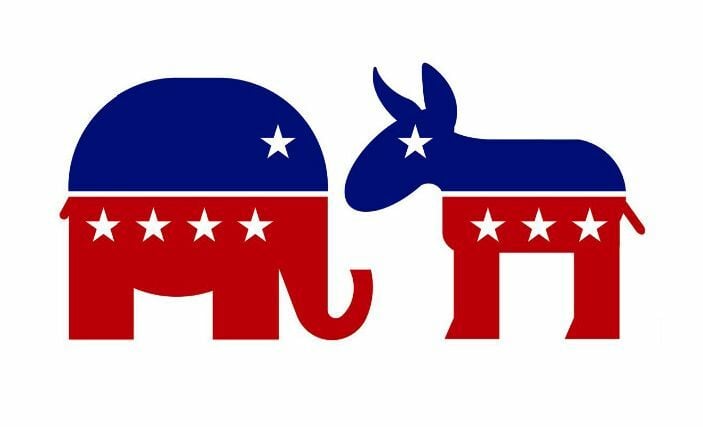 For the latest news, updates, and insights on the highly anticipated 2024 United States Presidential Election, look no further. As the race for the White House heats up, we bring you the most comprehensive and up-to-date information on the candidates, their policies, and the key issues shaping the election landscape. Stay informed and engaged with the world of American politics as we gear up for another pivotal moment in the nation's history.
The 2024 US Presidential Election promises to be a significant event, with potential candidates from both major parties vying for the opportunity to lead the country. We cover a wide range of topics, including candidate profiles, campaign strategies, policy proposals, debates, and polling data. We also delve into the critical issues facing the nation, such as the economy, healthcare, national security, and social justice, providing you with a complete understanding of the factors influencing the election.
Whether you are a political enthusiast or a casual observer, our live feed offers a balanced and comprehensive view of the 2024 US Presidential Election. Stay tuned for the latest developments, breaking news, and in-depth analysis of the candidates and the issues that matter most to the American people. With our user-friendly interface and easy navigation, you can effortlessly stay updated on all aspects of the election.
So, bookmark this page, and let us be your go-to source for all the latest news and updates on the 2024 United States Presidential Election. Stay informed, stay engaged, and stay connected with the world of American politics.
Opinion | The DeSantis Strategy to Take Down Trump

Donald Trump Jr. recently shared a manipulated video of Ron DeSantis, showing Trump Sr. taking down the Florida governor backstage in WWE-style. Christina Pushaw, a DeSantis aide, hit back by tweeting, "Your dad could not even tackle the 110lb. Keebler Elf known as Anthony Fauci." This confrontation makes it clear that DeSantis is not afraid to challenge Trump and his followers.

Previously, there had been doubts about whether DeSantis would be willing to challenge Trump. However, in the past week, Pushaw has been aggressively confronting pro-Trump Twitter accounts, memes, and arguments. The DeSantis super PAC Never Back Down has also been assertive, and DeSantis himself has drawn contrasts with Trump in interviews and speeches.

The recent events indicate the most aggressive anti-Trump advocacy by someone who wants and expects to have a future in Republican politics since 2016. DeSantis is not simply criticizing Trump, but trying to take the party from him. He aims to convince Republicans sympathetic to Trump and his politics that the former president failed to deliver and is not dependable.

DeSantis' strategy is to counterpunch Trump by addressing key issues and attempting to position himself to Trump's right. While Trump resorts to unfocused attacks, DeSantis is using these opportunities to argue that Trump is attacking him from the left and has changed since 2015-2016. Moreover, DeSantis criticizes Trump's support for the First Step Act – a criminal justice reform that released some prisoners early – as it is a concern for Republican primary voters.

DeSantis also emphasizes that competent governance should go beyond procedure and become an ideological issue. He points out that Trump failed to deliver on key priorities, such as the border wall. Additionally, he highlights Trump's promises to end birthright citizenship, a pledge that was never fulfilled during Trump's presidency.

The 2020 election may be the most challenging topic for DeSantis. While directly contradicting Trump's claims that the election was stolen risks alienating some Republicans, conceding the point would mean that Trump is still the leader of the GOP. In a recent interview with Ben Shapiro, DeSantis accepted the idea that the election was "rigged," blaming Covid alarmism and Trump's mismanagement of the situation for the changes in election procedures.

DeSantis' argument against Trump is narrowly tailored to appeal to Republicans who like Trump but are open to another candidate. However, it remains to be seen if the balance DeSantis is striving for can be maintained throughout the campaign. Regardless, in the early stages of the campaign, DeSantis and his team do not seem to be afraid of challenging Trump. In a recent statement, the Never Back Down super PAC accused Trump of supporting an event funded by Saudi Arabia – a country accused of aiding the 9/11 terror attacks.

For a long time, success in Republican politics depended on backing or sidestepping Trump. However, this approach is not an option for Ron DeSantis, and his developing campaign appears to understand this reality.

How Republicans in California could decide Dianne Feinstein's successor

Progressive politicians have their eyes set on the Senate seat in the predominantly liberal state of California. However, the crucial determining factor may be the votes cast by Republicans in the state. Reps. Barbara Lee, Katie Porter, and Adam Schiff are all interested in replacing Sen. Dianne Feinstein when her term ends next year. In most cases, a Democrat would secure a position in the top-two primary system before easily defeating the lesser-known Republican candidate placed second.

However, the Republican party in California represents a distinct minority in the blue state, about a third of the electorate. Therefore, this race to replace Feinstein may end up being between two Democratic candidates with the Republicans acting as a pivotal factor in deciding the winner. Even though such a scenario is yet to materialize, it has become a common topic of discussion among Katie Porter's campaign staff and Democratic activists.

A recent poll by the University of California, Berkeley's Institute of Governmental Studies suggests that Republican candidate Eric Early could secure a spot in the top two. The poll shows him having the support of 18% of registered voters, compared to 17% for Porter, 14% for Schiff, and 9% for Lee. For the leading Democrat to likely win in November, they would only need to secure 60% of Democratic-leaning votes in the state.

Mark DiCamillo, who conducted the poll, stated that a Republican candidate making it to the top two is most feasible due to the presence of three Democratic candidates. There's also a possibility of Early receiving a boost, as the primary will take place on 2024's Super Tuesday, during which the presidential primary is expected to be the main draw.

Several factors this year could contribute to an all-Democratic faceoff. Since Early was the only Republican candidate listed in the survey, his numbers could be inflated, and it is probable that he would face other Republican candidates. Besides, the polling and fundraising data indicate that Porter and Schiff are in a different league as compared to Lee, suggesting she might be less competitive in the race.

Moreover, California Gov. Gavin Newsom has committed to appointing a Black woman as Feinstein's interim, should Feinstein retire or pass away early. This could potentially boost Lee's chances if Newsom chooses her for the role.

However, none of the three Democratic candidates appears to have a clear path to consolidating the state's Democratic support or building cross-party appeal to attract Republican voters. While Schiff's voting record is the least liberal among the three, his role in investigating and impeaching former President Donald Trump is likely to deter Republican voters.

In 2018, some Republicans demonstrated a protest vote in the Kevin de León and Feinstein race, casting their votes for the former, despite him contesting from the left. It remains unclear whether Lee or Porter would benefit from Republicans disliking Schiff. There's a possibility that many of them might not vote altogether.

Regardless of the unknown variables at play in this race, it is unlikely that a Republican candidate will emerge victorious. The California Republican party is yet to achieve success in a statewide election since 2006, and the former President George W. Bush was the only Republican presidential candidate to surpass the 40% mark in California, back in 2004.

5 things we know about Ron DeSantis' campaign, post Twitter fiasco

Florida Governor Ron DeSantis quickly recovered from a rocky campaign launch by raising significant funds and appearing in numerous media interviews. During the first day on the campaign trail for the new contender in the Republican presidential primary, several takeaways became evident.

DeSantis' strategy to address the subject of former President Trump without alienating Trump's dedicated supporter base materialized when he managed to adopt a stance further to the right than Trump himself. While he commended the former president's policies, DeSantis highlighted his own six-week abortion ban, questioned Trump's support for granting amnesty to 1.8 million undocumented immigrants, and distinguished himself by advocating for reopening in the midst of the COVID-19 pandemic.

Polling shows Trump to be dominant in the Republican field, thanks to his large following. DeSantis chose his words carefully, avoiding personal criticism of Trump and instead focusing on his electability as his key selling point.

DeSantis has a fundraising advantage, and the numbers are impressive. With more than $80 million in a state account, $8.2 million reportedly raised in the first 24 hours after his Twitter launch, and $33 million raised by the super PAC supporting him, his financial strength cannot be ignored. Alongside the money, DeSantis secured five New Hampshire endorsements from state representatives and has an effective campaign presence in other early voting states.

Understanding the political battleground, DeSantis concentrated his initial media appearances on Republican-friendly locations. He showcased his policy expertise in discussions about foreign affairs, inflation, and energy policy. However, engaging in more casual conversation with voters and the media might prove to be more of a challenge for DeSantis.

Overall, DeSantis' tactics reveal the type of candidate he hopes to be - a conservative competitor who can successfully engage the Trump base while still asserting his own political identity.

How I Won $5 Million From the MyPillow Guy and Saved Democracy

Mike Lindell, the entrepreneur known for selling his pillow products on TV and for supporting investigations and lawsuits alleging that the 2020 presidential election was stolen from Donald Trump, previously claimed to have data proving that US voting machines were hacked by China. Lindell announced at his "Cyber Symposium" held in Sioux Falls, South Dakota, that he would pay $5 million to anyone who could disprove his data.

The symposium attendees included hackers and cyber experts as well as individuals with some experience in information technology. Lindell's so-called evidence comprised seven files totaling over 23 gigabytes of data, which attendees had just three days to analyze and verify.

Upon investigation, the attendees found that two of the files were generic information about voting machines, with one containing a silent video of an unknown program being debugged. A 23-gigabyte binary file that was allegedly packet capture data or "PCAPs" did not contain any of the 37 standard PCAP formats. The remaining text files were found to be unrelated to the 2020 election, containing either IP addresses or random characters and numbers.

Further analysis of the file modification dates revealed that most of them had been modified in August 2021, just before the symposium, making it impossible for the data to accurately represent November 2020 election data.

Lindell never responded to the findings presented at the symposium, and a lawsuit was filed against him, which dragged on for a year and a half. In April 2023, an arbitration panel awarded $5 million for disproving Lindell's data. Lindell has since filed an appeal but would need to show that the arbitrators were corrupt to win. The individual who disproved Lindell's data plans to donate the money to a nonprofit that legitimately supports voter integrity laws and processes.

Voter confidence ticks up in 2022 — but deep partisan divides remain

Voter confidence has risen after the 2022 midterms, despite the deep partisan divide, according to a recent survey. The survey, conducted by the MIT Election Data + Science Lab, found that 69% of registered voters expressed confidence that votes at a nationwide level were counted as intended. This represents an increase from 61% in the 2020 version of the survey.

The increase in confidence predominantly comes from Republicans, although a significant partisan gap remains. Democrats' confidence in election results remained relatively unchanged at 92%, compared to 93% in 2020. On the other hand, confidence among Republicans increased by 20 points to 42%, still short of a majority. The research report highlighted the polarization of attitudes about the electoral process along partisan lines.

A large majority of Democrats have expressed confidence in vote counting since 2012, whereas Republicans held majority confidence only in the years their party performed well. Voters expressed more confidence when elections were localized, with 85% confident in their state's vote counting and 89% in their city or county.

The survey also found that Americans were largely satisfied with their individual voting experiences during the 2022 midterm elections, with 93% confident that their votes were counted as intended. Among mail-in voters, a group that is predominantly Democrat, 98% found the process to be straightforward, while 97% of in-person voters expressed the same.

Regarding election policies, noticeable partisan divides persist between Democrats and Republicans, though a majority of both parties support the requirement of a photo ID to vote. A majority of survey respondents favored automatic voter registration and same-day registration; however, this was not the case for a majority of Republicans. Additionally, nearly 60% of Republicans support hand-counting paper ballots, a practice widely regarded as costly, slow, and less accurate, while most Democrats disagree.

The MIT Election Data + Science Lab has conducted the Survey of the Performance of American Elections since 2008, covering presidential elections and the 2014 and 2022 midterm elections. This year's survey, conducted by YouGov, included 10,200 registered voters, with 200 participants from each state and the District of Columbia.

Porter campaign privately pitches Dems to look beyond Schiff's money

Democratic activist Katie Porter's campaign team recently held private meetings to discuss her standing in the U.S. Senate race, despite lagging behind fellow representative Adam Schiff in early fundraising. The virtual meetings, which brought together donors and party leaders, aimed to build support for Porter's campaign and clarify the political landscape in California, where the race could be between two Democrats.

Money is a central concern among donors and some Democrats close to Porter due to Schiff's significant cash advantage and support from prominent individuals such as former House Speaker Nancy Pelosi. This could quickly reinforce the notion among insiders that Schiff is the prohibitive frontrunner for 2024, even if early public and private polls do not support this claim.

The meetings sought to dispel the idea that the candidate with the most money would win. The strategy coincided with Senator Dianne Feinstein's return to the Senate after an extended leave fueled speculation about a short-term appointment to her seat that could disrupt the 2024 race. With Feinstein back in the Senate, Porter's campaign sought to close the money gap with Schiff.

In a late April meeting, Porter's pollster David Binder presented results from a survey conducted through the month, finding Porter and Schiff in a virtual tie at 19% and 18%, respectively. Representative Barbara Lee was at 6%, while an unnamed Republican consolidated about a third of the vote. The numbers were similar to a private survey from Lee's campaign, showing Porter at 24%, Schiff at 21%, and Lee at 11%. Schiff's internal polling has not been publicized or leaked from internal discussions.

The Senate race has been marked by Feinstein's prolonged absence from the chamber and the candidates' focus on fundraising. Schiff had nearly $25 million available at the end of the last quarter, while Porter finished the year's first filing period with $9.5 million, and Lee stood at $1.2 million as of March 31.

California's recent statewide races have been dominated by candidates with early cash advantages, but the 2024 race could potentially deviate from this trend. Porter is relying on her strength in polls to close the gap, as a February survey by the UC Berkeley Institute of Governmental Studies found Schiff and Porter nearly tied, with Lee a distant third among Democrats.

During private briefings, Porter's campaign focused on the possibility of a repeat of the 2016 Senate race, where Kamala Harris faced off against Democratic Representative Loretta Sanchez. In a top-two runoff, Binder claimed Porter had a four-point lead over Schiff and a double-digit lead among younger Democrats.

55 Things You Need to Know About Tim Scott

Tim Scott is a unique figure in the history of the Republican Party. The 57-year-old senator from South Carolina is a successful Black conservative from the South, a descendant of enslaved people and the second son of a single mother. Although he has experienced racism in numerous ways throughout his life, he doesn't see America as a racist country, nor does he view himself as a victim. This message is set to underpin a compelling but likely long-shot presidential bid, as he joins the race for the GOP nomination, alongside fellow South Carolinian Nikki Haley, outsider entrepreneur Vivek Ramaswamy, and the soon-to-be-official-candidate Ron DeSantis.

Currently, Scott is the only Black Republican in the United States Senate and one of just 11 Black people in the history of the country to serve in the Senate. Despite living in a deeply divided political climate, he has said, "America is not a racist country," and believes that only in America could his story play out the way it has.

Scott's parents were a nurse and an Air Force veteran who later separated. He moved into his grandparents' home at the age of seven with his mother and older brother. His grandfather was a daily newspaper reader but couldn't read or write and had left school in the third grade to pick cotton for 50 cents a day. Scott credits his grandfather's love of gardening with teaching him the importance of seeds over the soil and how a seed can find its way through the hardest concrete over time.

As a young boy, Scott was ridiculed for his buck teeth and struggled academically throughout high school. His mother made him attend summer school to make up for failing classes and find a job to pay for it. A chance encounter with the owner of a Chick-fil-A restaurant eventually led to a life-changing mentorship. John Moniz, a white man, shared conservative business principles with Scott and encouraged him to "think [his] way out of poverty."

Scott went on to find success in selling insurance and buying his mother a house. He later ran for the South Carolina state house and won a seat in 2008. His political career continued to rise, eventually leading him to the United States House of Representatives in 2011 and the Senate in 2014, where he won with 61.1% of the vote.

Despite being a victim of racism in various ways, including being shadowed by store clerks and pulled over by law enforcement for being Black, Scott remains optimistic about America's potential for progress. "Injustice is real," he has said, "but infinitely more real is opportunity." Scott points to his own accomplishments as evidence that the pessimism of others cannot match the history of individual success.

Now, as he gears up for a presidential bid, Scott aims to focus on the idea of redemption and unity for America. "If you want to understand America, you need to start in Charleston; you need to understand and appreciate the devastation brought upon African Americans," he said during a recent speech in South Carolina. "But if you stop at our original sin, you have not started the story of America because the story of America is not defined by our original sin. The story of America is defined by our redemption."
Live

Join the conversation and have your say on Thailand news published on The Thaiger.
Thaiger Talk is our new Thaiger Community where you can join the discussion on everything happening in Thailand right now.
Please note that articles are not posted to the forum instantly and can take up to 20 min before being visible. Click for more information and the Thaiger Talk Guidelines.