First year report card for Thailand's battle against plastics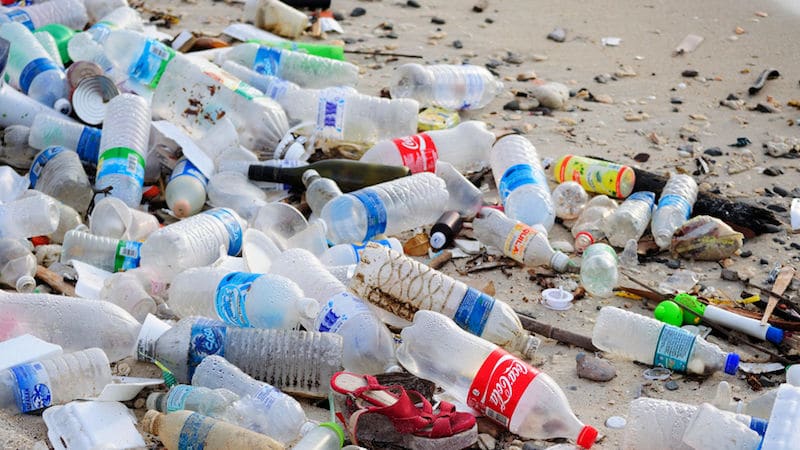 "Plastic waste is a major environmental problem because it takes hundreds of years to degrade."
Yesterday was World Environment Day, a fitting day to give Thailand's fight for a reduction on plastics a report card, after the first full year of campaigns to reduce single-use plastics. The Pollution Control Department says Thailand's efforts have been successful after receiving general cooperation from the country's business sector.
Among the achievements, the PCD says there has been a massive 80% reduction in the plastic rings that used to be part of water bottle caps, thanks to the cooperation of five major water bottle packaging companies.
Meanwhile, the Food and Drugs Administration is preparing legislation for a ban on the use of microbeads – almost microscopic plastic particles used in some cosmetic products.
Microplastics found in human stools, research finds Americans eat, drink and breathe between 74,000 and 121,000 microplastic particles each year depending on their age and sex, new research suggests. Those who exclusively drink bottled water rather than tap water can add up to 90,000 plastic particles to their estimated annual total, according to the study published Wednesday in the Environmental Science & Technology journal.
Research shows some particles are small enough to enter our tissues, where they can trigger an immune reaction, or release toxic substances and pollutants absorbed from the environment, including heavy metals.
The Plastic Waste Management Road Map 2018-2030 includes an ambitious plan for Thailand to use 100% recycled plastic by 2027 in various forms, including turning waste into energy.
President of the Plastic Industries Association, Paradorn Chullachart says the first year of concerted campaigning was a watershed moment for Thailand in reducing plastic waste.
"There has been a clear change in the minds of many Thais who are now starting to understand the impact of plastic use."
"The business sector is working with state agencies to develop a Plastic Material Flow Database that shows the source, movement and cycle of plastic products and waste."
But you will still notice the challenges ahead when you drive down any soi in Thailand and see the roadside sellers of ice-coffee – in a plastic cup, with a plastic lid, with a plastic straw in a plastic bag.
We'll Thailand a score of 'D' for the first year's, not even a pass mark. The second year will need to see more concrete action and less talking.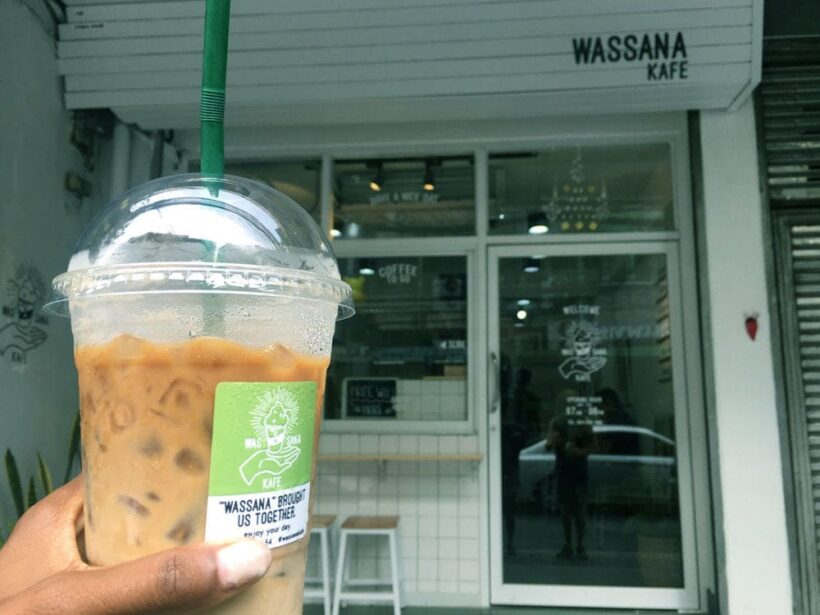 Read more headlines, reports & breaking news in Thailand. Or catch up on your Thailand news.
Thailand: Paradise Lost? Part 1.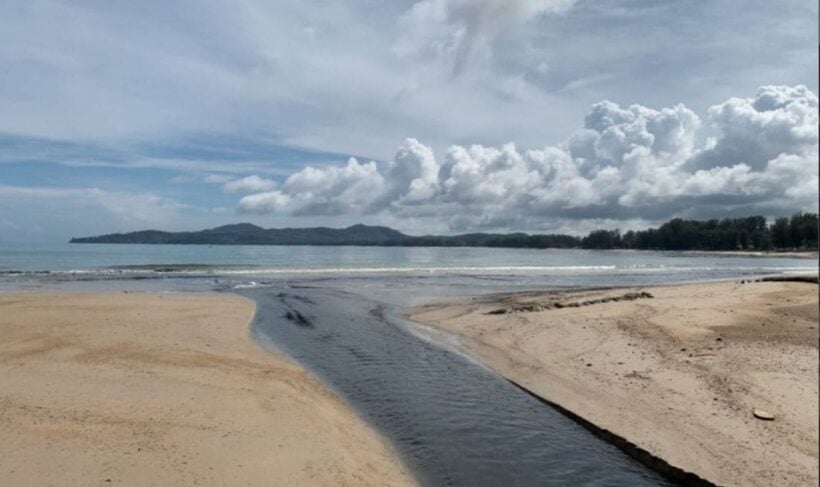 by guest blogger Kent Bowie
Thailand has seen rampant tourist development and expansion over the past 25+ years, but at what cost?
Is this sustainable or even ethical?
Social media has seen an explosive growth too over the last 15+ years, and one thing that annoys many governments worldwide is how the facts and figures delivered by their own agencies often bear no resemblance to the details posted 'live and online' by the worldwide army of grassroots commentators and locals on site.
In fact social media is having much sway that local governments and even global corporations are being shamed into scrambling to clarify, rectify or justify areas of concern.
Not just comments by the public are now on these web-mediums, but entire films and documentaries are now made, published and shared online.
Check out this DW report about the problems of rampant tourism…
Thai tourism has more than doubled in 8 years since 2011, with 34+ million visitors a year! It is worth remembering though that it is not just tourism numbers that are causing natural destruction, more education and awareness is needed by the Thai people too.
When tourists comes, they spend, they travel, they eat, they produce waste – and not just the wrappings, litter and disposable plastic drink bottles and food cases – tourists go to the toilet, and 34+ million extra people in Thailand is a lot of extra 'toilet'.
Currently Thailand, and particularly Phuket, are struggling with out-of-date and broken down waste disposal management. Current laws or regulations for sewage treatment and disposal are either woefully inadequate or more sadly, not even enforced. With the rampant and unabated development and construction of yet more and more condos, villas, tourist 'leisure' resorts and sites around Phuket, what happens to all that sewage? 
Sadly, in most cases it is simply, cheaply and conveniently (for the developers) piped through to the local klongs, waterways and beaches – out of sight and out of mind maybe?
Not so much anymore though, as an army of tourists and locals are now taking photos and videos of the rampant health transgressions and are flocking in greater numbers to social media to highlight this slow and persistent poison that is killing the heart of Thai tourism.
#อย่าให้เรื่องนี้เงียบหายลงเล จากคลองบางเทาไหลลงสู่ทะเลเมื่อเช้านี้ (11/5/62) เป็นคลิปที่ชาวบ้านบางเทาบันทึกได้ ตามคลิปน้ำเสียสีดำสนิทและส่งกลิ่นเหม็นอย่างหนักจากคำบอกเล่าของนักท่องเที่ยว กำลังไหลลงทะเลตรงหน้าหาดบางเทา จังหวัดภูเก็ต งานนี้ไม่ต้องอายฝรั่งมังคุดหลอกครับ อายชาวบ้านเขาบ้าง เขาบอกว่าร้องมาหลายปีหลายครั้งแล้ว ก็ยังเฉยกันอยู่!! อย่าให้เรื่องนี้เงียบหายไหลลงทะเลไปอีกนะครับพระเดชพระคุณท่าน"เมื่อ 10 ปีที่แล้วผมเคยไปที่หน้าหาดบางเทา แล้วนั่งเรือของชาวบ้าน ไปเที่ยวเกาะแววใช้เวลาเดินทางประมาณ 15 นาทีซึ่งไม่ไกลจากฝั่งมาก เป็นเกาะเล็กๆที่มีทรัพยากรใต้ทะเลซึ่งอุดมสมบูรณ์เป็นอย่างมาก เราสามารถไปดำน้ำแบบสน็อคได้ น้ำใสเหมือนกระจก จนเห็นปลาสวยงามและปะการังกลากหลายสายพันธ์ุได้อย่างชัดเจน แต่ถ้าเล่นปลอยน้ำเสียลงทะเลแบบไม่บรรยะบรรยังแบบนี้ เกาะแววก็คงไม่เหลืออะไรแล้วแหละครับ!!"

Posted by จิตอาสา Go Eco Phuket on Friday, May 10, 2019
Would you or your family care to sit on a beach littered with plastic, bottle tops, sand soaked in raw, untreated sewage? Do you want to swim in a brown fetid slick sliding over the once pristine waves onto the beaches?
Recently posts regarding huge black pollution flowing onto Bang Tao beaches was shared via social media.
The President of Cherng Talay OrBorTor, Ma'ann Samran admitted that "90% of the businesses in the area did not treat their waste-water" which is being released into the Bang Tao canal and – you guessed it – flowing straight out to greet the tourists on the beaches.
That's just one area. The story repeats throughout Thailand. Similar posts have been shared recently for Krabi, Jomtien and Pattaya. And it's not just recently but over the past decade as the situation has become more common, worse and more people are posting pictures of the ugly situation.
Unless something is done, urgently, then Thailand, along with the southern tourist money-spinner, Phuket, will continue to lose tourists, especially when so many other countries are now going out of their way to welcome them.
We will look at where the tourists are now going in Part II of our article.
Thailand to ban three kinds of plastic by end of this year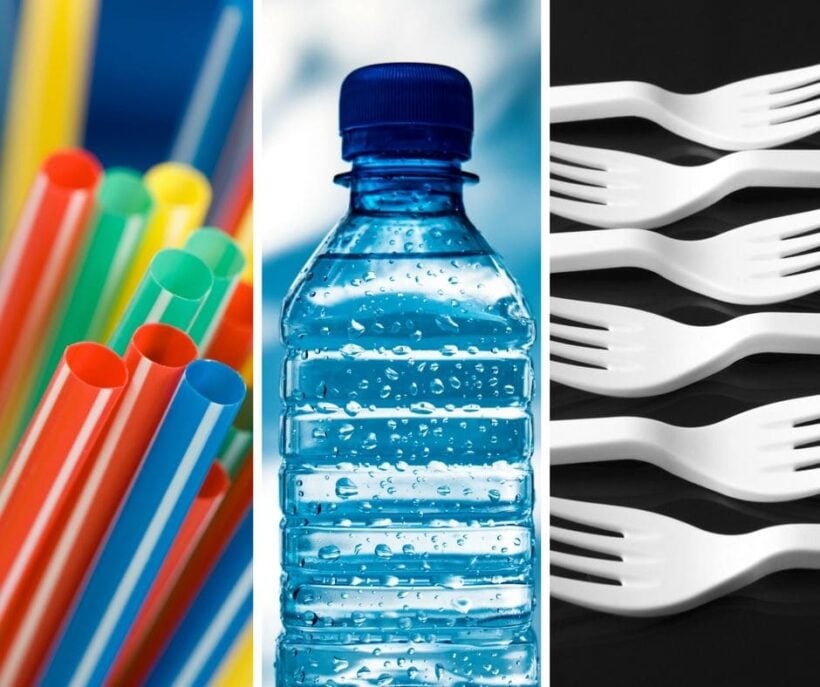 By the end of 2019 Thailand will be free from three types of plastic – microbeads, cap seals and oxo-degradable plastics.
Then by 2022 four other types of single-use plastics will also be banned – lightweight plastic bags less than 36 microns thick; styrofoam food containers for takeaways; plastic cups and plastic straws – according to a road map approved by the Cabinet.
The Plastic Waste Management Road Map 2018-2030 also includes an ambitious plan for Thailand to use 100 per cent recycled plastic by 2027 in various forms, including turning waste into energy.
The Cabinet has acknowledged the road map and assigned the Natural Resource and Environment Ministry to formulate a draft action plan for plastic waste management, so it is in line with the 20-year national strategy.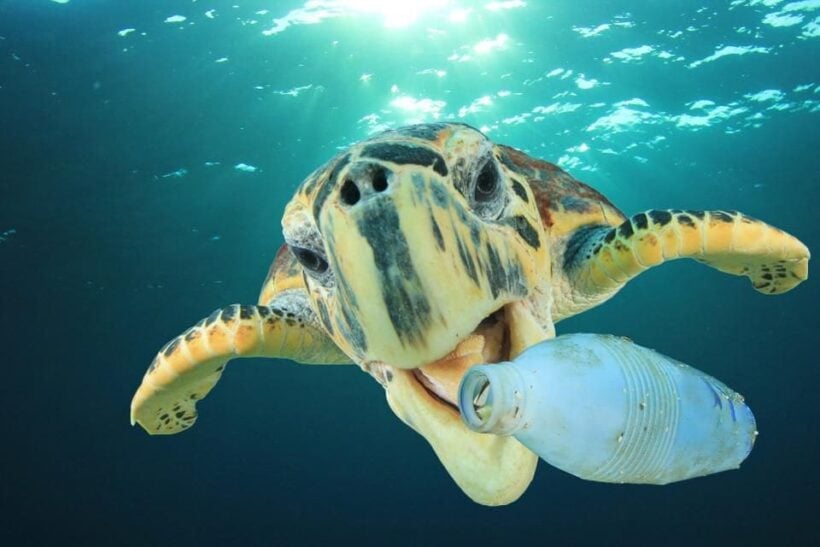 The Cabinet also called for clear details on related agencies' role in the integration of the work for managing plastic waste, which will also get huge participation from the private and business sectors. The related state agencies should create various mechanisms to propel this forward such as creating a good understanding among agencies, continuously implementing a public relations campaign via social media to achieve the set goals, the Cabinet instructed.
The work procedure must consider lifecycle plastic-waste management so steps are taken from the very start: with plastic products designed applying the "Eco Design" approach, manufacturing and post-consumption disposal which will include garbage separation, transport and storing, recycling and proper disposal.
According to the Department of Environmental Quality Promotion, Thais generate as much as 1.14 kilogram of garbage per head per day, contributing to the 27.04 million tonnes of waste per year.
One person uses approximately eight plastic bags a day – or 500 million plastic bags per day for the whole nation.
Most of the plastic waste ends up in the oceans, accounting for 16% of garbage in the seas.
SOURCE: The Nation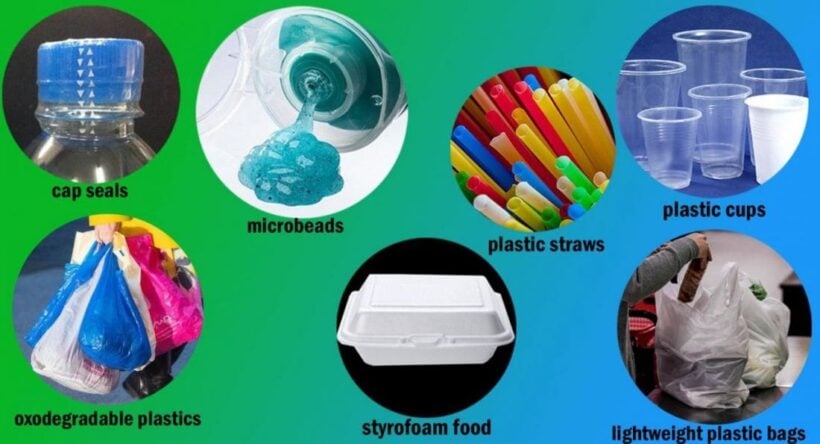 "The water is black and horrible" – Pattaya Beach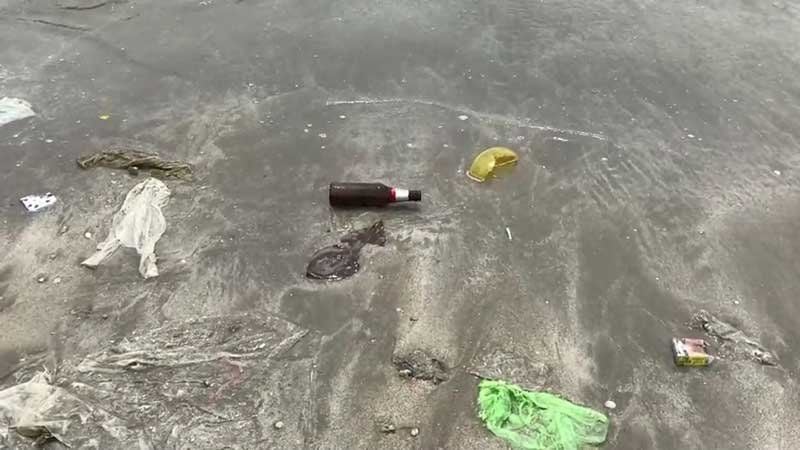 PHOTOS: Sophon TV
Sophon TV, ever watchful on the state of Pattaya's beaches, reports that a 2.6 kilometre stretch of the beach in Pattaya was a "filthy mess". A local operator is blaming the tourists.
"From North to South Pattaya the beach is a disgrace", according to Sophon TV.
"The water is black and horrible."
They note that the tide line is strewn with plastic bags, spirit bottles, beer bottles, foam containers and a lot of other general rubbish.
Ladda Limkun, a beach operator, blamed the tourists for the mess.
"People who eat and drink on the beach just don't clean up after themselves. And tourists on boat trips just toss their trash in the sea meaning it washes up on the shore. The authorities have been slow to react to the latest eyesore of rubbish," she added.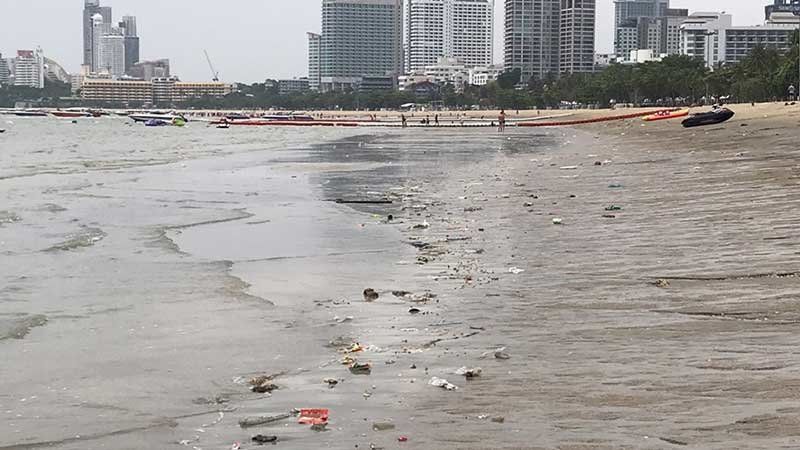 SOURCE: Sophon TV