Former Democrat Party leader and Thai PM resigns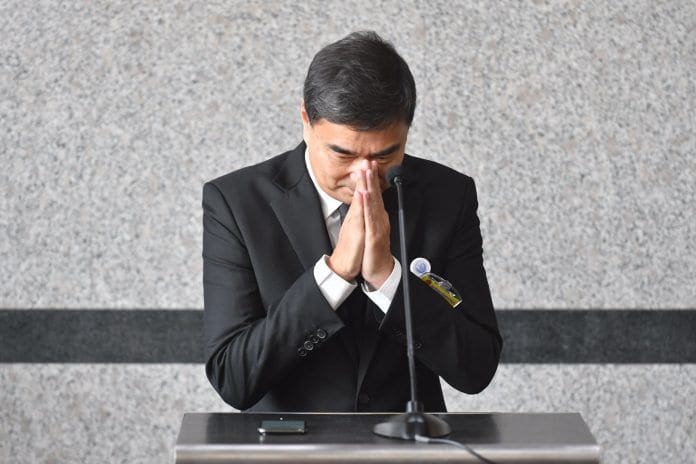 Former Democrat Party leader Abhisit Vejjajiva has announced his resignation as a parliamentary MP, saying he could not break his word and follow his Democrat Party's resolution to support Gen Prayut Chan-o-cha as the next PM.
He announced his resignation in the lead up to today's vote for a new PM, now a cakewalk for the existing PM Prayut after the Democrats threw their support behind the Palang Pracharat party last night.
Mr Abhisit said that before the election he had announced his policy on not supporting Prayut as PM as the then-Democrat leader, and approximately 4 million people voted for the party while being aware of this clear stance.
"I could not attend today's parliament and go against the resolution of the party to support Gen Prayut. That would mean I would break my word… Today I have only one choice to protect the dignity of mine and my party, that is to keep the promise," he said in a Bangkok Post article.
"In my political career, I adhere to ideals and principles because they can create long-term happiness for people. Therefore, I resign as MP from now on."
Abhisit says he rejected other Democrats' proposal last night for him to abstain in the vote for the new PM.
SOURCE: Bangkok Post
Keep in contact with The Thaiger by following our Facebook page.
Never miss out on future posts by following The Thaiger.
Voting starts in Thailand's provinces, excluding Bangkok, alcohol ban in place until 6pm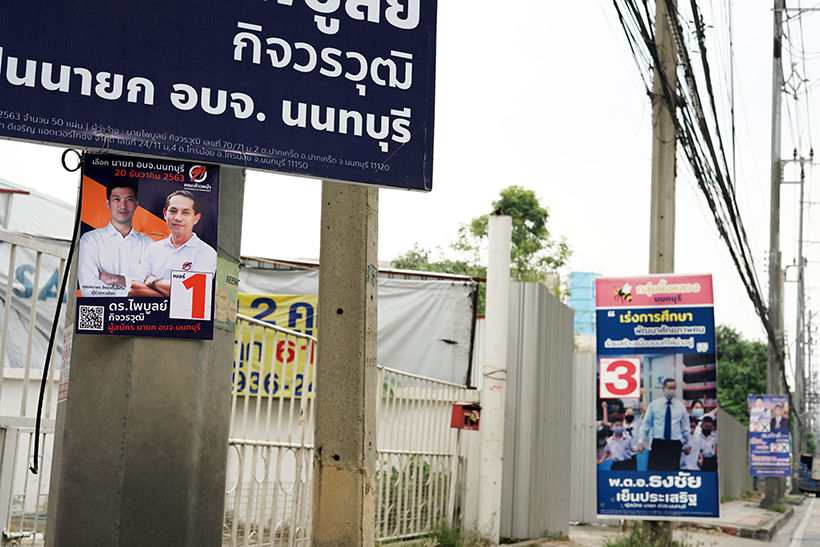 Thailand goes to the polls today for the first time in 6 years for provincial elections. The last time was in 2014, just before the latest military coup seized power from the Yingluck Shinawatra government in May 2014. An election for Thailand's central government was held in March 2019.
The elections taking place today are for the provincial administrative organisation chiefs as well as council members for the provincial administrative organisations. Pattaya and Bangkok, both considered special administrative zones, will have similar local elections sometime next year according to the Thai Election Commission (other parts of Chon Buri still have to vote today).
An alcohol sales and distribution ban is still in place in all other provinces in Thailand. It started at 6pm last night and will last until 6pm this evening, after the polls close.
Voting Thais have been told they must wear a face mask when they go to place their vote today.
A provincial administrative chief is the elected official for province management who works in conjunction with the Provincial Governor, a government appointment.
SOURCE: Pattaya News
Keep in contact with The Thaiger by following our Facebook page.
Never miss out on future posts by following The Thaiger.
US federal judge shoots down President Trump's attempt to block Pennsylvania vote certification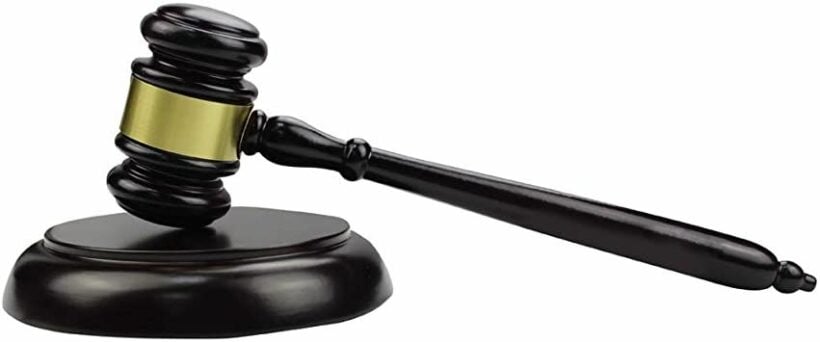 A US federal judge has shot down US President Trump's campaign team's attempt to block the certification of votes in the state of Pennsylvania. The judge issued the order that also refuted claims of widespread irregularities for mail-in ballots. The news comes after President Trump has refused to concede the election despite other leaders worldwide already recognising Joe Biden, a democrat, as the president-elect.
Pennsylvania may have been Mr. Trump's final hope for arguing against the election results, as the state holds 20 electoral votes. In an attempt to bring the issue into court, Trump's personal attorney, Rudy Giuliani, made an appearance in the court, for the first time in decades, to argue the case.
But the US District Court Judge Matthew Brann wasn't having it. In his order, he detailed Trump's request for the court to disenfranchise almost 7 million votes. Judge Brann ruled that Pennsylvania officials indeed could certify the election results by showing that Mr. Biden had won the state by 80,000 votes. He further noted that the Trump campaign team presented strained legal arguments "without merit and speculative accusations … unsupported by evidence".
"One might expect that when seeking such a startling outcome, a plaintiff would come formidably armed with compelling legal arguments and factual proof of rampant corruption, so much that the court would have no option but to stop the certification even though it would impact so many people. That has not happened."
Despite Pennsylvania's strong number of votes in the electoral college, Donald Trump still would have needed to win the other lawsuits that he had filed, where his campaign team also asked to delay certification of votes. Following suit, however, most of the courts rejected the lawsuits, citing the need for proof that fraud could have occurred.
Giuliani and a Trump campaign lawyer are holding fort by noting that they welcomed the dismissal as they could appeal to the US Supreme Court faster, where Trump has continuously claimed that he has sympathetic justices. Senator Pat Toomey, a Pennsylvania Republican who helped place Judge Brann on the bench, said the ruling showed Trump had exhausted all possible legal avenues in the state and went on to congratulate Biden on his victory.
"Brann is a longtime conservative Republican whom I know to be a fair and unbiased jurist."
Giuliani, a former federal prosecutor and New York mayor, didn't appear to be much of a help in the court after he seemingly confused the meaning of "opacity", provoked an opposing lawyer, and seemed unaware of the Pennsylvania election code when he said it was illegal for counties to help people vote. Trump's attorneys also teamed up by saying that the U.S. Constitution's guarantee of equal protection under the law was violated when Pennsylvania counties took different approaches to notifying voters before the election about technical problems with their submitted mail-in ballots.
The judge dismissed the argument entirely, and Mark Aronchick, an opposing lawyer, addressed Giuliani directly about the Pennsylvania election code
Pennsylvania Attorney General Josh Shapiro, a Democrat, tweeted shortly after Brann's ruling that "another one bites the dust."
"These claims were meritless from the start and for an audience of one," Shapiro said in a statement. "The will of the people will prevail. These baseless lawsuits need to end."
SOURCE: Associate Press
Keep in contact with The Thaiger by following our Facebook page.
Never miss out on future posts by following The Thaiger.
Leaked memo shows Thai police preparing to arrest protesters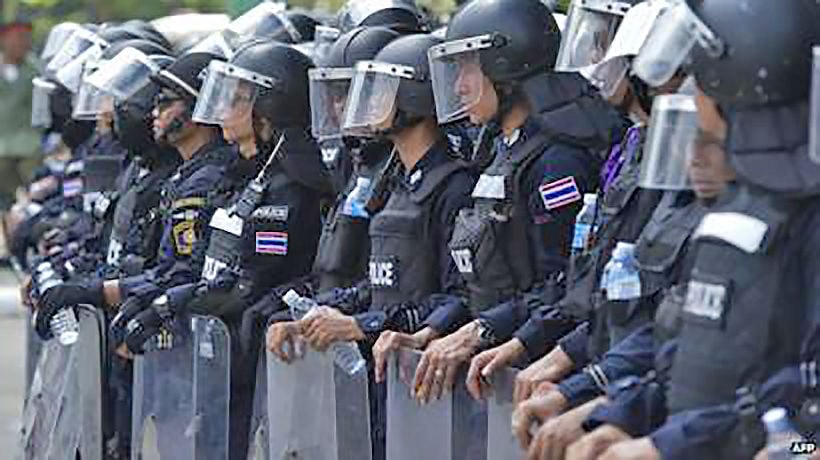 A leaked internal memo shows riot police have been ordered to mobilise and prepare detention facilities to accommodate arrested student protesters. The police memo, dated Friday, orders the heavily armed Border Patrol Police to be "on standby" for student-led anti-government protests in Bangkok. Although a provision of the Emergency Decree banning public gatherings was removed last week, police say it remains in force until the beginning of the decree's extension which kicks in at the start of August.
The regional border patrol police commander, who signed the order, confirmed the letter is genuine, but says it's only routine procedure.
"No, we're not going to arrest them. It's the normal thing we do. We have to be prepared for orders. The accommodations are mainly for reinforcements from other provinces. But I admit that some of the spaces are spared for protesters in case there's an order to arrest them."
According to the order, 2 companies of riot police will be housed at the regional Border Patrol Police headquarters in Pathum Thani's Khlong Luang district just north of Bangkok, while about 100 protesters would be held at a separate building inside the base.
A "guest house" is also to be prepared to accommodate 5 protest leaders.
The authorities insist the ongoing protests held by student activists violate the Emergency Decree and could be met with legal action, though no one has been arrested so far, and the rallies have been peaceful.
The leader of the Free Youth Movement, one of the groups behind the July 18 protest at Bangkok's Democracy monument, suggested the memo might have been intentionally leaked by police as part of their psychological operations.
"They just want to threaten protesters. Our movement is not against the law or causing harm to anyone."
The group is calling for the government to call a new election and draft a new Constitution, with a deadline set for this Saturday. A spokesman says more intense rallies will follow if the demands are not met.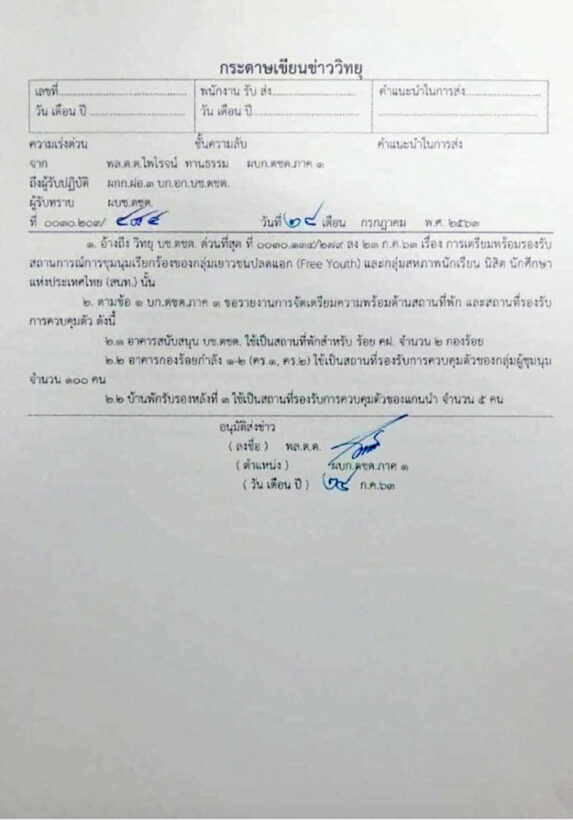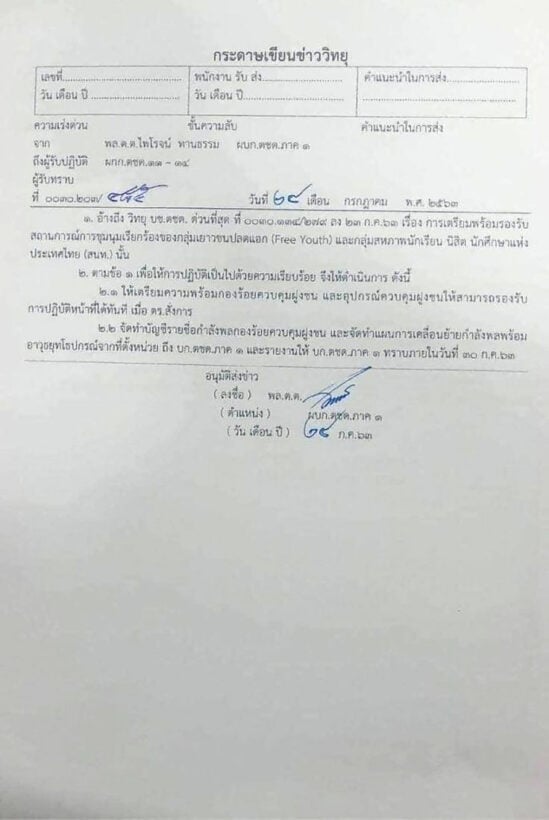 SOURCE: Khaosod English
Keep in contact with The Thaiger by following our Facebook page.
Never miss out on future posts by following The Thaiger.