Democrats decide today if they'll walk away from Palang Pracharat coalition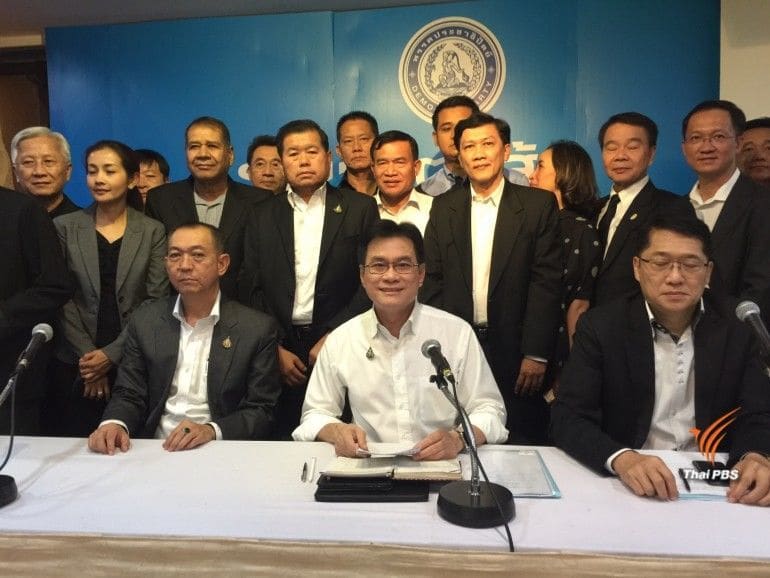 PHOTO: Thai PBS
A meeting of Democrat MPs today will either re-enforce the loose coalition with Palang Pracharat or walk away from the arrangement. If either the Democrats or Bhumjaithai walk away from the coalition it will leave the government in minority in the new parliament.
Palang Pracharat have made it openly clear over the weekend they want to reclaim a number of key portfolios that it promised to its coalition partners as part of a deal to secure their votes for their prime ministerial candidate last Wednesday. But once the vote was over and Prayut Chan-o-cha elected to the PM position, rumbles emerged from factions within Palang Pracharat that said they wanted the ministries back.
But rather than discussing if they are going to hand back the posts to Palang Pracharat, the meeting is to name the best people in their party to take over the positions of Minister for Agriculture and Commerce.
The Democrats had been promised the agriculture, commerce and social development ministries in the deal. Meanwhile the Bhumjaithai Party looked set to secure the Transport Ministry.
The rumblings from inside Palang Pracharat are from the 'Sam Mitr' (Three Allies) faction who have been adamant that they needed to take back the posts that the party had promised its coalition partners. They said the Democrats and Bhumjaithai could be offered junior ministries instead.
A Democrat source has told the media that Palang Pracharat had agreed to hand a deputy PM post as well as three cabinet seats – agriculture, commerce and social development – to the party as part of the deal last Tuesday to secure the Democrats and Bhumjaithai votes for the new PM. Bhumjaithai, all along, said they would side with the Democrats, whichever way they decided, and also voted for Prayut as prime minister having being offered the Transport portfolio.
Keep in contact with The Thaiger by following our
Facebook page
.
Never miss out on future posts by
following The Thaiger
.
100+ foreigners ripped off in education visa scam on Koh Pha Ngan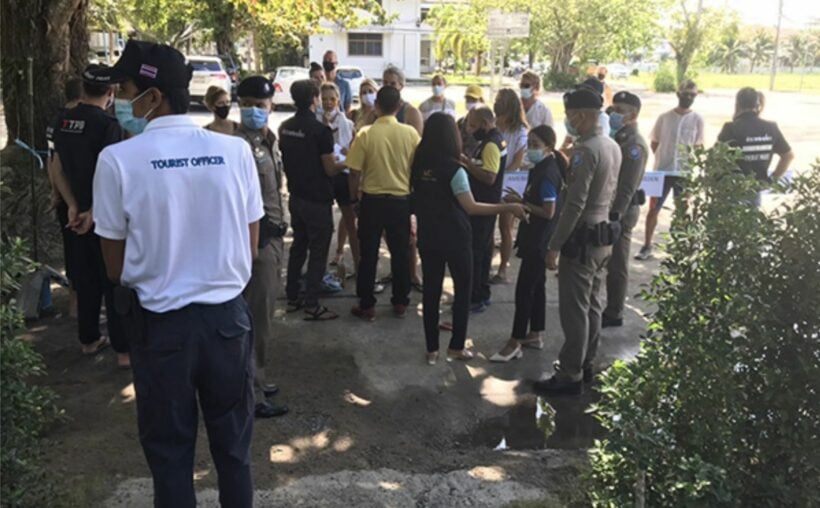 A language school in Koh Pha Ngan has ripped off more than 100 tourists claiming that they were able to issue them with a 1 year education visa.
A group of the victims have made an official report with the local police over the scam. The tourists were from the US, UK, Germany, France and Russia. Manager Online report that more than 100 people had been allegedly conned by the school in the Sri Thanu area of the island. The report explained that the people had originally heard about the school being able to get them a 1 year education visa from teachers working there.
The group have now made an official report, sending documentation to Koh Phangan district chief Poonsak Sophonpathumrak and the island's chief of police Pol Col Phisit Wisetwong and Immigration police.
They allege that they had been asked for 40,000 baht each for courses at the school on the understanding that the school would issue visas for them, changing their Non-B into an ED-Visa, as a way of extending their time in Thailand.
They told police that they had put down a 50% down payment tot eh school. Their visas were promised five weeks ago. But when no paperwork turned up they headed to the mainland Surat Thani immigration office where they were told it wasn't possible to change a Non-B into an education (ED) visa. When they confronted the school they were told there would be no refunds.
This isn't the only case of institutions and bogus visa agents taking advantage of the current confusion on visa amnesties and extensions. Immigration police are sorting through a range of similar cases.
Police assure the victims that they are investigation the case.
SOURCE: Manager | Thai Visa
Keep in contact with The Thaiger by following our
Facebook page
.
Never miss out on future posts by
following The Thaiger
.
US cuts Thailand's tariff benefits after long-running pork dispute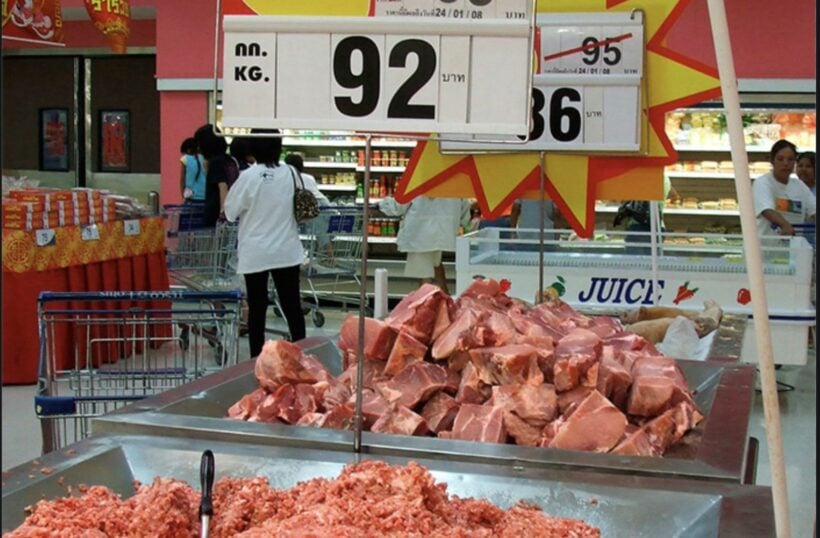 Thailand's duty-free privileges for US$817 million in exports with the US are to be revoked from the end of this year, according to US President Trump in an announcement yesterday. The President blamed a lack of progress in opening the Thai market to US pork products. Trump's letter announcing the action follows more than 2 years of threats and negotiations with Thai officials over issues ranging from access to Thailand's markets for US goods and the documented inadequate labour rights in the south east Asian nation.
Washington will now eliminate some tariff benefits for Thailand, accusing the country of failing to allow imports of pork from US producers.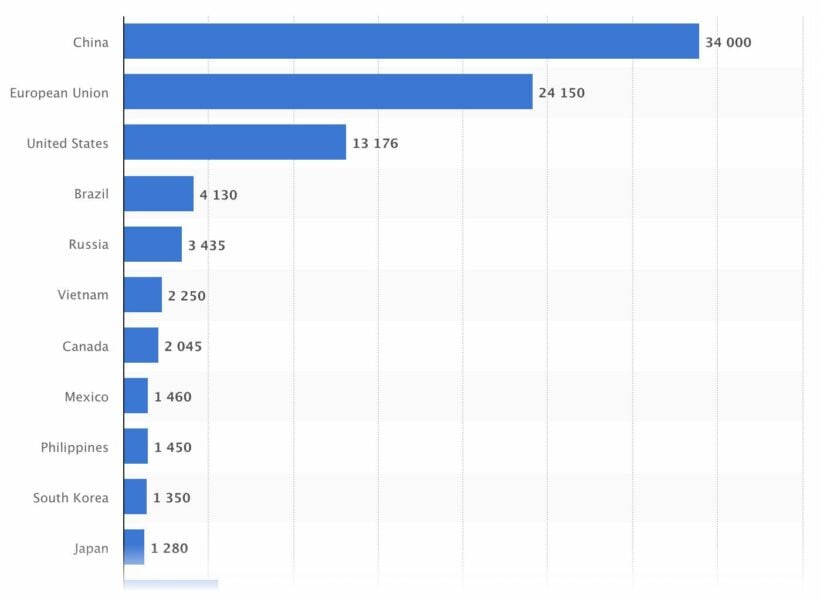 GRAPHIC: Global pork production in 2020, by country (in 1,000 metric tonnes) – statista.com
The suspension of the Generalised System of Preferences access follows a suspension earlier this year on about $1.3 billion worth imports from Thailand, which once had such privileges for about US$4.4 billion in exports to the United States.
The US Trade Representative's office said the list of products includes mango, pineapple, manicure kits, steel pipes and precious stones., auto parts, dried produce, tools, electrical products and aluminium kitchenware.
Writing to the House Speaker Nancy Pelosi, President Trump said… "I have determined that Thailand has not assured the United States that Thailand will provide equitable and reasonable access to its markets."
GSP, Generalised System of Preferences, is a 70s-era program of US trade preferences for developing economies aimed at improving workers' rights and access to broader markets.
"The US Trade Representative's office also announced that it had closed other GSP eligibility reviews with no loss of benefits for Georgia, Indonesia and Uzbekistan. It also said new GSP reviews were opened for Eritrea based on concerns about workers' rights."
SOURCE: Reuters | VOANews | statista.com
Keep in contact with The Thaiger by following our
Facebook page
.
Never miss out on future posts by
following The Thaiger
.
This year's most powerful typhoon will hit Philippines tomorrow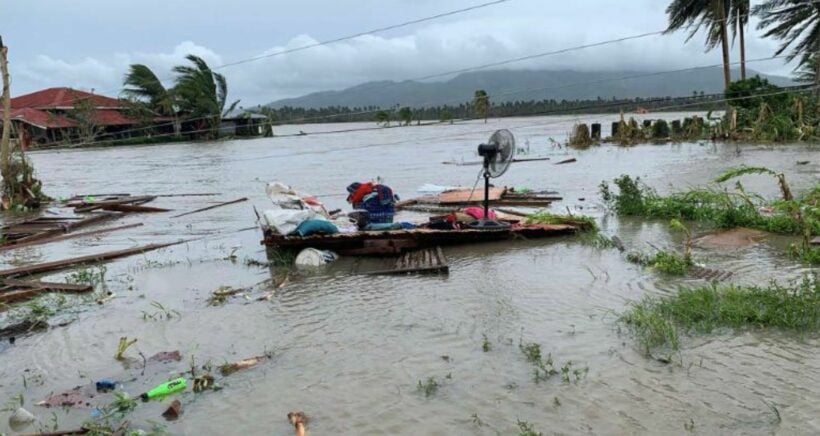 Typhoon Goni continues to bear down on The Philippines in one of the South China Sea's busiest storm years. 220,000 people have now been evacuated as of today.The typhoon, packing "destructive winds', is expected to reach the south-east of the Philippine's main island of Luzon tomorrow morning with the eye of the storm passing over during Sunday afternoon. Forecasters are expecting wind speeds of over 200 kilometres per hour.
Typhoon Goni is known locally as "Rolly".
A warning has been issued "moderate to high risk" of storm surges up to 3 metres high along the east coast over the next 2 days.
On Wednesday this week Typhoon Molave smashed into Vietnam's central coast, killing up to 35 people and flooding low-lying villages and then dropping heavy rain on southern Laos and Central Thailand. Molave killed 20 people as it passed over The Philippines.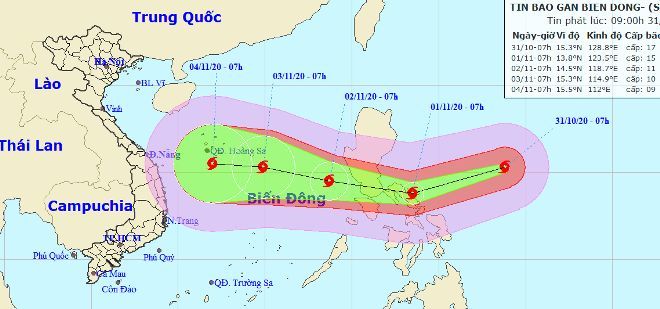 GRAPHIC: Typhoon Goni will reach Philippine's island of Luzon tomorrow.
Schools are being used as emergency shelters as well as government-co-ordinated evacuation centres and gymnasiums. Authorities are ramping up preparations in the Bicol region southeast of Philippine capital Manila, readying rescue vehicles, emergency response teams and relief goods ahead of the storm.
The Philippines averages around 20 storms and typhoons every year, wiping out harvests, infrastructure and homes. The deadliest storm on record for The Philippines was Typhoon Haiyan, which dumped huge wave surges on the central city of Tacloban killing over 7,300 people in 2013.
Keep in contact with The Thaiger by following our
Facebook page
.
Never miss out on future posts by
following The Thaiger
.