Three busted for human trafficking Lao minors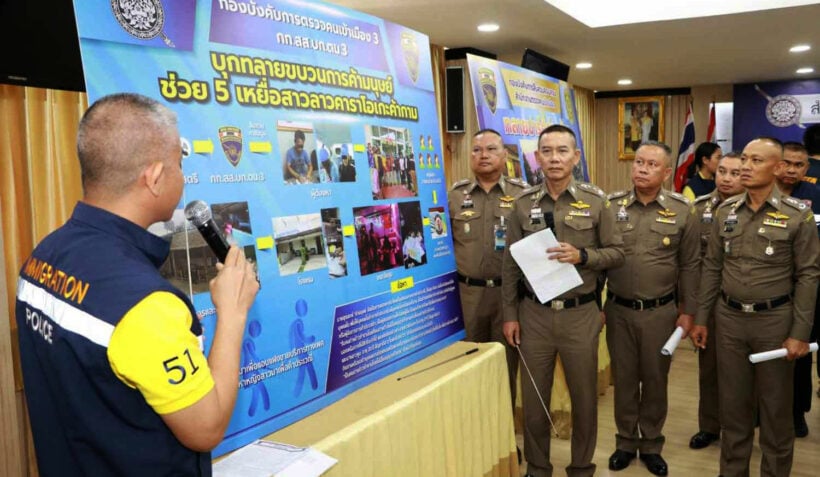 PHOTO: Rayong Police
Police have busted a karaoke and brothel in the eastern province of Rayong, arresting two men and a woman for pimping five underaged Lao girls. They were arrested on December 25 at a karaoke bar in Pluak Daeng district, according to Bangkok Post.
Police told media that the accused, 44 year old Surasek, 29 year old Sornsawan, and the woman, 20 year old Koon, are also from Laos.
Plainclothes immigration police conducted the sting after a tip-off from Alliance Anti Trafic, a nonprofit organisation combating sexual exploitation and trafficking in south east Asia.
"Five young Lao girls were presented to policemen at the bar. The procurers demanded 1,500 baht for each girl and a room," according to a spokesperson.
Surasek, the owner of the bar, confessed to procuring the underaged girls and was charged accordingly while Sornsawan and Ms Koon were charged with human trafficking.
In a separate case, five Cambodians were arrested yesterday for selling fake sneakers at in in the border province of Sa Kaeo. Soldiers from the 12th Ranger Forces Regiment conducted the raid after a getting a tipoff that Cambodians had smuggled counterfeit goods for sale at the famous Rong Kluea Market.
The Rangers confronted the five, who immediately dropped their large sacks and tried to flee. Inside the bags, soldiers found 146 pairs of counterfeit Fila trainers, priced at 1300 baht.
An officer said the men were probably just peddlers, hired by the producer of the counterfeit shoes to sell them in Thailand.
SOURCE: Bangkok Post
Keep in contact with The Thaiger by following our
Facebook page
.
Thai teacher caning a student in Ayutthaya reports to police – UPDATE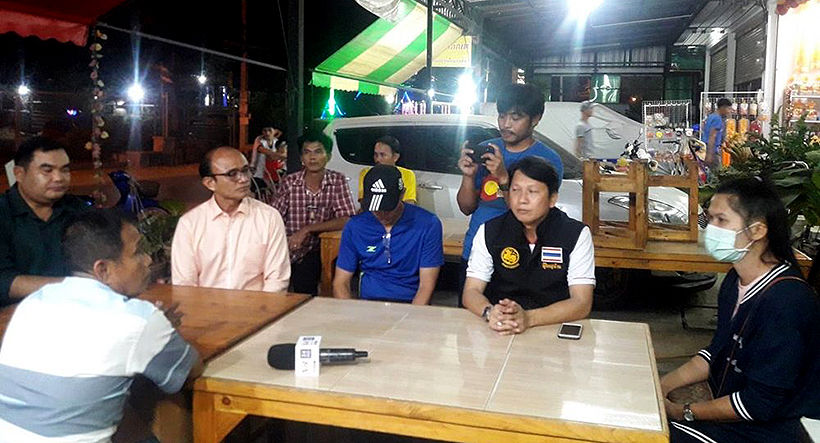 A teacher, now identified as teaching in Ayutthaya, north of Bangkok at the Chiang Rak Noi School, met with the girl's mother and police last night. Teacher Som Ruseeprasit was caught on video flogging a young female student whilst screaming appalling Thai swear words at the student. The girl was struck at least three times in the video although he admitted to striking her more than three times. He also confirmed to police that he had hit other students in the class. He was working as a PE teacher at the school.
The video was posted on the Education For Liberation of Siam Facebook page. The video has been removed from the page but showed the teacher beating the young student with a great deal of force with a cane, or long piece of slim wood.
The mother met with police and the teacher last night to register a formal complaint of violence and assault on her daughter by the teacher. Although the teacher apologised at the meeting the mother says she will continue with her assault complaint and expects the police to lay charges.
The words the teacher used whilst beating the student with a wooden cane were some of the worst words you could use in the Thai language, and translate as "asshole" and "bastard", and worse. The teacher told police that he beat the student because she hadn't cleaned the room properly.
In Thai law, it is illegal for a teacher to strike a student.
SOURCE: Matichon Online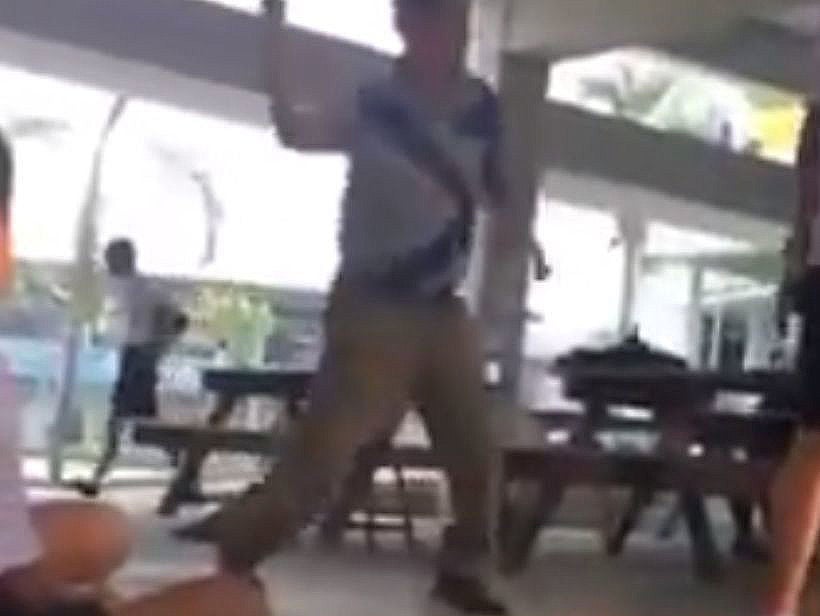 Keep in contact with The Thaiger by following our
Facebook page
.
Large Bangkok drug haul – meth pills, crystal meth and Ketamine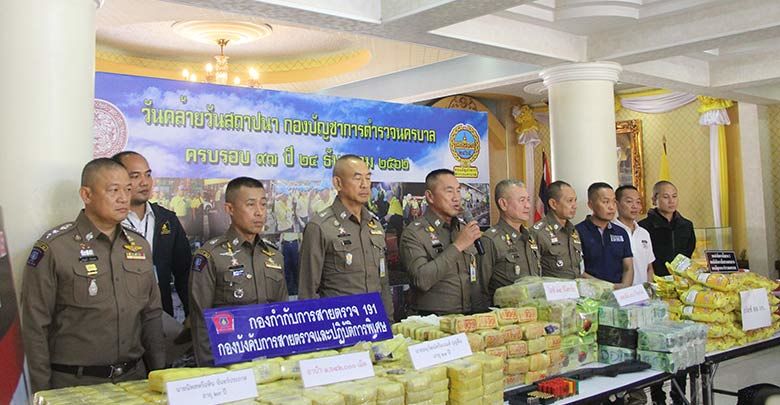 Metropolitan Police have reported the seizure of 1,600,000 methamphetamine pills (yaba), 34 kilograms of crystal methamphetamine (ice), and 40 kilograms of Ketamine. Officials also seized a pick-up involved in the drug gang's business as well as weapons. The Patrol and Special Operation Division 191 Police seized the drugs from Nipol 'Hin' Janprapat and Anuwat 'James' Bunjeen while they were in Bang Khae District, western Bangkok.
Police Lieutenant General Pokpong Pongpetra related that the investigation revealed suspects had been renting a home to use as a drug warehouse. The drugs had been sourced from the border areas of northern Thailand, transported south, and then stored in the rented house. They'd then wait for delivery instructions around the Bangkok area.
The 2 suspects already have links with previous drug smuggling operations and, with links to arrests in Pak Kret, Nonthaburi Province and Thonburi District.
Officials also arrested 49 year old Toh-r Denbonfahthai on January 15, who police allege has connections to the 'Karen people', a Burmese ethnicity living to the north of the Thai border. He was nabbed with 66 kilograms of crystal methamphetamine at the Bangkok Bus Terminal in Chatuchak. He was travelling in a Toyota Sport Rider. His arrest led officials to an abandoned vehicle which was loaded up with 31 kilograms of crystal methamphetamine.
Discussing the modus operandi, police say the suspects would deliver the drugs through multiple drug smuggling gangs using public transportation from Mae Sot and Tak provinces (northern Thailand) to Mo Chit in Bangkok. They allege the drugs are then intercepted by another group who would put the drugs into the abandoned car parked on Nawamin Road.
The drugs are then delivered to the person who has ordered the drugs. In this case, the buyer was known as 'Ma-ah from Myanmar', living in Thailand. The investigation continues.
SOURCE: Thai Residents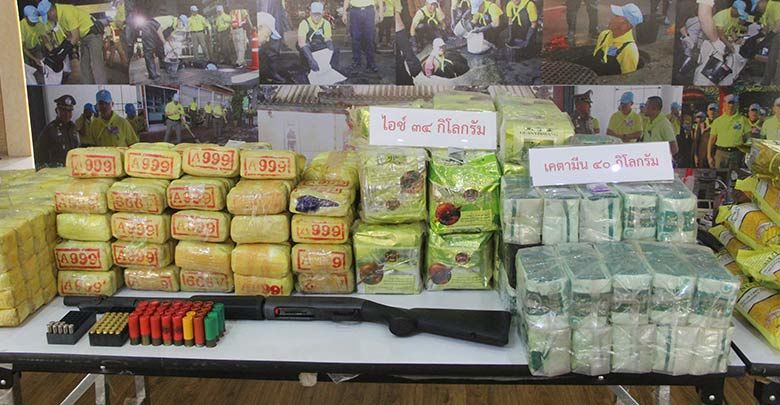 PHOTO: INN News
Keep in contact with The Thaiger by following our
Facebook page
.
2 more alleged call centre scam suspects arrested in Japan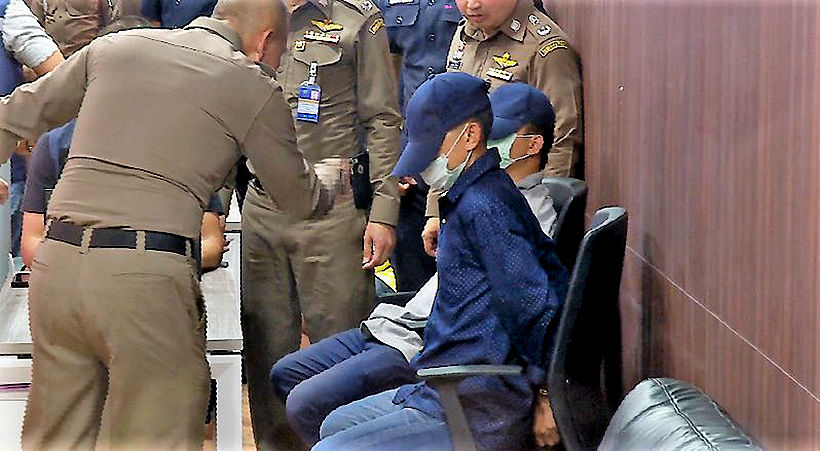 Two men arrested in Japan yesterday stand accused of operating a large-scale call centre scam based in Thailand, bringing the total number of arrests in the case to 28. Japanese police believe 36 year old Kengo Yasutake and 34 year old Shimpei Hirata operated a luxury home in Pattaya, where a team of Japanese men would call people across Japan and tell them their subscription fees for a website were overdue.
Police say the gang has tricked more than 200 people and collected a total of more than 55 million baht. Fifteen Japanese men have already been arrested by Thai police last March at another luxury house location, also in Chon Buri province, and Japanese investigators arrested more in May 2019 as they attempted to leave Thailand for Japan.
Investigators say the group had a well-organised division of labour conducting the scam, with individual members making phone calls, cashing swindled electronic gift cards and as managing the scam web site.
They were arrested on suspicion of scamming a woman and two others living in the city of Fukui, central Japan, alleging in an email that they had failed to pay website subscription fees, and coercing them into purchasing electronic gift cards worth a total 780,000 yen, or about 215,000 baht.
Keep in contact with The Thaiger by following our
Facebook page
.