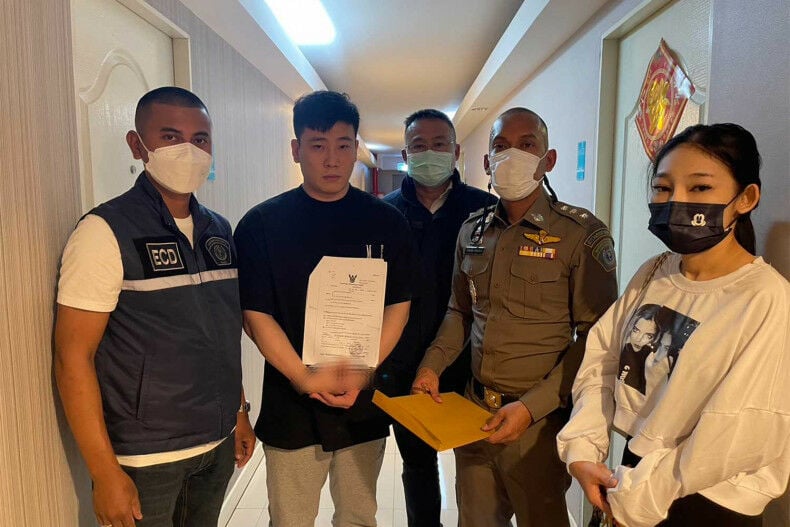 Thai police finally caught up with a slippery Singaporean hacker in Bangkok yesterday and placed him, and his girlfriend, under arrest.
Ong Jian Zhen allegedly scammed hundreds of social media accounts in Singapore and fled to the safe haven of Thailand last year to escape the wrath of his own country's courts.
Zhen was already on the Thai wanted list for using a fake passport but after a tip off police swooped on a condominium in Huai Kwang district, Bangkok, yesterday and arrested the alleged 32 year old scammer.
Police also arrested his girlfriend, Ananyalak Chuenjai. The 28 year old Thai woman was arrested after officers found a packet of crystal methamphetamine, two packets of ketamine and a pack of an illicit drug called Erimin 5 in the condo. Officers also seized an electronic scale and three bank accounts.
The Singaporean was arrested by immigration police on October 26 last year for using a counterfeit passport to enter the country. However, he was later temporarily released on bail and fled, according to Pol Col Phadol Chandorn, superintendent of the Technology Crime Suppression Division's sub-division 5.
An arrest warrant was issued by the Sa Kaeo Provinciali Court on December 19 for Zhen using a fake passport, Pol Col Phadol said today.
"The Criminal Investigation Department of the Singapore Police Force had contacted Central Investigation Bureau commissioner Pol Lt Gen Jirabhop Bhuridej to help arrest Zhen, who allegedly hacked personal social media accounts to buy goods online, causing damage to many people.
"Police launched an investigation and found his whereabouts in Bangkok, tracked him down to his room and arrested him and the Thai woman there."
The arresting officers initially filed charges against the suspect as outlined in the arrest warrant. The officers charged the suspect and the woman with conspiring to possess illegal drugs and turned them over to the Sutthisarn police for further legal proceedings.