Coronavirus – Thai officials meet for evacuation contingency of citizens in Wuhan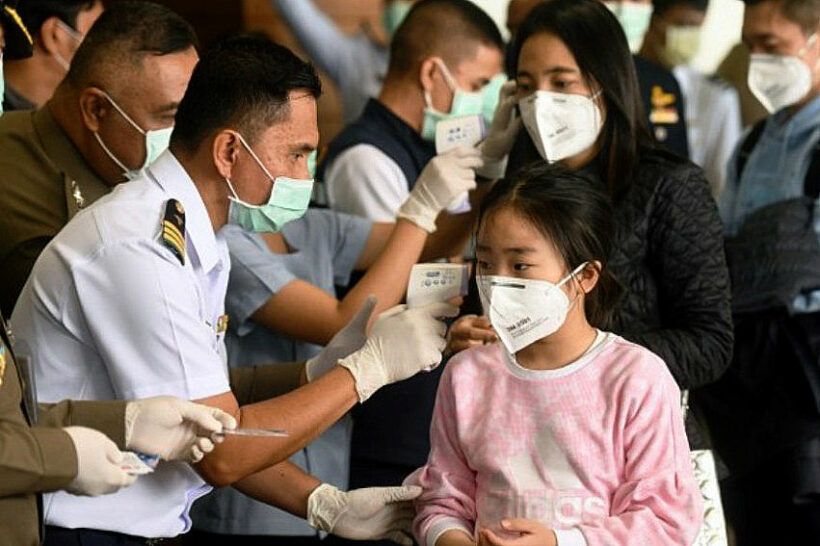 Thailand's Foreign Ministry is hosting a meeting today to review plans to repatriate Thais marooned in China as a result of the cessation of flights and lockdowns in many Chinese cities.
The Thai Rapid Response Centre, along with the Public Health Ministry, will also be updated by local Thai Embassy staff and consular officials in China to find ways of locating and evacuating any Thai citizens who are currently in China. The Transport Ministry also announced that security agencies and Thai Airways representatives will also attend the meeting as a possible evacuation plans takes shape.
An evacuation, led by the Thai Air Force, is also being mulled as a back-up to other commercial evacuation solutions. Thai Air Force commander Manat Wongwat told the Bangkok Post that up to four C-134 planes with medical staff and equipment are on stand-by to evacuate Thais from hotspots in China.
The death toll, worldwide, is now up to 80, the vast majority located in the virus' epicentre of Wuhan, the capital of Hubei province. 2,700+ cases are now reported worldwide. Again, the majority of cases are in China.
A Thai Foreign Ministry spokeswoman says Thai officials stationed in China are monitoring the situation closely and are in constant contact with Thai students and other communities. Busadee Santipitaks has confirmed there are 54 Thai students and approximately 10 workers in spa businesses in Wuhan city. All are accounted for and safe, as of the latest reports from Thai embassy officials.
But a Thai student studying at Wuhan University posted a desperate plea for help from the Thai government on Facebook. Pasnicha Krutdamrongchai, says she and her friends did not have the opportunity to stock up on food and water due to the short-notice given prior to the lockdown. Pasnicha painted a grim picture of supermarket shelves stripped-bare in her post.
In response, the Foreign Ministry reported that the Thai embassy in Beijing had contacted the students and offered advice, saying that checks with Hubei province's foreign office found that restaurants and shops around the university are open as normal.
Thai Public Health Minister Anutin Charnvirakul reported over the weekend that the number of confirmed cases of novel coronavirus in Thailand has reached eight while the total number of cases under investigation stands at 84 – 7 are Chinese citizens and the other is Thai. 5 have been discharged from hospital.
Over the weekend reports came out of Chiang Mai, Nakhon Sawan and Rayong about suspected cases that have been detected.
The director of the Chiang Mai provincial tourism and sports office, Parisa Panprom, reported that 120 Chinese tourists from Wuhan were yesterday scheduled to fly back to China. Arrangements are being made to fly them to nearby destinations as Wuhan's airports have been closed for all but emergency flights.
Chiang Mai Airport has suspended all flights between Chiang Mai and Wuhan until at least February 4.
Meanwhile, Thailand's Tourism and Sports Minister Pipat Ratchakitprakarn reported that the shutdown of Chinese cities and the ban on all outbound tour groups by the Chinese government will cost Thailand around 50 billion baht in lost tourism revenue.
SOURCE: Bangkok Post | Reuters
Keep in contact with The Thaiger by following our
Facebook page
.
Cambodia's carelessness over coronavirus could bring disaster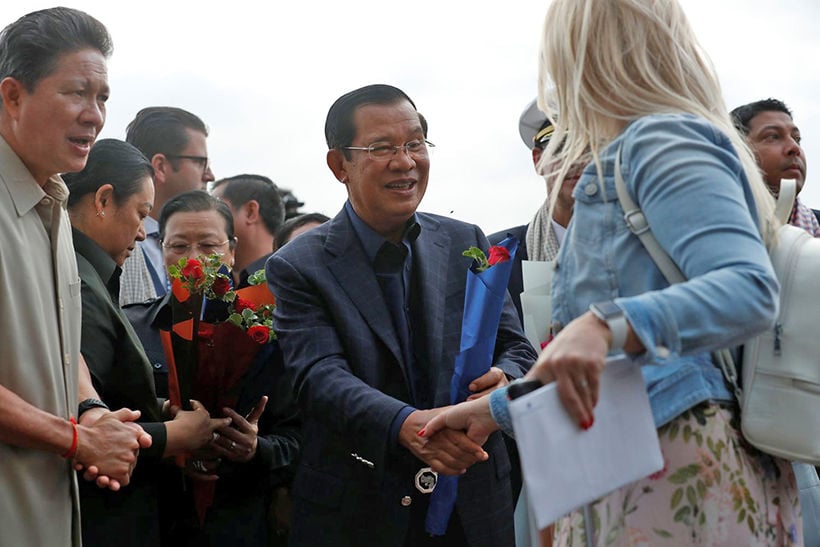 When passengers from the MS Westerdam disembarked in Sihanoukville, Cambodia on Valentine's Day last week, it was smiles and handshakes all around, as Prime minister Hun Sen greeted them with roses. Protective masks were nowhere to be seen. Not only did the PM not wear one, his bodyguards ordered people wearing masks to take them off. The next day, the US ambassador to Cambodia, W. Patrick Murphy, who brought his own family to greet the passengers streaming off the ship, also went maskless.
"We are very, very grateful that Cambodia has opened literally its ports and doors to people in need," Murphy said.
But after the hundreds of passengers had alighted, one tested positive for the COVID-19 coronavirus. Now, health officials worry that Cambodia may have opened its doors to an outbreak, and the world may pay a price as passengers from the cruise ship head to their home countries. Fearful governments in five other countries had already turned the ship away, even though the cruise operator, Holland America, assured officials that passengers had been carefully screened.
Hun Sen's decision to allow the ship to dock appeared to be a political move as much as anything else. The region's longest-serving ruler and a close ally of China, he is known for his survival skills. But critics worry that the aging autocrat might have acted rashly.
"Of course, he had to do the dictator thing: photo op, roses, exploit this for its maximum value. Whatever is in the best interest of Cambodians is completely irrelevant to him."
When the Westerdam docked in Sihanoukville, the Cambodian government and the cruise operator deemed the vessel virus-free. But the declaration appears to have been premature. Only 20 of the 2,257 on board were tested for the virus before disembarking, and that was because they had reported themselves to the ship's medical staff with various ailments. The 83 year old American woman who twice tested positive after travelling on to Malaysia was not among those 20.
It's too early to tell whether the decision to let hundreds of passengers from the Westerdam fly off has the makings of an epidemiological disaster. Cambodian health authorities say that 409 of the 2,257 passengers and crew have left Cambodia for their homes around the world. The rest remain in hotels in Phnom Penh, the capital, or on the ship.
Many health experts urge people who have been in contact with coronavirus patients to self-quarantine for 14 days, to avoid danger of contagion. But yesterday, Hun Sen directed officials in Phnom Penh to treat passengers from the Westerdam to a sightseeing jaunt.
"To tour the city is better than staying in rooms or at the hotel feeling bored or scared," said a post on Hun Sen's Facebook page.
There is widespread scepticism of the government's contention that only one person in Cambodia has tested positive for the virus, a Chinese citizen who has since returned home.
"There is a natural lack of credibility and trust associated with the Cambodian government. This is Hun Sen's Westerdam problem, because even if he was doing the right thing, purely as a humanitarian, he will be seen as the puppet of China."
Also yesterday, Hun Sen announced another publicity stunt: he wants to invite the passengers of the Westerdam to a party.
Masks won't be welcome.
SOURCE: The Bangkok Post
Keep in contact with The Thaiger by following our
Facebook page
.
Public Health Ministry urges Thais to delay visits to Japan, Singapore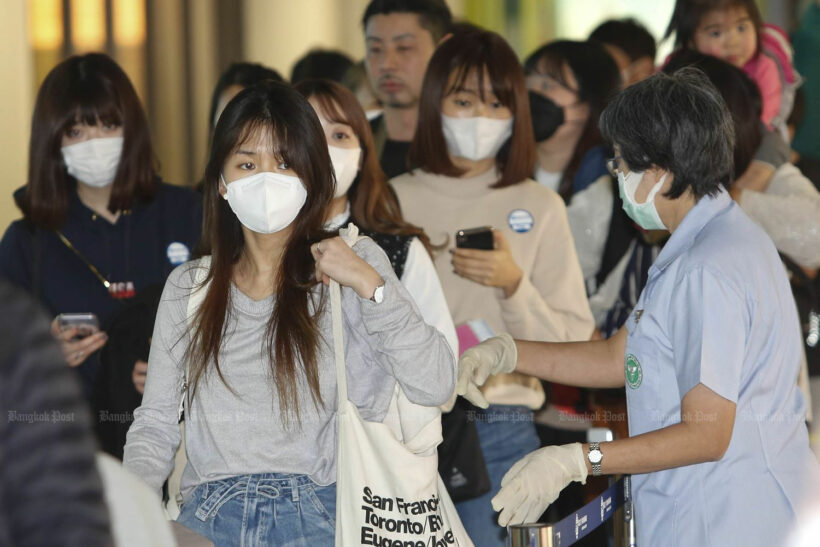 The Public Health Ministry is urging Thais to postpone any planned visits to Singapore and Japan, citing the rising number of COVID-19 coronavirus cases in the two countries.
Thailand's total confirmed cases of the virus has risen to 35. The permanent secretary at the Public Health Ministry Dr Sukhum Kanchanapima says that the virus outbreak in the two countries has reached the "third stage," where locals with no record of meeting with Chinese people are found to be infected.
Thais who visited Japan and Singapore in the past 14 days, and have fever or exhibit other symptoms, must meet doctors and will receive treatment free of charge
Sukhum says the situation in Thailand is now at the second stage but it must brace for the third stage.
SOURCE: The Nation
Keep in contact with The Thaiger by following our
Facebook page
.
World travel suffers as coronavirus outbreak drags on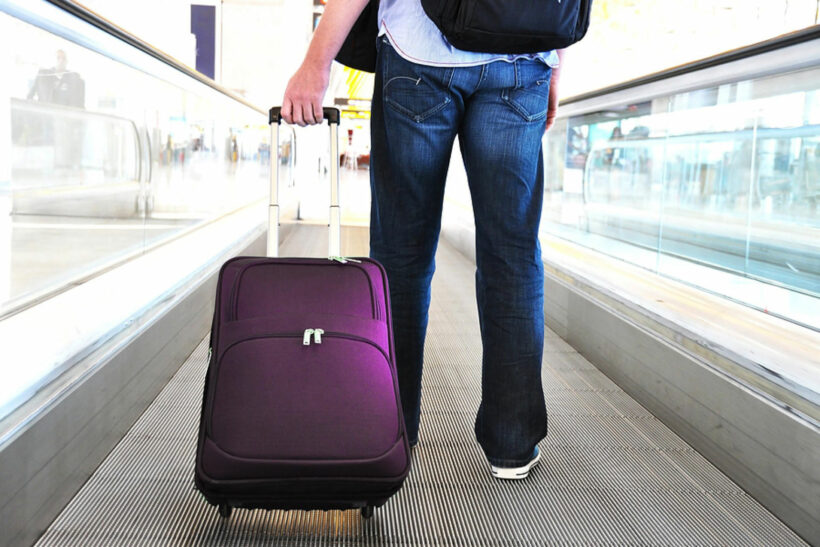 The Public Health Ministry is asking Thais planning trips to Japan and Singapore to reschedule their visits, saying that travellers need to be aware of the rising number of people infected by the coronavirus (Covid-19) in those two countries.
Dr Sukhum Kanchanapima, the permanent secretary at the Thai Public Health Ministry, says the coronavirus outbreak had reached the third stage where local people, with no record of meeting with Chinese people, are found to be infected.
Confirmed coronavirus cases in Japan has reached 66, and in Singapore 77. Thailand remains at 35 confirmed cases, of which 15 are now fully recovered,
"Thais who visited Japan and Singapore in the past 14 days, and have a fever, have to meet doctors and will get treatment free of charge. The situation in Thailand is at the second stage but it must brace for the advent of the third stage."
But the effects of the coronavirus outbreak on global tourism continues to accelerate rapidly. The impact of coronavirus is already being felt across the Asian continent. Travel agents, operators, and hoteliers are bracing for at least months, if not a full year, of disruption from the outbreak, with long-term effects that could ripple well into 2021.
Jack Ezon, founder and managing partner of luxury travel agency Embark Beyond, says the number of cancellations continues to mount – in his company's case, 75% of his travellers have cancelled their February and March departures to Southeast Asian countries
"People are put off. Sadly, a lot of them are just saying, 'I don't know if I want to go anywhere right now.' Or, in many cases, 'I'll just go next year.' They're worried about being anywhere close to the outbreak, or of getting stuck with cancelled flights if other hubs become infected."
Chris Nassetta, the Hilton CEO, has told investors that he expects the impact of the new coronavirus to last anywhere from 6 to 12 months.
"Three to six months of escalation and impact from the outbreak, and another three to six on recovery."
Catherine Heald, co-founder and CEO of the Asia-focused travel specialist Remote Lands, says it's all been about picking the right weather in the past. She say now people are just cancelling their trips for this year altogether and starting planning for 2021.
"Business in China was already low this year because of negative press about trade wars. Only 3 out of 400 trips booked last year were China-only. China was a little soft this year for leisure anyway, and Hong Kong was a mess from July with the ongoing protests there."
The broader Southeast Asia region had been benefiting from the overflow, but that momentum is on hold. "People are cancelling Sri Lanka and India just because it's part of Asia. There haven't even really been cases there, but so much is unknown that people are just staying away."
(Sri Lanka has reported one case of someone infected with the new coronavirus and India has reported three so far)
Hotels understand travellers' fears, nonsensical as they may seem. Many have extended gracious policies allowing people to change their plans throughout the Asia-Pacific region at no cost, as long as they rebook before the 2020 festive season.
But even travellers with itineraries for October have been inquiring about cancellations, according to the gossip out of leading hotel groups. They worry that if some drop in case numbers or a declaration about 'containment' doesn't come soon, the malaise in the hotel industry will drag on, probably into next year.
It took the World Health Organisation four months from the moment it announced a global alert about SARS until it said the disease was 'contained' back in 2003, and then an additional five months for the WHO to wrap up its efforts to tally new cases.
According to aviation analysts at AirInsight, the SARS outbreak cost airlines US$10 billion, and that was at a time when global business, and the aviation business, was less developed. If it takes a similar nine months for the Covid-19 outbreak to pivot into "recovery" status, which is consistent with the industry outlooks, aviation will take an even bigger hit this time.
"Think about Fukushima," Catherine Heald says, referring to the 2011 nuclear disaster at Japan's Fukushima nuclear plant.
"People didn't regain trust or interest in travel to Japan for years. After many years of reassuring travellers they didn't need to worry about radiation exposure, Japan suddenly became the fastest-growing travel destination in the world.
"If SARS was bad, this will be worse, but remember Ebola? It's still in Africa, and safari bookings are stable. Remember chikungunya? Once the news cycle moves on, people will forget. Just like everything else, it'll bounce back."
SOURCE: The Nation
Keep in contact with The Thaiger by following our
Facebook page
.