Huneety releases solution for talent shortage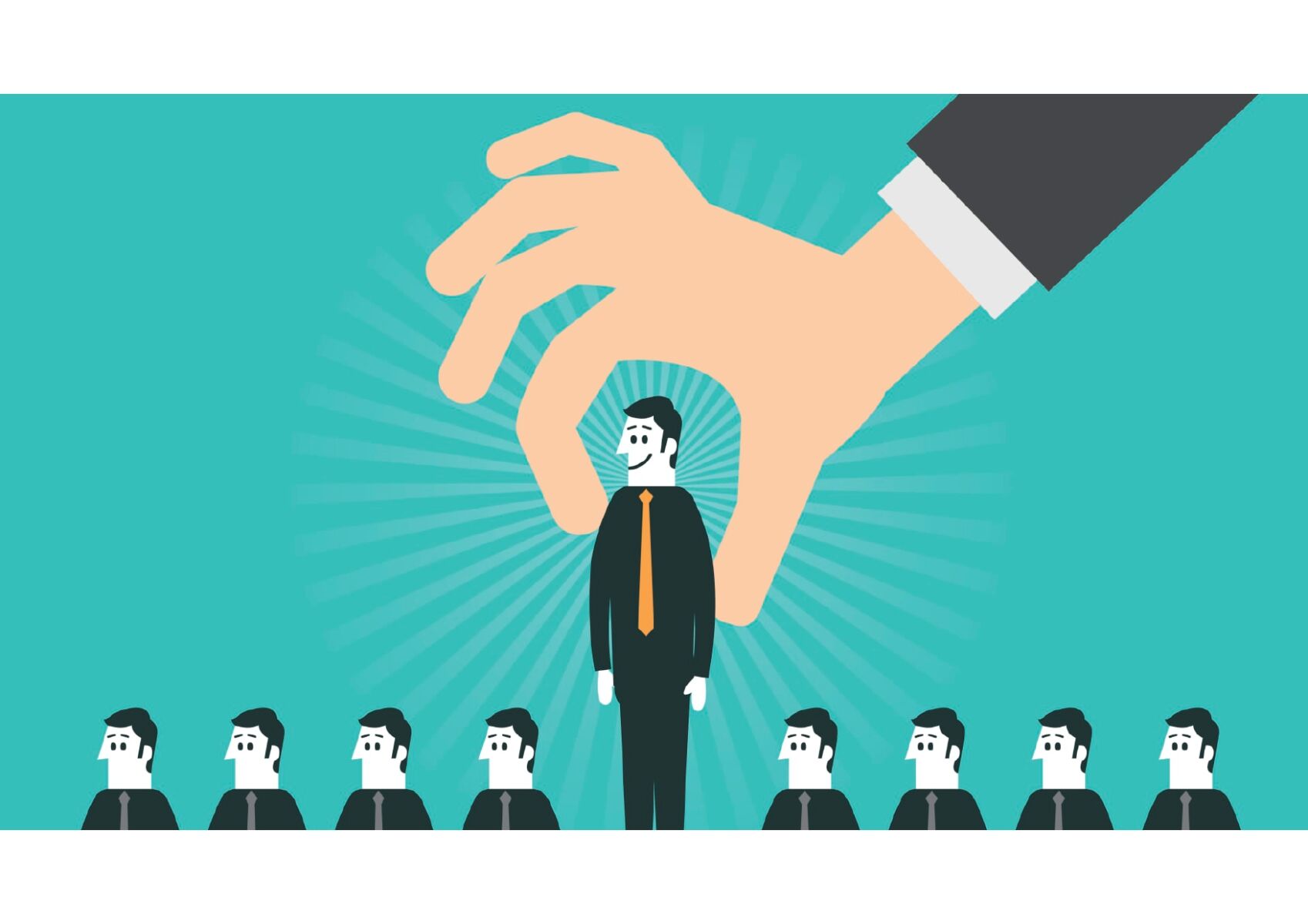 Press Release
Huneety is a regional HRtech startup headquartered in Bangkok and founded by 2 French entrepreneurs, Simon Carvi, Co-Founder & CEO and Vianney d'Hostel, Co-Founder & COO.
Huneety is the combination of "H" for Humans and the word "Unity". Huneety was born in late 2021 from the acute talent shortage in Southeast Asia, a phenomenon that is expected to worsen in the coming 10 years. Huneety's mission is to support organisations in navigating the skills and talent shortage by providing HR technology data-driven solutions.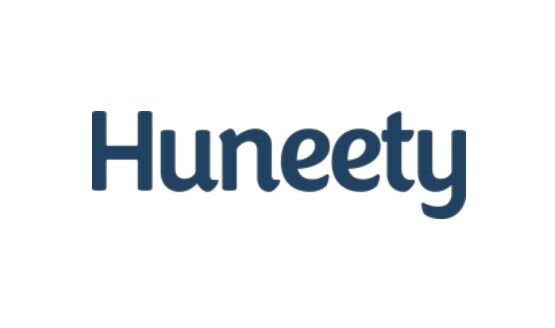 The talent war has no end in sight.
The competition for talent is already intense in the region, and it will only get worse in the next decade. According to Korn Ferry, 47 million jobs will be unfilled by 2030 due to the skills shortage in South East Asia. This shortage equals to a $4.2 trillion in lost revenue opportunity if the shortage is not addressed.
In Thailand, the sectors that are the most impacted by talent shortage in 2023 are:
Automotive
Information Communication & Technology (ICT)
Hospitality and tourism
Because of the Talent shortage, organisations are struggling to find a capable workforce with the industry's required skills. This leads to an even more intense "Talent War", where employers are fighting over the same candidates. The Talent shortage is impacting the bottom line of the organisation with the following negative externalities:
Increased time to hire and unfilled jobs
Skills scarcity within current industry and geography area
Increased competition for talents
Higher cost of hire
Employees have not returned to the same industry since the pandemic
With the effects of the pandemic now settling, its impact on the country's workspace is now clearer.
A significant trend has been that individuals have been changing industries at higher rates than before. This is, for example, visible in tourism and hospitality, where employees laid off have found jobs in other sectors to protect their revenue and employability.
Employees resigning voluntarily are also shifting industries at higher rates than before. According to a global 2022 McKinsey study, 65% of individuals quitting their jobs during the pandemic did not return to the same industry.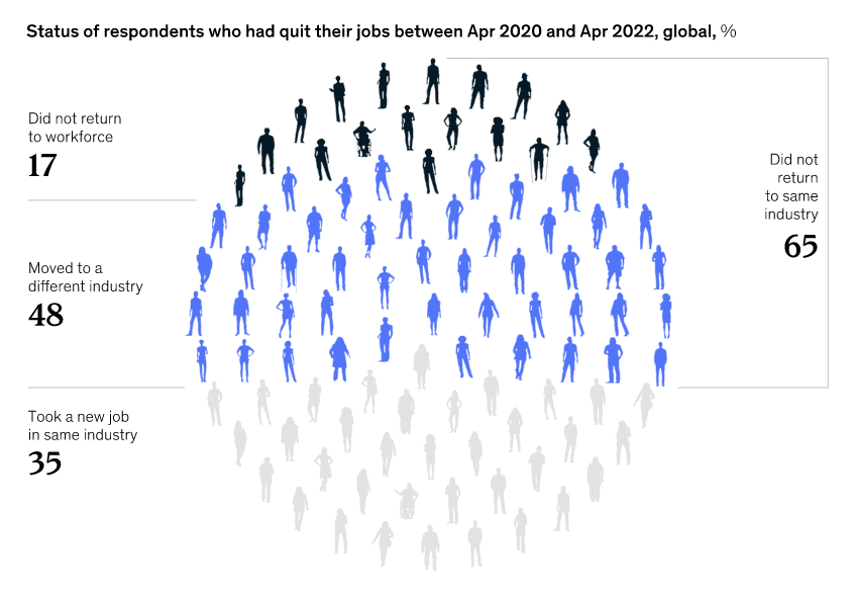 To face these deep labour market changes, employers must deploy more efforts to attract candidates from various industries, contribute to their upskilling and improve employee development and engagement to retain them over the long term.
Soft skills are the new currencies for the future of work
Soft skills are character traits and interpersonal skills that characterise a person's relationships with others in their personal life or workplace.
Unlike hard skills, soft skills are transferable between industries and roles. For example, time management skills and problem-solving can be used in any type of field.
Employees with the right soft skills progress faster within the company, as they are particularly fit for succession and job rotations. This increases the value of such employees. In addition, employees with soft skills make better leaders and adapt to change.
"The focus on soft skills has revolutionized talent mobility across industries. Organizations now realize they can hire a capable workforce beyond their own industry sector if they are able to pinpoint the right soft skills to look for.

The assessment of soft skills also proves valuable during hiring stage, as it can predict the employee's retention and culture fit. To thrive in the talent shortage era, organizations should hire for behaviors, while training for hard skills". – Simon, Co-founder and CEO
The identification of soft skills remains a challenge for recruiters. Those are not listed in resumes and are often too quickly mis-judged during the interview process. This may lead to mis-hiring, a costly mistake that is estimated to cost overall up to 3 times the annual salary of the person to the company.
To shield themselves against mis-hiring, employers are looking for more robust assessment solutions to pre-qualify candidates before hiring them.
Huneety's solution to tackle Talent shortage
In its mission to support Thai companies navigate the talent shortage, Huneety mixes HR expertise and technology to offer creative ways to solve the shortage problem to customers in Southeast Asia.
Using skills assessments to expand talent pools and increase Talent mobility. Huneety's approach is to go beyond what is written in applicant's resume and offer new data points for talent selection
Personality traits
Behaviors
Culture fit requirements
Huneety's approach allows the detection of candidates that would be simply ignored with traditional recruitment tools and resume screening.
Huneety offers opportunities to candidates who possess the required skillset for the job, but who may belong to other industry sectors. For example, a customer service executive working in the retail industry can transition to work in the hospitality sector.
This innovative way of candidate selection is allowing companies to expand their talent pool. And for candidates, it offers them more job opportunities beyond their current industry.
Made in Southeast Asia for Southeast Asia
Companies who are suffering the most from the talent shortage are not using new resources due to cost sensitivity. Huneety's intent is to bring an affordable and easy-to-use HR solution for companies to thrive. As part of its vision, Huneey offers free features for companies to:
Capture candidates in the platform,
Assess candidate's soft skills, behaviors, and personality,
Select the right applicants.
Huneety platform is fully localized in Thai, Bahasa, Vietnamese and English, allowing companies to find and qualify the right applicants. For more information please visit: https://www.huneety.com
About Huneety
We are Southeast Asia Hiring platform that helps organizations finds qualified people faster. We are commited to ensure our customers the best solution to navigate the talent shortage by providing data driven software and services.Contact us for a short introduction meeting to discover how we can help your organization with its recruitment priorities.
Business News
Press Room

Join the conversation and have your say on Thailand news published on The Thaiger.
Thaiger Talk is our new Thaiger Community where you can join the discussion on everything happening in Thailand right now.
Please note that articles are not posted to the forum instantly and can take up to 20 min before being visible. Click for more information and the Thaiger Talk Guidelines.