Document confirms Covid-19 case at Vachira Hospital Phuket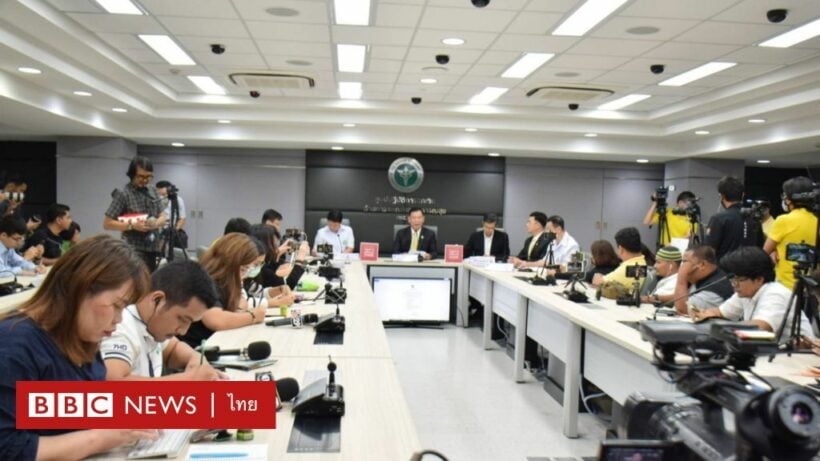 A document from the Bangkok Disease Control Department has confirmed that there was a 35 year old Chinese patient at Phuket's Vachira Hospital with coronavirus last month. The documents were made available at a media conference confirming the latest figures from around Thailand yesterday. One of the listings of confirmed cases was the Phuket patient (below).
The patient's listing was for February 3.
The information came to light on a Thai media outlet called The Southern TH, and has been shared on many other local Phuket media outlets, including Phuket People's Voice and Newshawk Phuket. The report was also made on the BBC Thai.
The commissioner of the Bangkok disease control department said in the regular press update about Covid-19 around Thailand that the documents "are real documents, but internal documents for medical personnel".
"The documents weren't for the general public as they didn't want people to panic".
The commissioner also said that there were currently 3,895 people around Thailand who were under observation. And 8 people had been identified upon arrival at the Phuket International Airport with routine screening and currently isolated pending tests.
Vachira Hospital Phuket held a media conference on March 3 and told the attending media that there were no confirmed coronavirus cases in Phuket. Two days later the Bangkok Disease Control Department confirmed that there had been one confirmed case.
Further official comments have not been made by officials at Vachira Hospital Phuket as of the time of publication. It is not known if the patient is still under care at the hospital.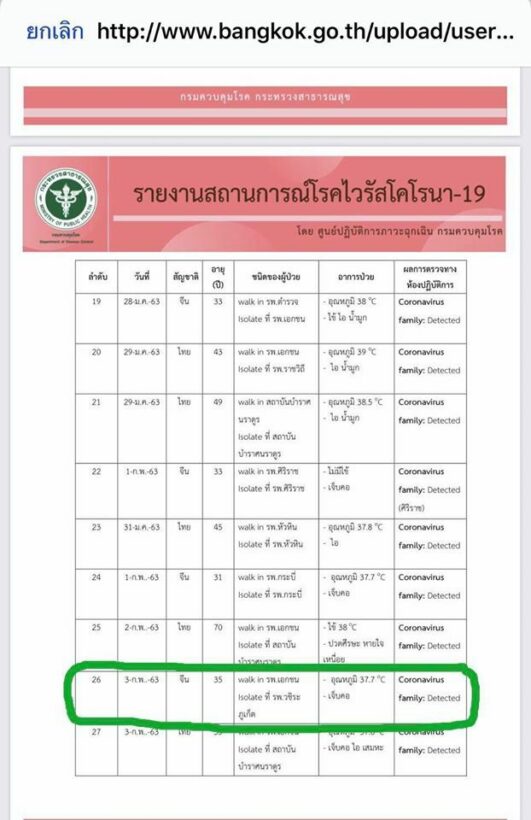 SOURCES: The Southern TH |Newshawk Phuket | Phuket People's Voice | BC Thai | Bangkok Disease Control Department
Keep in contact with The Thaiger by following our
Facebook page
.
Coronavirus UPDATE: Tokyo faces climbing case numbers, makers of 'Corona' beer suspend production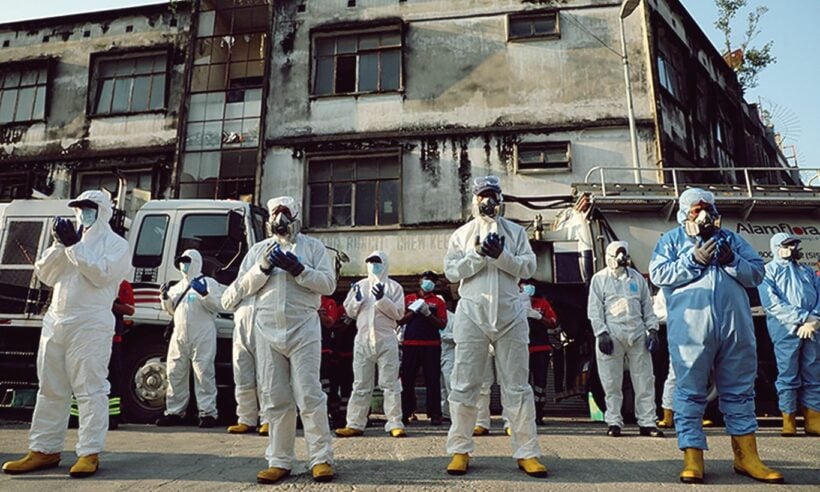 The international toll has reached 1,097,810 and deaths 59,140 with no sign of a slowdown at this stage (7.30am Thai time). The world will be adding 100,000+ new case every 24 hours within the next few days unless we start to see a flattening of the curve.
The US has had another day of burden for its health system – 32,000 new cases identified and 1,320 deaths. The Covid-19 virus also continues to spread at pace throughout key European countries with Italy and Spain hit particularly hard with with death rates around the 10% mark. Iran stands out amongst Middle East countries with the worst problem by far, having amassed 53,000+ cases and 3,294 deaths. Saudi Arabia still sits at just over 2,000 cases but is seeing a small and steady rise.
Here's the latest stats from Worldometers.com this morning…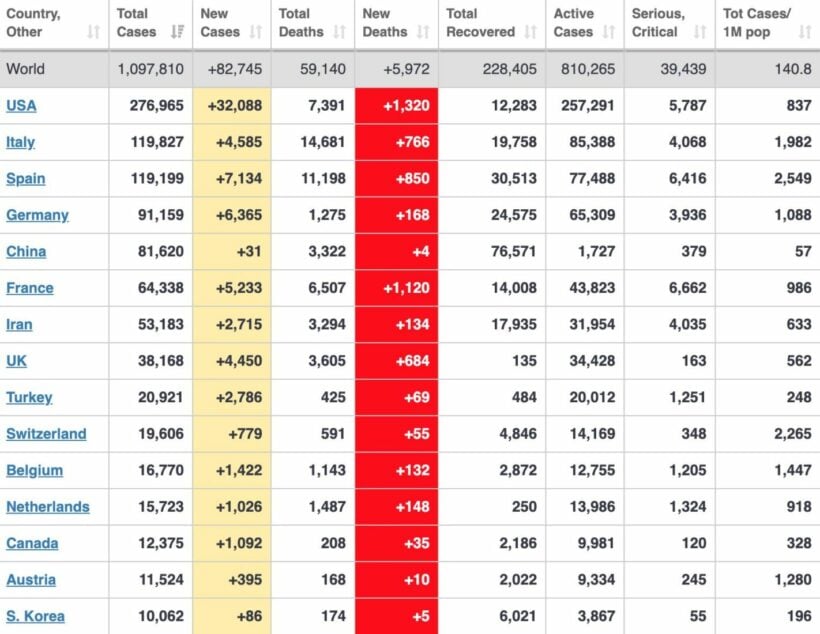 Snippets of news from around the world…
THAILAND
Covid-19 coronavirus cases in Thailand rose to 1,978 yesterday with 103 new cases confirmed and another 4 patients dying from Covid-19 complications. Total deaths nationwide now stand at 19.
Yesterday's numbers reinforce a hopeful trend in Thailand of new cases levelling off as restrictions tighten across the country this week. In Pattaya, and the province of Chonburi, provincial leaders are considering a full lockdown to outsiders after the rise of new coronavirus infections this week, almost half of them in and around Pattaya.
Pattaya City is ordering all hotels to alert their guests about the plan and check their numbers in the next three days before the lockdown is announced. Restrictions will include curfews, hotel closures and restrictions on employees leaving the province. Phuket added 13 new cases, reaching 100 cases in total. As with many new cases over the week, most were centred around Patong's entertainment zone of Bangla Road.
JAPAN
In Tokyo, the daily count of new coronavirus cases has doubled over the past 7 days, from about 40 in the final days of March to 97 last Thursday and 89 yesterday. If the current trend continues, the outlook is bleak, according to an infection control specialist from Kobe University, Kentaro Iwata. He has repeatedly warned that Japan isn't doing enough to halt the spread of the virus.
"Japan needs to have the courage to change, when we are aware we are on the wrong path. We might see the next New York City in Tokyo."
US
Health authorities in the US have modified their position on the widespread application of non-medical masks for citizens. The Centres for Disease Control and Prevention is now recommending the general public wear non-medical, cloth masks in public places to help blunt the spread of the virus. The move comes after new research highlights a significant number of people who are not showing symptoms may still have the virus and are spreading it unknowingly amongst the US community.
US President Donald Trump, who remains guarded about the recommendations from his leading Covid-19 scientific advisers, said of the recommendation to wear masks… "So it's voluntary, you don't have to do it. I don't think I'm going to be doing it."
Federal emergency workers in New York say they are now working quickly to meet demand for medical supplies in the increasingly deadly Covid-19 outbreak.
MEXICO
Mexico's largest brewing exporter, Grupo Modelo, says it will temporarily stop brewing Corona beer and other brands exported to 180 countries after its business activities were declared 'non-essential' under Mexican government orders aimed at curbing the spread of the coronavirus. The brewer says the suspension will go into place from Sunday.
"If the federal government considers it appropriate to issue some clarification confirming beer as an agro-industrial product, at Grupo Modelo we are ready to execute a plan with more than 75% of our staff working from home and at the same time guaranteeing the supply of beer."
CHINA
A group of Chinese mountaineers have started an expedition to climb Mount Everest while the site remains closed to foreign climbers because of coronavirus. Only Chinese climbers are permitted to join the climbs this spring season because of the pandemic.
The highest mountain in the world straddles the borders of China and Nepal and can be climbed from both sides. Nepal cancelled all expeditions already whilst China has closed its side to all foreign climbers.
Two dozen+ Chinese climbers tackling the Mount Everest challenge are expected to reach the advanced base camp at an altitude of 6,450 metres today. Mount Everest's peak is 8,848 metres.
ITALY
The number of deaths from coronavirus in Italy continued to rise steeply yesterday with another 766 fatalities . Over 6,000 patients remained in a critical condition. Italy's overall death toll now stands at 14,681 leaving Italy as the country worst hit by the global Covid-19 pandemic.
But experts believe the real toll from the virus in Italy is likely far higher. Matteo Villa is a researcher at the Italian Institute for Political Studies and author of a new study titled "Coronavirus: Lethality in Italy, between appearance and reality". He claims that the death toll may have been underestimated by up to 6,000, or a third of the official total.
"For sure, the figures are wrong."
Here's yesterday's 'Thailand News Today program…
Keep in contact with The Thaiger by following our
Facebook page
.
Google will publish user location data to aid in the fight against Covid-19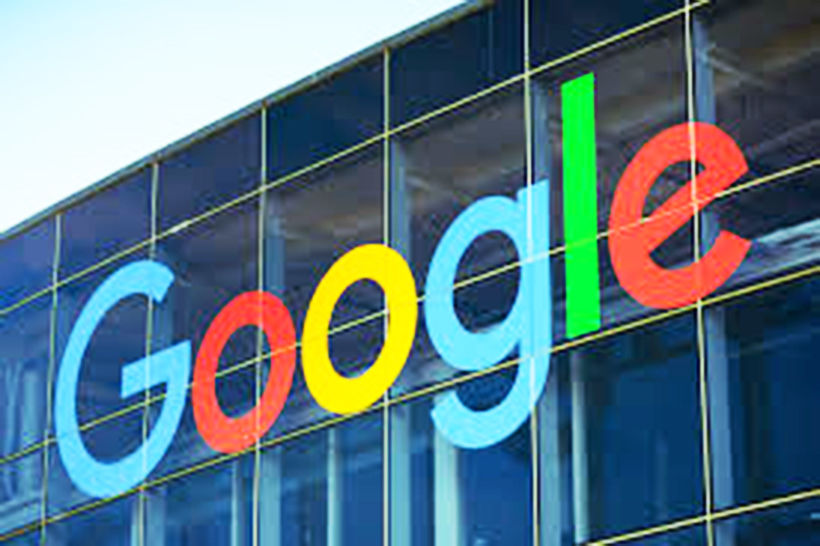 Today in Paris, Google has announced that it will start publishing location data from its users located in 131 countries, starting today. This will be done to allow the governments to indicate the performance of social distancing to help in the combat of the Covid-19 pandemic.
Reports of users' movement will be recorded on a special website and will 'chart movement trends over time by geography'. Trends will be displayed as 'a percentage point increase or decrease in visits' to locations like parks, shops, homes and places of work.
Leader of Google Maps Jen Fitzpatrick, and the company's chief health officer Karen DeSalvo says…
"We hope these reports will help support decisions about how to manage the Covid-19 pandemic, this information could help officials understand changes in essential trips that can shape recommendations on business hours or inform delivery service offerings."
Similar to the measurement of traffic on Google Maps, the new reports will use "aggregated, anonymised" data from users who have activated their location history. No "personally identifiable information," such as a person's location, contacts or movements, will be made available. To ensure this the reports will also employ a statistical technique that adds "artificial noise" to raw data, making it harder for users to be identified.
SOURCE: Bangkok Post
Keep in contact with The Thaiger by following our
Facebook page
.
Onerous new document requirements for stranded foreigners announced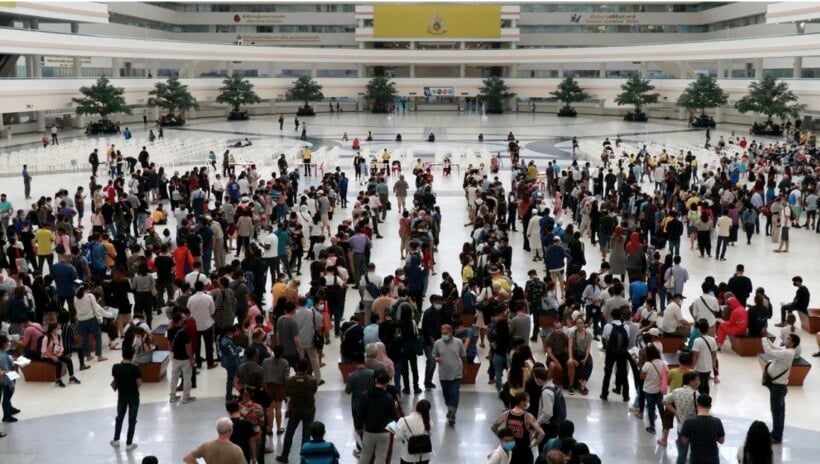 Thailand's Immigration Bureau announced yesterday that 9 separate documents are now required for foreigners stranded here to extend their stay for up to 30 days. New requirements include land deeds, rental contracts, even selfies of foreigners at their accommodations, even as scenes of chaos and massive queues at immigration continue unabated. A Thai Immigration spokesman defended the inconvenience on the grounds of "national security."
Countless long queues have been packing immigration offices around Thailand as foreigners scramble to sort out their visa situation and apply for extensions to avoid overstays. The long queues, many in stinking hot conditions around the country at the moment, are putting Thai immigration staff, and the applicants, in a dangerous NON social distancing situation.
Be aware that the same requirements may not be required at every immigration office on every day as the situation remains fluid and immigration officials are working hard to process all the paperwork and adapt to the changes in rules.
"Indeed, we are requiring more documents than usual because there are those who want to exploit the opportunity. We are doing our best to provide the best service, but bearing in mind that national security is our utmost priority."
The new rules were brought to public attention in a photo posted yesterday by longtime British expat Richard Barrow.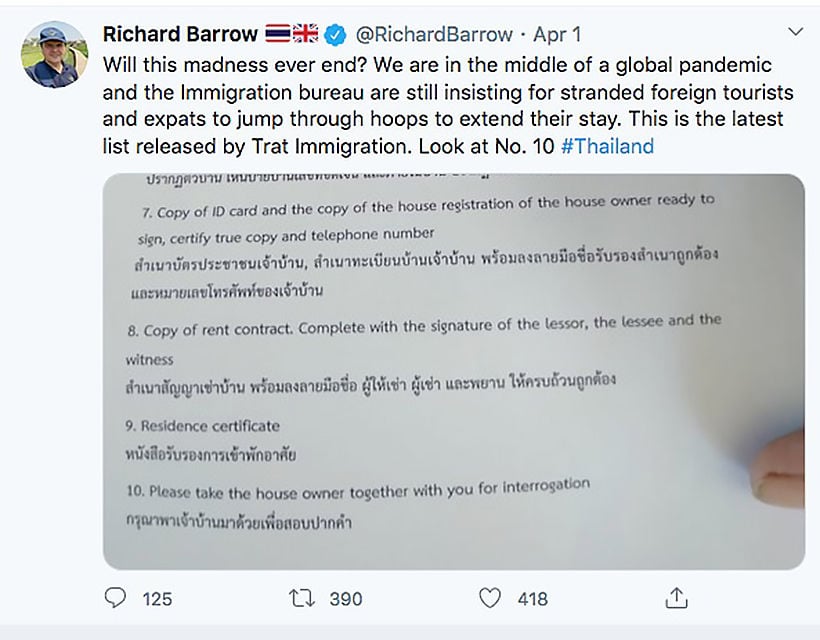 Apart from the usual TM7 application form, copies of passports, and applicants' photos, the new rules require a certificate from their respective embassies, a copy of a rental contract, a document confirming their stay at the accommodation, a copy of the landlord's ID card and house registration, and a map showing the location of their residence.
The landlord must accompany the applicant in person when submitting the documents (!!!??###!!!???) The applicant must also provide at least four photos of themselves at the accomodation, preferably showing the house or apartment number, to prove their residency.
The spokesman said these new regulations are "in accordance with immigration protocols."
Speaking by phone, the spokesman also shot down news reports that the Cabinet has approved automatic visa extensions for foreign tourists.
"In fact, the matter is still being deliberated."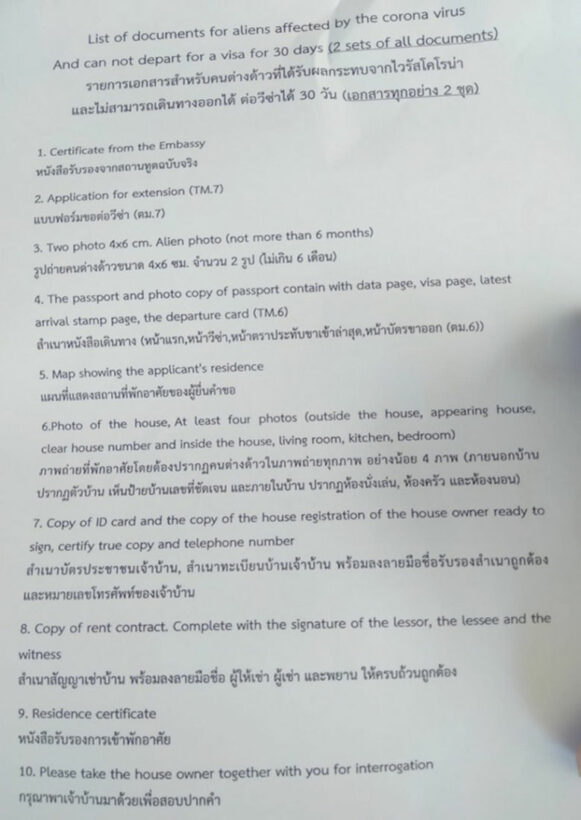 SOURCE: Khaosod English | Twitter/Richard Barrow
Keep in contact with The Thaiger by following our
Facebook page
.