Helping Thailand's starving elephants whilst the tourists are away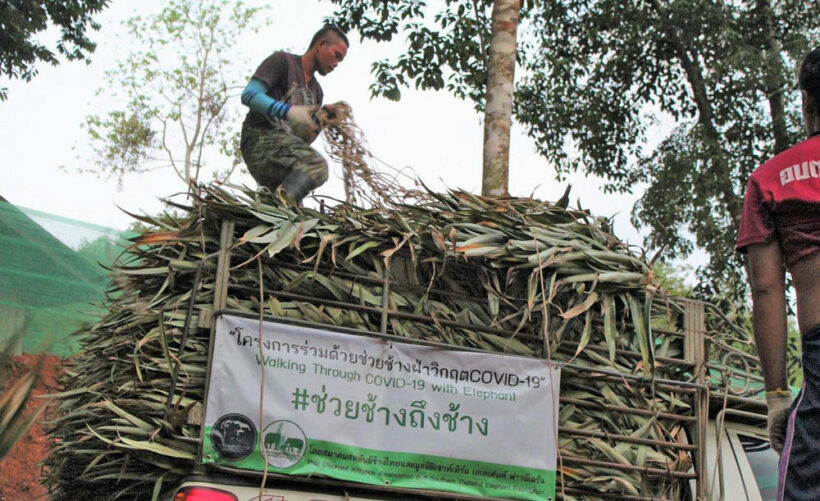 PHOTO: A recent delivery of food to two elephant owners, 'Rawang' and 'Chuslip', who both had their elephants, Kornkow and Meatoy, leased to an elephant park in Khao Lak.  Now they are having to care for the elephants themselves, and they were relieved and grateful to receive the food supplies. 
The Southern Thailand Elephant Foundation is helping to supply vital food to starving elephants in the south of Thailand, and trucks have already been rolled out to deliver this food to some of the 1,360 domesticated elephants throughout the southern region. The number of elephants affected by the collapse of tourism in Thailand is set to increase dramatically as more and more elephant owners, now with no income, run out of savings to buy food for their elephants.
STEF has volunteers on the ground in Thailand identifying vulnerable elephants and coordinating food supplies. To help with this work, STEF has joined forces with another charitable organisation, the Thai Elephant Alliance Association, and both charities are together striving to ensure that the collapse of Thailand's tourist industry following the Covid-19 outbreak doesn't result in domesticated elephants starving.  
Thailand has been in lock-down since the end of March, the elephant parks have closed, and many of the elephants have been returned to their owners. But these owners, often an elephant's mahout or other individual, relied heavily on the income they received from tourism and, without it, they are now struggling to feed themselves as well their elephant.It costs US$75 (2,400 baht) a week to feed a single elephant.
Locals in Thailand, where the elephant is the country's national animal, are also doing all they can to help. One farmer has donated a field of sugar cane to the cause. Trucks deliver mostly fodder and bags of feed pellets; each truck load costs 2,400 baht and provides enough food to last one elephant for a week. With 1,360 domesticated elephants in Southern Thailand the scale of the problem is massive.
Since the launch of its appeal to Save the Starving Elephants, STEF has raised over US$8,790 from donations via JustGiving and from generous private donations. 
"We are also asking our supporters to sponsor a food delivery truck for 2,400 baht. STEF is run entirely by volunteers and all the money raised through these appeals is going directly to Thailand to provide food for the elephants."
STEF
The Southern Elephant Foundation (STEF) is an international charity, registered in England, which raises funds to support projects that promote the ethical treatment and high standards of health and welfare of elephants in Southern Thailand. 
Our major community project at present is to fund the construction of an elephant veterinary centre at Ban Ton Sae, in Phang Nga province, Southern Thailand. The centre, which we expect to be open later this year, will provide free treatment for elephants in the region, and eventually include an education centre and a rest-home for old or abused elephants.
For more information please contact Gillian Newsum on 07 77 599 2124 or email info@southernthailandelephants.org
Keep in contact with The Thaiger by following our
Facebook page
.
Bangkok hospitals use baby face shields, US health officials say it could be dangerous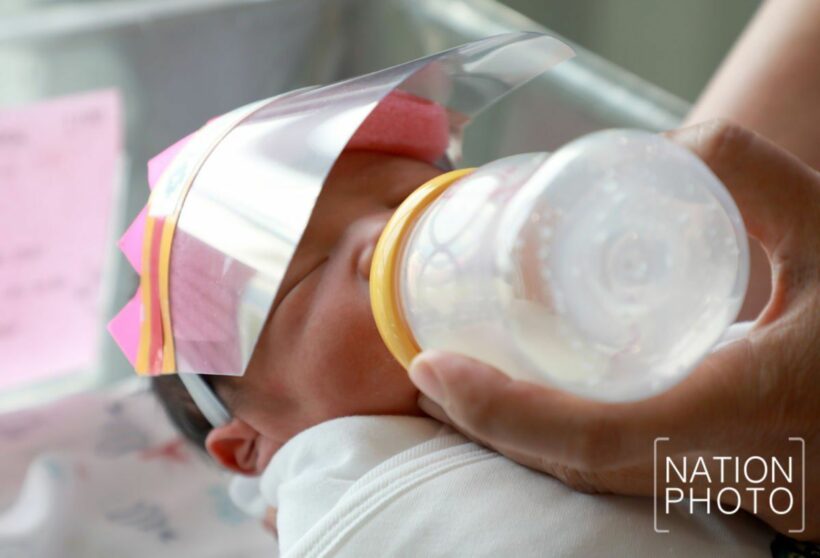 While Bangkok hospitals say they are protecting newborn babies from the coronavirus with baby-sized face shields, health authorities in the US disagree with the move, and even claim it could be dangerous.
The US Centre of Disease Control says an infant face shield could increase the risk of sudden infant death syndrome as well as suffocation or strangulation.
Since infants and newborns often toss and turn in bed, the nose and mouth could become blocked by the face shield and suffocate, according to a CDC report on the matter.
"Parts of the shield can also get caught around the neck and cause them to suffocate."
They say that there is no data supporting the use of infant face shields for protection against the coronavirus.
SOURCE: US Centre of Disease Control
Keep in contact with The Thaiger by following our
Facebook page
.
Pattaya's beaches are still a 'no go' area this month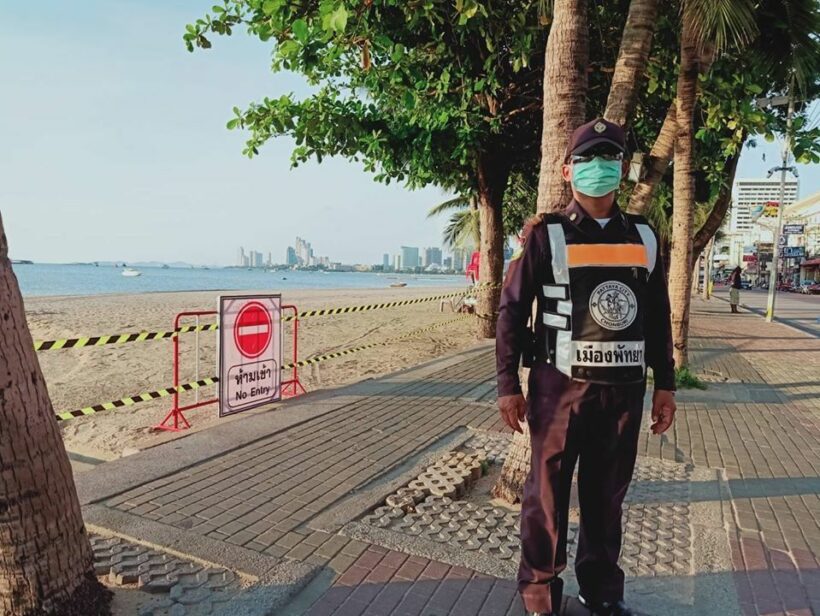 Don't go to Pattaya's beaches unless you're willing go to jail or pay a hefty fine. Starting tomorrow, the city's beaches will be closed until the end of May in an effort to prevent socialising and to slow the spread of the coronavirus.
Pattaya's police posted photos on Facebook of the taped-off beaches and warning signs.
"Those who try to access the beach could face a year in jail or an up to 100,000 baht fine. People and tourists are prohibited from gathering in the areas between 9am and 9pm during the three-week period."
However, people are still allowed to walk and exercise on the sidewalks adjacent to the beaches. The closed beach areas include… Pattaya beach, Jomtien beach, Phra Thamnak beach, Cosy beach, Wong Amat beach, Krathing Rai beach, Lan Phor Na Kluea public park and the Bali Hai pier area.
SOURCE: Bangkok Post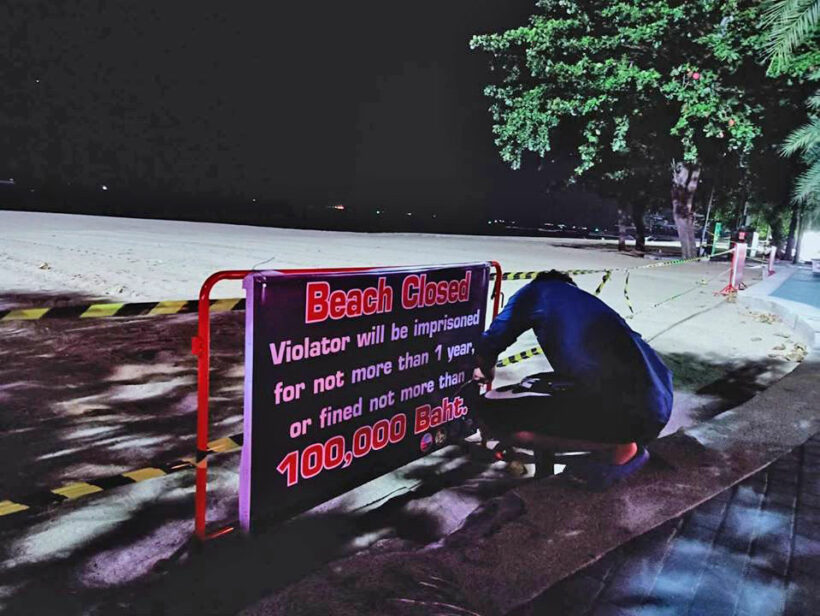 Keep in contact with The Thaiger by following our
Facebook page
.
10 arrested in Chon Buri for house party in violation of Emergency Decree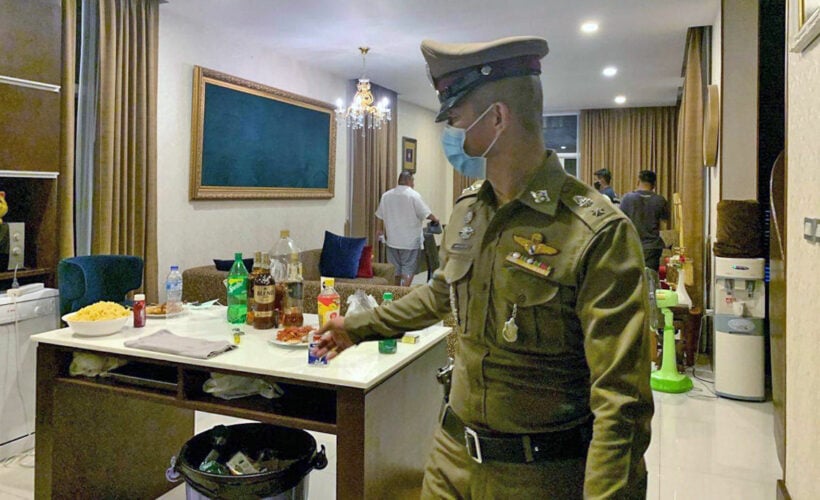 Police in Chon Buri province's Sattahip subdistrict, south of Pattaya, raided a party last night at a house with 10 people, most of them from out of town and described as domestic tourists. The gathering was a direct violation of the Emergency Decree enacted to stop the spread of Covid-19
Na Jomtien police were notified by a "concerned citizen" that there was a noisy party at a house in a housing estate at 9:30pm. They arrived at the house, knocked on the door and were greeted by 37 year old Paruehat Tampanon, who said he's renting the house for several days, and that he and his friends were staying there for 2 days.
Na Jomtien police discovered 9 other people inside the house, 2 of whom tested positive for illegal drugs, police say, without naming the specific drugs. Many bottles of alcoholic and other beverages were found.
Paruehat claimed he did not know that Chon Buri still has strict social distancing measure in place and bans private parties. He also claimed all 10 people know each other and live with each other so there was be no threat of spreading the virus.
The owner of the house, 35 year old Piyanuch Ignatov, was charged with illegally operating a hotel and disobeying a Chon Buri order. (Rentals of fewer than 30 days are technically not allowed under Thai law.)
All those arrested face stiff Emergency Decree penalties, which means fines of up to 100,000 baht and/or up to 2 years in jail.
SOURCES: The Pattaya News | Naew Na
Keep in contact with The Thaiger by following our
Facebook page
.