Phuket Lifestyle: Having a baby?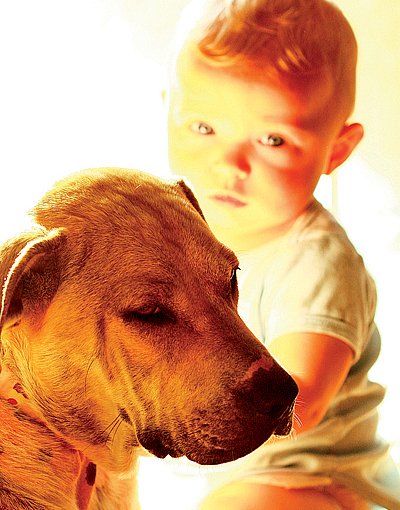 PHUKET: A friend of mine recently had a baby, which is a wonderful moment in his life, as it is in the lives of countless others. However, it can also be stressful, emotional and (if the rumors are true) quite tiring.
But for those of you who also have dogs in the house, you need to think about them too. You are right to be concerned about your dog sniffing around the new addition – just think of all the bugs, infections and nasty bacteria that a dog can catch from an unvaccinated toddler.
Bringing your new baby home must be quite exciting. If I had to wait nine months for my XBOX 360 to be delivered, I'd be super excited myself.
Of course, having a new family member, and an uneducated, totally dependent one at that, brings with it a myriad of changes to your normal routine – and consequently to your dog's routine.
Amidst all the excitement of bringing home your new baby, your dog may end up sharing most of the anxiety and less of the fun.
There's quite a bit that can be done with your dog to make the new transition easier, and with nine months to go, you've got time on your side.
The calm before the storm
It's no surprise that your dog needs to adjust to the idea of having a baby around the house because, frankly, so do you. Changes in your routine, unfamiliar noises, less recreational time, and increased stress all have a huge impact on you both physically and mentally and as such, has a big impact on your dog's state of mind too.
The first thing to think about is what kind of exposure has your dog already had to other animals, children, and infants? How did he react? What kind of experience was it? It's worth consulting a canine behaviorist to assess your dog too.
Don't mistake dog "breed" for safety. Sure, some dogs are promoted as "great with kids and babies", but all dogs are different, and if there's any chance he could react badly to a new baby – you need to know before it happens.
Start preparing your dog by getting him used to you holding something in your arms while you go about normal routines. Dolls that make realistic baby sounds, while nerve shatteringly annoying, are easy to find in Phuket.
You can also take him to the area where your newborn will sleep or play and reward him for being calm. If you have already bought your push-chair, take it on your walks with you as if it's totally normal and allow your dog to get used to it.
Baby lotion, diapers, buggies, and cots will all bring new smells into the house and it's worth having them around well in advance to get Rover used to it. Once baby arrives, you can also bring home blankets that have the babies new smell and place them in the cot, or the buggy.
Exposing your dog to lots of children and babies of all ages in a safe and positive manner will also help him to learn that he can be calm and controlled amidst the commotion. Again, a behaviorist can help you further.
New baby boot camp
Having your dog enrolled in obedience training prior to baby's arrival should be given serious consideration as you will all benefit tremendously.
You'll truly appreciate the added benefits of having a dog that will sit, lie down, go to place, leave it, or settle down, all on command. In fairness, your priority, and thus all your attention and patience, is going to spent on your newborn, not your dog. While this is completely understandable from a human perspective, our canine friends are very much in the dark as to what all the fuss is about.
You're also likely to react more strongly to bad behavior that previously you might have been more tolerant of. Some people don't mind if their dog barks every now and then, or jumps up to say 'hello' – but if baby is trying to sleep, or you're holding baby in your arms, barking and jumping are going to cause problems.
You can take a lot of pressure and worry off your shoulders (and your dogs) by enrolling the dog in some obedience sessions.
Without the benefit of training, you need to be aware of your dog's limitations and be guarded not to "shut him out" just because he won't sit for you. You can still have a calm, baby-loving dog, but you need to manage it.
The beagle has landed
Our first instinct when baby finally arrives home is to forget everything else and focus on your newborn. But it's really important not to forget about your dog, or to act differently with them.
Maintain the status quo by continuing with your familiar feeding and walking routines but attempt to incorporate them into your new routines. By being involved with you and the newbie, you're preventing your dog from building up too much frustration or anxiety.
Your pet will no doubt be curious about the new sounds and smells associated with your baby, but will not understand how delicate he is.
Obviously, you will want to supervise all interactions between baby and dog. Your canine friend might be awesome with them, but that doesn't mean he won't snap if awoken suddenly by a baby yanking on his whiskers. Having your pooch under some level of obedience control will clearly help, but you can also look to other management techniques such as baby gates or using a doggy travel crate.
The humane treatment of all animals is an important lesson for children of any age, as is respect for a healthy set of canine teeth. Having a pet in the house is by far the best way for your child to learn about how to properly handle a dog, or other animal.
Having them involved in walking, bathing, feeding or even training your dog will have immense benefits to them personally, as well as the added benefits to your pet.
Quick Tips
1. Make sure your dog has a basic understanding of good behavior. Brush up on his training so that he will lie quietly for short periods, won't jump up, can walk on the lead without pulling and will come when called. This will make both your lives much easier.
2. If your dog is an 'only' pet, it is quite likely he is used to being the 'baby' in your family. Help him get used to being less important, by ignoring him and leaving him alone for short periods of time every day with a tasty long-lasting chew.
3. If you are planning to keep your dog out of certain rooms or areas of the house once the baby arrives, then start doing this as soon as possible.
4. Bring new items of furniture such as playpens, carry cots and highchairs into the house, so that your dog can get used to them.
5. Try to teach your dog the difference between his toys and those that will belong to the baby.
6. Develop a routine that you intend to follow when the new baby arrives and stick with it. This will help your dog cope with all the new changes in your home.
Dog Whisperer is Phuket Gazette columnist Russell D Russell's feature series covering all things special about our four-legged friends.
Russell D Russell IACP, ADPT, UKCBC is a professional canine trainer and behaviour specialist. He can be contacted through w.tk9a.com
— Russell D Russell

Join the conversation and have your say on Thailand news published on The Thaiger.
Thaiger Talk is our new Thaiger Community where you can join the discussion on everything happening in Thailand right now.
Please note that articles are not posted to the forum instantly and can take up to 20 min before being visible. Click for more information and the Thaiger Talk Guidelines.