Phuket Gardening: Pottering with giant plants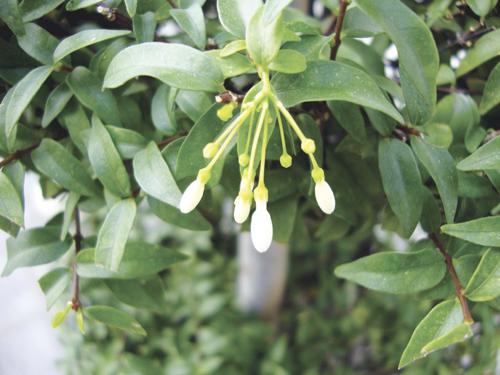 PHUKET: I was recently asked about suitable terrestrial plants for large, even giant-sized pots. These glazed pots are hand-crafted by traditional methods, and are objets d'art in their own right. Not to be upstaged by mere plants. So what principles apply?
First, preserve the integrity of the container by ensuring it is not camouflaged, or covered up by untidy festoons of pendant blooms and foliage. Petunias look wonderful hanging from baskets. Leave them there. Equally, vines are less than ideal since they become straggly, and will ultimately need a supporting structure.
These artificial additions are unlikely to enhance the lines of the pot. It is unwise to consider plants that have tap-roots (most members of the fig family, for example) since they will be constantly frustrated by their lack of access to deep-lying water.
Or plants, which have huge root systems such as bamboo, which will rapidly outgrow even giant containers. Discount too, plants which droop as soon as their supply of water is exhausted (gardenias, zingibers).
Any shrub that develops into a small tree will certainly make the pot unstable in high winds.
It may, moreover, detract from the aesthetic appeal of the pot. Conversely, a small shrub may look lost in a giant pot.
Too many "don'ts", you will say. Okay, here are some "dos".
Do consider shrubs: they are woody plants that live for many years. Some establish a permanent tree-like structure, then increase in size by sending out new branches from older ones. Others, probably less suitable, send out woody stems (canes) from the base as the older stems decline. Shrubs, like pots, may be rounded, vase-shaped, conical, pyramidal or columnar.
And they should complement the container both by being the right shape, and, by being neither too big nor too small. Foliage preferably evergreen is often more important than flowering capacity. Also the plant's ability to tolerate clipping, either to create a neater shape (as in topiary), or to prevent the shrub from becoming too large. Less of a problem with pots since the dimensions of the root ball will largely determine the size and require only occasional watering.
Among conventional woody shrubs, the range is endless. Here in Thailand, locals favor the fragrant wrightia religiosa,, but I find this shrub too sparsely leaved. Murraya is better and prunes easily. Ixoras, particularly the larger cultivars, look good in containers, have attractive foliage, and come in various colors. Bougainvilleas are also a sensible choice, especially those which have been grafted to produce several different hued bracts.
They will, however, definitely need to carefully pruned. Try the upright, white-flowering plumeria known here as leelawadee luxon. Dracaenas, corylines and crotons all possess dramatic, multi-colored foliage. Among palms, lady palms (rhapis) or bamboo palms look splendid in pots, and require little maintenance.
If you are thinking about potted plants for homes elsewhere on this planet, you might consider conifers such as chaemaecyparis obtusa (cedars), which have distinctive, evergreen foliage, and rarely grow more than three or four feet tall. Or bay trees. Forms of the Japanese maples (acer palmatum) produce leaves which are often red in spring, green in summer and red again in the fall. Beautiful.
Tip of the week: May your New Year be fruitful
The term fruit refers to the product of a plant's reproductive system.
Most, but by no means all, are produced by trees.
Shrubs that bear edible fruit include the caramba or country gooseberry, the roselle (hibiscus sabdariffa) whose small red fruits are made into a refreshing drink popular with Thais, and the pomegranate (punica granatum), which is full of flesh-covered seeds, and usually ends up as vitamin-rich juice.
Fruits range in style from a fleshy berry (mulberry), a drupe with a hard interior pit or stone such as a mangosteen, lansium or langsart, rambudan, to a pome (think apples, guavas).
There are also nuts with a hard outer shell such as coconuts, and legumes, which produce pods (tamarind, sator, senna).
Oddly, the peanut is a legume.
Not all are fruits are edible and some are in fact toxic: for example the drupe of thevetiana (yellow oleander).

If you have a question or a garden that you would like featured, you can email the author here.

Keep checking our online Phuket Lifestyle pages or join our Facebook fan page for regular gardening features and tips.
— Patrick Campbel
Thai Life

Join the conversation and have your say on Thailand news published on The Thaiger.
Thaiger Talk is our new Thaiger Community where you can join the discussion on everything happening in Thailand right now.
Please note that articles are not posted to the forum instantly and can take up to 20 min before being visible. Click for more information and the Thaiger Talk Guidelines.