Light me up! Like the human animal that I am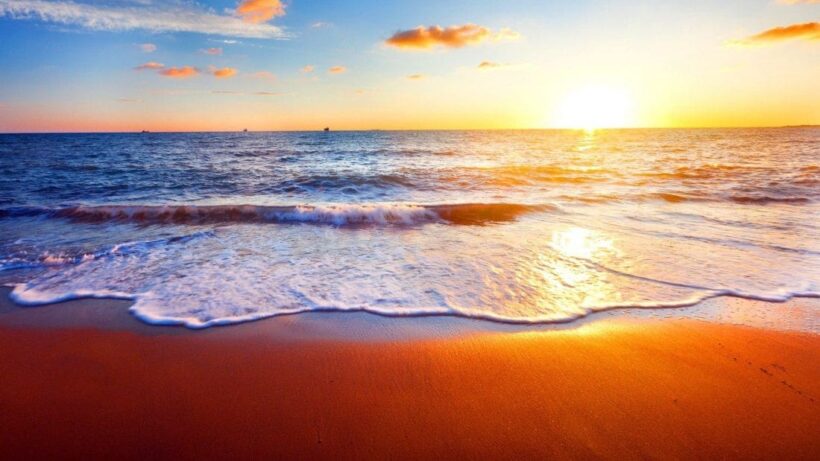 by Hayden Rhodes @ Healthy Richuals
Sunlight is one of the best medicines for your brain and body
Think of it like this…
The light bulb has been around since 1879. In other words, human beings have only benefited from this invention for 140 years. (Give or take) Prior to that, our main source of bright light was from the sun or moon.
For the most part of human history we woke up with the sun, played under the sun's rays all day long and slowed down when the sun dipped over the horizon.
That went on for, like… tens of thousands of years.
Human beings are animals
Years later, we know that humans have the same number of genes as a worm and our DNA is 99% the same as a chimpanzee. We are biological creatures that evolved on this planet, like every other animal on earth.
Other animals however, live in accordance with natural rhythms dished out by mother nature. They accept the cycles of the sun and moon and naturally adhere to the laws of nature. Owls hunt at night, bears hibernate in winter, cows like to eat grass during the day.
Human beings on the other hand, want to ignore the rhythms of big mother nature. We want to use our intelligence to 'hack' natural laws, ignoring the wisdom of our ancestors. After all, what is wrong with looking at technological screens late at night and working under artificial lights all day long? We are intelligent human animals – we can ignore silly laws!
Wrong. Things will go very wrong
Look around the planet right now. Depression rising. Anxiety out of every orifice. Low energy, over weight, over burdened animals on every continent. One of the main reasons for this lack of vitality is living out of sync with natural rhythms and not enough real sunlight on a daily basis.
You see nature is a part of us and we are a part of nature. Real sunlight in our eyes and on our skin is a vital part of being a healthy human animal.
Planet earth allowed us to exist and thrive – sure – having a big brain helped, yet we must use that intelligent brain and wake up! We evolved as animals intimately connected with an incredible planet. A planet by the way, that provides everything we require for survival.
For the sake of ourselves and our children lets get back in sync with nature like we did for hundreds of thousands of years and regain our mental, physical, emotional and spiritual well-being.
Try naked sunbathing on sunset 🙂 Pass it on.
You can hear Hayden with more pearls of wisdom every morning around 8.15am on The Thaiger 102.75 FM.

Hayden Rhodes, Club Manager RPM Health Club, Phuket, Master Performance Coach & International Wellness Speaker
Follow Hayden Rhodes on Instagram and Facebook at HealthyRichuals.


Are you considering a medical procedure abroad? With Thaiger Medical you can research hospitals and doctors, choose a destination in Thailand or abroad, and book an appointment today.

New WHO world road death report – Thailand drops to number 8 but still high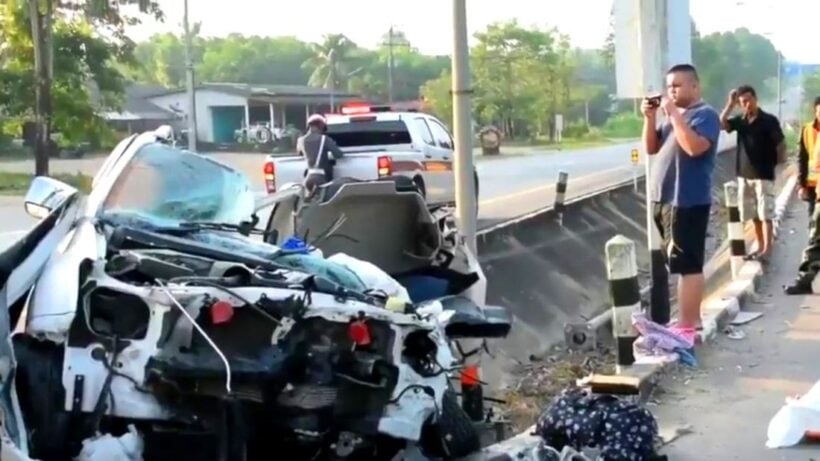 Thailand's roads remain some of the deadliest in the world. But the Kingdom has dropped from its previous number two position to number eight, behind a collection of backwater African states and other undeveloped countries.
A new report by the World Health Organisation shows that the road safety situation in Thailand hasn't improved. The shocking news is outlined in a the WHO report, Global Status Report on Road Safety 2018,
The report indicates the death rate per 100,000 population in Thailand was 32.7. This ranks Thai roads as at least the deadliest in ASEAN and amongst the deadliest in the world.
Only seven other nations fared worse than Thailand, while the countries with the highest road traffic death rate per 100,000 population were Liberia, Saint Lucia, Burundi and Chad.
The report, compiled using data from 2016 from 175 countries, shows that Europe has the safest roads with 9.3 deaths per 100,000 population. The African continent had the worst rates.
The report shows that there is an average of 22,491 people killed on Thai roads every year. South east Asia, where motorcycle-related deaths account for 43 percent of the total road toll, had an average of 20.7 deaths per 100,000 population.
Globally, the report found that the situation regarding road traffic deaths is worsening, with someone killed in a road accident every 24 seconds somewhere in the world.
The WHO road death Hall of Shame…
1. Liberia – 35.9 (per 100,000 people)
2. Saint Lucia – 35.4
Equal 3. Burundi and Zimbabwe – 34.7
Equal 4. Democratic Republic of Congo and Venezuela (Bolivarian Republic of) – 33.7
5. Central African Republic – 33.6
6. Thailand – 32.7
7. Burkina Faso – 30.5
8. Namibia – 30.4
9. Cameroon – 30.1
10. Mozambique – 30.1
Floating clinic opens in Kanchanaburi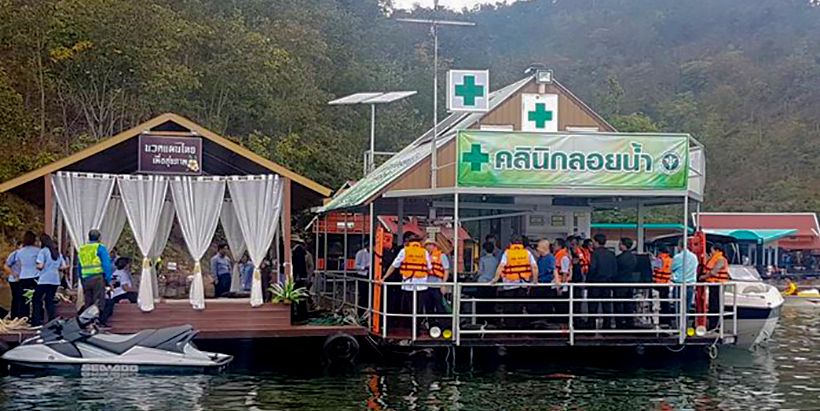 PHOTO: Pattaya Mail
Last week saw residents and visitors to Srinakaring Dam in Sri Sawat district, Kanchanaburi, in Thailand's west, witness the first day of operations of a new floating medical unit.
The Bangkok Post reports that the dam is a huge tourist magnet which attracts 800,000 tourist a year in an area where 140 businesses operate and over 600 towing rafts reside. Due to reports of accidents (sometimes with fatal results) the Public Health Ministry's Health Region 5 came up with the 'floating clinic'.
The clinic boasts a solar cell power system able to function during power outages, as well as modern and efficient communications systems in case of emergencies. The floating clinic is equipped with beds for check-ups, respirators, medical supplies and basic lifesaving equipment.
The project will provide help to tourists and locals in case medical attention is required. Depending on the severity there are referral vessels such as jet skis and speedboats available for quick access to local hospitals, with helicopter landing pads planned for the near future.
SOURCE: The Bangkok Post 
Top 10 most popular Asian cities 2018 – Agoda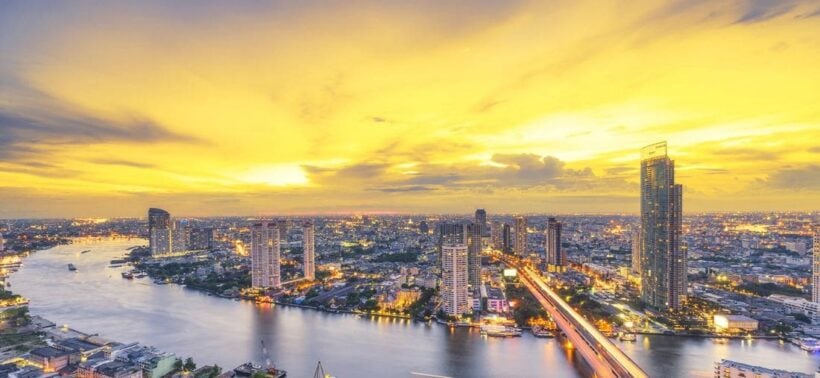 Bangkok ranks on top of the list of most-visited Asian city tourist destination for 2018. This is from Agoda, a fast-growing online travel booking platform. With millions of online bookings each year they have the data to back up their findings.
Other cities in the top 10 include Tokyo, Kuala Lumpor, Hong Kong, Osaka, Taipei, Seoul, Singapore, Bali and Pattaya.
Agoda says both Thai and foreign tourists would normally lodge in Bangkok for a night or more before continuing to the other destinations.
Agoda also reported that Thailand was placed second after Japan among Asian countries most visited by tourists because of the country's rich cultural and historical tourist attractions, clean beaches and world-class cuisine.
The 10 most popular cities among Thai tourists are Bangkok, Pattaya, Chiang Mai, Hua Hin, Phuket, Tokyo, Khao Yai, Chon Buri, Krabi and Chiang Rai.
The most-favoured country for sight-seeing among Thai tourists is Japan followed by Singapore.