Burma or Myanmar? Myanmarese or Burmese?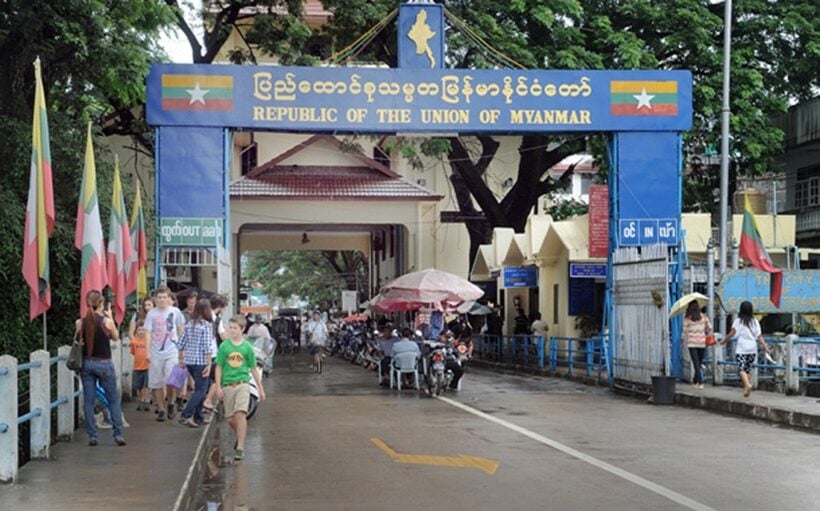 We refer to Myanmar a lot in our news because it's a bordering foreign country to Thailand and many people from Myanmar work in and around Thailand.
But is it Myanmar or Burma, and are the people that live there Myanmarese or Burmese?
As you'll read across the media there is no precise answer to the question with foreign powers still referring to the country with its two names although, officially, since 1989, the ruling party changed the country's name to Myanmar. But even in Myanmar locals continue to use both names.
"The ruling military junta changed its name from Burma to Myanmar in 1989, a year after thousands were killed in the suppression of a popular uprising. Rangoon also became Yangon."
At The Thaiger we've decided to refer to the country as 'Myanmar' and the people as 'Burmese'. Reading 'a man from Myanmar' is a lot more cumbersome than 'a Burmese man'. But for the country we're following the trend of most regional media using the official name Myanmar. Even the people living there continue to refer to themselves as Burmese.
Other publications have taken different decisions and that's fine too. Here's some information from The Culture Trip which provides a bit of background as to why our neighbouring country to the west lives on with two names and plenty of confusion.
Inside Asia Tours also has their own take on the name situation.
Keep in contact with The Thaiger by following our Facebook page.
Never miss out on future posts by following The Thaiger.
Facebook shuts down Burmese military news page, accuses it of inciting violence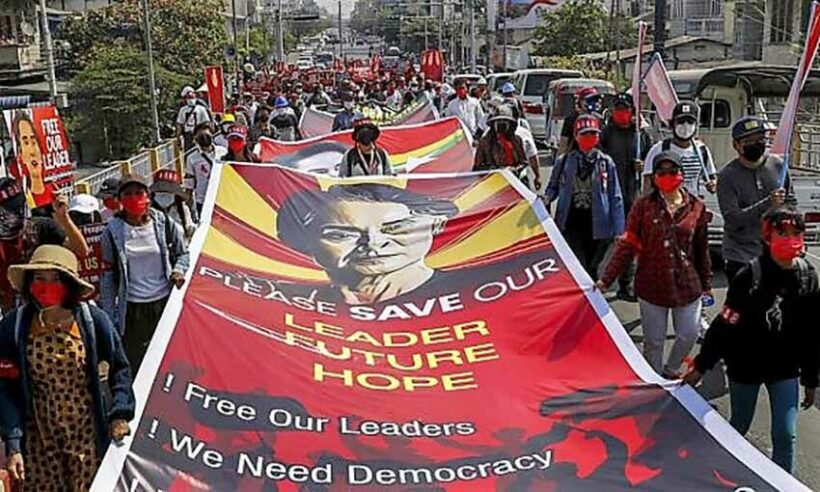 The "True News" social media page operated by the Burmese military has been shut down by Facebook, with the tech giant accusing it of inciting violence. Thai PBS World reports that the page was shut down yesterday as the authorities in Myanmar ramp up the violent response to citizens protesting the forced removal of leader Aung San Suu Kyi. The authorities continue to crack down on those protesting the coup and calling for the military to surrender power.
Suu Kyi is currently in custody alongside several members of her administration since February 1, when the army seized power in a bloodless coup. For its part, the military is insisting the power grab was lawful, claiming on its now-defunct Facebook page that Suu Kyi's victory in November was the result of a fraudulent election. There have been a number of large protests in major Burmese cities since Suu Kyi's removal. On Saturday, 2 people were killed when the army fired at protesters in the city of Mandalay. There have also been reports of nightly internet blackouts and authorities have banned several social media platforms.
For its part, Facebook says it has removed the Tatmadaw True News Information Team page for "repeated violations of our Community Standards prohibiting incitement of violence and coordinating harm". It has removed hundreds of similar Burmese army pages in recent years, including content targeting the Rohingya Muslim population. Around 750,000 stateless Rohingya Muslims are living as refugees in Bangladesh after fleeing a 2017 military crackdown.
A year later, Facebook banned the Burmese junta leader Min Aung Hlaing, along with other senior army figures after a United Nations recommendation that they be charged with genocide following the massacre of countless Rohingya Muslims. Facebook has also banned the pages of insurgent groups fighting the Burmese military, as well as those run by Buddhist monks accused of provoking anti-Muslim violence.
SOURCE: Thai PBS World
Keep in contact with The Thaiger by following our Facebook page.
Never miss out on future posts by following The Thaiger.
Border officials on alert for Burmese coup protesters fleeing military crackdown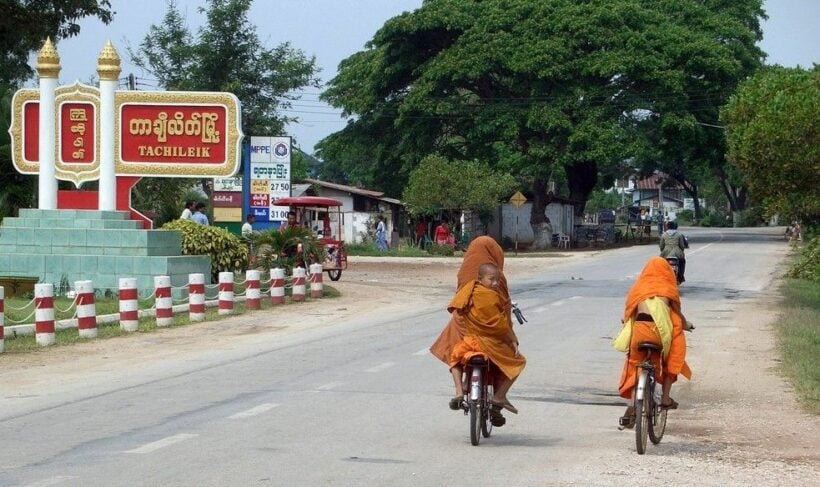 Border police have increased patrols in the northern province of Chiang Rai amid concerns that Burmese protesters may try to cross into the Mae Sai district. This follows a military crackdown in the Burmese border town of Tachilek as the army tries to quell anti-coup rallies.
According to a Bangkok Post report, Sompong Chingduang from Thailand's Immigration Bureau says the authorities in Mae Sai continue to monitor the situation in Tachilek. On Saturday, 2 protesters were killed in the Burmese city of Mandalay after officials opened fire on demonstrators protesting the February 1 coup.
The following day, thousands rallied in the town of Myawaddy, on the border of the Mae Sot district in the Thai province of Tak, while another protest was held in Tachilek. The Tachilek protest led to the border between Thailand and Myanmar being shut for 2 hours. It's understood the largest rallies yet are being planned for today.
Meanwhile, Sompong has issued a warning that nobody fleeing the military crackdown in Myanmar will be granted entry to Thailand but will instead be turned away from the border. He says to do otherwise would pose too much of a health risk for Thailand, given the Covid-19 situation.
SOURCE: Bangkok Post
Keep in contact with The Thaiger by following our Facebook page.
Never miss out on future posts by following The Thaiger.
First death from Myanmar coup protests reported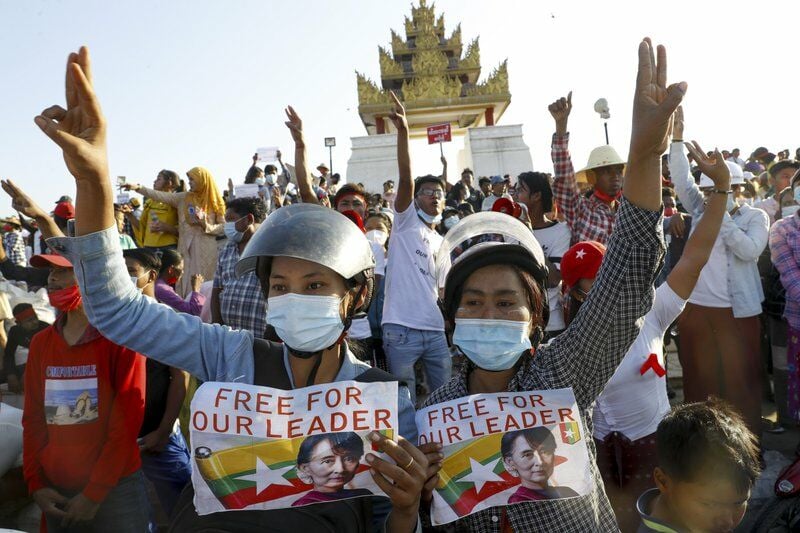 The first death from protestsover Myanmar's recent couphas been reported after a young woman succumbed to her injuries after being shot in the head last week as police dispersed a crowd.
20 year old Mya Thwate Thwate Khaing, had been on life support since being taken to a hospital on February 9, after she was hit, by what doctors say, was a live bullet at a protest in the capital of Nay Pyi Taw. Her brother, Ye Htut Aung, confirmed her death over the phone.
"I feel really sad and have nothing to say."
News of her death has prompted more protests today, with police arresting 50 people in the northern town of Myitkyina, after halting a crowd who carried banners of detained government leader Aung San Suu Kyi, whose NLD party won democratic elections by a landslide last November. The election results were contested by the military who said they were fraudulent without offering any evidence of its claims, and instead, staged a coup on February 1.
As well as the protests, a civil disobedience campaign has halted government business, bringing international pressure against the military. Britain and Canada announced new sanctions yesterday with Japan agreeing with India, the United States and Australia on the need for democracy to be restored quickly. But the junta has not reacted to the new sanctions with history showing such actions by the international community are largely ignored. Junta leader Min Aung Hlaing was already under sanctions from Western countries following the 2017 assaults on the Muslim Rohingya minority.
Myanmar's Assistance Association for Political Prisoners says 521 people had been detained as of yesterday with 44 of them being released. Suu Kyi faces a charge of violating a Natural Disaster Management Law as well as charges of illegally importing 6 walkie talkie radios. Protesters are calling for her release along with hundreds of other detainees and a restoration of the election results.
SOURCE: Bangkok Post
Keep in contact with The Thaiger by following our Facebook page.
Never miss out on future posts by following The Thaiger.