Phuket Gazette World News: Fuelled by Syria war, al Qaeda bursts back to life in Iraq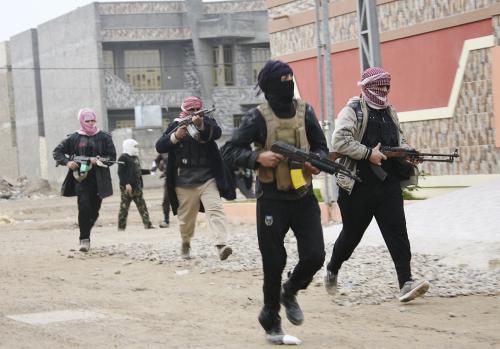 PHUKET MEDIA WATCH
– World news selected by Gazette editors for Phuket's international community
Fuelled by Syria war, al Qaeda bursts back to life in Iraq
Reuters / Phuket Gazette
PHUKET: Al Qaeda gunmen seeking to form a radical Islamic state out of the chaos of Syria's civil war are fighting hard to reconquer the province they once controlled in neighbouring Iraq, stirring fears the conflict is exporting ever more instability.
Exploiting local grievances against Baghdad's rule and buoyed by al Qaeda gains in Syria, the fighters have taken effective control of Anbar's two main cities for the first time since U.S. occupation troops defeated them in 2006-07.
Their advance is ringing alarm bells in Washington: The United States has pledged to help Baghdad quell the militant surge in Anbar – although not with troops – to stabilise a province that saw the heaviest fighting of the U.S. occupation.
Washington announced it was speeding up deliveries of military equipment to help Baghdad fight the gunmen. This would include missiles, surveillance drones and helicopters.
Al Qaeda's Islamic State of Iraq and the Levant (ISIL) has a tough potential foe in Anbar's well-armed tribes, fellow Sunnis ill-disposed to ceding power to al Qaeda even if they share ISIL's hostility to the Shi'ite-led central
government
.
And the group's goal of creating a hardline Islamic state reaching into Syria is still seen by many as far-fetched.
But its high-profile push into Ramadi and Falluja illustrates the dangers of conflict spreading from Syria's three-year-old conflict, which is in part a proxy war between Sunni Muslim Saudi Arabia and Shi'ite rival Iran, analysts say.
ISIL fighters operate in Syria as well, and recent setbacks for the group in the war there mean its Iraqi members may be all the more determined to secure gains in Anbar, analysts say.
"Both the Syrian and the Iraqi conflict are feeding upon one another," said Fawaz Gerges, a Middle East expert at the
London
School of Economics.
"RAGING FIRE"
"There is already a fierce geostrategic struggle unfolding in the Arab arena between Saudi Arabia and Iran. There is a real danger that all-out war in Iraq could pour more gasoline on this raging fire and destabilise fragile Arab countries."
The ISIL fighters are exploiting simmering Sunni anger against the Shi'ite-led government of Prime Minister Nuri al-Maliki in Baghdad, seen by many Sunnis as a high-handed autocrat beholden to Iran.
They are also making the most of rising sectarian sentiment around the region and a weakening of government control in those Arab countries most affected by the popular uprisings since 2011.
Gerges said a "governance vacuum" in Iraq, Syria and Lebanon has helped al Qaeda to gain strength in recent years, risking a spillover into other countries in the region.
"Al Qaeda in Iraq, Syria and even in Lebanon basically appeals to a certain segment within Sunni public opinion that feels alienated, marginalised or persecuted," he said.
Lebanon, Syria's small neighbour, has suffered a wave of bombings since last summer with the latest suicide bombing that killed at least five people in the Hezbollah stronghold of southern Beirut last week claimed by ISIL. [ID:nL6N0KE08E]
In a move reminiscent of the graphic al Qaeda propaganda in the most violent years of U.S. occupation, a video appeared online in August purporting to show ISIL fighter Shaker Wahib al-Fahdawi questioning three Syrian truck drivers at an Iraqi desert checkpoint and then shooting them dead.
Executions
Deeming them to be Alawites, a minority to which President Bashar al-Assad belongs and that is an offshoot of Shi'ite Islam, Fahdawi strung up the bodies by the roadside in a graphic warning to non-Sunni Syrians not to venture into Iraq.
Iraq became a battlefield for al Qaeda after the 2003 invasion that ousted Saddam Hussein, but its numbers and the territory in which it operates have shrunk since 2006-07, when Sunni tribal chiefs joined forces with the U.S. military.
Al Qaeda alienated much of the Anbar population during its period of control: Its fighters set up courts, imposing harsh punishments, including public executions, on those failing to implement its severe interpretation of Islam.
But for years the militants have been regrouping and plotting underground and slowly increasing their presence in the vast desert of Anbar, the heart of Iraq's Sunni insurgency after the U.S.-led invasion.
Tension has been running especially high across Anbar since Iraqi
police
broke up a Sunni protest camp last week, a move that triggered clashes between Sunni armed groups and security forces.
Islamist militants stormed police stations in several cities in Anbar, seizing weapon caches and freeing prisoners.
In Falluja, the masked men took control of large parts of the city. They waved al Qaeda flags, set up checkpoints and called on residents to support them through loudspeakers.
Iraqi troops trying to retake the cities battled al Qaeda fighters in Ramadi and shelled Falluja.
ISIL's Fahdawi was pictured in social media walking through a government office where his men had taken control, although there was no independent confirmation of the date of the photo.
Working in al Qaeda's favour has been rising Sunni resentment against Maliki's rule: Sunnis, a minority whose political dominance came to end with the overthrow of Saddam Hussein, accuse Maliki of marginalising them.
It is also much the best organised and disciplined Sunni force in the country, according to Iraq expert Kirk Sowell, who runs the Uticensis political risk consultancy.
Al Qaeda will have to tread carefully with the tribes, whose far more numerous fighters are in every town.
"So far, ISIL has essentially ridden this wave of popular Sunni anger," said Charles Lister, visiting fellow, Brookings Doha Center.
But if ISIL wants to retain influence in Anbar's urban centres, it needs to keep the local tribes on board.
Maliki a better option
Ayham Kamel, of Eurasia consultancy, said a significant portion of the Sunni community would prefer to play a role in central government politics rather than involve themselves with al Qaeda.
"I do not expect confrontations in Anbar to trigger a country-wide civil war," he said.
The authorities' counter-strike against al Qaeda's advance in Anbar, as well as divisions among Sunni politicians, are likely to solidify Maliki's
national
authority, Iraqi analyst Hashim al-Habobi said.
"Many Sunnis see Maliki as a much better option when compared to al Qaeda," he said.
Despite being allied to al Qaeda in Falluja, in Ramadi tribesmen are fighting with government security forces against the militants, and those who are reluctant to join in are doing so out of a fear of al Qaeda retaliation, tribal sources say.
Maliki urged people in Falluja on Monday to drive out the al Qaeda-linked insurgents to pre-empt a military offensive that officials said could come within days.
He will have to be careful about how he responds to U.S. help, which would be viewed with suspicion by potential Sunni allies.
Lister of Brookings said increased U.S. military aid would be seen by Sunnis as a proof of a perceived shift in U.S. policy towards regional Shi'ite powers since an interim nuclear deal with Iran in November.
— Phuket Gazette Editors
World News

Join the conversation and have your say on Thailand news published on The Thaiger.
Thaiger Talk is our new Thaiger Community where you can join the discussion on everything happening in Thailand right now.
Please note that articles are not posted to the forum instantly and can take up to 20 min before being visible. Click for more information and the Thaiger Talk Guidelines.