Phuket Gazette World News: Fuelled by Syria war, al Qaeda bursts back to life in Iraq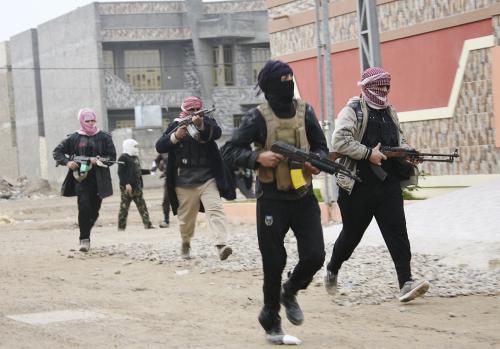 PHUKET MEDIA WATCH
– World news selected by Gazette editors for Phuket's international community
Fuelled by Syria war, al Qaeda bursts back to life in Iraq
Reuters / Phuket Gazette
PHUKET: Al Qaeda gunmen seeking to form a radical Islamic state out of the chaos of Syria's civil war are fighting hard to reconquer the province they once controlled in neighbouring Iraq, stirring fears the conflict is exporting ever more instability.
Exploiting local grievances against Baghdad's rule and buoyed by al Qaeda gains in Syria, the fighters have taken effective control of Anbar's two main cities for the first time since U.S. occupation troops defeated them in 2006-07.
Their advance is ringing alarm bells in Washington: The United States has pledged to help Baghdad quell the militant surge in Anbar – although not with troops – to stabilise a province that saw the heaviest fighting of the U.S. occupation.
Washington announced it was speeding up deliveries of military equipment to help Baghdad fight the gunmen. This would include missiles, surveillance drones and helicopters.
Al Qaeda's Islamic State of Iraq and the Levant (ISIL) has a tough potential foe in Anbar's well-armed tribes, fellow Sunnis ill-disposed to ceding power to al Qaeda even if they share ISIL's hostility to the Shi'ite-led central government.
And the group's goal of creating a hardline Islamic state reaching into Syria is still seen by many as far-fetched.
But its high-profile push into Ramadi and Falluja illustrates the dangers of conflict spreading from Syria's three-year-old conflict, which is in part a proxy war between Sunni Muslim Saudi Arabia and Shi'ite rival Iran, analysts say.
ISIL fighters operate in Syria as well, and recent setbacks for the group in the war there mean its Iraqi members may be all the more determined to secure gains in Anbar, analysts say.
"Both the Syrian and the Iraqi conflict are feeding upon one another," said Fawaz Gerges, a Middle East expert at the London School of Economics.
"RAGING FIRE"
"There is already a fierce geostrategic struggle unfolding in the Arab arena between Saudi Arabia and Iran. There is a real danger that all-out war in Iraq could pour more gasoline on this raging fire and destabilise fragile Arab countries."
The ISIL fighters are exploiting simmering Sunni anger against the Shi'ite-led government of Prime Minister Nuri al-Maliki in Baghdad, seen by many Sunnis as a high-handed autocrat beholden to Iran.
They are also making the most of rising sectarian sentiment around the region and a weakening of government control in those Arab countries most affected by the popular uprisings since 2011.
Gerges said a "governance vacuum" in Iraq, Syria and Lebanon has helped al Qaeda to gain strength in recent years, risking a spillover into other countries in the region.
"Al Qaeda in Iraq, Syria and even in Lebanon basically appeals to a certain segment within Sunni public opinion that feels alienated, marginalised or persecuted," he said.
Lebanon, Syria's small neighbour, has suffered a wave of bombings since last summer with the latest suicide bombing that killed at least five people in the Hezbollah stronghold of southern Beirut last week claimed by ISIL. [ID:nL6N0KE08E]
In a move reminiscent of the graphic al Qaeda propaganda in the most violent years of U.S. occupation, a video appeared online in August purporting to show ISIL fighter Shaker Wahib al-Fahdawi questioning three Syrian truck drivers at an Iraqi desert checkpoint and then shooting them dead.
Executions
Deeming them to be Alawites, a minority to which President Bashar al-Assad belongs and that is an offshoot of Shi'ite Islam, Fahdawi strung up the bodies by the roadside in a graphic warning to non-Sunni Syrians not to venture into Iraq.
Iraq became a battlefield for al Qaeda after the 2003 invasion that ousted Saddam Hussein, but its numbers and the territory in which it operates have shrunk since 2006-07, when Sunni tribal chiefs joined forces with the U.S. military.
Al Qaeda alienated much of the Anbar population during its period of control: Its fighters set up courts, imposing harsh punishments, including public executions, on those failing to implement its severe interpretation of Islam.
But for years the militants have been regrouping and plotting underground and slowly increasing their presence in the vast desert of Anbar, the heart of Iraq's Sunni insurgency after the U.S.-led invasion.
Tension has been running especially high across Anbar since Iraqi police broke up a Sunni protest camp last week, a move that triggered clashes between Sunni armed groups and security forces.
Islamist militants stormed police stations in several cities in Anbar, seizing weapon caches and freeing prisoners.
In Falluja, the masked men took control of large parts of the city. They waved al Qaeda flags, set up checkpoints and called on residents to support them through loudspeakers.
Iraqi troops trying to retake the cities battled al Qaeda fighters in Ramadi and shelled Falluja.
ISIL's Fahdawi was pictured in social media walking through a government office where his men had taken control, although there was no independent confirmation of the date of the photo.
Working in al Qaeda's favour has been rising Sunni resentment against Maliki's rule: Sunnis, a minority whose political dominance came to end with the overthrow of Saddam Hussein, accuse Maliki of marginalising them.
It is also much the best organised and disciplined Sunni force in the country, according to Iraq expert Kirk Sowell, who runs the Uticensis political risk consultancy.
Al Qaeda will have to tread carefully with the tribes, whose far more numerous fighters are in every town.
"So far, ISIL has essentially ridden this wave of popular Sunni anger," said Charles Lister, visiting fellow, Brookings Doha Center.
But if ISIL wants to retain influence in Anbar's urban centres, it needs to keep the local tribes on board.
Maliki a better option
Ayham Kamel, of Eurasia consultancy, said a significant portion of the Sunni community would prefer to play a role in central government politics rather than involve themselves with al Qaeda.
"I do not expect confrontations in Anbar to trigger a country-wide civil war," he said.
The authorities' counter-strike against al Qaeda's advance in Anbar, as well as divisions among Sunni politicians, are likely to solidify Maliki's national authority, Iraqi analyst Hashim al-Habobi said.
"Many Sunnis see Maliki as a much better option when compared to al Qaeda," he said.
Despite being allied to al Qaeda in Falluja, in Ramadi tribesmen are fighting with government security forces against the militants, and those who are reluctant to join in are doing so out of a fear of al Qaeda retaliation, tribal sources say.
Maliki urged people in Falluja on Monday to drive out the al Qaeda-linked insurgents to pre-empt a military offensive that officials said could come within days.
He will have to be careful about how he responds to U.S. help, which would be viewed with suspicion by potential Sunni allies.
Lister of Brookings said increased U.S. military aid would be seen by Sunnis as a proof of a perceived shift in U.S. policy towards regional Shi'ite powers since an interim nuclear deal with Iran in November.
— Phuket Gazette Editors
Keep in contact with The Thaiger by following our
Facebook page
.
Never miss out on future posts by
following The Thaiger
.


Find more SE Asian News courtesy of The Thaiger.

Broke? Find employment in Southeast Asia with JobCute Thailand. Rich? Invest in real estate across Asia with FazWaz Property Group. Even book medical procedures worldwide with MyMediTravel, all powered by DB Ventures.

UPDATE: World Covid cases surge again, US reports 81,000+ cases in past 24 hours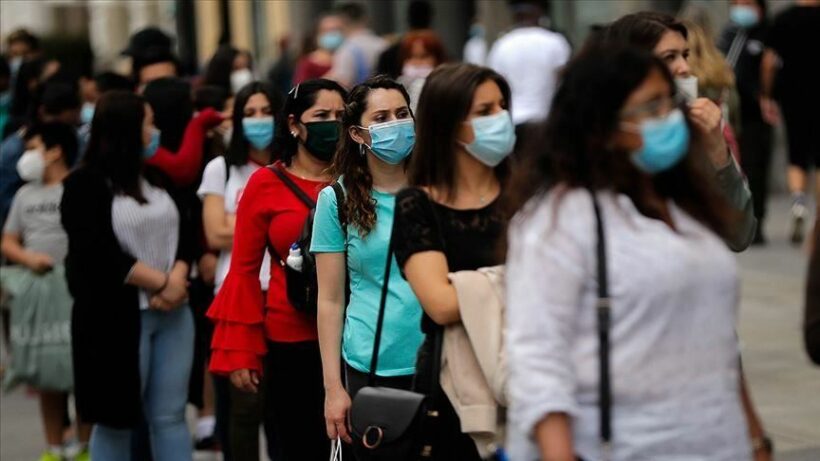 Both the rate of new infections and deaths from the coronavirus has begun to spike in the worldwide totals again with some countries and locations having to go back into lockdowns for a second or third time. In the US and parts of Europe a major new surge of cases is concerning health authorities, especially as these countries are now heading into cooler weather, and people gathering indoors.
As of Saturday morning, Thai time, a total of 42,462,925 people have been infected worldwide with Covid-19, 1,148,698 have died and 31,417,499 have recovered.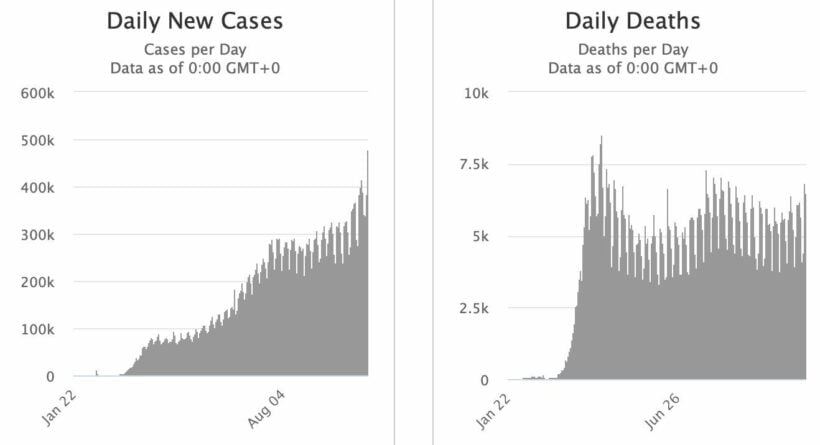 The following graph shows today's top ten countries with the most new infections in the past 24 hours…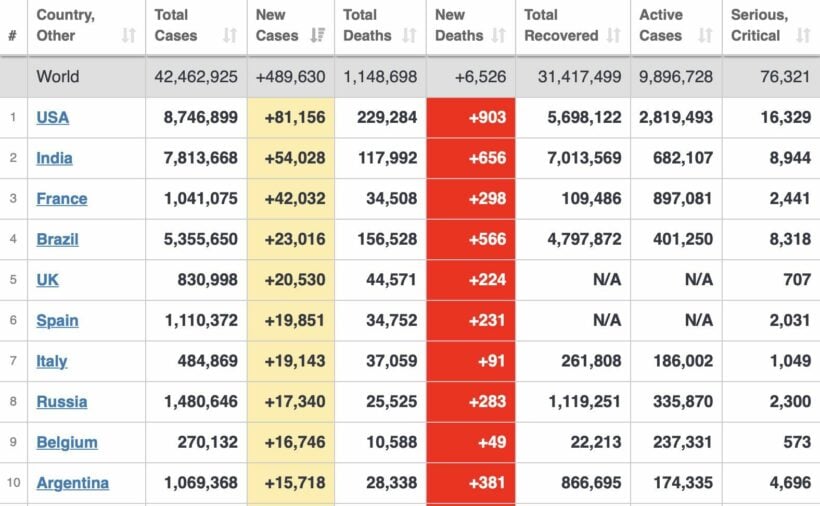 SOURCE: worldometers.info
Here's a summary of some of the main world Covid-19 headlines…
ITALY
Italy has recorded another record with 19,143 new coronavirus cases in the last 24 hours. That's up from Thursday's record of 16,079 new coronavirus cases. 91 coronavirus deaths were also reported on Friday. The governor of Campania in Vincenzo De Luca has made a formal request for a national lockdown and says he will close his region "for 30 to 40 days" to try and control the recent surge.
The governor of Lombardy lamented that it is a "dramatic situation." Lombardy was the epicentre of one of the first, and most dangerous. clusters in the world after the virus first spread out of China.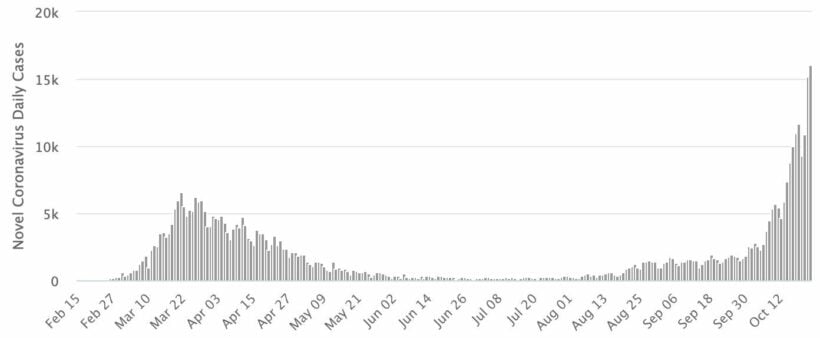 GRAPH: New cases surging across Italy – worldometers.info
US
A study from the Covid-19 forecasting team at the University of Washington's Institute for Health Metrics and Evaluation reports that… if 95% of Americans wore masks in public, more than 100,000 lives could be saved from Covid-19 over the next 4 months.
In a survey done in September, only about 49% of US residents reported that they "always" wear a mask in public.
The study calculated that, if the current extent of mask-wearing were to continue, and states continue with removing social distancing mandates, the death toll across the US from Covid-19 could reach about 1 million deaths by the end of February.
"The study had some limitations, including that the findings are only forecast projections from models and not definitive of what the future holds."
The IHME Director Dr. Chris Murray maintains that the study still helps offer insight into how mask-wearing can make a difference.
URUGUAY
Uruguay is closing its borders during the summer season as a program to help curb the spread of Covid-19. Uraguay's President Luis Lacalle Pou says that it will be "a restricted summer".
"The borders will be basically closed, with exceptions that are already known and perhaps some more.
"Because today there are many cases, or several cases, in the education sector, we have decided to suspend face-to-face classes for two weeks."
"Public safety measures will be enforced… avoid large gatherings and parties. We will be very strict when it comes to the topic of parties."
Uruguay, with a total population of 3.5 million, has reported at least 2,701 confirmed new cases of Covid-19 and 53 deaths as of Friday morning and shares borders with Argentina and Brazil, both heavily impacted with a rise of Covid cases.
FRANCE
The head of infectious diseases at Tenon Hospital in Paris, Gilles Pialoux, says France is paying the price for ending the coronavirus lockdown too quickly.
On Thursday, France announced 41,622 new cases, and on Friday 42,032.
It will be "really difficult to avoid a second lockdown given the circulation of the virus."
Gilles says local lockdowns or lockdowns "by population group" could be the solution. The doctor added the circulation of the virus among the "20-30 year old age group was far beyond the rest of the population".
EUROPE
5 countries with the highest rate of new Covid infections, when measured against population, are all in Europe.
They are the Czech Republic, Switzerland, France, Belgium and The Netherlands. The number of new infections has risen sharply since the start of October, and continues to surge as the European autumn sets in.
As of last Thursday, the Czech Republic had a rolling daily average (across five days) of 10,579 new cases, meaning 988 new infections a day per 1 million population, a four-fold increase since the start of October. Belgium, was in the same situation with an average of 891 new infections per million residents as of last Thursday. The two countries have by far the highest rate of new Covid-19 infections.
UK
The UK has seen a sharp increase in its rolling averages during October, from 9,729 new cases to 19,290 per day. And the situation in Spain is less dramatic "but the daily average remains stubbornly high". Infections per million are lower in other European countries, but they are still rising.
In comparison, the rolling averages of new cases in India and Brazil continue to fall, while the US is seeing a gradual but persistent rise. Its rolling average has risen from 43,089 at the start of October to 59,387 this week, representing 179 new cases a day per million population.
The UK's economic recovery after the first wave of the Covid-19 pandemic has now flattened out and threatens to reverse and trigger a double-dip recession. The government has announced new restrictions to tackle the second wave which are expected to stifle business activity.
A new survey of business activity indicates private sector growth in the UK falling back as hospitality and transport companies struggled to cope with regional lockdown measures.
US
As autumn spreads across North American, 25 states in the US are reporting rising Covid-19 infections. White House Coronavirus Taskforce officials say there are "early signs of deterioration in the Sun Belt and continued deterioration in the Midwest and across the Northern States".
Last Wednesday, at least 14 states had recorded their highest seven-day average of new daily cases, according to Johns Hopkins University. Including Alaska, Colorado, Idaho, Illinois, Indiana, Kansas, Kentucky, Michigan, Montana, New Mexico, Ohio, Utah, Wisconsin, Wyoming.
Meanwhile, more than 41,000 people are currently hospitalised with the coronavirus across the country, according to the CovidTracking Project. Missouri and Idaho health officials say they'll "soon be facing a crisis if hospitalisations continue to surge".
The US reported the highest daily death toll in more than a month, with more than 1,100 new deaths.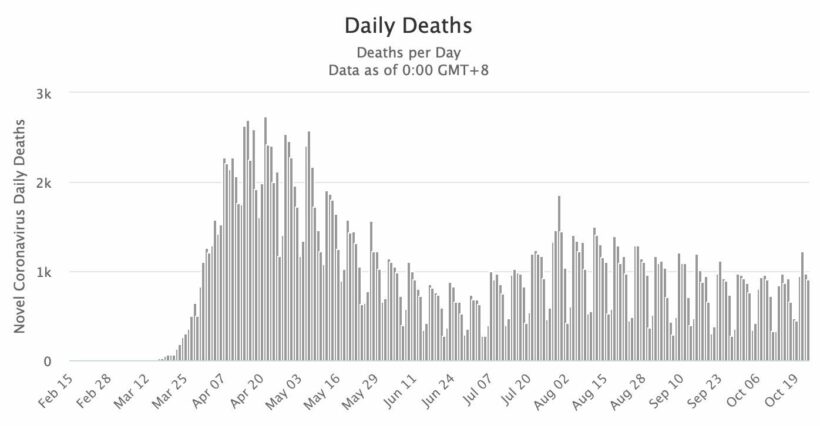 Keep in contact with The Thaiger by following our
Facebook page
.
Never miss out on future posts by
following The Thaiger
.
The World's 50 Best Foods… Thai massaman curry tops the list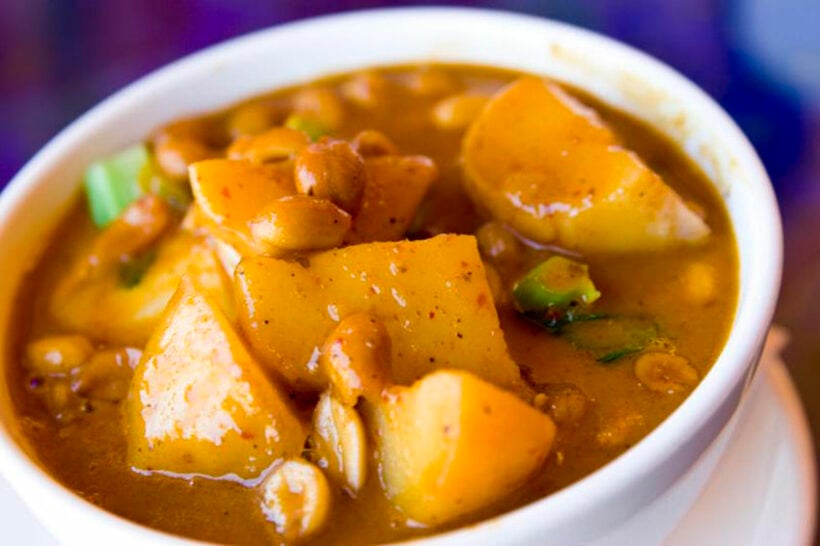 The humble Thai massaman curry has topped a list of the World's 50 Best Foods, compiled by the CNN Travel team. Thailand's smooth coconut milk and potato-based curry (add meat, tofu or vegetables of your choice) comes in at Number 1, with 2 other popular Thai dishes also making it into the World's Best food list.
The hot and spicy shrimp/prawn soup, Tom Yum Goong, comes in at Number 8, with papaya salad, aka somtam, in 46th place (mai phet please!) Tell us your favourite Thai dish, and why, in the comments section (below).
CNN Travel says its staff conducted extensive research on global cuisine to find the 50 best dishes ever created. Nice work if you can get it…
Italian pizza, Mexican chocolate, Japanese sushi, Chinese Peking duck, Penang Assam laksa, Malaysia and German Hamburger also top the delicious list.
Here's what the writers had to say about the 3 Thai dishes that made the top taste grade…
First Place, Massaman curryEmphatically the king of curries, and perhaps the king of all foods. Spicy, coconutty, sweet and savoury. Even the packet sauce you buy from the supermarket can make the most delinquent of cooks look like a Michelin potential. Thankfully, someone invented rice, with which diners can mop up the last drizzles of curry sauce. "The Land of Smiles" isn't just a marketing catch-line. It's a result of being born in a land where the world's most delicious food is sold on nearly every street corner.
Eighth Place, Tom Yum Kung
This best food Thai masterpiece teems with shrimp, mushrooms, tomatoes, lemongrass, galangal and kaffir lime leaves. Usually loaded with coconut milk and cream, the hearty soup unifies a host of favourite Thai tastes: sour, salty, spicy and sweet. Best of all is the price: cheap.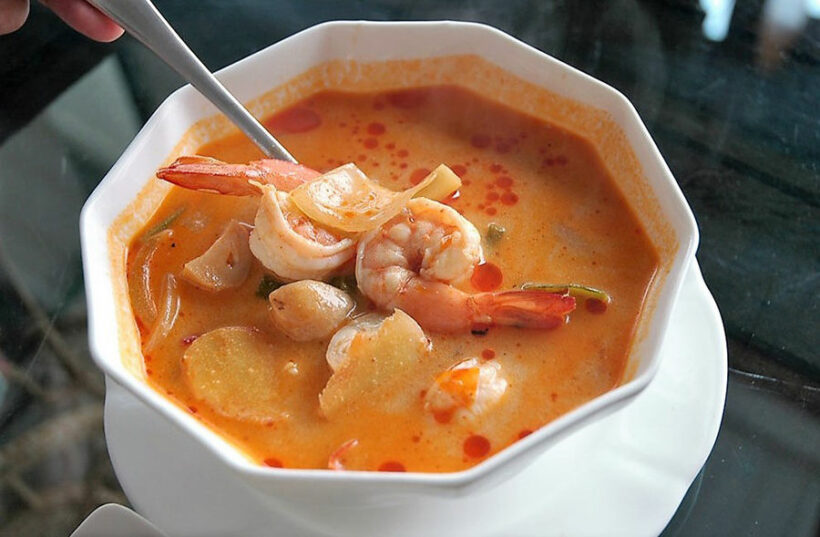 PHOTO: Richard Lee on Flickr
46th Place, Som Tam/Papaya salad
To prepare Thailand's most famous salad, pound garlic and chilies with a mortar and pestle. Toss in tamarind juice, fish sauce, peanuts, dried shrimp, tomatoes, lime juice, sugar cane paste, string beans and a handful of grated green papaya. Grab a side of sticky rice. Variations include those made with crab (som tam pu) and fermented fish sauce (som tam pla ra), but none matches the flavour and simple beauty of the original.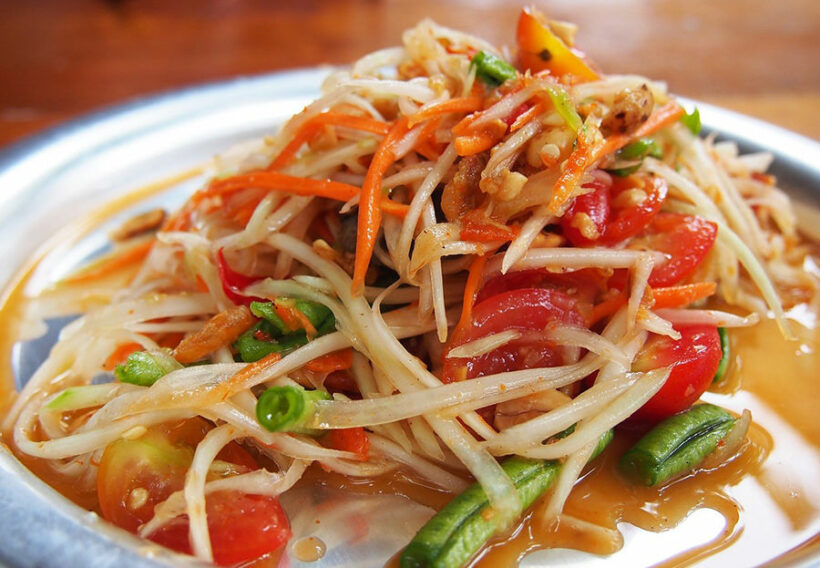 PHOTO: www.needpix.com
SOURCE: Thai Residents | CNN Travel
Keep in contact with The Thaiger by following our
Facebook page
.
Never miss out on future posts by
following The Thaiger
.
AstraZeneca Covid-19 vaccine trial volunteer dies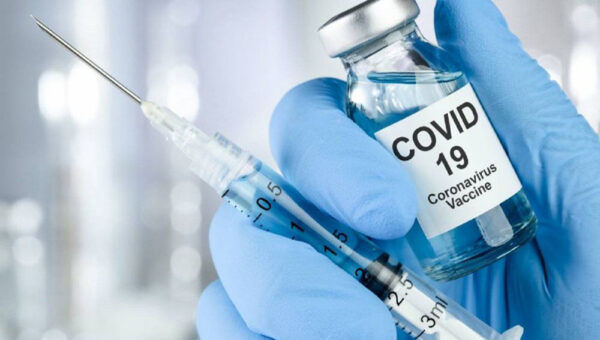 A volunteer for a Covid-19 vaccine clinical trial in Brazil has died. But he never actually received the experimental vaccine, although he was involved in the trial groups. He did, however, die of Covid-19.
But trials on the vaccine, being developed by Oxford University and the pharmaceutical company AstraZeneca, are set to continue. The university says "there have been no concerns about safety of the clinical trial." The vaccine is also planned to be produced in Thailand and be available to the Thai population by the first half of 2021.
The 28 year old volunteer from Rio de Janeiro died from Covid-19 complications, according to CNN Brasil. He was apparently never injected with the experimental vaccine. If the volunteer had been given the Covid-19 vaccine and died, the trial would have been suspended, a source told Reuters, adding that the volunteer may have been part of the control group.
The Federal University of Sao Paulo is helping to coordinate the trials in Brazil and has also recommended the trials continue. So far, 8,000 volunteers have been injected with the first dose of the vaccine and some have already been jabbed a second time, a university spokesperson said.
"Everything is proceeding as expected, without any record of serious vaccine-related complications involving any of the participating volunteers."
Thailand is set to be the Southeast Asia production site for the new vaccine. If the AstraZeneca trials are successful, the vaccine will be available to the Thai population by the first half of 2021. For Thailand, the vaccine is seen as a lifeline to save the country's struggling economy, allowing borders to safely reopen and revive the tourism industry.
The company Siam Bioscience will manufacture the vaccine in Thailand and provide injections for the Thai populations as well as the neighbouring countries Indonesia, Singapore, Malaysia, Philippines, Vietnam, Brunei, Cambodia, Myanmar and Laos.
SOURCE: Thai PBS
Keep in contact with The Thaiger by following our
Facebook page
.
Never miss out on future posts by
following The Thaiger
.