Two rangers killed, four others injured in Pattani ambush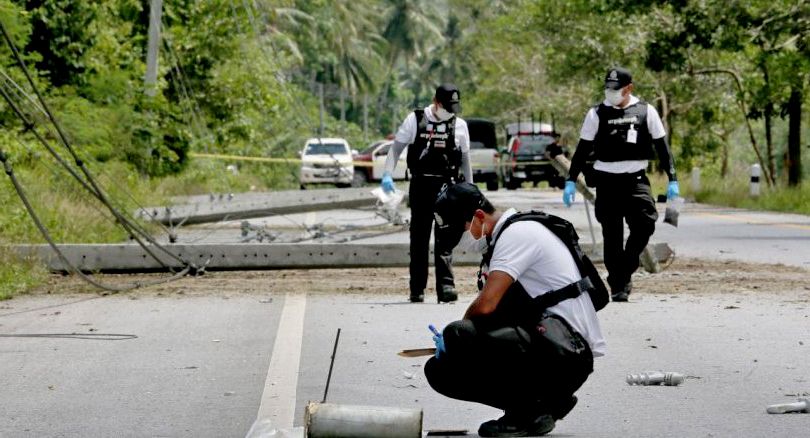 FILE PHOTO – The Nation
Another attack in the deep south.
Thai PBS reports that two para-military rangers have been killed and four others seriously wounded in an ambush by a group of armed men. The attack was followed by a gun fight in the Nong Chik district of Pattani late last night (Tuesday).
Nong Chik police headed to the scene about 10pm Tuesday and when an investigation team rushed to the scene, a section on Ban Don Na Road in tambon Bang Khao, two dead bodies, three motorcycles and a huge number of spent shells were found.
The four injured rangers had already been rushed to a nearby hospital, police said.
The dead rangers have been identified as Ranger Suchat Kongsuk and Ranger Thanadet Chaimusik from the 43rd Rangers Regiment in Nong Chik district.
Police say the six rangers were patrolling on the back of three motorcycles when a group of attackers hiding on one side of the road began spraying bullets on them as they reached a curve.
The attack prompted the rangers to return fire and the gun battle continued until the attackers backed away, police said.
A combined force of more than 100 policemen and soldiers was later deployed to pursue the attackers who were believed to be members of an insurgent group active in the province.
SOURCE: Thai PBS

Policeman killed and four injured in insurgent ambush in Yala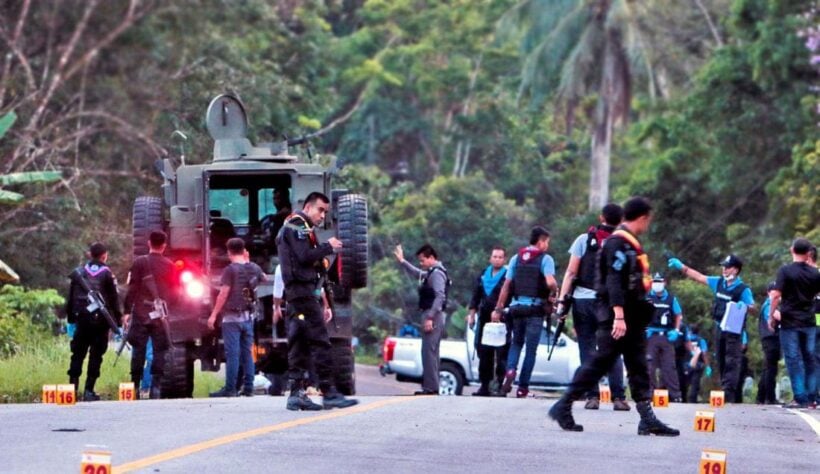 FILE PHOTO - The Nation

A policeman has been killed and four villagers injured in an apparent ambush by insurgents in Yala's Raman district yesterday (Wednesday).

Tha Thong police in Raman were alerted just after 5pm about the attack on a pickup truck at the boundary between Raman and Pattani's Thung Yang Daeng district.

When police and an Army unit arrived at the scene they found 41 year old Pol Senior Sgt Maj Somjit Chudam, a Muang Yala policeman, dead in the driver's seat. Four injured villagers were identified as Thaworn Phetchoengchum, Nipon Chanmanee, Suwit Panthong, and Sompit Suklangthuan. They were rushed to the Rama Hospital.

Two other villagers, Charoon Renunuan and Thuan Ratanakhiri, who were not injured, told police that they were returning home from hunting boars in a forest in Ban Jarang Tadong village when a group of men opened fire on them from the roadside forest.

They say the polic...
Train hits car in Hat Yai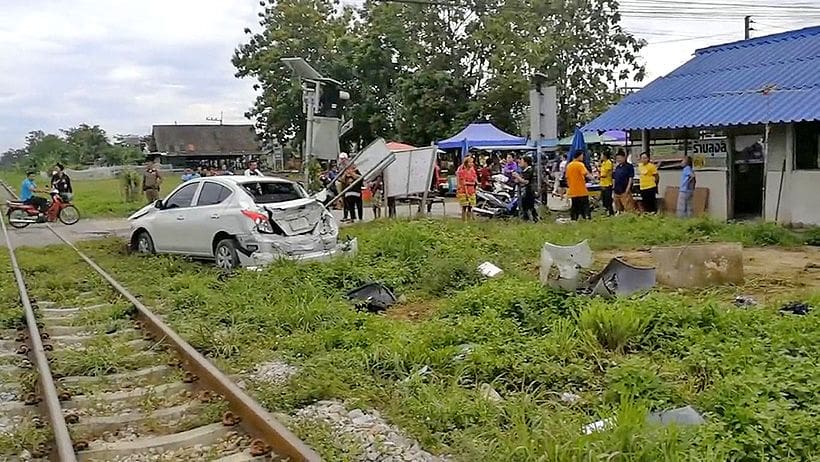 A driver has been injured after his car was hit by a train in Songkhla's Hat Yai district yesterday morning (Wednesday).
The Bangkok-Padang Bezar train hit the car at a rail crossing in Ban Lop Moom in Tambon Patong.
The car driver, Aeb Meekaew, was critically injured and taken to the Hat Yai Hospital.
The 58 year old train driver, Thira Benso, told police that he saw the car breach the rail crossing and stop while his train was approaching. He used the train horn but the car didn't move. Thira said he tried to stop the train but was unable to avoid a collision.
The train was only slightly damaged and continued to its destination after the accident.

Continue Reading
District in Thailand's south declared Special Control Zones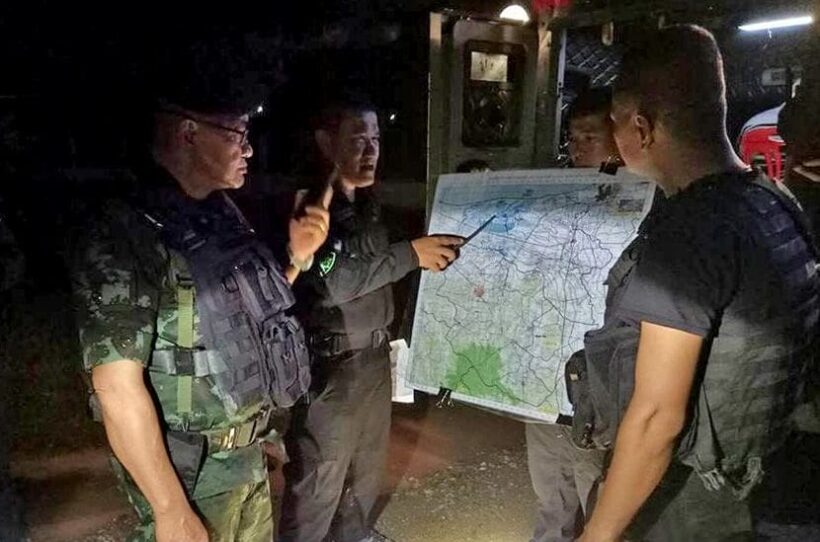 Special report from Chularat Saengpassa - The Nation

"We have no idea what will happen next. The soldiers have been keeping a close eye on people going in and out of the village."

Locals in parts of Pattani's Nong Chik district now live in fear due to the strong military presence in their hometown.

"We are scared and don't want to leave our home these days," said Nuda, whose husband has been under military custody since Sunday.

In an unprecedented move, the Forward Command of the Internal Security Operations Command Region 4 declared tambons Bang Khao and Tha Kham Cham of Nong Chik district as "special control zones" on Sonday. It's the first time in a decade the declaration of a Special Control Zone has been made.

Residents in these zones are required to produce any weapons, ammunition and vehicles, including boats and motorcycles, they may possess for military examination ...