UPDATE: Phuket speedboats crash: 2 children dead, 22 injured – VIDEO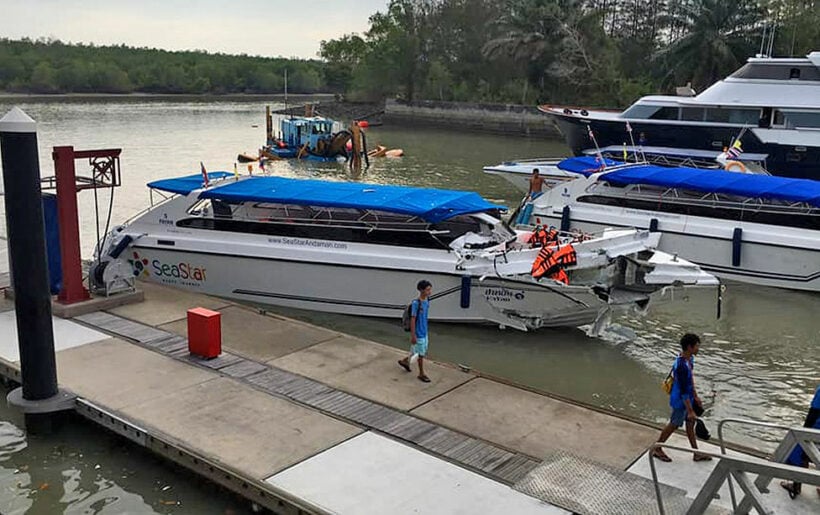 "…both boat drivers have been charged with reckless driving causing death and injury."
Two Russian children have died and some 22 people were injured following a high-speed speedboat collision off Phuket's east coast just before 8am this morning. The incident occurred in the channel linking Phuket's two main east coast marinas with the Phang Nga Bay on the east side of the island at about 7.50am. One of the speedboats was travelling fast along the channel, heading out towards the Bay, when it collided with the other vessel at high speed.
There was a total of 29 passengers and crew travelling on the two tour speed boats. The crews on the two boats were not harmed in the incident. Phuket marine police speculate the incident was caused by reckless driving.
According to initial police reports, a tour boat, the "Payan 5", operated by Seastar Andaman, with headquarters in Thalang, was heading into the channel from Rassada (Phuket Town) to pick up tourists at Royal Phuket Marina in Koh Kaew. When the vessel was just turning to berth at the marina, it was struck, at speed, by another vessel, "ALP", owned by Andaman Leisure Phuket, based at Boat Lagoon Marina, Koh Kaew.
The Andaman Leisure Phuket speedboat, loaded with passengers for a day trip, was heading out into Phang Nga Bay from Boat Lagoon.
Major Ekachai Siri of the Phuket Tourist Police confirmed around midday that both boat drivers have been charged with reckless driving causing death and injury.
22 injured passengers were attended to at the scene before being rushed to hospitals around Phuket – four to Mission Hospital Phuket, 11 to Bangkok Hospital Phuket, six to Bangkok Hospital Siriroj and one Russian national was sent to Vachira Hospital. The two dead children were a 6 year old girl and a 12 year old boy.
Video footage (below) from the scene showed rescue workers performing CPR on two young Russian children in the boatyard of the Royal Phuket Marina, adjacent to the channel where the incident happened (video below).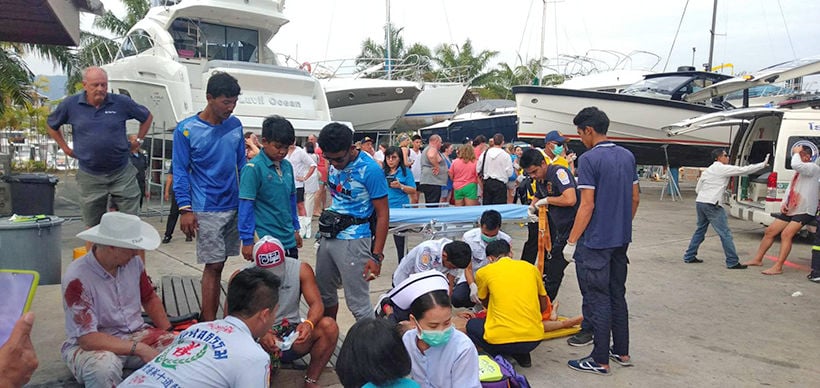 Vladimir Pronin, of the Russian embassy in Thailand confirmed the collision of the two speedboats.
"Two speedboats have collided. There was only the Thai crew on board of one of them, while there were 39 Russian tourists on board of the second one. Over 20 Russians have sustained injuries of various degrees of severity."
Mr Pronin also confirmed that as many as 21 Russians and 3 Thai nationals were taken to hospital, with several still in critical condition. 5 Russians are now reported to have been discharged from their hospitals.
Photos from the scene show the damage resulting from the collisions, indicating the high speed impact. The dramatic video also show emergency responders working with the many people wounded in the incident, including a child.
Police officers told reporters at the scene that a full investigation had begun and once investigators had fully examined both vessels, the crime scene and interviewed witnesses, they would to the hospitals to speak to the survivors from the collision.
The incident happened a year and a day after 12 Chinese tourists were injured in a similar incident in Phuket, and 18 months after 47 Chinese tourists died when a tourist boat sank off the southern coast of the island (Thailand's worst maritime disaster). Another boat sank on the same day but all passengers and crew were recovered.
This is a developing story: The Thaiger will provide updates as details emerge.
SOURCE: The Phuket News | Social media reports | ที่นี่ภูเก็ต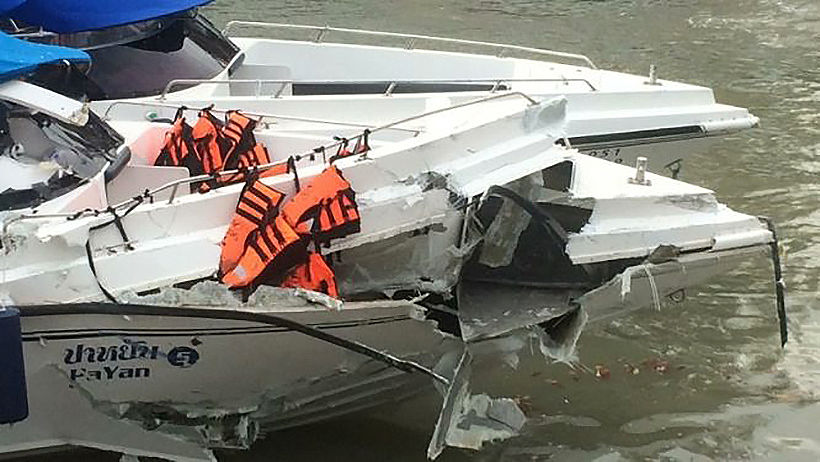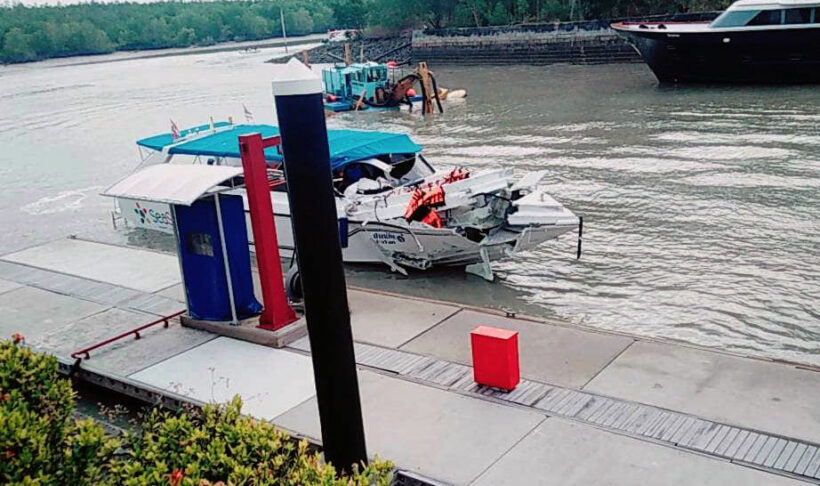 WARNING: The following video contains content that may be distressing to some viewers.
เกิดเหตุเรือสปีดโบ๊ทชนกันกลางร่องน้ำ ส่งผลให้นทท.ได้รับบาดเจ็บ 21 คน เสียชีวิต 2 คนเมื่อเวลาประมาณ 08.15 น.วันที่ 10 ก.พ.63 เจ้าหน้าที่ศูนย์นเรนทรอันดามัน ได้รับแจ้ง เหตุเรือสปีดโบ๊ทชนกัน มีผู้ได้รับบาดเจ็บหลายคน เหตุเกิดบริเวณร่องน้ำใกล้ท่าเทียบเรือรอยัลมารีน่า ต.เกาะแก้ว อ.เมืองภูเก็ต หลังรับแจ้งจึงประสาน เจ้าหน้าที่ตำรวจสภ.เมืองภูเก็ต เจ้าหน้าที่หน่วยกู้ชีพมูลนิธิกุศลธรรมภูเก็ต เจ้าหน้าที่หน่วยแพทย์ฉุกเฉินรพ.วชิระภูเก็ต และรพ.มิชชั่นภูเก็ต ร่วมตรวจสอบและให้การช่วยเหลือ ทั้งนี้หลังเกิดเหตุ เรือสปีดโบ๊ทได้ช่วยลำเลียงผู้บาดเจ็บมาขึ้นที่ท่าเทียบเรือรอยัลมารีน่า รวมผู้บาดเจ็บซึ่งส่วนใหญ่เป็นนทท.ชาวรัสเซียจำนวน 23 คน ในนี้มีผู้ได้รับบาดเจ็บสาหัส 2 คน อยู่ในอาการหมดสติ ไม่มีชีพจร เจ้าหน้าที่ได้ทำการปั๊มหัวใจก่อนนำส่ง รพ.กรุงเทพภูเก็ต 12 คน (ชาย 9 หญิง 3) ส่งรพ.วชิระภูเก็ต 1 คน รพ.สิริโรจน์ 6 คน และ รพ.มิชชั่นภูเก็ต 4 คน ซึ่งในจำนวน 4 คน ที่นำส่งรพ.มิชชั่นภูเก็ต มี 2 คนได้เสียชีวิต เป็นเด็กชายชาวรัสเซีย อายุ 6 ขวบ และ 12 ขวบ ขณะเดียวกัน พ.ต.ท.ธาดา โสดารักษ์ สารวัตร(สอบสวน)สภ.เมืองภูเก็ต พร้อมด้วยหน่วยงานที่เกี่ยวข้องทั้ง เจ้าท่าภูมิภาคที่ 5 เจ้าหน้าที่ตำรวจท่องเที่ยว ได้ลงพื้นที่ตรวจสอบ เบื้องต้นพบเรือสปีดโบ๊ทลำเกิดเหตุ 2 ลำ ชื่อเรือ ปาหนัน 5 ของบริษัท ซีสตาร์อันดามัน สภาพพังเสียหายที่กาบขวาด้านหัวเรือ และเรือคู่กรณีอีกลำชื่อ ปาหนัน 9 ของบริษัท Andaman Leisure Phuket (ALP)บริเวณหัวเรือมีร่องรอยเสียหายเล็กน้อย เจ้าหน้าที่จึงเก็บภาพเป็นหลักฐาน ก่อนเดินทางไปสอบปากคำคนขับและพนักงานบนเรือ จาการสอบสวนเบื้องต้นทราบว่า ก่อนเกิดเหตุ เรือสปีดโบ๊ทของบริษัท ซีสตาร์อันดามัน ซึ่งเดินทางมาจากแหลมหงา ตำบลรัษฎา อำเภอเมือง ภูเก็ต เพื่อมารับนักท่องเที่ยวที่ท่าเทียบเรือรอยัลภูเก็ตมารีน่า เมื่อมาถึงที่เกิดเหตุได้ขับเรือเลี้ยวซ้ายเข้ามาบริเวณร่องน้ำตัดหน้าเรือของบริษัท ALP เป็นเหตุให้เรือของบริษัท ALP ซึ่งบรรทุกนักท่องเที่ยวเต็มลำขณะออกจากท่าเทียบเรือ พุ่งชนเรือของบริษัท ซีสตาร์อันดามัน เข้าอย่างจัง เป็นเหตุให้มีผู้บาดเจ็บและเสียชีวิตดังกล่าว ซึ่งเจ้าหน้าที่จะทำการสอบสวนผู้เกี่ยวข้องเพื่อหาสาเหตุที่แท้จริงต่อไป

Posted by ที่นี่ภูเก็ต on Sunday, February 9, 2020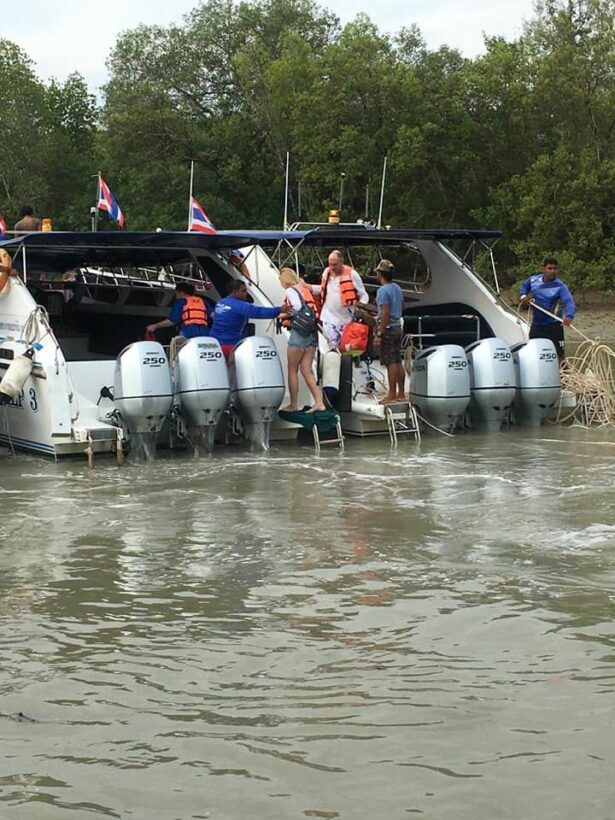 Keep in contact with Thaiger by following our Facebook page.
Never miss out on future posts by following Thaiger.
Immigration police arrest Frenchman on drug charges, 3 other foreigners for overstay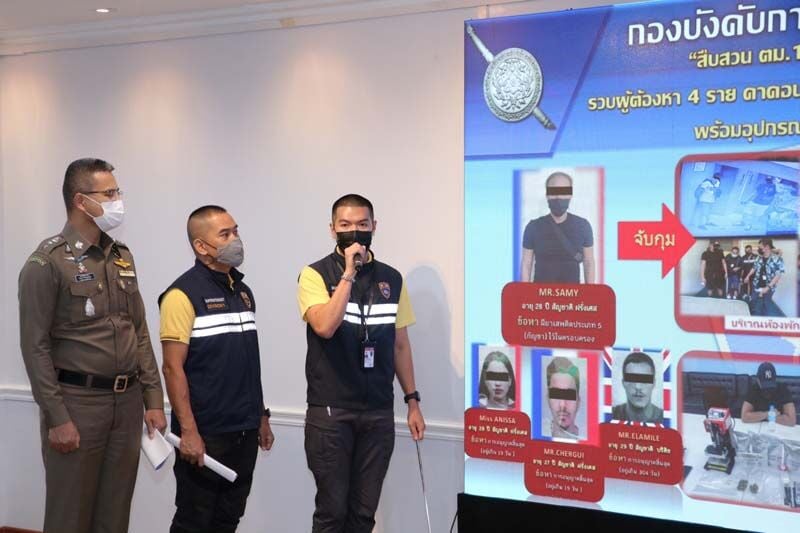 Immigration police arrested a French man who was allegedly involved in a crime network who allegedly smuggled cannabis, and arrested 3 other foreigners on overstay charges. Police say the crime network sold cannabis to foreigners living in tourist cities in Thailand.
Officers say they suspect there are more people involved in the alleged smuggling operation on the Eastern seaboard, which includes Chon Buri and Rayong. Police are now launching an investigation.
Police were tipped off earlier this year about an alleged French gang selling cannabis to tourists. Apparently, the drug suspects would rent rooms to store the cannabis and frequently change locations. Foreigners had rented a room off a soi in Bangkok, but the manager noticed they were acting suspicious. No one appeared to actually be living in the room and people would stop by the room for less than an hour, the manager told police.
Police arrested a man who was stopping by the room. Officers say the 28 year old, identified as Samy, had a suitcase filled with dried cannabis and scales. He faces charges for possession and distribution of a Category 5 narcotic.
The police went to the man's apartment in the Charoen Nakhon area and arrested 2 French nationals, ages 27 and 28, and a 29 year old woman from the UK for overstaying their visas. Police say they had thrown cannabis and smoking equipment out the window before officers entered the room.
SOURCE: Thai Visa
Keep in contact with Thaiger by following our Facebook page.
Never miss out on future posts by following Thaiger.
Thailand hoping to be upgraded to a Tier 1 nation in anti-human trafficking efforts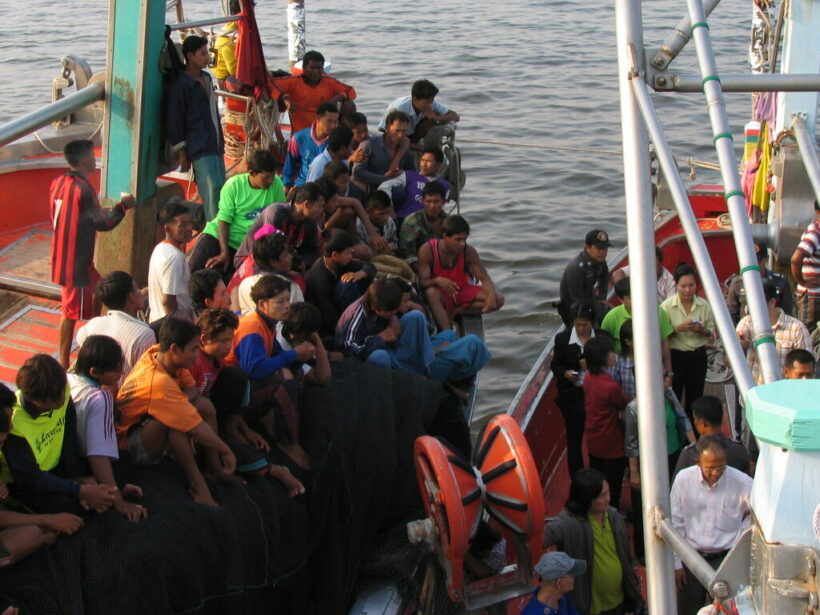 Thailand is hoping its newest anti-human trafficking report will earn an upgrade from the US from Tier 2 to Tier 1. The report was submitted to the Washington's Trafficking in Persons Report. Deputy government spokeswoman, Rachada Dhnadirek, said the government is ready to be upgraded after remaining on Tier 2 for 3 years in a row. Those nations who fall on the Tier 2, are deemed to not be fully complying with the minimum standards set out in the US' Trafficking Victims Protection Act. Those on the Tier 2, however, are supposed to be making efforts to comply with the minimum standards.
Before 2018, Thailand was placed in Tier 3, which is for nations who don't fully comply with the minimum standards and are not making efforts to do so. Then, Thailand was upgraded to Tier 2 after making progress compared to the previous year.
Rachada says Thailand submitted the 2020 TIP Report on February 2 and a report on progress in its anti-human trafficking operations from January to March of this year to the US embassy on April 3. The data includes the number of arrests and punishments for human-trafficking offences. Thailand also has created a new plan, making it the first in Asia to introduce such a plan. That plan is called the National Action Plan on Business and Human Rights.
Rachada says now Thailand is processing human trafficking cases more quickly by shortening the investigation time to 70 days as of last year. In 2015, the investigation time was 118 days. She says the country has also set up centres to help LGBT human-trafficking victims as well as helping migrant workers with work-related issues.
Thailand has also introduced the PROTECT-U app for smartphones in which human-trafficking victims can access protection and launch complaints in 7 different languages. The app was developed by the Social Development and Human Security Ministry.
SOURCE: The Phuket News
Keep in contact with Thaiger by following our Facebook page.
Never miss out on future posts by following Thaiger.
Phuket man shot by off-duty police officer now paralysed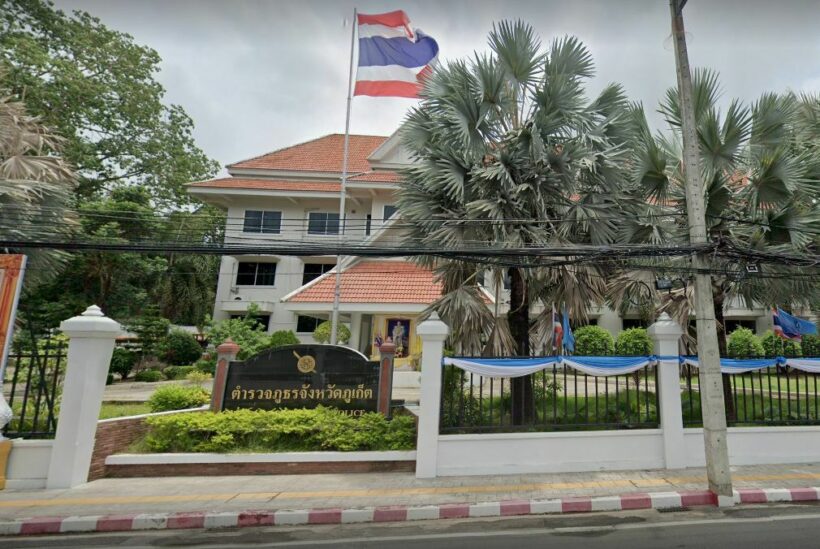 A 25 year old Phuket man who was allegedly beaten and shot by an off-duty, drunken police officer, will never walk again as he remains paralysed in the hospital. The news, according to doctors at Vachira Phuket Hospital, comes after Aroon Thongplab, was shot from a close range, with the bullet hitting his spine.
The man was a noodle vendor and was collecting a bowl from a customer on Bangla Road when he was allegedly shot by Pornthep Channarong of the Phuket Provincial Police at around 6am. Doctors told his wife about his prognosis after he woke up from a coma and underwent surgery to increase his prospects of being able to sit up. His wife, who is only known by her surname as Kulthida, told The Phuket News that she received news that he would never walk again.
"He cannot feel or move the lower part from his waist. Doctors just gave him spine surgery last week, so that he can sit. However, the doctors cannot assure that the surgery will work. We have to wait to see if his recovery goes well along with physiotherapy."
Pornthep was discharged from the Royal Thai Police less than a day after he allegedly shot the noodle vendor. Now, he is facing charges of attempted murder, firing a weapon in a public area, and carrying a firearm in a public area without a necessary reason. But those charges have come slowly, according to Kulthida.
"I have already asked Patong Police, and they told me that at this stage the report to file (with the public prosecutor) is about 90% complete. I am also waiting for a notice from the court. Today, officers from Region 8 Police came to the hospital to question Aroon, but he has not been able to speak… I asked them about the bail conditions, and they told me that the suspect is still in jail."
The Phuket Provincial Court is allowing Pornthep to go out on bail, despite the Royal Thai Police asking the court to keep in locked up.
SOURCE: The Phuket News
Keep in contact with Thaiger by following our Facebook page.
Never miss out on future posts by following Thaiger.