UPDATE: Phuket speedboats crash: 2 children dead, 22 injured – VIDEO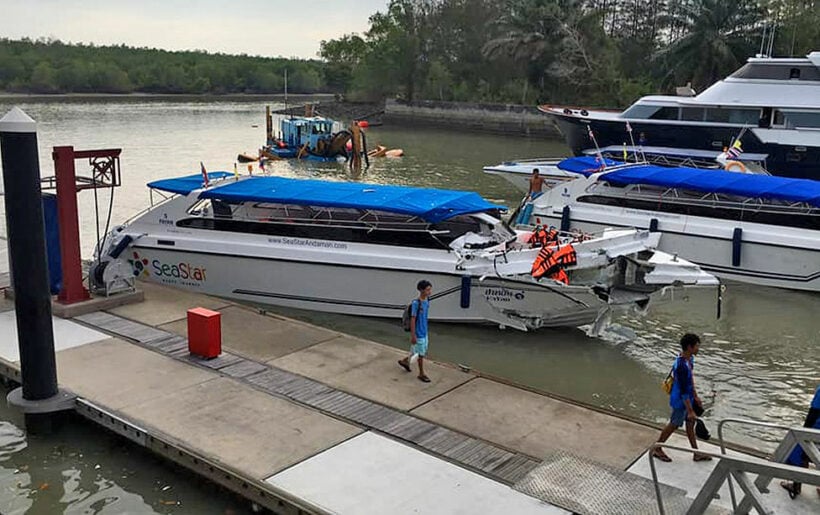 "…both boat drivers have been charged with reckless driving causing death and injury."
Two Russian children have died and some 22 people were injured following a high-speed speedboat collision off Phuket's east coast just before 8am this morning. The incident occurred in the channel linking Phuket's two main east coast marinas with the Phang Nga Bay on the east side of the island at about 7.50am. One of the speedboats was travelling fast along the channel, heading out towards the Bay, when it collided with the other vessel at high speed.
There was a total of 29 passengers and crew travelling on the two tour speed boats. The crews on the two boats were not harmed in the incident. Phuket marine police speculate the incident was caused by reckless driving.
According to initial police reports, a tour boat, the "Payan 5", operated by Seastar Andaman, with headquarters in Thalang, was heading into the channel from Rassada (Phuket Town) to pick up tourists at Royal Phuket Marina in Koh Kaew. When the vessel was just turning to berth at the marina, it was struck, at speed, by another vessel, "ALP", owned by Andaman Leisure Phuket, based at Boat Lagoon Marina, Koh Kaew.
The Andaman Leisure Phuket speedboat, loaded with passengers for a day trip, was heading out into Phang Nga Bay from Boat Lagoon.
Major Ekachai Siri of the Phuket Tourist Police confirmed around midday that both boat drivers have been charged with reckless driving causing death and injury.
22 injured passengers were attended to at the scene before being rushed to hospitals around Phuket – four to Mission Hospital Phuket, 11 to Bangkok Hospital Phuket, six to Bangkok Hospital Siriroj and one Russian national was sent to Vachira Hospital. The two dead children were a 6 year old girl and a 12 year old boy.
Video footage (below) from the scene showed rescue workers performing CPR on two young Russian children in the boatyard of the Royal Phuket Marina, adjacent to the channel where the incident happened (video below).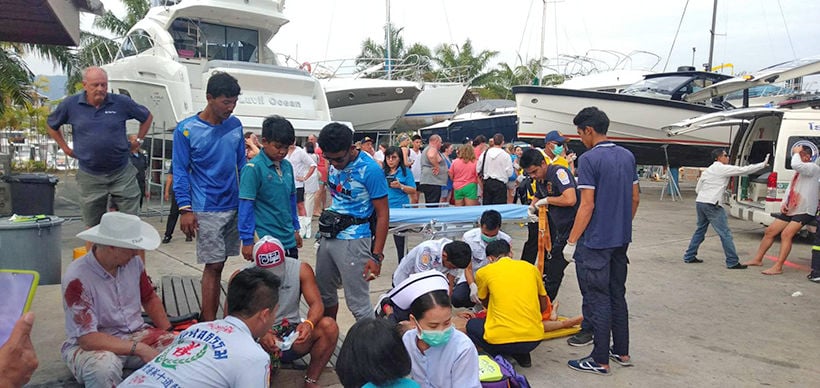 Vladimir Pronin, of the Russian embassy in Thailand confirmed the collision of the two speedboats.
"Two speedboats have collided. There was only the Thai crew on board of one of them, while there were 39 Russian tourists on board of the second one. Over 20 Russians have sustained injuries of various degrees of severity."
Mr Pronin also confirmed that as many as 21 Russians and 3 Thai nationals were taken to hospital, with several still in critical condition. 5 Russians are now reported to have been discharged from their hospitals.
Photos from the scene show the damage resulting from the collisions, indicating the high speed impact. The dramatic video also show emergency responders working with the many people wounded in the incident, including a child.
Police officers told reporters at the scene that a full investigation had begun and once investigators had fully examined both vessels, the crime scene and interviewed witnesses, they would to the hospitals to speak to the survivors from the collision.
The incident happened a year and a day after 12 Chinese tourists were injured in a similar incident in Phuket, and 18 months after 47 Chinese tourists died when a tourist boat sank off the southern coast of the island (Thailand's worst maritime disaster). Another boat sank on the same day but all passengers and crew were recovered.
This is a developing story: The Thaiger will provide updates as details emerge.
SOURCE: The Phuket News | Social media reports | ที่นี่ภูเก็ต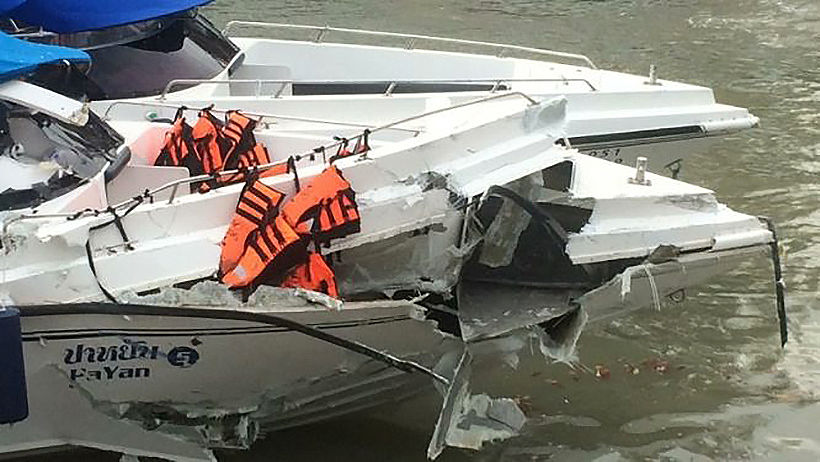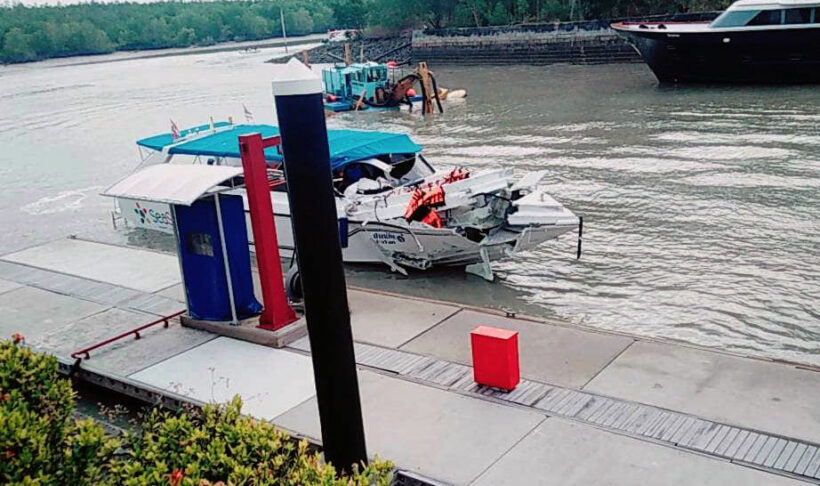 WARNING: The following video contains content that may be distressing to some viewers.
เกิดเหตุเรือสปีดโบ๊ทชนกันกลางร่องน้ำ ส่งผลให้นทท.ได้รับบาดเจ็บ 21 คน เสียชีวิต 2 คนเมื่อเวลาประมาณ 08.15 น.วันที่ 10 ก.พ.63 เจ้าหน้าที่ศูนย์นเรนทรอันดามัน ได้รับแจ้ง เหตุเรือสปีดโบ๊ทชนกัน มีผู้ได้รับบาดเจ็บหลายคน เหตุเกิดบริเวณร่องน้ำใกล้ท่าเทียบเรือรอยัลมารีน่า ต.เกาะแก้ว อ.เมืองภูเก็ต หลังรับแจ้งจึงประสาน เจ้าหน้าที่ตำรวจสภ.เมืองภูเก็ต เจ้าหน้าที่หน่วยกู้ชีพมูลนิธิกุศลธรรมภูเก็ต เจ้าหน้าที่หน่วยแพทย์ฉุกเฉินรพ.วชิระภูเก็ต และรพ.มิชชั่นภูเก็ต ร่วมตรวจสอบและให้การช่วยเหลือ ทั้งนี้หลังเกิดเหตุ เรือสปีดโบ๊ทได้ช่วยลำเลียงผู้บาดเจ็บมาขึ้นที่ท่าเทียบเรือรอยัลมารีน่า รวมผู้บาดเจ็บซึ่งส่วนใหญ่เป็นนทท.ชาวรัสเซียจำนวน 23 คน ในนี้มีผู้ได้รับบาดเจ็บสาหัส 2 คน อยู่ในอาการหมดสติ ไม่มีชีพจร เจ้าหน้าที่ได้ทำการปั๊มหัวใจก่อนนำส่ง รพ.กรุงเทพภูเก็ต 12 คน (ชาย 9 หญิง 3) ส่งรพ.วชิระภูเก็ต 1 คน รพ.สิริโรจน์ 6 คน และ รพ.มิชชั่นภูเก็ต 4 คน ซึ่งในจำนวน 4 คน ที่นำส่งรพ.มิชชั่นภูเก็ต มี 2 คนได้เสียชีวิต เป็นเด็กชายชาวรัสเซีย อายุ 6 ขวบ และ 12 ขวบ ขณะเดียวกัน พ.ต.ท.ธาดา โสดารักษ์ สารวัตร(สอบสวน)สภ.เมืองภูเก็ต พร้อมด้วยหน่วยงานที่เกี่ยวข้องทั้ง เจ้าท่าภูมิภาคที่ 5 เจ้าหน้าที่ตำรวจท่องเที่ยว ได้ลงพื้นที่ตรวจสอบ เบื้องต้นพบเรือสปีดโบ๊ทลำเกิดเหตุ 2 ลำ ชื่อเรือ ปาหนัน 5 ของบริษัท ซีสตาร์อันดามัน สภาพพังเสียหายที่กาบขวาด้านหัวเรือ และเรือคู่กรณีอีกลำชื่อ ปาหนัน 9 ของบริษัท Andaman Leisure Phuket (ALP)บริเวณหัวเรือมีร่องรอยเสียหายเล็กน้อย เจ้าหน้าที่จึงเก็บภาพเป็นหลักฐาน ก่อนเดินทางไปสอบปากคำคนขับและพนักงานบนเรือ จาการสอบสวนเบื้องต้นทราบว่า ก่อนเกิดเหตุ เรือสปีดโบ๊ทของบริษัท ซีสตาร์อันดามัน ซึ่งเดินทางมาจากแหลมหงา ตำบลรัษฎา อำเภอเมือง ภูเก็ต เพื่อมารับนักท่องเที่ยวที่ท่าเทียบเรือรอยัลภูเก็ตมารีน่า เมื่อมาถึงที่เกิดเหตุได้ขับเรือเลี้ยวซ้ายเข้ามาบริเวณร่องน้ำตัดหน้าเรือของบริษัท ALP เป็นเหตุให้เรือของบริษัท ALP ซึ่งบรรทุกนักท่องเที่ยวเต็มลำขณะออกจากท่าเทียบเรือ พุ่งชนเรือของบริษัท ซีสตาร์อันดามัน เข้าอย่างจัง เป็นเหตุให้มีผู้บาดเจ็บและเสียชีวิตดังกล่าว ซึ่งเจ้าหน้าที่จะทำการสอบสวนผู้เกี่ยวข้องเพื่อหาสาเหตุที่แท้จริงต่อไป

Posted by ที่นี่ภูเก็ต on Sunday, February 9, 2020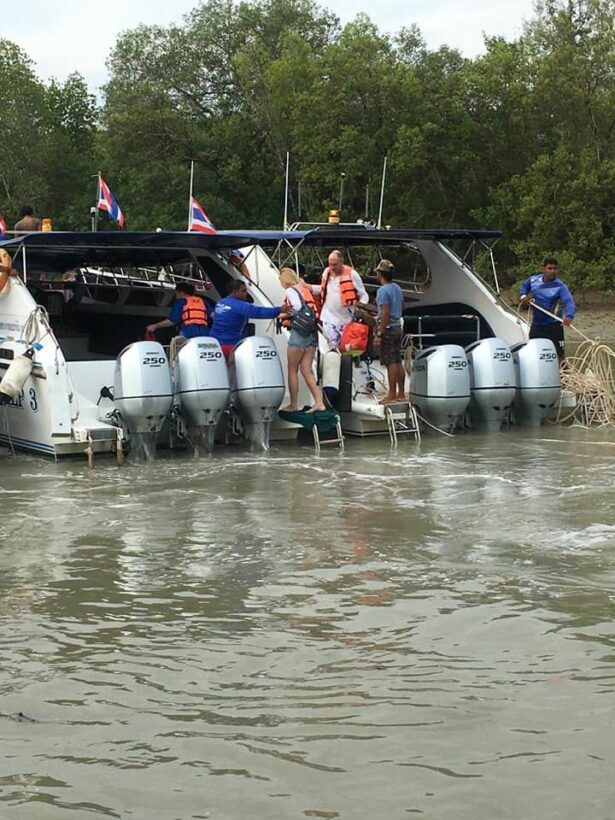 Keep in contact with The Thaiger by following our
Facebook page
.
Man claims he was attacked and robbed by "foreigners"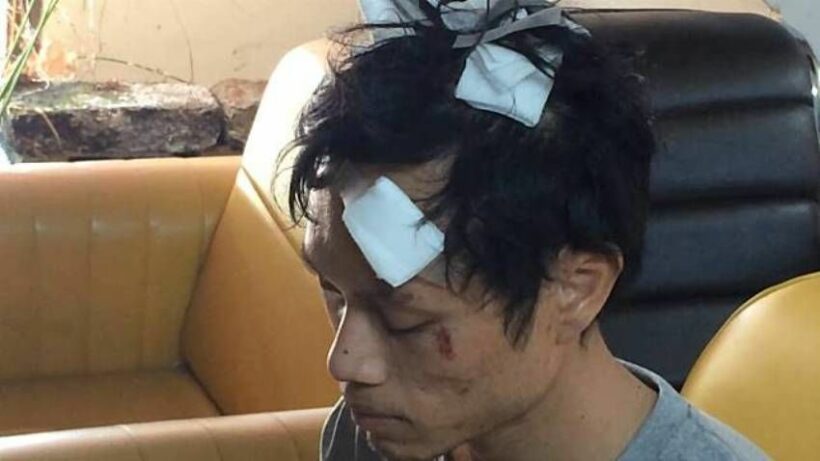 A student in Chiang Mai says he was mugged by "foreigners from Europe." Twenty-four year old Theerapat Saen-in posted his alleged ordeal on Thai social media earlier this week.
According to his post he was taking photographs at a view point on Doi Suthep when he was approached by "farangs." He says they bashed him on the head with a piece of wood before being attacking him further.
Saen-in then allegedly fled into the woods, fearing the foreigners might chase him and continue their attack. In the process, he claims, he fell down an embankment, knocking himself unconscious.
When he regained consciousness he returned to the scene to find his camera equipment missing. His tripod, backpack and money had all been taken, local media reported.
He says he got help from other tourists in the area and was eventually taken to hospital in Chiang Mai. Doctors cared for his injuries, including six deep wounds to his head. Doctors said the head wounds were consistent with an attack with a solid object and confirmed to police that, based on the wounds, the man was assaulted.
Saen-in asks for cooperation from the public, especially in the event they notise anyone trying to sell or pawn camera equipment. He has also asked anyone with information to please contact police.
SOURCE: Chiang Rai Times
Keep in contact with The Thaiger by following our
Facebook page
.
2 more suspects arrested in "wombs-for-hire" scandal
Officers of the Anti-Human Trafficking Division (ATHD) of the Royal Thai Police have arrested two more suspects in an illegal transnational commercial surrogacy ring, police said yesterday. 43 year old Kulisara Pomdet was arrested in Chanthaburi and 60 year old Jakkarat Kittiwanichkul in Chiang Mai on Friday night.
Police say the two were hired as brokers to lure Thai women to work as surrogate mothers. Jakkarat can speaks the languages of neighbouring countries and served as a translator for Kulisara during trips to those countries. A police source says the pair travelled between Thailand and Cambodia more than 100 times over the past two years.
On Thursday nine suspects, seven Thais and two Chinese, were arrested in joint raids in Bangkok, Pathum Thani and Sukhothai. They face charges of colluding in transnational criminal activities and engaging in commercial surrogacy, illegal under Thai law. The raids came after police found a gang of Chinese nationals was hiring Thai women as surrogate mothers.
The illegal surrogacy operation is believed to have started in 2012. At least 100 women across the country were hired as surrogate mothers, according to police. The surrogate mothers travelled to neighbouring countries for "assisted reproductive treatment" and returned to Thailand where they stayed until delivery. In some cases, they were sent to China, where they stayed until giving birth.
The deputy commissioner of the Central Investigation Bureau says the probe followed a tip-off from the Department of Health Service Support. Investigators questioned women in Pathum Thani province, north of Bangkok, who were hired as surrogates. They found that at least 15 babies born from assisted reproductive technologies were included in their household registrations,and that at least 50 babies from surrogate mothers had been taken out of the country. Assets seized from the nine include 16 vehicles with a combined value of 15 million baht, a house, and a Bangkok company worth about 20 million baht.
SOURCE: Bangkok Post
Keep in contact with The Thaiger by following our
Facebook page
.
Heroin smuggler busted in Chiang Rai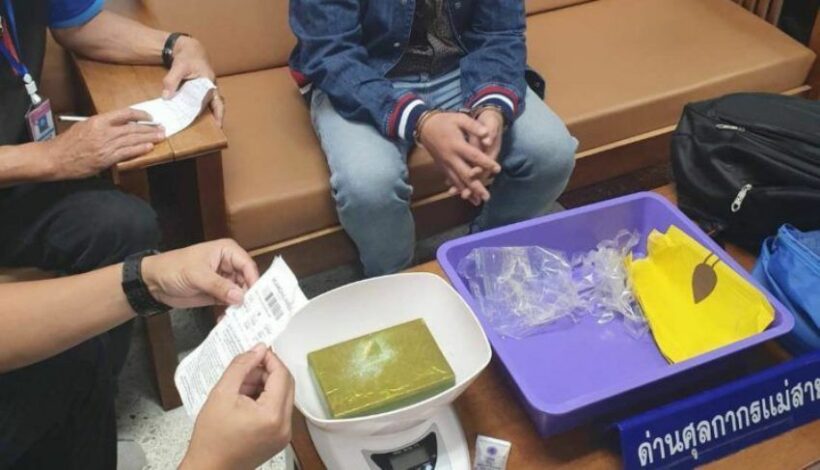 A man has been arrested in Chiang Rai's airport attempting to smuggle heroin. 27 year old Jatuporn Saeuan was searched and detained before boarding a flight to Bangkok when security officers found his behaviour suspicious.
Security officers say Jatuporn "kept wandering back and forth in front of the entrance" to Mae Fah Luang Airport, so they asked demanded to inspect his luggage. His luggage was put through the airport x-ray and he went through the personal scanner.
When he raised his arms for the scan, they notised a yellow plastic bag tucked into the back of his trousers. Security staff opened the package and found it contained a white power. Test results quickly indicated the powder was a narcotic. and security called police.
Police told Thai media that Jatuporn admitted travelling to Myanmar to buy the heroin, sneaking across the border at Mae Sai, Chiang Rai into Myanmar's Tachilek province. After buying the drug he sneaked back into Thailand with help from the dealer.
Jatuporn drove to Chiang Rai's Mae Fah Luang Airport where he was subsequently arrested. He admits he planned to sell the heroin in Bangkok.
He has been charged with possession of an illegal narcotic with the intent to sell. Under Thai law, he could face the death penalty, though capital punishment is rare in Thailand. In reality he faces a fine of up to 100,000 baht fine and/or 10 years in prison.
SOURCE: Chiang Rai Times
Keep in contact with The Thaiger by following our
Facebook page
.