Body of missing Belarus swimmer found at Nai Thon Beach, Phuket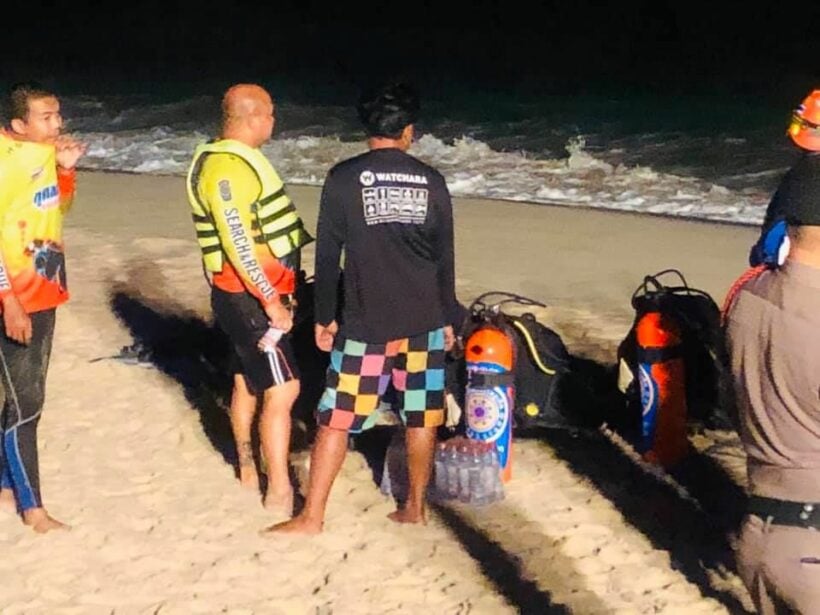 PHOTOS: Phuket Hotnews
The body of the missing Belarus man has finally been found at Nai Thon Beach, Phuket, after going missing four days ago.
The body of a 31 year old Belarusian, Shchartsou Makin, was found washed ashore on the rocks of Nai Thon Beach's southern cape yesterday, after being reported missing a few days ago.
On October 30, he drowned whilst swimming in shallow but choppy waters with his wife at Nai Thon Beach. When a wave engulfed him, he didn't re-appear and his wife called for help from the local people around who immediately contacted Saku police.
The rescue team searched for the man for four days continuously and finally found the man's body washed up on the rocks, wearing only his swimming outfit. The police contacted his 29 year old wife, Roslik Irene, also from Belarus, to confirm his identity before passing the body to Thalang Hospital for a detailed autopsy.
The Belarus embassy has been contacted to help organise details for the man's funeral or repatriation.
SOURCE: Phuket Hotnews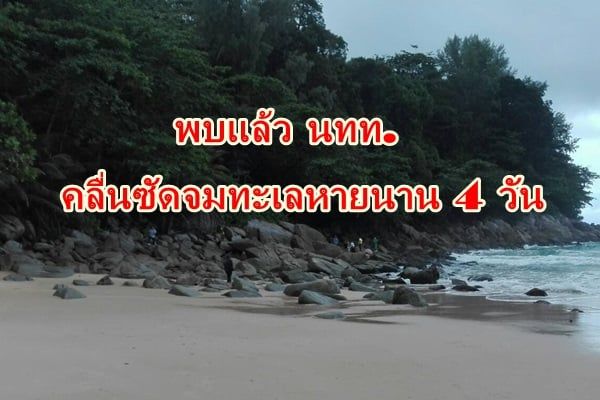 Keep in contact with The Thaiger by following our
Facebook page
.
'Coconut Water Gang' arrested for trafficking children in Phuket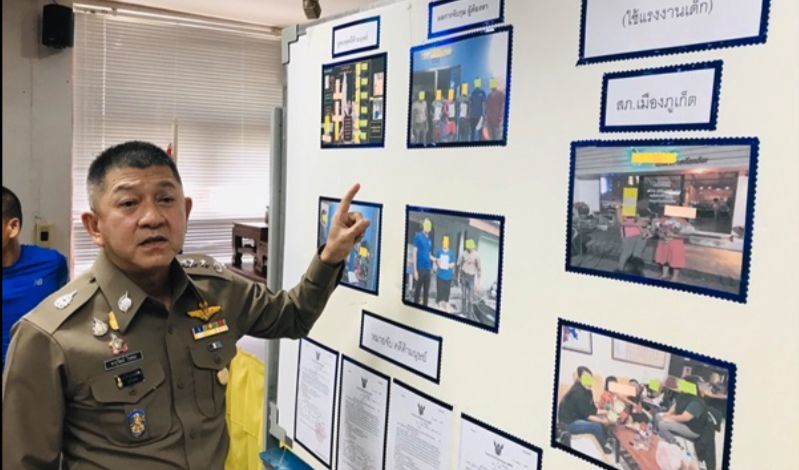 PHOTO: mgronline.com
"The child told him that a gang gathered some kids and forced them to sell coconut water and would beat them up sometimes."
Patong police have announced the arrest of the 'Coconut Water Gang'. There were four suspects from Nakohn Si Thammarat. The gang was accused of trafficking children by forcing them to roam the streets of Patong selling coconut water. There were four suspects in the case – Wattakarn Aramsee, Khemmika Uppakankaew, Pornthep Uppakankaew and Wachira Poonchuay, who have all been charged with human trafficking.
On October 28, the Phuket District Chief and his secretary identified a child of 10-13 years old walking into the Muang Phuket District Office selling coconut water. The child looked very thin and dirty so they asked the child what happened. The child told him that a gang gathered some kids and forced them to sell coconut water and would beat them up sometimes.
Manager Online reports that the team of police and Phuket Office of Social Development and Human Security, as well as Phuket Children and Family Shelter investigated the child story before taking the child to the shelter. Police also followed up by issuing an arrest warrant.
The suspects from the arrest warrant reacted to this incident by reporting the case to Damrongtham Center in Nakhon Si Thammarat and held a press conference saying that the officers do not have right to keep the child in their custody. They already reported to the Nakhon Si Thammarat police and said that there was no progress.
They also said they will sue Phuket police as well. Following the matter, PM Gen Prayuth Chan-Ocha and Deputy PM Gen Prawit Wongsuwan urged the department involved from Bangkok to investigate the case.
Pol Lt Gen Jaruwat Waisaya, chief of the Royal Thai Police's Office of Legal Affairs and Litigation, said that the children are underage and were used to sell heavy packs of coconut water and coerced to work more than 10 hours per day.
"They also got abused sometimes. This is unacceptable and we would like to announce that this human trafficking in Phuket must be completely suppressed within few days. This gang forced children to roam around selling coconut water from 7am – 1pm and from 1.30pm – 6pm."
The price was 40 Baht per pack. The children would hold at least 10 packs of coconut water per person per time. Someday, they can make about 400 Baht and the money would be taken to their families in Nakhon Si Thammarat. If the children wanted to spend the money, it would be deducted from their income. When they returned late or didn't meet the daily target, they would be "punished".
Each of them stayed at Saphan Hin village and repeated their routine every day. They made about 6 digits of income for the gang.
From the investigation, the children said that the coconut water wasn't real coconut water. It was just water mixed with syrup and sugar. There was just a little amount of coconut water in each pack. Also, on November 9, police found four children selling snacks and fruits on the street. The first one was brought by the grandmother to sell snacks in front of a bar in Patong, the second one was brought by the mother to sell flowers at a restaurant in Patong, the third one was brought by the father-in-law to sell floral garlands at a BBQ shop in Soi Ta-Iad and the fourth ones was brought by the sister to sell flowers at a Som Tum shop in Phuket Town.
There was a 63 year old Cambodian man and a 23 year old woman illegally selling items in Phuket town area as well.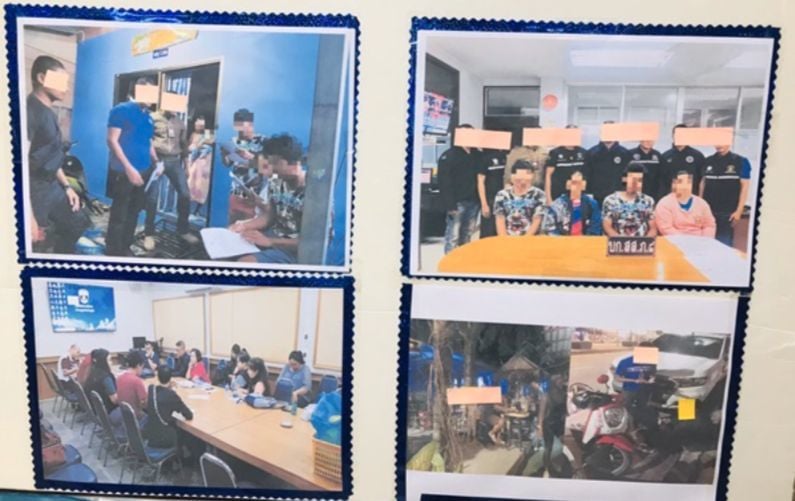 SOURCE: mgronline.com
Keep in contact with The Thaiger by following our
Facebook page
.
Kata Group launches new 512-room Phuket family resort – Pamookkoo Resort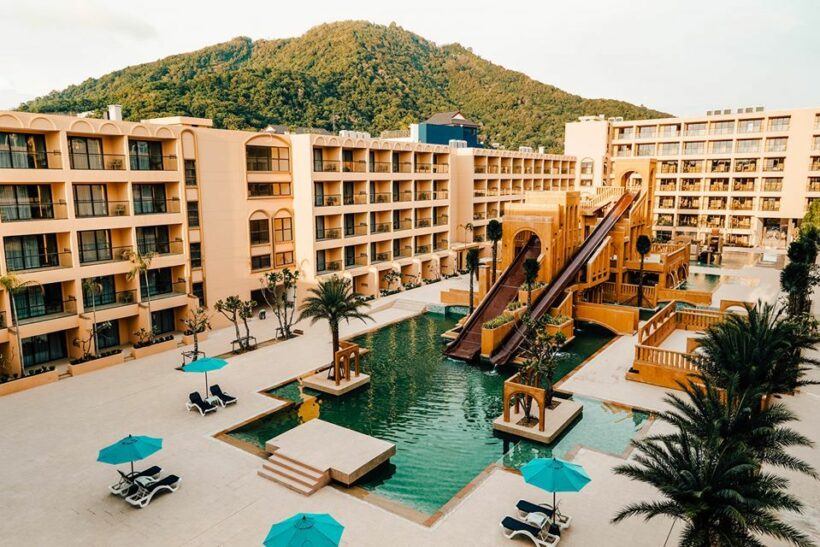 Kata Group, Phuket's oldest hotel group, is launching its eighth resort, the Pamookkoo Resort. The cost of the investment is 1.75 billion baht. The new resort is in the heart of Kata.
Kata Group opened its first hotel on Phuket 40 years ago and was a pioneer in attracting the early tourists to the island's southwest coast.
The new hotel will be managed by the son and heir to Kata Group's founder Pramook Achariyachai, and will focus on "fun-and-sun loving family groups", according to the press release. Pariyawit "Benz" Achariyachai says that all of the hotels by Kata Group have their own distinctions, and are trusted by existing and new customers.
Pamookkoo Resort will have 512 rooms, ranging from 32.8 square metres up to 77 square metres.
According to the media release, Pamookkoo will be a themed hotel, designed as an adventure into the past, with a "Mesopotamian concept and a décor of golden earth tones". The resort will target Thai and international visitors, from countries such as Scandinavia, Russia, China, and India.
Like other recent new and re-branded resorts in Phuket, the new hotel is aiming at family vacations with special facilities for kids.
The four-star resort, covering more than 16 rai in Kata, is set around a large pool with a four storey water slider. It has a playground for kids and the biggest "Kid's World" in Phuket, at 135 square metres, two storeys high, equipped with ball pools, colouring stations and a nap area. There is also three restaurants in the new hotel.
For corporate guests and events, the hotel offers new meeting rooms and facilities, function rooms of different sizes, the largest of which can sit over 1,000 people, one of the biggest MICE spaces in Kata.
The new resort has three restaurants and its gym provides features a wide variety of modern fitness equipment.
"We are truly confident that Phuket tourism will continue to significantly grow, with a consistent 70-90% occupancy rate for our properties throughout the year. There are other up-and-coming world-class destinations, and the improvements in infrastructure including the expansion of Phuket International Airport all make Phuket one of the greatest of international destinations."
Kata Group now has a total of eight hotels and resorts in operation. Beyond Resort Karon in Phuket and Beyond Resort Khao Lak in Phang Nga are both open to visitors over 18. Beyond Resort Krabi and Beyond Resort Kata, Phuket target family vacations.
Kata Group plans to further expand business on the Andaman coast, adding one or two new hotels within the next three to five years bringing the total accommodation to around 2,000 rooms.
You can find out more at their Facebook page HERE.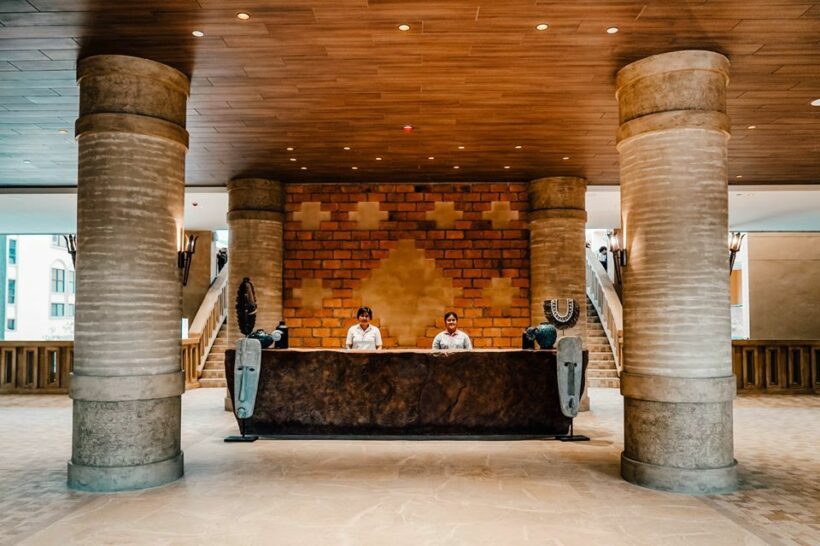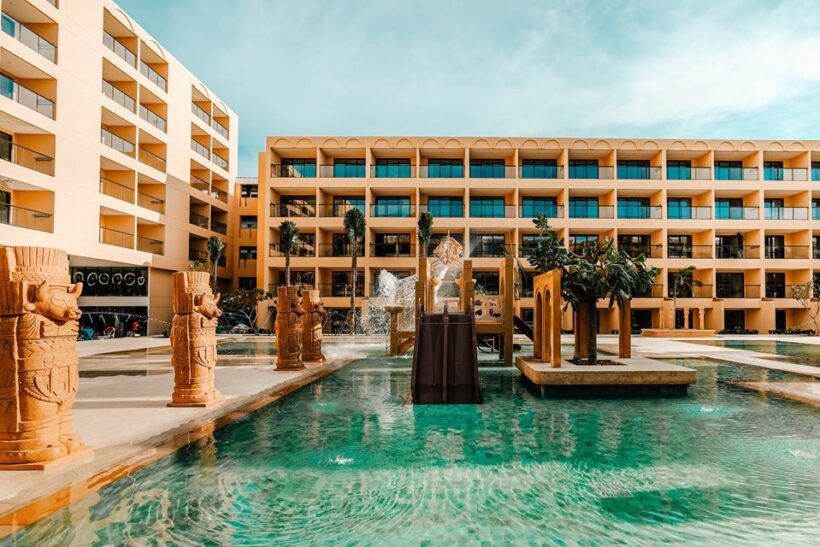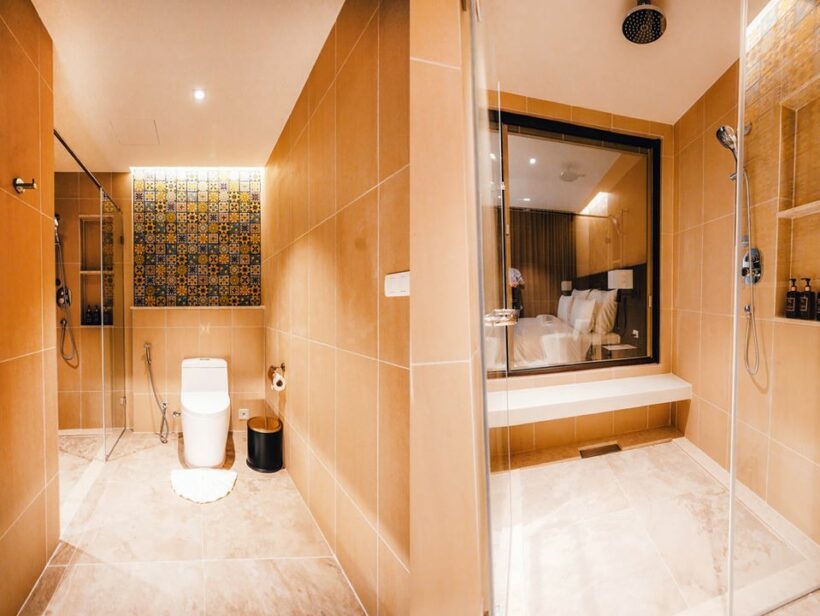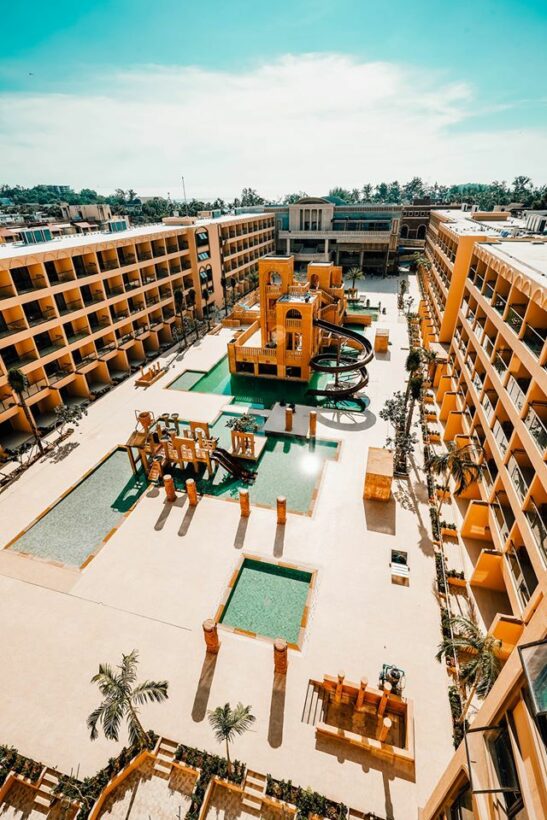 Keep in contact with The Thaiger by following our
Facebook page
.
New eyes for the bionic man – modern lens exchange surgery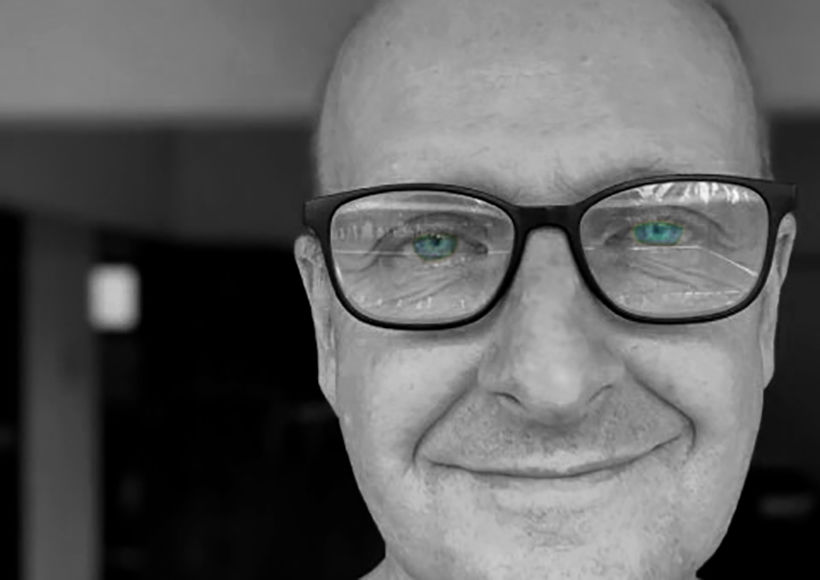 Tim Newton is the CEO of The Thaiger and edits the English-language website.
Healthy, happy, busy and no feeling that I'm actually 60 years old. But here I am about to get eye surgery that should rid me of reading glasses and give me an equivalent of the vision I had when I was a lot younger.
I've spent the last 20 years wearing 100 baht reading glasses, of progressively stronger power. Now my distance vision has been been getting worse over the past year and night time driving has become a blur of lights and not a lot more. I needed to get something done.
What I'm looking forward to is a house without a pair of reading glasses in every room and always screaming at my staff "Where are my glasses?"
It's not LASIK, it's called RLE – Refractive Lens Exchange. It's like cataract surgery but instead of replacing my tired old lenses inside my eyed with a single-focus artificial lens, the doctor will put a multi-focal lens inside my eye. It has a range of focus for near, middle and far distance, all in the same, tiny little artificial lens. They will stay in my eyes for the rest of my life.
Somewhere between excited and petrified, I will have the surgery this week – over two days and around an hour in the operating theatre each time. The surgery is very procedural, cataract surgeons do this probably thousands of times a year, and have done so using the current techniques since 1967.
A small incision (about 2.5-3mm) is made on the side of the eye, a phaco-emulsification tool is inserted into the eye, uses high-frequency sound waves to break up the old natural lens, then sucks all the bits out (I'm really dumbing all this down). An artificial lens is then inserted through the same incision, all rolled up, and unfolds where the old lens used to be.
Voila! Perfect vision. Sort of…
The whole procedure is usually done over two days – in my case one day, then the next, but some surgeons prefer to leave a few more days between. The idea being that the doctor wants to evaluate the success of the first operation before moving onto eye #2.
The surgery is done while the patient is fully awake with topical anaesthetic eyedrops. Scary, right? But the doctor has assured at least this patient that there will be no pain but perhaps a little 'discomfort' and feeling of pressure on the eye during the surgery.
I run a media business in Thailand – I am used to mild discomfort every day of the week!
The results should be seen almost immediately following the surgery and improve, according to the doctor, over the next few months as my brain adjusts to the new lenses. He told me to expect everything to be lot brighter and more colourful as my brain would have been over-compensating as my natural lenses have become cloudy over the years.
There are a few side-effects to the surgery, the most common may be halos around lights, particularly at night – some patients get this worse than others.
For me, any side-effects will be the trade off for good vision whilst working in front of the screen, something I do most of my working day.
I started looking at getting this done about four years ago when I was reading daily TV news for a local media company and I simply wasn't able to read the autocue (prompter) anymore whilst on camera. So I started just 'winging it' with scripts but became overly nervous as, particularly with news, I like to consider and check everything I'm saying before actually presenting it – the journalistic control freak! Wearing glasses on camera is not easy with all the reflections.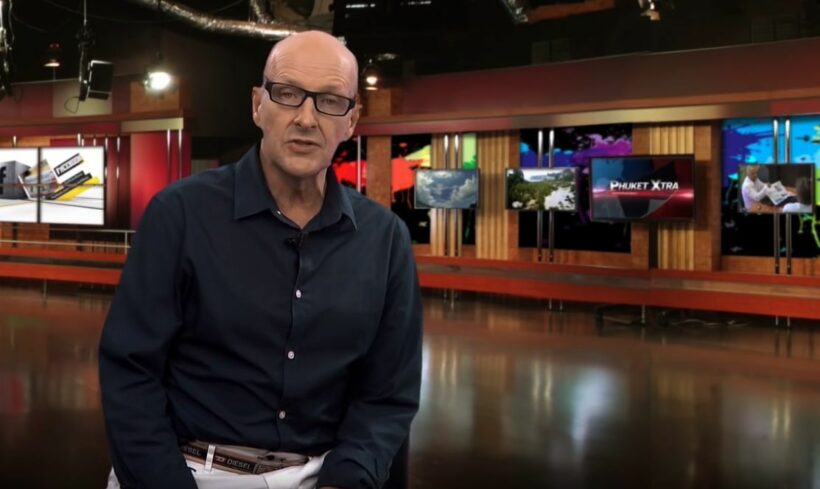 PHOTO: Reading the auto-prompter on TV became difficult, then impossible – The Phuket News
The RLE procedure is not cheap – about 85,000 baht per eye, plus paying for your pre and post medication; lots and lots of anti-inflammatory and anti-bacterial eyedrops.
I will gladly report on the results after it's all over. I'm paying for the surgery out of my own pocket so will be able to deliver an honest appraisal. I am having the procedure done by a highly skilled ophthalmologist at the Bangkok Hospital Phuket.
So farewell, adios, sayonara and good riddens to my cheap reading glasses and my own, natural lenses inside my eyes. Speak to you after the surgery.
Keep in contact with The Thaiger by following our
Facebook page
.