Scarce hauls concern local fishermen, conservation officials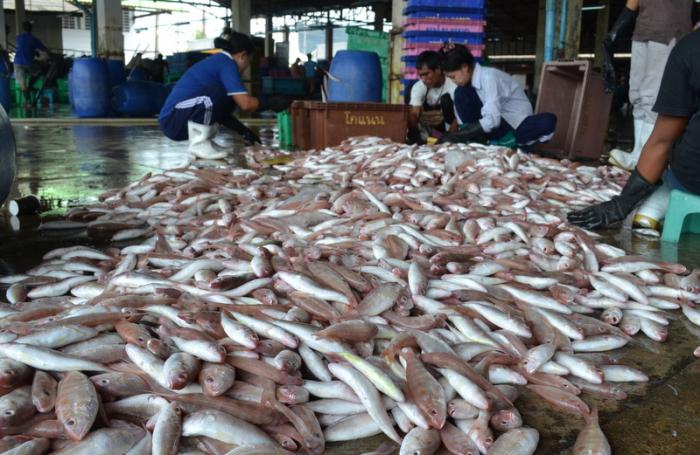 PHUKET: As fishermen across Phuket and Krabi returned to shore after the July 1 reopening of the season, their meager catches furrowed foreheads and drew exasperated sighs.
Fish stocks are dwindling, and many of western Thailand's captains and deck hands are worried as a fog of uncertainty obscures the future of their industry – and livelihoods.
"Every year it keeps getting worse and worse," said Maren Boonroat, captain of the Krabi trawler Nam Thawee. "Usually, we catch a lot of fish on opening day. It's very strange we couldn't find as many fish as we have in previous years."
Large fishing vessels were allowed to return to fish in the Andaman Sea after 4,696 square kilometers between Phuket and Trang were closed off so as not to deplete fish stocks during the spawning season from April 1 to June 30.
Conservation officials believe the scarcity of fish is due to a combination of pollution, overfishing and natural weather phenomena.
The paltry hauls seen across western Thailand are problematic for the country's fishing industry, which employs an estimated 300,000 and contributes over US$3 billion in exports to the GDP, according to the Thai Frozen Foods Association.
Fishermen in Phuket and Krabi are concerned that the diminishing catches seen at the beginning of July may continue throughout the rest of the season, as they struggle to get back in the black after the three-month moratorium.
Many fishing companies are still moribund from the industry's collapse after the 2004 tsunami devastated the Andaman coastline.
"We're seeing that this year the numbers have decreased quite a lot," said Somyos Wongbunyakul, president of the Phuket Fishing Association. "Most of the fish being caught are too small to make the hauls commercially viable, and that's not something that's unique to this year. We've seen the fishing getting worse for the past several years. More than 20 to 30 percent of local fishermen have gone bankrupt so far," Mr Somyos said.
Fishery officials in Krabi and Phuket told the Phuket Gazette they are aware of the declining yields across the region, but need more time to gather statistical data before they would be able to implement a plan of action. As for now, they are simply advising fishermen to 'be patient'.
For his part, Mr Somyos remains skeptical of governmental involvement.
"I don't think the situation will get better; I think it will only get worse and worse. We always have to help ourselves, nobody out there is going to help us," he said.
Rewat Boonsop, who owns the Krabi fishing port, said lower than expected yields were also reported by fishermen across that province.
"The fishermen had been out at sea since before midnight on June 30, but returned home with very small catches the following morning," Mr Rewat said. "Most of the fish that they managed to bring in were also very small."
Mr Somyos blames three factors for the scant harvest and Thai fishermen's woes: man-made activities, the law, and the weather.
"The natural factor is the one I consider the most important, and it's the only one completely out of our control," he said. "For example, last year, the fishing was better because of El Nino. Actually, before that year, the situation was the same as this, not many fish."
Mr Somyos was afraid that this year fishermen in Phuket and around the Andaman Sea will suffer a La Nina event.
"A La Nina event will make the fish even more scarce," he said.
The weather patterns referred to as La Nina generally result in higher-than-normal rainfall conditions in Southeast Asia from June to October.
During El Nino events drier-than-normal conditions occur, according to the ASEAN Specialized Meteorological Center.
"Conditions were harsh this year. Normally, strong storms and rain stir up the ocean floor around Phang Nga Bay. The rain also washes leaves and other debris out to sea, which becomes fish food, helping to grow fish populations," Mr Somyos said. "But this year, we've seen a lot of wind and not much rain."
The changing coastlines and economies in Phuket, Krabi and Phang Nga may also have negatively impacted fish stocks in the Andaman, Mr Somyos said.
"There are now many hotels and tourism businesses along our shorelines, both on Phuket island and the surrounding region. Over my 30 years in this industry, I've seen these businesses increase by 10 fold," he said. "The Andaman is an open area. Some fish are born here, and some move into and through this sea from other areas," he said. "If the sea becomes polluted from waste and human activity by those hotel businesses, the fish will disappear."
"Before, the sea was full of plankton and naturally-occurring food for fish. Now, there is only farang feces and trash," he added.
Mr Somyos complained that law enforcement and government officials should spend their time limiting the pollution and waste coming from hotel businesses in the Andaman, rather than limiting fishing seasons or restricting fishermen.
"Because of the Tier 3 human trafficking and illegal, unreported, unlicensed fishing vessels, our fishermen have been under a lot of government scrutiny. They keep blaming the human trafficking situation on fishermen and force Bangkok to impose a great number of strict laws regulating our industry," Mr Somyos said.
On June 29, the United States issued its Trafficking In Persons report (TIP), which saw Thailand upgraded from Tier 3 status – the countries with the worst human trafficking records – to Tier 2.
The upgrade in status was controversial among human rights groups, including the Environmental Justice Foundation which published a 44-page exposé on the state of human trafficking in Thailand's fishing industry last year.
Mr Somyos said the over-regulation of the industry has forced a majority of small fishing boat owners and operators to sell out, as fishing bans push them further out to sea, where bigger boats are needed for safety.
"Officials are not helping us. They're actually putting more pressure on us," he said. "Please, they need to understand that we're losing our livelihoods and they need to help us," Mr Somyos said.
Krabi's Fishery office echoed Mr Somyos' statements.
— Kongleaphy Keam
Keep in contact with The Thaiger by following our Facebook page.
Never miss out on future posts by following The Thaiger.
Phuket Monopoly game creators need your help with token designs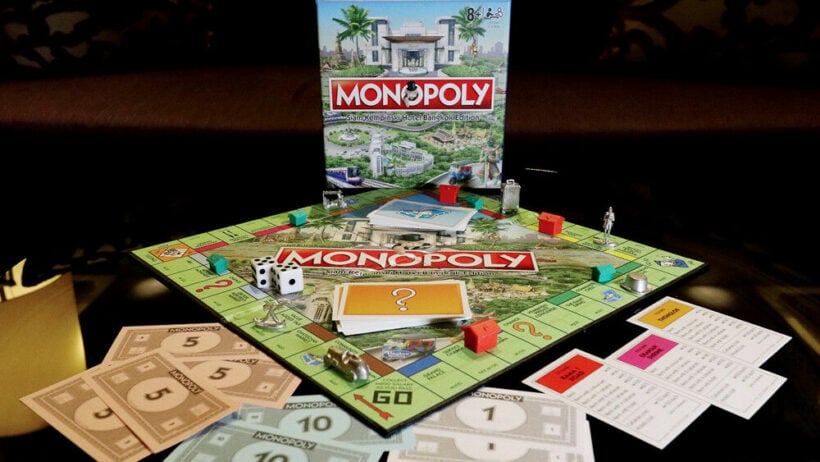 Phuket is set to get its own version of the popular game MONOPOLY and its creators want your help with ideas for the specialised tokens. 'MONOPOLY: Phuket Edition' was announced last month which will see the street art on the board game replaced with that of famous places around Thailand's famous tourist destination. Such art will include beaches, hotels, shops, markets and other popular attractions.
Jennifer Lau from Winning Moves UK, is producing the game under official license from Monopoly brand owners, Hasbro. Lau says the tokens will feature a holiday theme. The token's departure from the original theme of wheelbarrows, boots, iron, and thimbles as well as popular sports cars and hats.
"We have had a wealth of emails and suggestions coming in for Phuket, so thank you for each and every single one of them! We are taking them all into consideration whilst putting together the design of the game."
"We wanted to change the tokens so that they would be more suitable for an island like Phuket, where so many people like to go on holiday to."
"There will be six themed tokens that replace the original and we want to hear your suggestions for what these tokens should be!"
Bangkok has already been featured in the Monopoly game as it came out for purchase back in 2018.
SOURCE: The Phuket News
Keep in contact with The Thaiger by following our Facebook page.
Never miss out on future posts by following The Thaiger.
Phuket holds vaccine administration rehearsal as it waits for green light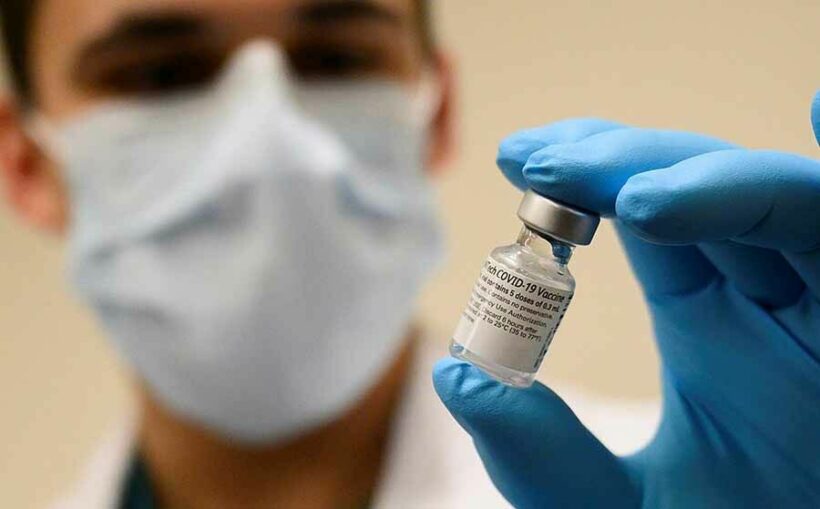 Phuket is rehearsing procedures to ready themselves for the Covid‐19 vaccine administration green light. A rehearsal at Vachira Hospital's Lan Muang Khao open area was held late yesterday to iron out any kinks in the administration process. Phuket Vice Governor Pichet Panapong watched over the procedures along with other health officials.
Pichet says the first vaccine round of 4,000 doses should arrive early in March, with the 2nd and 3rd set of doses, 16,000 and 48,000 respectively, to arrive in April and May.
"The government recognises the importance of the affected areas of the economy where the epidemic situation of COVID-19 must be stopped and has allocated the COVID-19 vaccine to Phuket Province to build herd immunity, restore the economy, return a smile to Thailand."
"We are preparing to COVID-19 mass vaccination to build confidence among the people that they will receive a quality, safe vaccine and to receive follow-up care after it has been administered."
Pichet says Phuket's first target groups to receive the vaccine include medical and public health personnel, with others on the frontlines to come next.
Then, workers aged 18-59 years old, people with underlying diseases including chronic respiratory disease, cardiovascular disease, chronic kidney disease, cerebrovascular disease, cancer, diabetes and obesity will follow.
"People with severe neurological conditions and pregnant women should be wary of taking the vaccine, as well as women who are breastfeeding and people with immunodeficiency."
The procedure to get vaccinated starts by recipients undergoing screening by having their temperatures taken, and then sanitising their hands before entering the administration area. Then, they will move their way through a series of steps, detailed below:
Step 1: Register
Step 2: Record weight and blood pressure
Step 3: Pass the screening process by have their medical history and risk assessment recorded and then signing a consent to receive the vaccine
Step 4: Wait for vaccination
Step 5: Vaccination
Step 6: Rest for 30 minutes, while being observed for symptoms. Then scan the official Line account "หมอพร้อม" ("Doctor Ready")
Step 7: Pass a final check before receiving a document confirming vaccination
Pichet says health workers will follow up with vaccine recipients after 1,7, and 30 days from being vaccinated to monitor any adverse reactions.
Those who are set to receive their second jab will have appointments made for them. Those who receive the Sinovac vaccine will be scheduled to have their second doses 2 to 4 weeks after the first. AstraZeneca vaccine receivers will be scheduled for their second doses 10 to 12 weeks after the first.
SOURCE: The Phuket News
Keep in contact with The Thaiger by following our Facebook page.
Never miss out on future posts by following The Thaiger.
Phuket police officer charged with attempted murder for shooting and critically injuring a noodle vendor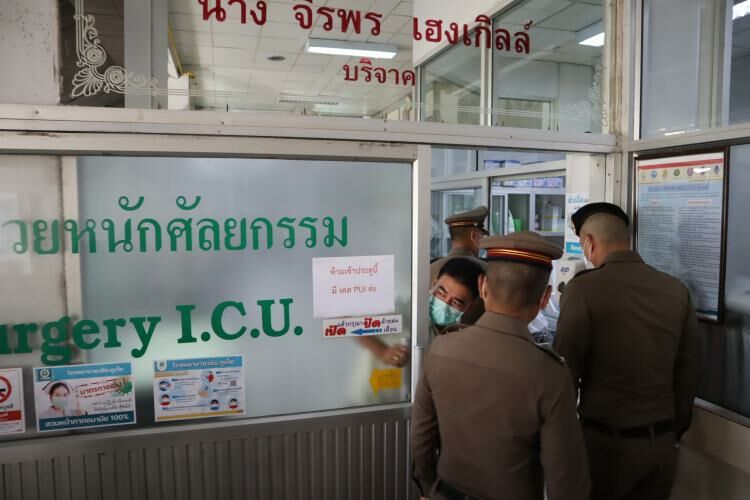 The drunk, off-duty police officer in Phuket who has caught on camera shooting and beating a noodle vendor on Bangla Road is now facing attempted murder charges as well as charges of carrying a firearm in public without a necessary reason and firing a weapon in a public area. The commander of the Phuket police station said he ordered investigators to prosecute the officer Pornthep Channarong with every criminal charge that can be applied.
The officer had gotten into an altercation just before dawn yesterday and shot a young vendor who was walking by. Surveillance camera footage show the 25 year old suddenly falling to the ground after being shot. The officer walks up and shoots the vendor at a close range, but it appears the second shot did not hit the vendor. The officer also slapped the vendor in the face, picked him up and shoved him over, and then kicked him as he lay on the ground.
The vendor has a 4 year old daughter and 3 month old son. His wife says normally he works as a motorbike driver, but he was helping his mother selling noodles. He was shot while he was walking back from collecting a noodle bowl, she says. The vendor is in critical condition and being cared for at Vachira Phuket Hospital's intensive care unit. He's in need of Type B blood.
"For his condition, the doctor told me that the bullet went through his lung. He lost a lot of blood. We need a lot of Type B blood for him."
A disciplinary investigation into the incident was launched by police and Pornthep was officially dismissed from the Royal Thai Police force. Region 8 Police Commander Kitrat Panpetch says the incident does not reflect the police force in Phuket.
"The incident was caused by an officer who did something wrong that our organisation does not want. We are a big organisation with more than 200,000 officers under our control. Our officers are not all bad like this."
Phuket Provincial Police Commander Pornsak Nuannu says he has reminded the police chiefs across the island to discuss reasons for carrying firearms in public.
"Carrying firearms is to prevent any type of crime that may happen, not to commit a crime by themselves like this incident. If I see any police doing such a thing, I will decisively proceed in terms of both officer discipline and criminal charges."
SOURCE: Phuket News
Keep in contact with The Thaiger by following our Facebook page.
Never miss out on future posts by following The Thaiger.