Phuket will lead recovery of Thai tourism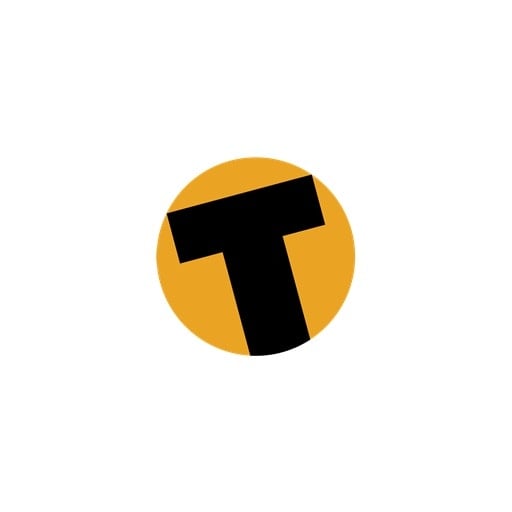 Phuket NEWS Hound
– A daily digest of news from around the world compiled by Gazette editors for Phuket's international community
PHUKET: The curent issue of Time magazine quotes Bill Heinecke, whose Minor group owns two hotels in Phuket, as emphasizing that Phuket and Hua Hin were among the many places in Thailand where "tourists were never in any danger and there were no problems" during the anti-government protests.
In a story headlined "Protests Not Expected to Hurt Thai Economy", the magazine notes that fallout from the civil unrest is expected to be limited, with most economic analysts predicting a year of strong growth. Indeed, the Bank of Thailand announced on May 27 that GDP would still grow between 4.3% and 5.8% for the year, not far off the forecast by the World Bank before the violence began.
Exports are the primary driver of the Thai economy. They are expected this year to contribute a record-breaking 60-65% of GDP, nearly double their contribution in the late 1990s.
Tourism, while a major growth industry, has yet to achieve a double digit percentage in what it brings to GDP. In 2008, a boom year for Thai tourism, the sector contributed less than 8%. This year, by all accounts, it is expected to deliver something a bit over 6%, about one-tenth of the contribution of exports.
Time refers to it as a "small blessing" that the recent bloodshed took place during the low-tourism season, noting that industry executives are now hopeful confidence in the country as a holiday destination can be restored before the start of the high season in October.
With confidence in Phuket damaged far less than has been the case in Bangkok and the north of the country, it is not unreasonable to assume that Phuket will play a leading role in restoring tourism's national health over the months ahead.
Curfew cut
AFP
Authorities have lifted a night-time curfew imposed 10 days ago in Bangkok and 23 other provinces after deadly anti-government protests, the prime minister said yesterday.
"The curfew will be lifted but the state of emergency will remain in place," Prime Minister Abhisit Vejjajiva told reporters.
He said security officials had proposed ending the measure "as the situation is under control."
Thai army has too much power
Time magazine
This week's most depressing statistic comes courtesy of an unnamed Thai government source which reveals that the military had been willing to kill "between 200 and 300 people" and injure "several thousand" in its May19-20 operation to storm the red shirt protest site in Bangkok.
Both Thai and international human rights activists, including the New-York based Human Rights Watch, have called for an independent inquiry to scrutinize the use of deadly force by both soldiers and armed red shirts.
PM Abhisit Vejjajiva is now engaged in two struggles: one against insurgents in the far south, the other against red shirts in the north and northeast. In both, he relies utterly upon the powerful Thai military, explaining his reluctance to offend the top brass by investigating the actions of their soldiers.
Tearful times for travel and tours

TTRWeekly
The Association of Thai Travel Agents (ATTA) reports that the number of tourists handled by Bangkok's international airport thus far in May has dropped significantly.
By 20 May, agents had handled only 52,666 clients, compard with 100,168 clients for the entire month in 2009.
So far, ATTA members are ahead this year, having handled 917,224 international customers compared with 703,323 during the period 1 January to 31 May 2009.
Travel agents started to report drops in advance bookings in early April, with mass cancellations by mid-May as news of violent clashes was televised worldwide.
Advance bookings for June continue to fall and there are few if any signs of new bookings being generated for July, the ATTA says.
Traffic jamming Bali tourism

The Jakarta Globe
Bali's all-important tourism sector is under threat as roads and facilities are lagging, officials warned recently.
Bali Governor Mangku Pastika has called for greater funding for infrastructure, in particular to ease the traffic jams gripping the more popular sites around the south of the island.
"Our concern is that one day Bali will cease to be a desirable destination, mainly because of the traffic jams, so resolving this problem must be a priority."
Bali's global profile is on the rise, with visitor numbers increasing by 21% last year. It is also set to host several high-profile events, including the 2013 Asia-Pacific Economic Cooperation summit and the 2014 Miss World pageant.
— Gazette Editors
Keep in contact with The Thaiger by following our
Facebook page
.
With all patients recovered, Phuket closes its Covid-19 field hospital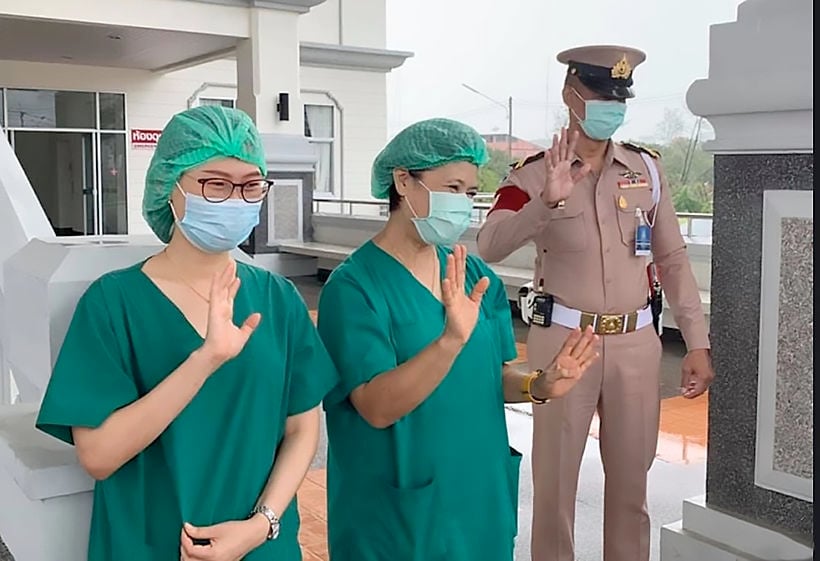 So long, farewell. Phuket, which has had the highest number of Covid-19 infections per capita in Thailand, is closing its first "field hospital" after discharging its final patients. The temporary hospital is closing down, hopefully for good, and will be "put on standby," as the last patients have recovered, the island's governor announced yesterday.
The building was actually the unfinished new provincial HQ for the local Phuket government. The building's completion has been stalled for years with uncompleted contracts and delays. But it has served an important purpose in housing the island's Covid-19 patients and keeping them away from the main hospitals.
"Today is the day that Phuket has zero Covid-19 patients. I would like to thank all officials and Phuket residents for their efforts and cooperation to make our province finally Covid-19-free. Our next job is to rehabilitate the province's economy, especially the tourism industry, which has been severely affected by the outbreak."
The governor was joined at the closing ceremony by representatives from the Tourism Authority of Thailand's Phuket Office, the Phuket Chamber of Commerce and the Phuket Federation of Industries to hand out 600 survival kits to local people affected by the Covid-19 crisis.
Phuket's first field hospital was established in March with 104 beds in a two-storey building. It was staffed with medical professionals from 5 hospitals throughout the province. Some 123 Covid-19 patients were treated at the hospital and all have fully recovered and been discharged. None has tested positive again.
The second field hospital is also on standby, having released its last patient on May 15.
Since the outbreak started, Phuket has reported 227 confirmed Covid-19 cases. Of these, 224 patients recovered and 3 died.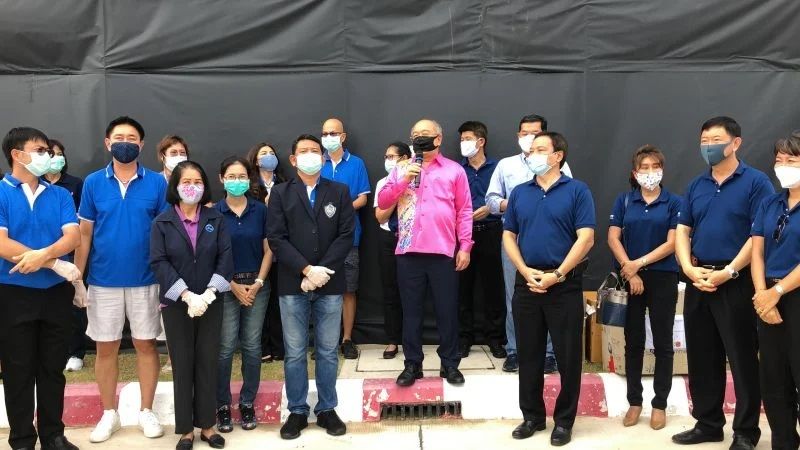 SOURCE: Nation Thailand
Keep in contact with The Thaiger by following our
Facebook page
.
2 killed after truck slams Phuket power pole – VIDEO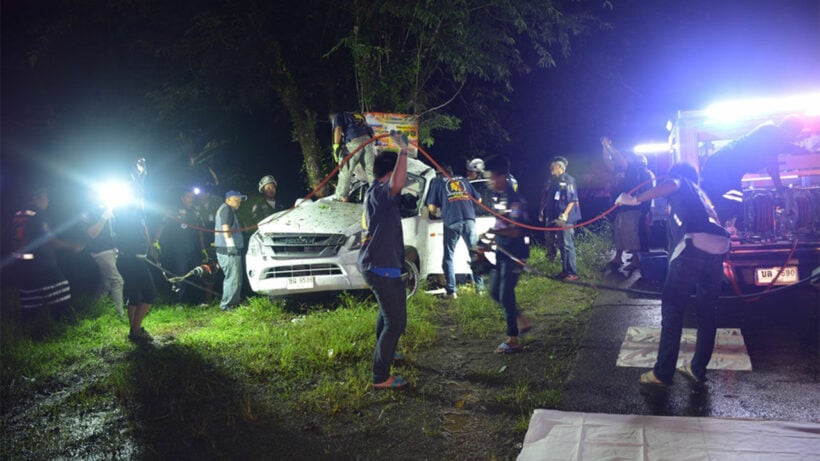 2 men are dead in Phuket after a truck slammed into a roadside power pole on the notorious Kata hill road, just out of Chalong yesterday. Police say the two men killed were a Thai and a Burmese national.
The deputy chief of Karon police says the accident occurred at about 4:50pm at the mouth of Soi Suksan 1 on Patak road – a windy section of road as it heads up the hill towards Kata Beach. The power pole fell across the road after being hit by the pick up truck, killing the man inside. He was identified as 31 year old Thanapon Prachit a native of Chaiyaphum province.
Another man, passing by on a motorbike, was seriously injured by the falling power pole. He was admitted to Chalong Hospital where but was pronounced dead. The passport found on him identified him as 28 year old Win Myo Hlaing from Myanmar.
The bodies of the victims were taken to Vachira Phuket Hospital for an autopsy.
SOURCE: Bangkok Post
Keep in contact with The Thaiger by following our
Facebook page
.
Two men die after truck plows into power pole in Phuket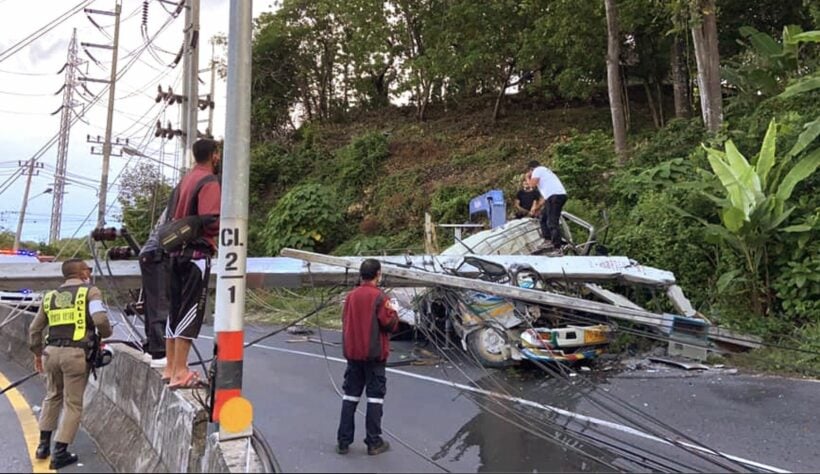 A Thai and Burmese man were killed after a work truck collided with a power pole on Kata hill, southern Phuket yesterday afternoon. The deputy chief of Karon police reported that the incident happened near the turn off onto Soi Suksan 1, on the Chalong side of the hill.
The power pole crashed on top of the truck as it fell, killing 31 year old Thanapol Prachit from Chaiyaphum province.
A 28 year old Burmese man was driving past at the same time and was also injured when the power pole fell. He was rushed to Chalong Hospital where he was later pronounced dead. His name was Hlaing Myo Win, according to the Bangkok Post.
The two bodies were transferred to Vachira Hospital and police are continuing their investigations.
SOURCE: Bangkok Post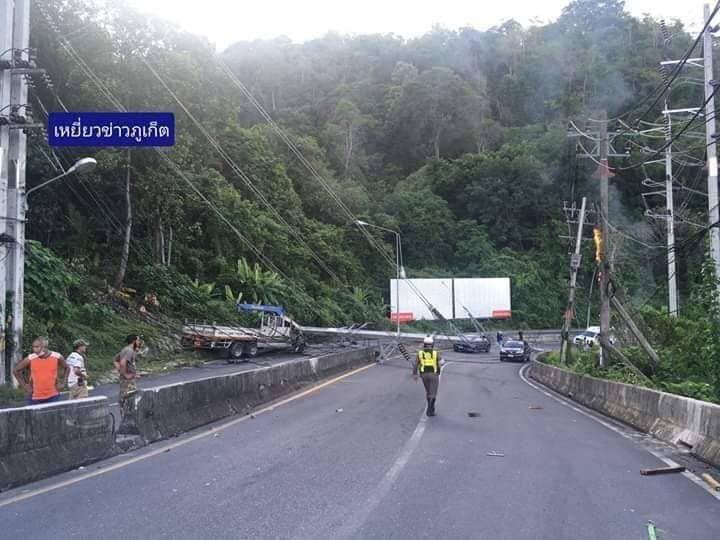 Keep in contact with The Thaiger by following our
Facebook page
.