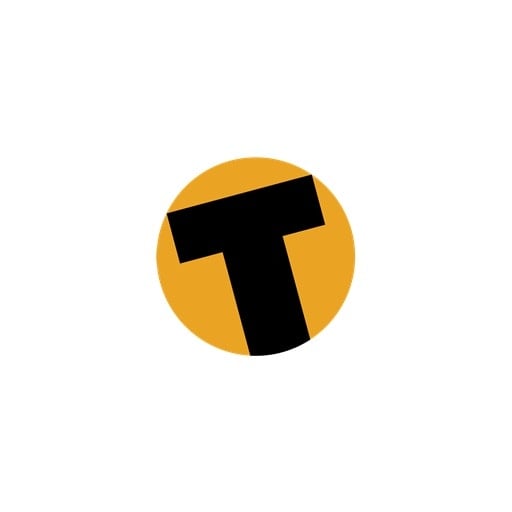 Three boys are now safely back at home after a four-day bicycle adventure across Roi-Et Province. The mini-biker gang set off from the home of gang leader Tawee Senputtawong, 13, in the Kasetwisai District of the province with the aim of visiting his sister who is incarcerated on theft charges in a Juvenile Observation and Protection Center in Roi-Et Town. On August 18, young Tawee led his two younger accomplices, Tontrakan Phosrirat, 10, and Phongphet Thaonoo, 9, out on two old bicycles. The boys took turns pedaling and balancing on the back for the 70-kilometer journey. When they reached the town Tawee became confused by the unfamiliar streets and found he could not remember where the detention center was. The boys therefore decided to pedal around the town in an attempt to find it. When they could pedal no more, they stopped at a sala for the night. They remained there for two days before a park security guard finally noticed them and kicked them out. Soon after, the boys, now exhausted and very grubby, were stopped by a police officer. After talking with the boys the officer discovered that they had been reported missing and took them ©to Roi-Et Town Police Station. They recounted their tale to the police officers there. The officers, taking pity on them, treated them to a meal and held a collection to raise money for them. In total they collected over 500 baht, most of it coming from Pol Sen Sgt Maj Naphrat Supratri who had won money in a recent lottery. The police then contacted the boys' parents and told them to come pick them up. Tawee's and Tontrakan's parents said the boys might have to wait a bit; they had no money for the bus fare and would have to try to borrow it from neighbors. In the meantime, Tawee and Tontrakan told Phongphet that they were going out to buy food and would be back soon. After a few hours the two boys had still not returned, so police sent out a team to look for them. They could find no trace. Phongphet was collected by his parents. The search was called off when the boys turned up at school the following day, having cycled the 70km back home. After the story was released, reporters went to interview the object of the boys' quest, Tawee's 15-year-old sister. She said that this wasn't the first time her brother had done something like this. Two weeks earlier he had turned up at the center in the middle of the night after cycling all the way to see her. She said that three years before, when Tawee was 10, he had cycled all the way to Nakhon Ratchasima where she had been working, a distance of about 300 kilometers. She explained that she and her brother were very close and she was the only person Tawee would listen to. When she was living at home she would take care of her brother as the family was very poor and their parents were busy working, she said.
Keep in contact with The Thaiger by following our
Facebook page
.
Man stung by scorpion hiding in bag of fruit
PHOTO: Wikiwand
A Bangkok man has taken to social media to warn fruit lovers to check fruit thoroughly before eating it, after he was stung by a baby scorpion hiding in a bag of langsat fruit.
Pennung Chaiyachit says he put his hand in the bag, which contained about 2 kilos of the fruit, when he felt a sharp pain as if his thumb had been cut.
Mr Pennung washed his thumb and poured some rubbing alcohol on it but, despite there being no visible wound or any bleeding, his pain began to get worse and he decided to drive to hospital.
While waiting to see a doctor, Mr Pennung did an internet search which revealed a breed of tiny scorpion that can live on langsat fruit and has particularly powerful venom.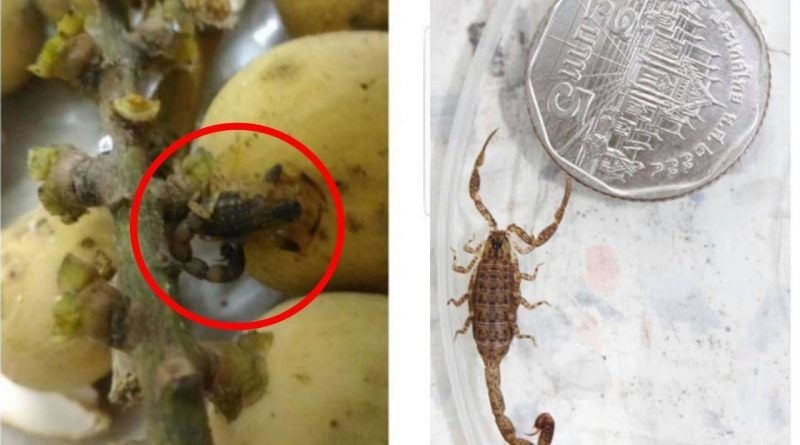 The doctor decided to keep Mr Pennung in overnight as a precaution, giving him antibiotics and administering pain relief through IV.
Mr Pennung documented his experience on Facebook as a warning to others, advising them to always check bags of fruit thoroughly and always wash fruit before peeling.
SOURCE: Thai Residents
Keep in contact with The Thaiger by following our
Facebook page
.
Pet leopard not a hit with neighbours in Chonburi, Thailand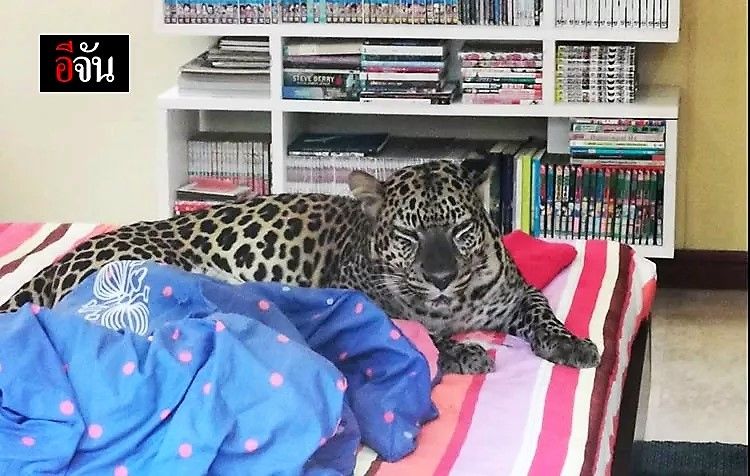 A couple in Chonburi, eastern Thailand, have not ingratiated themselves with neighbours after it was revealed they're keeping a pet leopard in their home.
It's understood that a Thai woman known as Nittiya, and her foreign husband, nationality unconfirmed, have just recently moved to the area from Chiang Mai, and news of their unusual pet has put neighbours very much on edge.
The couple have just had a visit from the Thailand Wildlife Enforcement Network (Thailand-WEN) after anxious villagers notified officials, saying they believed the leopard had been acquired illegally.
They added that the leopard was living in the couple's home and being treated as a pet, expressing concern that it could escape and attack people.
Yesterday, officials visited the home, which is surrounded by a 3-metre-high wall. Nittaya explained that the couple have had the leopard – named Typhoon – since it was born 4 years ago, producing the required documentation for inspection.
Officials agreed that the couple have the right to keep the leopard, but will need to apply for a new licence to keep it in its new location.
SOURCE: Thai Residents
Keep in contact with The Thaiger by following our
Facebook page
.
JetSki crashes into shop in Kamala, Phuket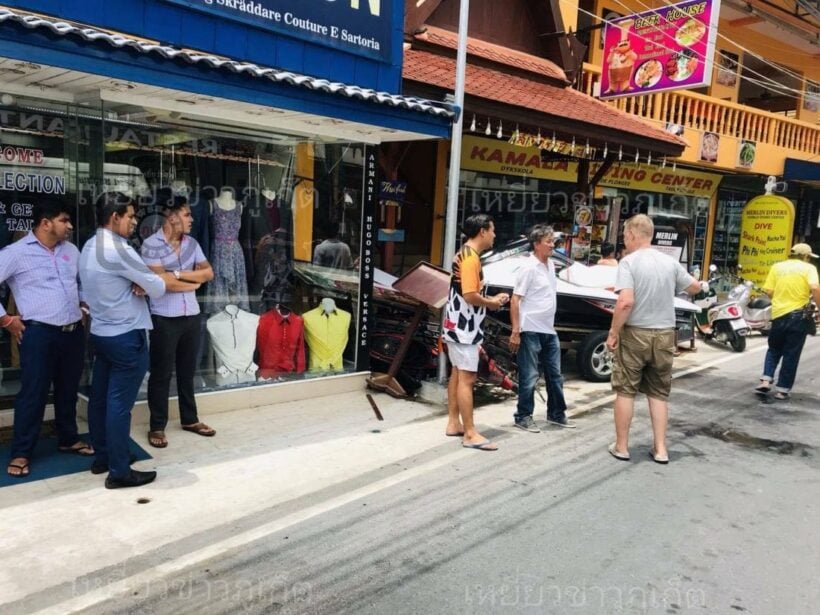 PHOTOS: Newshawk Phuket
Not often we get to write this headline… "JetSki crashes into shop in Kamala".
The jetski was being towed by a Saleng (motorcycle and side-car) through the streets of Kamala this afternoon when, for reasons we don't yet (probably brake failure), the whole shebang went AWOL and ended up running into the front window of some tourist shops.
The jetskis are a common sight going through the backroads of the various west-coast shopping areas at the start and end of each day, on their way to the beach to hire to tourists, usually in a convoy with the jetski staff riding shotgun on top.
This time it was a lone JetSki, being towed by a saleng, that somehow veered off the street and into the roadside Kamala shops.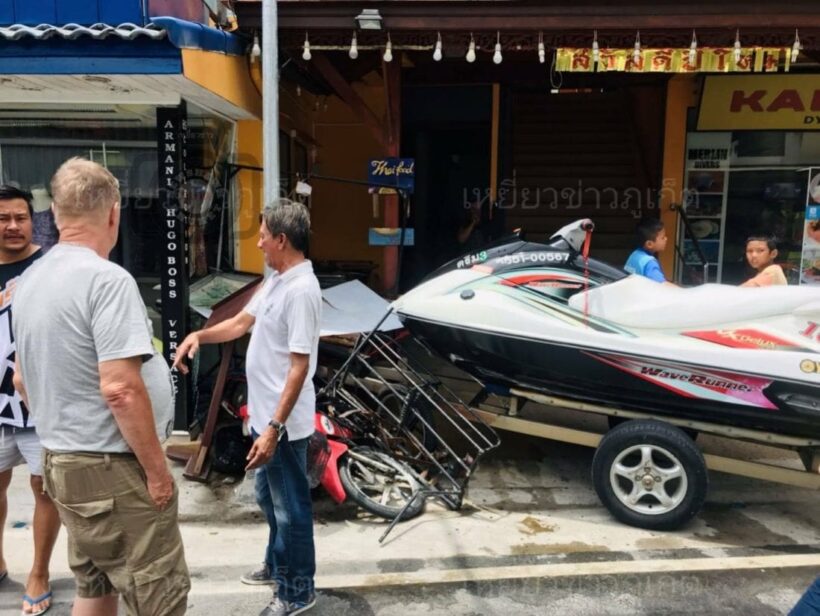 Keep in contact with The Thaiger by following our
Facebook page
.