Top 10 islands to visit in Thailand (2020)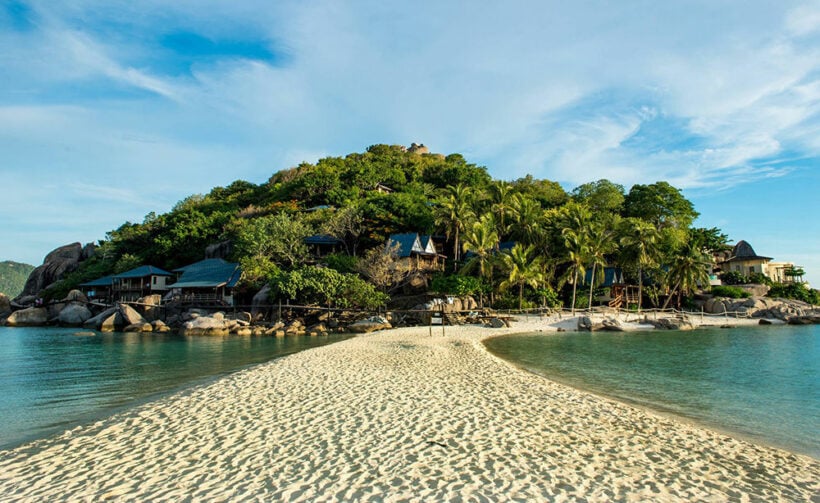 Thailand is famous for its outstanding island experiences and there are many to choose from. From sweeping stretches of clear golden sands to islands where you can dive, snorkel and stay, Thailand's islands and beaches are as diverse as they are plentiful. Let's count them down…
Koh Tao is an island that is well-known for being a great diving destination. It is also known as Turtle Island by the locals and boasts of various small and beautiful beaches that serve as the perfect holiday destinations. Diving is a pleasurable sport to be carried out on Koh Tao as it can be carried out more leisurely in a less crowded environment due to the availability of various diving spots around the island. As diving and snorkelling are the main activities to be experienced here on Koh Tao, one should be aware of the best period to travel to the island with the best conditions.
The best time to visit is during the dry season, between March and September, where the water is said to be calm, and high visibility for more fabulous diving and snorkeling experience. It is highly recommended for tourists to visit Koh Tao in October as the sea is the calmest, and water is the clearest. There are various locations that are worth visiting within reach from Koh Tao, with Koh Nang Yuan being one of those destinations. This island is unique in that three different islands are joined by white sand, making a unique experience to travel between islands or island hopping.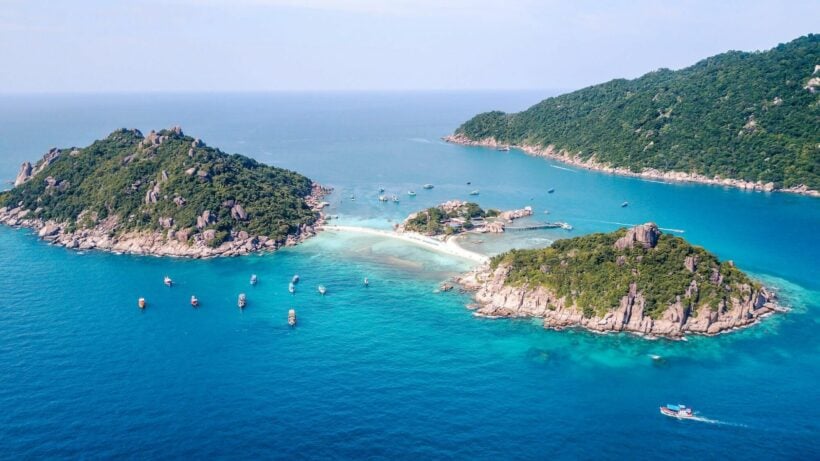 Koh Phangan is a unique destination that one should not miss, as seen in its unique blend of both natural beauty and exciting activities. The unspoiled beaches on Koh Phangan cater to the needs of tourists who wish to relax and escape from their busy lifestyle, while those seeking an exciting and unique experience should not give the Full Moon beach parties a miss. The Full Moon beach parties are according to the lunar calendar, where many party-goers gather and have a fun and exciting time. Altogether, one can experience a hippy vibe when traveling to Koh Phangan, and it is truly an experience that one can only find on this island.
Known as one of the destinations that aim to cater to the needs of all tourists alike, one can expect relaxing activities such as yoga and wellness retreats and not surprisingly, parties, which are what one would not expect from its many natural beauty. Tourists are often left amazed by the gorgeous sceneries that one can experience on the beautiful beaches on Koh Phangan, such as Haad Salad, Thong Nai Pan, Malibu, and Bottle Beach. The best time to visit Koh Phangan is during the dry weather, which falls between March and September, where one can simply relax while sunbathing under the sun on beaches and around the island.

Koh Samui is yet another wonder that most tourists would love to explore when choosing a destination for a holiday as known by its unique blend of beautiful nature and modernity. This tropical island boasts of a vast stretch of beautiful beaches often lined with tall coconut palms, which adds to the tropical vibe along with a massive land of rainforests. Koh Samui is a well-developed island with the tourism scene always on the bloom thanks to the adequate facilities available for the convenience of tourists such as an international airport, high-end resorts, and wellness retreats. Nevertheless, tourists can still experience the natural state of Koh Samui.
Perfect for those who wish to get closer to nature, one can find many choices of activities to be carried out on Koh Samui. The many viewpoints on the island promise great photographs, while those who are seeking for more adventurous activities can give hiking a try. There are also many hidden beaches and waterfalls that one can explore. Besides the fun and exciting night parties and events, Koh Samui is a favorite choice among honeymooners. Visitors often visit between March and October, where the seas are said to be calm, allowing many water activities. Diving is fun during this period, where you can even swim with the whale sharks.

Koh Lipe is a small island that does not disappoint despite being a tiny one. Do not be deceived by its size as this island provides the perfect destination for you to relax and put your hair down. The colorful coral reefs are one of the best, making the island to be one of the best diving destinations in the country. Koh Lipe has national parks and is under the protection of the marines. Therefore, tourists can experience the beauty of nature in an environment that is said to be raw and untouched. Although one can simply find pleasure by relaxing on the beach, many water activities will leave the more adventurous ones amazed where sports such as diving by beautiful coral reefs and magnificent marine creatures.
Tourists often visit Koh Lipe between November and April, but the peak season has to be in January, where many tourists come. Despite all that, Koh Lipe is still a favorite place for relaxation, as seen by its chill atmosphere. Those who are seeking more active pleasures can opt to visit the many neighboring islands around Koh Lipe, such as encountering the friendly yet cheeky monkeys on Monkey Island or rock climb on Koh Khai. Another beautiful destination that is within reach from Koh Lipe is Langkawi Island.

Koh Rok and Koh Haa are islands that offer the best experience when looking out for a holiday destination which is different yet does not disappoint. These small islands provide a lot of surprises despite the size, and they are untouched and undiscovered, appealing to those who wish for something different for a memorable holiday. The local government takes various initiatives in maintaining the underwater ecosystem here on Koh Rok and Koh Haa. Therefore, tourists can get the opportunity to encounter a variety of vibrant marine life and beautiful underwater topography with both soft and hard corals.
The best time to explore Koh Rok and Koh Haa is between November and April, where avid divers and snorkelers gather due to the best condition to explore the underwater world surrounding the islands. One such place for the best diving experience is on Koh Lanta. It is worth mentioning that the marine park is not open outside this period. Boasting as one of the most beautiful destinations in the country, one can experience gorgeous beaches and exciting water activities on Koh Rok and Koh Haa. Snorkeling on Koh Rok Noi to experience the majestic Koh Rok waterfall or diving while exploring the underwater caves and caverns are pleasurable activities to be carried out. Another place to snorkel with high visibility is Koh Haa Yai, where stunning pictures and the experience of swimming with marine creatures such as manta rays and whale sharks makes for a great underwater experience.

Check out the top 5 islands HERE
Keep in contact with The Thaiger by following our
Facebook page
.
Thai police dis criticism of their Koh Tao Murder investigation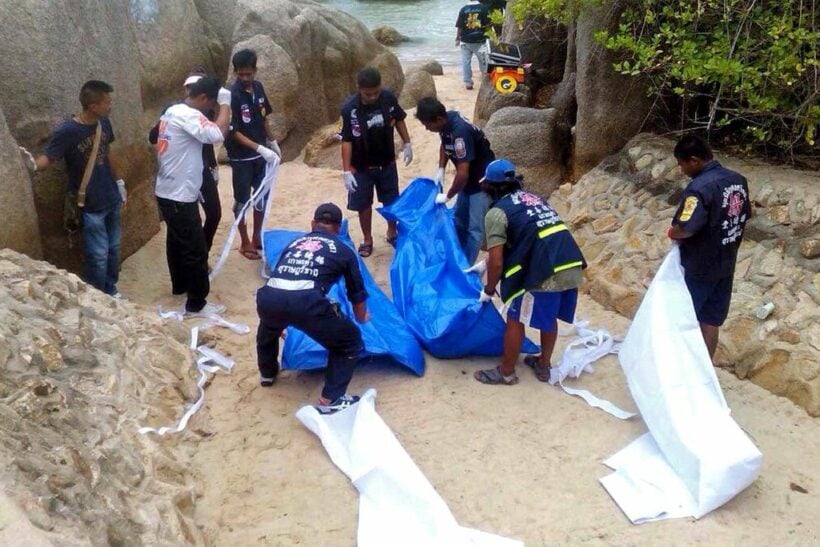 PHOTO: Bangkok Post
Thai police have publicly hit back at foreign media allegations that their forensics investigation into the highly-publicised 2014 murder case on Koh Tao did not meet international standards.
The publicity about their allegedly botched investigation began in 2014 with the brutal murder of two British tourists, David Miller and Hannah Witheridge, on Koh Tao island off Surat Thani. Two Burmese men, Zaw Lin and Win Zaw Tun, were arrested over the crime.
Police spokesman Piya Uthayo referred to an online article posted by Fairfax media featuring statements made by Jane Taupin, an Australian forensics expert. The article, written by Lindsay Murdoch, questioned the standards and processes used to use DNA evidence in the murder case convictions.
Melbourne-based Jane Taupin says documents detailing how Thai investigators matched DNA from Myanmar workers Zaw Lin and Win Zaw Htun to the victims were not provided to a Thai court, in contravention of international DNA analysis and reporting standards.
Taupin visited Thailand in 2016 as a science witness for the defence case. Despite not being invited to join the police investigation, she accused the police's forensic science laboratory of being "untrustworthy".
Ms Taupin, an independent consultant who has examined DNA evidence for police agencies in Australia and the UK and has received several forensic science awards, travelled to Thailand expecting to testify in the case in July but she was not called to the stand.
But Piya says police produced DNA samples of the defendants in court, claiming they matched those collected at the crime scene. Based on this evidence, the court sentenced both young men to death. They remain in prison and are awaiting an answer on their application for a Royal Pardon.
Speculation has continued in the years following the investigation that 'shady' local Koh Tao residents had been involved but never prosecuted and that the two young Burmese men were 'patsies' in the case.
Piya said Royal Thai Police Forensics works under the same international standards as the FBI and performs its forensic work extremely scrupulously. The officers who performed the forensic probe appeared as witnesses, giving detailed explanations and addressing inquiries and objections raised by the defendants' lawyer.
The two Burmese suspects initially confessed to the crime but later retracted the confession, saying they were forced to confess under torture. They maintained this story during the court case.
Last August, the Thai Supreme Court upheld the death sentences for the two Burmese men.
In September this year, the Thai Bar Council reported that the death sentences could be stayed if the Burmese government sent a formal letter of request for a royal pardon.
SOURCE: Chiang Rai Times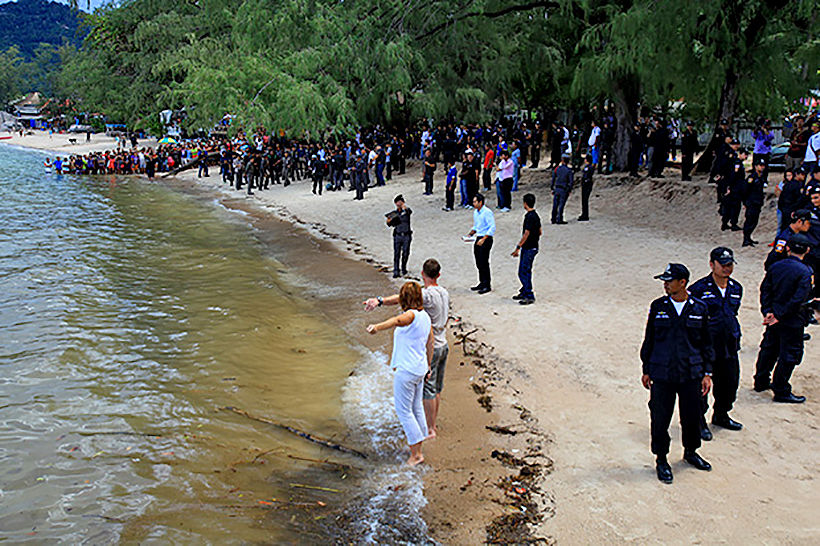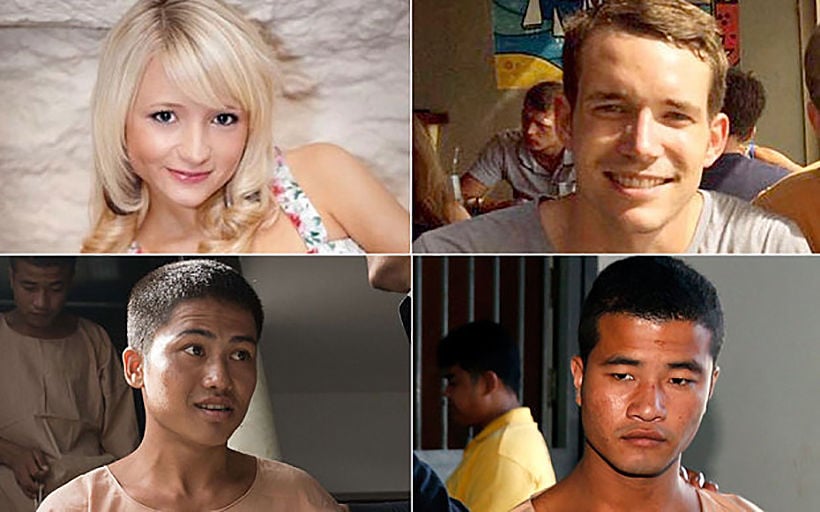 Keep in contact with The Thaiger by following our
Facebook page
.
Direct Russian flights into Surat Thani start with uptick for Samui, Koh Tao & Ko-Phangan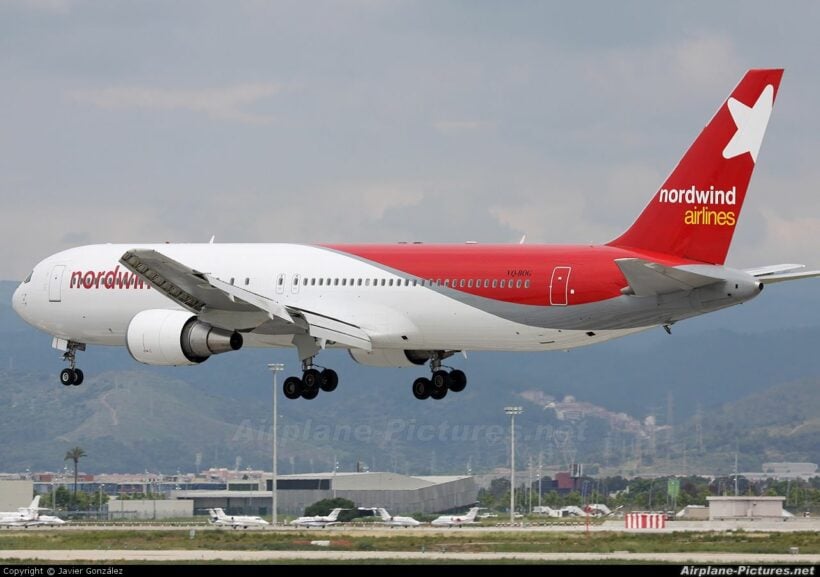 PHOTO: The Flight Reviews
A new series of flights between Russia and Surat Thani International Airport kicked off on December 27 with the charter Nordwind Airlines.
Russian tourists will be able to fly direct into the region, avoiding the monopoly at Koh Samui airport. They can then transfer to Koh Samui, Koh Tao and Ko-Phangan from the Surat Thani International Airport in Phunphin District via land transport and ferry. The airport is 21 kilometres west of Surat Thani city.
The seasonal flight schedule will continue up to late April and is expected to inject much-needed tourism numbers into the Gulf of Thailand islands.
Flights will be originating out of Moscow, Krasnoyarsk and Novosibirsk.
Currently Bangkok Airways command a monopoly for flights into Koh Samui at prices way above fares for similar routes of the same length around the region. Analysts have blamed the monopoly and high cost of travel to Samui for the island's malaise in recent years.
SOURCE: c9hotelworks.com
Keep in contact with The Thaiger by following our
Facebook page
.
Mono airlift remains key barrier to Koh Samui's tourism success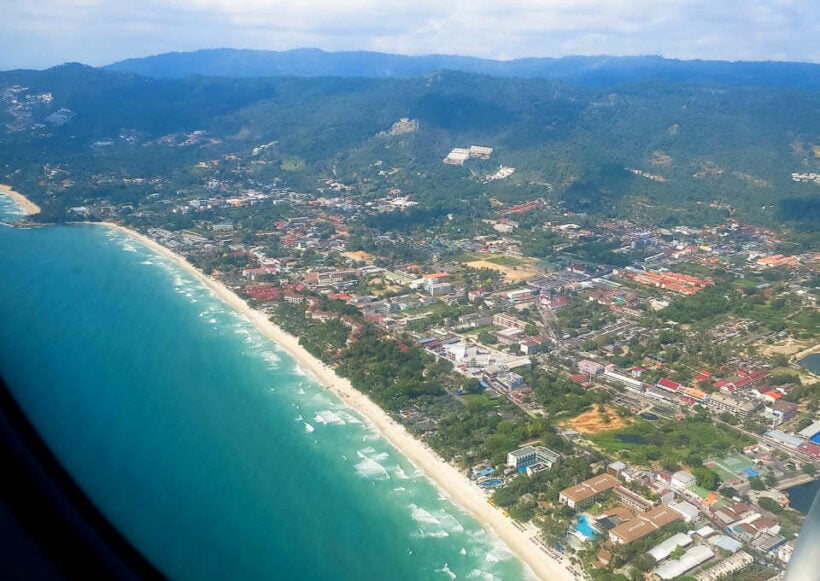 PHOTO: Koh Samui Sunset
Bill Barnett and c9hotelworks.com analyse the current hotel and tourism challenges on Koh Samui. Bill says that in the past year the Gulf island has been shaken by declining demand and reduced airlift to the island. (graphics below)
"The China slowdown is widely cited as a key factor, together with high airfares. According to Bangkok Airways, half of the company revenue is generated by flight routes connecting with Samui."
Meanwhile Bangkok Airways has reported a loss in the first half of this year followed by a strategy to cut costs with reduced frequencies for domestic flights. In addition, it has suspended direct flights from Guangzhou, China, and decreased frequencies for flights from Chongqing and Chengdu by 50%.
According to the latest available statistics, airport passenger arrivals to Samui had a marginal growth last year as flight arrivals declined by 3% year on year during the same period. c9hotelworks.com anticipate the downward trend will continue in 2019 as a result of reduced flight connections. Much of the island's tourism future is linked directly to how Bangkok Airways will address shifting market profiles.
• Market-wide RevPAR decreased by 19% as up to July 2019 compared to the same period in 2018 as a result of a drop in both ADR and occupancy.
Revenue per available room (RevPAR) is a performance metric used in the hotel industry. It is calculated by multiplying a hotel's average daily room rate (ADR) by its occupancy rate. It may also be calculated by dividing a hotel's total room revenue by the total number of available rooms in the period being measured.
• Europe continues to be the dominant core source market, representing 46% of the total guest arrivals at accommodation establishments for all of last year.
• Total tourism revenue hit 64 billion baht in 2018, representing a 12% increase compared to the previous year.
Looking ahead…
• Upcoming hotel pipeline is mainly in upper- midscale to upper-upscale tiers, accounting for 80% of the future pipeline with all properties having an international brand affiliation.
• Bangkok Airways has budgeted 692 million Thai baht for the renovation and upgrading of Samui International Airport, with the plan now undergoing an environmental approval process.
• Aside from traditional hotels, alternative accommodation choices of private villa rentals is intensifying accommodation competition.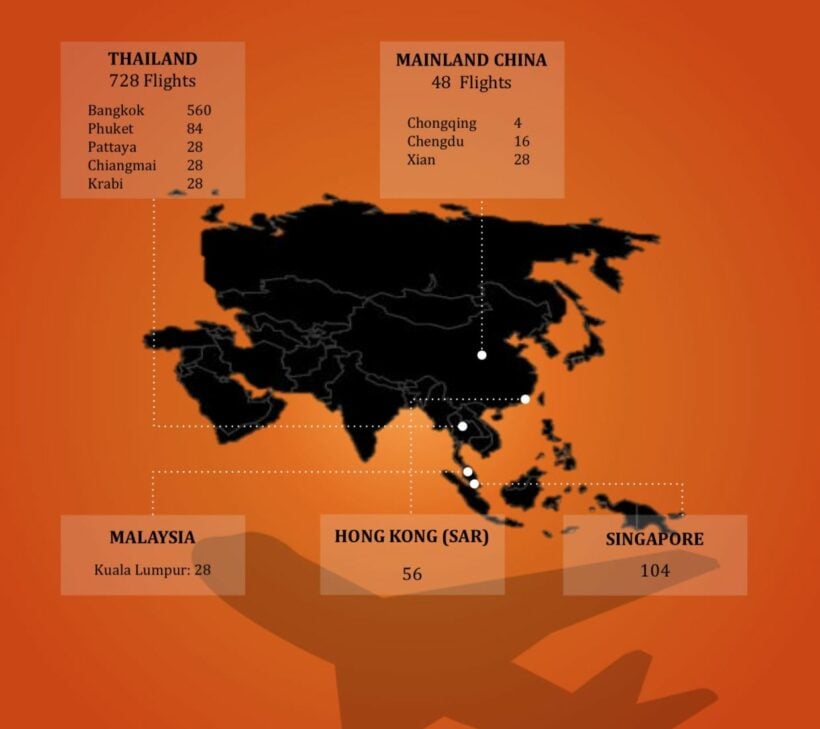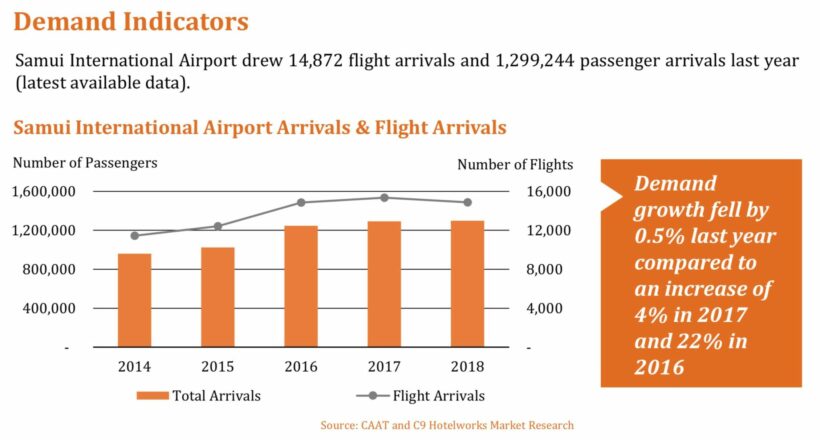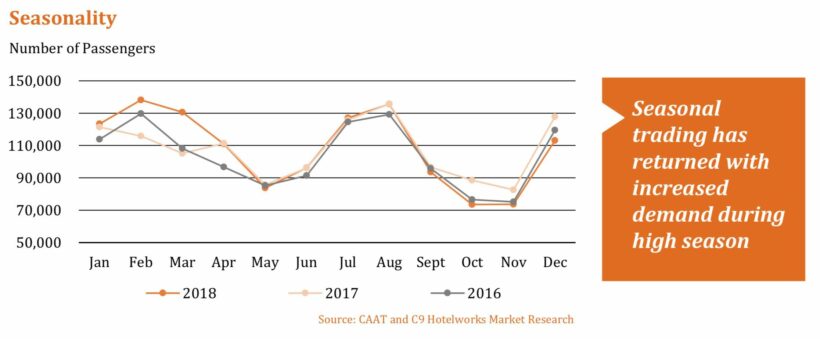 Read the full report HERE.
Keep in contact with The Thaiger by following our
Facebook page
.