Thais seek lottery tickets with numbers matching the royal family's license plate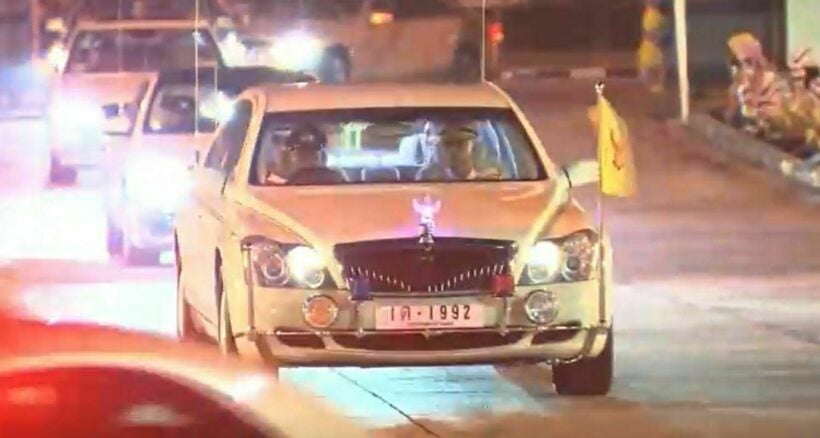 As His Majesty King and Her Majesty The Queen drove down to the Suphan Buri for a ceremony, many kept note of the license plate number of the royal family's Rolls Royce, 1992, hoping to find a ticket with the same numbers before the next Thai government lottery on April 1.
On The Thaiger's Thai-language site, a story on the royal license plate number went viral. Yesterday, the page reached 20,000 views, far above the daily average of 1,000 views per page for the Thai-language site. Anything regarding the lottery, even the lottery in Vietnam, draws tons of traffic. And twice a month, when it's time to announce the Thai lottery ticket numbers, the page views skyrocket.
Just about any numbers related to a significant event can get Thais scrambling to buy lottery tickets. When PM Prayut Chan-o-cha got jabbed with the AstraZeneca vaccine, kicking off Thailand's Covid-19 immunisation plan, many watched Prayut's health check, which was live streamed on Facebook, and kept note of the prime minister's weight, blood pressure and even the time of injection.
The Thaiger's Thai-language site even wrote a story with the number's related to Prayut's vaccination. They even recommended numbers 1, 5 and 8 for the March 16 lottery day… although the prediction ended up being wrong.
Here's what they wrote:
83.1~84 – Weight
157/88 – Pressure
509 – Lot No.
08.43 – Injection time
16 – The date of the first injection.
25 – The date of the second injection.
Keep in contact with Thaiger by following our Facebook page.
Never miss out on future posts by following Thaiger.
Thailand News Today | Covid surge continues, possible changes to 90 day reporting | April 12, 2021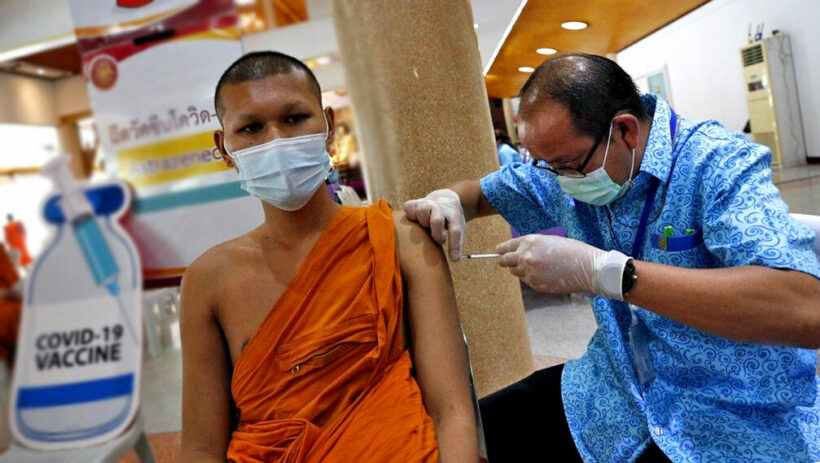 Thailand's CCSA has announced 985 new Covid-19 infections today – a rise in new case numbers but not as drastic as in the past week when there has been a steady climb. In the past 4 days there has been an increase of more than 100 new infections.
Out of the 980 local infections announced today, most were in the northern city of Chiang Mai with 246, Bangkok with 137, Chonburi which includes Pattaya with 92, Samut Prakan just south east of Bangkok with 83 and Prachuap Khiri Khan, which includes Hua Hin, with 52. 10 new Covid infections announced in Phuket today. A total of 74 new infections since last Monday when the first case was announced involving the 3 big parties on the previous weekend.
The Department of Disease Control says the policy limits the number of patients who go on to transmit the virus to friends or family, thereby controlling the spread more effectively. They insist there are no plans to allow patients to self-isolate at home, despite reports that many hospitals have run out of beds.
As a Thailand Navy admiral accuses a Netflix documentary of using outdated with inaccurate information about the country's fishing industry, a number of global environmental experts are also chiming in with similar criticisms. 'Seaspiracy' has been slammed for being full of inaccuracies and twisting the science behind the damage to the world's oceans, minimising the role of climate change and plastic pollution.
Possibility of a review to 90 day reporting and some other immigration and investment changes in Thailand. As of today only 0.5% of the Thai population has been vaccinated. Thailand is in 8th position among the ASEAN nations.
Keep in contact with Thaiger by following our Facebook page.
Never miss out on future posts by following Thaiger.
28,000 daily Covid-19 infections possible without "decisive action"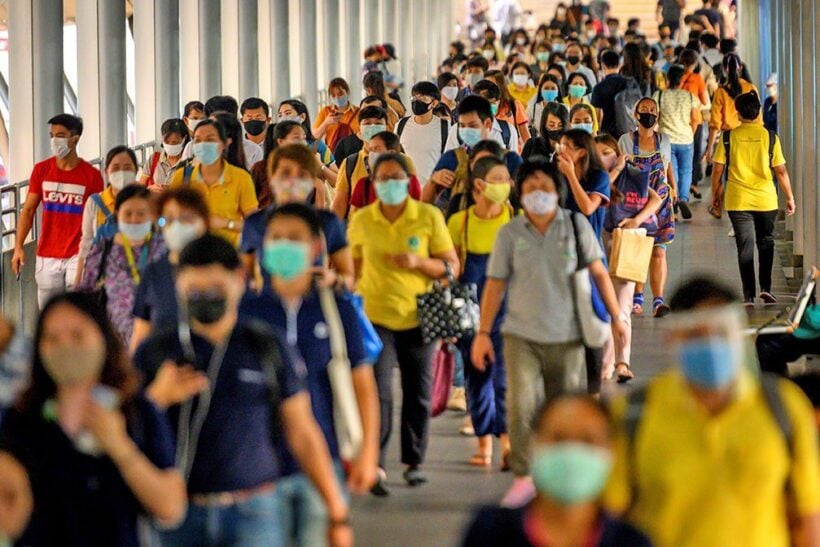 Without swift and decisive action, Covid-19 infections could surge to 28,000 people per day within the next month . This according to expert warnings and computer predictive modelling. The Department of Disease Control warns that the current spike is more infectious and deadly than the previous 2 waves and extreme action is needed. 967 new infections were reported by the Centre for Covid-19 Situation Administration yesterday, the highest single-day number Thailand has ever seen.
The DDC's epidemiology division, working with the International Health Policy Program, calculated models to predict the arc of future infection rates if Covid-19 safety measures were not enforced. The model's worst-case scenario predicted a maximum of 28,678 daily cases.
This is the worst-case scenario, however, as the minimum number of infections could be around 1,300 people. But a reasonable average without safety measures could be about 9000 daily infections, not a great situation for Thailand, a country that had until now done a great job avoiding a heavy wave of Covid-19 infections.
But for the UK variant (B117) newly arriving in Thailand, much like many new tourists arriving before it, Thailand's hedonistic nightlife scene may be where it all goes wrong. Of Bangkok's 1,114 infections, 823 of them were traced to entertainment venues. Across Thailand, a total of 140 bars and clubs in 15 provinces have been identified as virus-transmission locations.
Krystal Club in Thong Lor, now infamous amidst a swirl of news of politicians and powerful elite spreading infection there, tops the list of the 85 Bangkok infected clubs, with 211 infections this month. Chon Buri, Prachuap Khiri Khan, Pathum Thani, and Chiang Mai all had less than 10 Covid-19 infections linked to nightlife venues. In total, Covid-19 cases linked to nightlife outbreaks have spread to 70 provinces all over Thailand.
As a result, we're facing a party-free Songkran with 41 provinces closing all entertainment venues for 2 weeks and the 36 other provinces are following stringent screening and mask-wearing, poised to lock down the same if the pandemic comes knocking.
Bangkok intends to ready 10,000 field-hospital beds in preparation for any possible surge of the more infectious B117 strain spreading through Thailand now. The DDC does reassure though that the situation is still manageable if everyone works together and takes swift and strong actions.
The third wave of Covid-19 infections might be contained, but it will take a lot of personal discipline from everyone, and a sacrifice of Songkran's joyous celebrations, unfortunately.
SOURCE: Bangkok Post
Keep in contact with Thaiger by following our Facebook page.
Never miss out on future posts by following Thaiger.
Songkran safety campaign Day 2: 357 road accidents, 30 deaths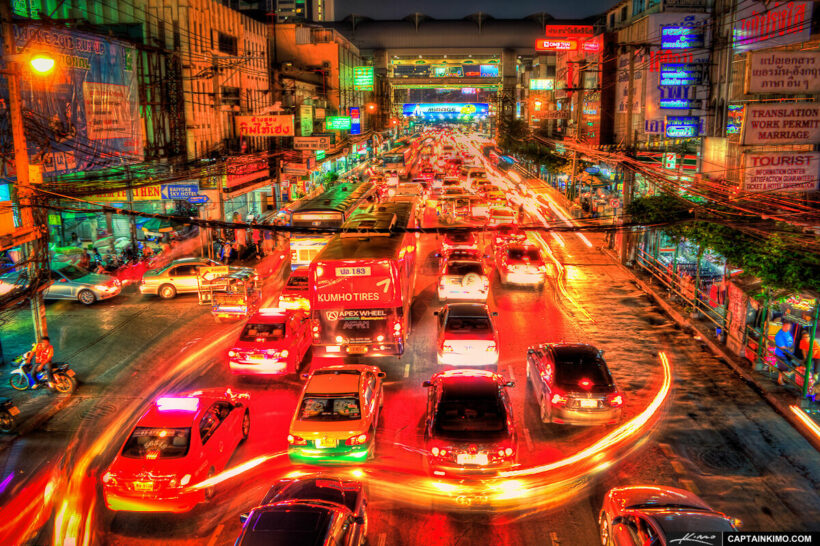 On the second day of the Songkran road safety campaign, officials report 30 deaths, 374 injuries and 357 road accidents, up slightly from yesterday. The week of Songkran is infamous for increased traffic incidents and is often referred to as "7 dangerous days", prompting government officials to push a campaign to raise awareness and safety this holiday. This year the usual 7 days of danger are more like 10 days+.
DAILY FIGURES
Sunday recorded 357 separate incidents resulting in 374 injuries and 30 deaths across Thailand. 87% of the road accidents involved motorbikes, while once again speeding and drink driving were the leading causes of crashes, accounting for 34% and 24% respectively. 58% of accidents were on straight roads and 40% of crashes occurred on highways. 41% were in local community villages.
For the second day in a row, the majority of crashes took place in the late afternoon to early evening, with 27% of road accidents happening between 4 pm and 8 pm.
Roi Et was the province with the most accidents, 16 total. Nakhon Sri Thammarat had 20 injuries, the most of any province. Trang and Samut Prakan each had 3 deaths making them yesterday's most deadly provinces.
TOTALS
After 2 days of the "7 dangerous days", there have been a total of 56 deaths and 729 injuries reported from a total of 705 road accidents around the country. Nakhon Si Thammarat now holds the unenviable record of most accidents, with a total of 27 so far.
The southern province also reported the most injuries, tied only with neighbouring Surat Thani, both having 31 injuries. Bangkok and Samut Prakan are tied with 4 deaths each.
These numbers are lower than average for Thailand, mostly due to the sheer reduction of travel because of the Covid-19 pandemic. Hopefully the "Happy Songkran, Safe driving, Stay safe from Covid-19" campaign will encourage people to stay safe and keep these figures low.
SOURCE: The Pattaya News
Keep in contact with Thaiger by following our Facebook page.
Never miss out on future posts by following Thaiger.