Thailand News Today | Thai official positive, Head-butt latest, protest letters | November 10
Thailand News Today for the second day of the week. Please subscribe to our YouTube channel, like and comment on the program.
Diplomat in Thailand tests positive for Covid-19 after contact with Hungarian foreign minister
A Hungarian diplomat who lives in Thailand has recently tested positive for Covid-19 in an apparent local transmission.
The 53 year old diplomat had been in close contact with Hungarian Foreign Minister who tested positive for Covid-19 during a visit to Bangkok last week. He arrived in Bangkok, on his way back from Pnom Phenh, and left the following day after his diagnosis. The CCSA says the diplomat is currently asymptomatic and was admitted to the Infectious Diseases Institute in Nonthaburi for monitoring.
In addition to a woman testing positive in Koh Samui, weeks after she'd arrived from France and completed her 14 day quarantine, an asymptomatic Indian man tested positive in Krabi over the weekend, despite having no recent international travel history. Tests are being carried out on 19 people who had close contact with the man, with 32 other contacts isolated.
3 new Covid-19 cases were detected in quarantine over the past 24 hours. The total number of confirmed Covid-19 cases is raised to 3,844 with 3,670 recoveries and 60 deaths. 114 people are currently receiving medical treatment for the coronavirus.
Thai protester released on bail, tells his side of the story after head-butt incident in Pattaya
A follow up to yesterday's sad incident with a Thai protester ending up head-butting a 52 year old Russian man who was watching a small protest on the Jomtien foreshore with his 10 year old daughter and Thai wife.
The incident happened on Monday evening.
The protester, Narathiwat Khamma, was addressing a small audience when the Russian man strolled along and started listening.
The Russian man has been named as Vladislav Timokin. According to Narithawat, the Russian claimed that the protesters joining in the battle "were all trash" and were pulling down Pattaya and the country". According to Ken's statement to Sanook, the Russian also said the protesters "were the reason why Thailand's economy is falling down".
This explanation from Ken wasn't captured in the original Pattaya News video.
Naritawat was escorted to the Pattaya Beach Soi 9 police station, detained and later put on a 10,000 baht bail, pending a future court appearance.
The Russian was sent to a hospital for treatment to his bloodied forehead and nose.
Police checking contents of protest letter boxes to decide if charges will be filed
Police in Bangkok say they will be reading the contents of 4 red letter boxes containing petitions and letters from a rally in the capital on Sunday in order to decide whether or not to press charges.
Pro-democracy protesters used the letter boxes to drop hand-written petitions and letters calling for reform of the Monarchy. The letters were addressed to HM The King.
The red boxes were left with police after authorities blocked activists from marching to the Palace's Household Bureau to deliver the letters personally to the Palace.
Police say they will decide whether to charge the protesters depending on the contents of the letters. The police chief also defended the police's use of water cannons, saying they were only deployed after officers issued a warning for protesters to stay back, and were not aimed directly at people (which is a mis-statement as evidenced in several videos).
Police say Sunday's protest violated a restriction on mass gatherings, and those involved did not seek permission in advance of holding the rally.
Sarasas teachers sentenced to jail for child abuse, parents want 120 million baht in damages
Parents of children abused by teachers at the Sarasas school in Nonthaburi, just out of Bangkok, are seeking compensation.
A lawyer representing the parents says that a group of 20 parents are seeking more than 120 million baht in damages.
Reports of alleged abuse at the Sarasas private school stemmed from incidents caught on classroom surveillance camera footage showing a 30 year old teacher abusing kindergarten students. Videos of Kru Jum pushing a student to the floor and dragging another across the classroom were shared on social media. The court sentenced the kindergarten teacher to 7 months in jail.
Another nursery teacher at the school was sentenced to 45 days in jail after she was caught on camera putting a black garbage bag on a student's head and pulling it down to cover his entire body.
4 other teachers at the Sarasas school also got short jail sentences – around 15 to 75 days – for assaulting kindergarten students by banging their heads on the desks, pushing them to the floor and twisting their ears.
Army chief dismisses rumours of impending coup
Thailand's Army chief has described the chances of another coup as, "less than zero", insisting the current political unrest can only be solved by political means.
Pro-democracy activists continue to put pressure on the government, repeating their demands for the resignation of PM Prayut Chan-o-cha, a constitution re-write and reform of the role of the country's revered Monarchy.
Addressing reporters yesterday, the Army commander insisted a coup was not a possibility. Despite the army chief's denial, with the government continuing to ignore protesters' demands, rumours of a coup continue to spread online. Some point to the fact that the current PM gave the same assurances when he was army chief back in 2014, just months before the military went on to stage a coup and install him as PM.
Bangkok's Chinatown to get a new look
Bangkok's Chinatown is getting a makeover. A noticeable change will be to the food carts lining the main strip, Yaowarat Road.
In the revitalisation plan starting early next year, the food carts will be "more orderly" and "harmonised," according to deputy Bangkok governor.
Last year, the BMA cracked down on street food vendors in efforts to clean up the streets and make sure food carts were following regulations. For Chinatown, food vendors will continue to operate along the street, as long as they are up to code.
Want more from the Thaiger family?
📱 Download our app on Android or iOS for instant updates on your mobile
📧 Subscribe to our daily email newsletter
👍 Like/Follow us on Facebook
🔔 Subscribe to or Join our YouTube channel for daily video updates
Thailand Consumer Confidence Index hits record low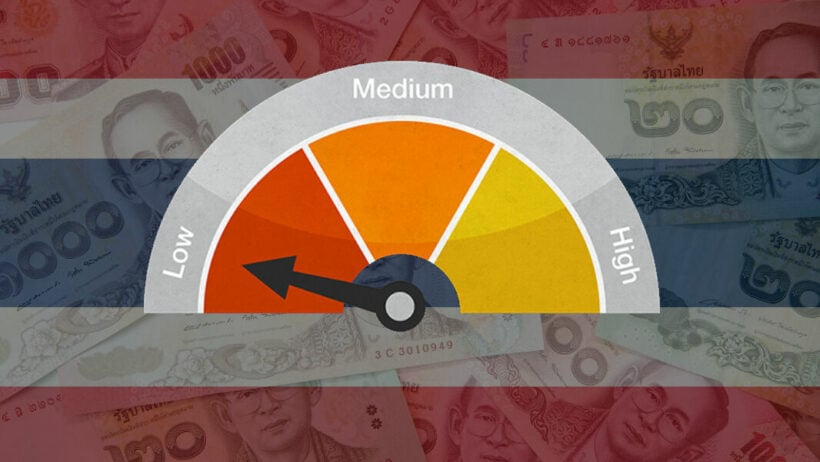 The University of the Thai Chamber of Commerce has reported that the Consumer Confidence Index has hit another new record low of 46.0 in April. The Covid-19 global pandemic has had a devastating effect on the economy and consumer confidence has fallen frequently to the lowest points that it has seen since 1998.
The president of the UTTC believes that consumers generally don't feel like there has been much of a recovery for the economy since the global pandemic began and without a stimulating event to motivate economic growth, the index is expected to continue to fall further. The university estimated that if the third wave of Covid-19 continues past the end of May the economy can expect to lose 400 to 600 billion baht.
The UTTC president stressed that the government should hasten to step up relief measures and make sure they continue relief and economic stimulus throughout the pandemic to avoid economic catastrophe. He predicted that the economy and the Consumer Confidence Index will continue on a downward slope without any hope of improvement until the vaccine rollout gets well underway towards herd immunity, and new Covid-19 infections are decreased dramatically.
Today saw another 2,101 new Covid-19 infections and 17 deaths in Thailand. Vaccination efforts are continually being stepped up, but still remain woefully slow.
The Consumer Confidence Index first started falling last year, with a drop below the previous record low in 1998 in April of 2020, when it fell to 47.2. A few months later, by July of last year, it had recovered significantly, climbing back over 50. But by March of this year, the index had fallen again to 48.5. With April's tumble of 2.5 points, the Consumer Confidence Index pushes once again to a new record low.
SOURCE: Thai Business News
Want more from the Thaiger family?
📱 Download our app on Android or iOS for instant updates on your mobile
📧 Subscribe to our daily email newsletter
👍 Like/Follow us on Facebook
🔔 Subscribe to or Join our YouTube channel for daily video updates
Thailand searches for cow vaccine for lumpy skin disease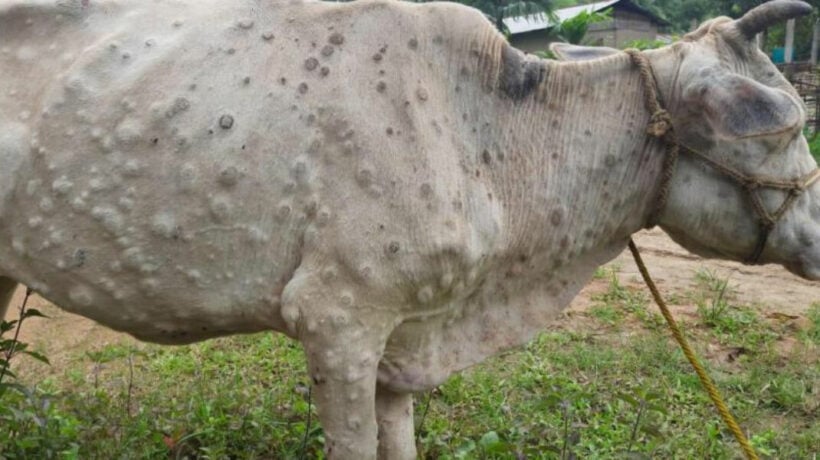 Move over Covid-19 there's a new disease sweeping the country as Thailand's cow population is afflicted with a lumpy skin disease. The Department of Livestock Development is now working on procuring vaccines from overseas manufacturers to import and treat the cattle population in Thailand. The lumpy skin is caused by pustules that are the most visible symptom, perhaps more detectable than other bovine signs such as drooling, loss of appetite and drowsiness.
The cow disease is spreading in the North, Northeast, and Central Plains area of Thailand and has been found in 18 provinces total. First identified in Roi Et, it has now spread in Chiang Rai, Kalasin, Kanchanaburi, Khon Kaen, Maha Sarakham, Nakhon Pathom, and Nakhon Phanom. The first case of the lumpy skin disease was reported in Don Daeng village last month and on April 9th officials reported it to the World Organisation for Animal Health.
The lumpy skin disease is found in cow pens and spread through flies, ticks, and mosquitoes, but the DLD says not to panic, it is not transmissible to humans. The department is distributing important information about symptoms and how the disease spreads to breeders and farmers in the area. They're requiring the breeders to monitor their cattle closely and have imposed measures to control the disease in heavy hit areas.
To prevent the spread of disease in livestock, traders are being requested to not buy and sell cattle within 50 km from disease-stricken regions. And for farmers caring for cattle, the DLD recommends spraying insecticide in all areas to prevent transmission via insects. Finally, in case the cattle were jealous of traveling humans, the DLD is advising farmers to prevent disease spread by isolating any new cow that comes into their farms with a 28-day bovine quarantine where they should be kept under nets to keep insects away.
SOURCE: Bangkok Post
Want more from the Thaiger family?
📱 Download our app on Android or iOS for instant updates on your mobile
📧 Subscribe to our daily email newsletter
👍 Like/Follow us on Facebook
🔔 Subscribe to or Join our YouTube channel for daily video updates
Covid-19 third wave cuts Thai domestic flights predictions by 38%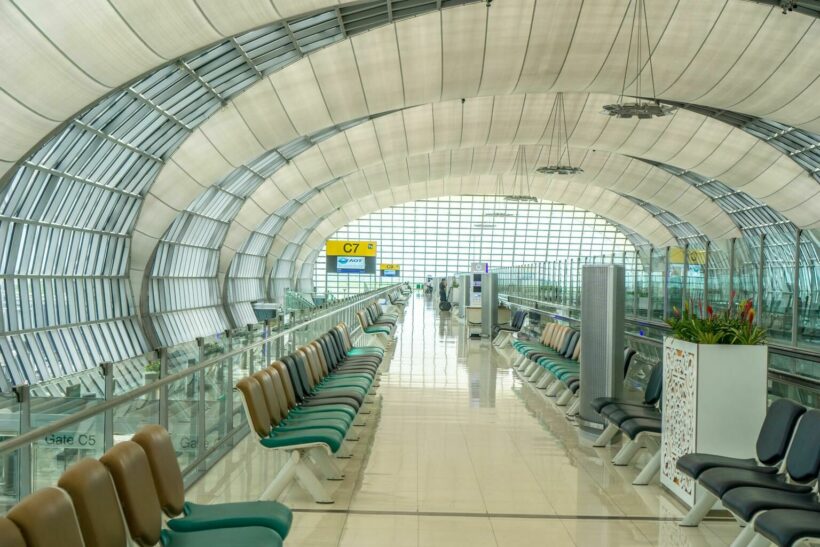 The Aeronautical Radio of Thailand is predicting a 38% drop in travel by domestic flights due to the effect of the third wave of Covid-19. Aerothai is a department under the Ministry of Transport that provides aeronautical communication and air traffic control in Thailand. With Covid-19 experiencing a rapid spread beginning in April and not yet under control, infections across all of Thailand's 77 provinces are projected to drastically hamper local travel until at least September.
The fiscal year, beginning last October, was originally predicted to have almost 519,000 domestic flight. But Aerothai has now reduced those figures down 38% to just over 323,000 flights in Thailand. The executive vice president for operations of Aerothai said that by the second half of April domestic flights had been severely reduced despite remaining relatively stable in early April.
The Civil Aviation Authority has also added increased restrictions on the way passengers are carried, adding another layer of difficulty for the domestic airlines who have slashed their schedules after having a bumper Songkran holiday period and were looking forward to better times ahead.
Flight reductions were a result of attempts to reduce and contain the spread of Covid-19 by implementing strict travel and safety measures. While domestic travel was strongly affected by Thailand's second wave of Covid-19 at the beginning of 2021, the current wave is much worse and Aerothai predicts domestic flights will reach their lowest point by the end of May.
An expectation of recovery beginning next month hinges on international flights starting to slowly creep back into Thailand. The Civil Aviation Authority of Thailand has loosened the restrictions for international travel in preparation for the government's plan to relaunch the tourism industry in key hotspots of Thailand like Phuket and Koh Samui in July. Aerothai is hoping that by August domestic flights will return to the levels seen at the end of 2020 before the second wave of Covid-19, with about 1,095 daily flights.
Aerothai has been tracking flight statistics since it was founded in 1948 by a group of airlines with the approval of the Royal Thai Government. In 1963 the government took on a majority stake in the company from the founding airlines and converted it to a state enterprise operating under the Ministry of Transport.
SOURCE: Bangkok Post
Want more from the Thaiger family?
📱 Download our app on Android or iOS for instant updates on your mobile
📧 Subscribe to our daily email newsletter
👍 Like/Follow us on Facebook
🔔 Subscribe to or Join our YouTube channel for daily video updates