Thailand News Today | Thai official positive, Head-butt latest, protest letters | November 10
Thailand News Today for the second day of the week. Please subscribe to our YouTube channel, like and comment on the program.
Diplomat in Thailand tests positive for Covid-19 after contact with Hungarian foreign minister
A Hungarian diplomat who lives in Thailand has recently tested positive for Covid-19 in an apparent local transmission.
The 53 year old diplomat had been in close contact with Hungarian Foreign Minister who tested positive for Covid-19 during a visit to Bangkok last week. He arrived in Bangkok, on his way back from Pnom Phenh, and left the following day after his diagnosis. The CCSA says the diplomat is currently asymptomatic and was admitted to the Infectious Diseases Institute in Nonthaburi for monitoring.
In addition to a woman testing positive in Koh Samui, weeks after she'd arrived from France and completed her 14 day quarantine, an asymptomatic Indian man tested positive in Krabi over the weekend, despite having no recent international travel history. Tests are being carried out on 19 people who had close contact with the man, with 32 other contacts isolated.
3 new Covid-19 cases were detected in quarantine over the past 24 hours. The total number of confirmed Covid-19 cases is raised to 3,844 with 3,670 recoveries and 60 deaths. 114 people are currently receiving medical treatment for the coronavirus.
Thai protester released on bail, tells his side of the story after head-butt incident in Pattaya
A follow up to yesterday's sad incident with a Thai protester ending up head-butting a 52 year old Russian man who was watching a small protest on the Jomtien foreshore with his 10 year old daughter and Thai wife.
The incident happened on Monday evening.
The protester, Narathiwat Khamma, was addressing a small audience when the Russian man strolled along and started listening.
The Russian man has been named as Vladislav Timokin. According to Narithawat, the Russian claimed that the protesters joining in the battle "were all trash" and were pulling down Pattaya and the country". According to Ken's statement to Sanook, the Russian also said the protesters "were the reason why Thailand's economy is falling down".
This explanation from Ken wasn't captured in the original Pattaya News video.
Naritawat was escorted to the Pattaya Beach Soi 9 police station, detained and later put on a 10,000 baht bail, pending a future court appearance.
The Russian was sent to a hospital for treatment to his bloodied forehead and nose.
Police checking contents of protest letter boxes to decide if charges will be filed
Police in Bangkok say they will be reading the contents of 4 red letter boxes containing petitions and letters from a rally in the capital on Sunday in order to decide whether or not to press charges.
Pro-democracy protesters used the letter boxes to drop hand-written petitions and letters calling for reform of the Monarchy. The letters were addressed to HM The King.
The red boxes were left with police after authorities blocked activists from marching to the Palace's Household Bureau to deliver the letters personally to the Palace.
Police say they will decide whether to charge the protesters depending on the contents of the letters. The police chief also defended the police's use of water cannons, saying they were only deployed after officers issued a warning for protesters to stay back, and were not aimed directly at people (which is a mis-statement as evidenced in several videos).
Police say Sunday's protest violated a restriction on mass gatherings, and those involved did not seek permission in advance of holding the rally.
Sarasas teachers sentenced to jail for child abuse, parents want 120 million baht in damages
Parents of children abused by teachers at the Sarasas school in Nonthaburi, just out of Bangkok, are seeking compensation.
A lawyer representing the parents says that a group of 20 parents are seeking more than 120 million baht in damages.
Reports of alleged abuse at the Sarasas private school stemmed from incidents caught on classroom surveillance camera footage showing a 30 year old teacher abusing kindergarten students. Videos of Kru Jum pushing a student to the floor and dragging another across the classroom were shared on social media. The court sentenced the kindergarten teacher to 7 months in jail.
Another nursery teacher at the school was sentenced to 45 days in jail after she was caught on camera putting a black garbage bag on a student's head and pulling it down to cover his entire body.
4 other teachers at the Sarasas school also got short jail sentences – around 15 to 75 days– for assaulting kindergarten students by banging their heads on the desks, pushing them to the floor and twisting their ears.
Army chief dismisses rumours of impending coup
Thailand's Army chief has described the chances of another coup as, "less than zero", insisting the current political unrest can only be solved by political means.
Pro-democracy activists continue to put pressure on the government, repeating their demands for the resignation of PM Prayut Chan-o-cha, a constitution re-write and reform of the role of the country's revered Monarchy.
Addressing reporters yesterday, the Army commander insisted a coup was not a possibility. Despite the army chief's denial, with the government continuing to ignore protesters' demands, rumours of a coup continue to spread online. Some point to the fact that the current PM gave the same assurances when he was army chief back in 2014, just months before the military went on to stage a coup and install him as PM.
Bangkok's Chinatown to get a new look
Bangkok's Chinatown is getting a makeover. A noticeable change will be to the food carts lining the main strip, Yaowarat Road.
In the revitalisation plan starting early next year, the food carts will be "more orderly" and "harmonised," according to deputy Bangkok governor.
Last year, the BMA cracked down on street food vendors in efforts to clean up the streets and make sure food carts were following regulations. For Chinatown, food vendors will continue to operate along the street, as long as they are up to code.
Keep in contact with The Thaiger by following our
Facebook page
.
Never miss out on future posts by
following The Thaiger
.
Thailand News Today | Shots fired, the yellow ducks, "no coup" promise | November 26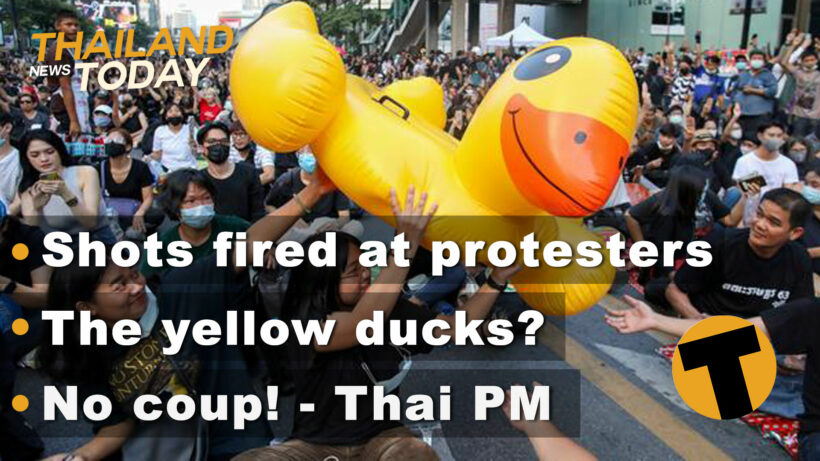 Today's news includes some live footage of the explosion and chaos at last night's rally outside the Siam Commercial Bank building. Here we go with today's Thailand news.
An explosion and gunshots fired at last night's protest outside the Siam Commercial Bank HQ
There were reports of shootings and the throwing of an explosive device, caught on video at last night's protest out the front of the Siam Commercial Bank HQ.
2 people were shot and injured in the chaos that erupted as people were starting to head home after the rally at about 10.10pm.
Firstly there was a man, dressed in a bike helmet, caught on camera hurling some explosive, through to be a pipe bomb, into a crowd of protesters. After the explosion there was up to 4 gunshots fired. A gunman was apprehended whilst other alleged shooters escaped into the crowd. Both the injured protesters were rushed to hospital. The protesters had their own security contingent present at yesterday's rally, some 50 volunteers, who co-operated with police in their immediate investigation into the incident.
Yellow ducks dominate at Bangkok pro-democracy rally
Speaking about the protests, what is it about the yellow inflatable ducks that keep popping up at the rallies?
Having been used at protests in Hong Kong earlier this year, the rubber duck has also become a regular feature at the Thai protests, a symbol of mutual support between both pro-democracy movements. And, more practically, became a useful defensive shield to fend off the water cannons and anything else that ended up hurled at the protesters.
At yesterday's rally outside the SCB building, the duck could be seen everywhere, with enterprising vendors selling t-shirts, toys, hats, torches and hair pins, all bearing the yellow duck's image.
Yesterday's protest was originally set to take place at the Crown Property Bureau, but organisers took to social media the night before to announce a change of location to the SCB headquarters. Protest leaders say the change was to avoid a confrontation with royalists who, they claim, were being deliberately sent to provoke them.
10 passengers injured after Bangkok-Chiang Khong bus crashes into tree
10 people were injured and sent to the hospital after a bus driver lost control of the vehicle and crashed into a tree early this morning.
The double-decker passenger bus on the Bangkok-Chiang Khong route was passing through the Phitsanulok province in Central Thailand when the driver lost control and crashed into a tree on the side of the road. The incident happened at 2:50am.
Thai PM insists martial law will not be used against protesters
Thai PM Prayut Chan-o-cha says he has no intention of resorting to martial law to put an end to the current political impasse and protests. He says that existing laws provide enough scope for dealing with those who take matters into their own hand.
But the then General Prayut, head of the Thai army, made similar assurances in the latter stages of the Yingluck Shinawatra government before he led the NCPO in a bloodless military coup against her government in May 2014.
City officials plan to demolish abandoned Pattaya condo project
After years of talks, threats, and complaints, the abandoned Waterfront condo development overlooking Pattaya's Bali Hai pier looks set to be demolished.
The Waterfront Suites and Residence is a half-finished condo project that was stalled in 2014 after safety inspectors discovered that the building's fire escapes and elevator systems designs varied from the already approved construction designs.
Now Pattaya's mayor says officials plan to tear down what many have condemned as an eyesore, "as soon as possible", and charge the owners for the costs of the demolition.
The Israeli-owned development company, Bali Hai, are accused of violating building regulations, by building a structure that exceeds the legal height limit, as well as restrictions on proximity to the beach. Local residents have also complained that the development obstructs the panoramic vista of the bay from Pattaya Hill.
Ex-Thai Airways official gets fat prison sentence for failing to pay excess baggage fees
You'll never complain about excess baggage charges after hearing what happened to a former Chairman of Thai Airways who's ended up with a 2 year prison sentence for fudging his baggage allowance on a flight back in 2009.
The former chair for the airline has been sentenced to 2 years in jail because he didn't pay for 300 kilograms of excess baggage. The court says he abused his authority by ordering airline staff to change the stated weight of luggage so he could get out of paying excess baggage fees.
The judge says the sentence could not be suspended. Ex Chairman Wallop's lawyers say they will appeal the harsh sentence.
Keep in contact with The Thaiger by following our
Facebook page
.
Never miss out on future posts by
following The Thaiger
.
Royal Thai Army denies claims about Twitter campaign to spread pro-government propaganda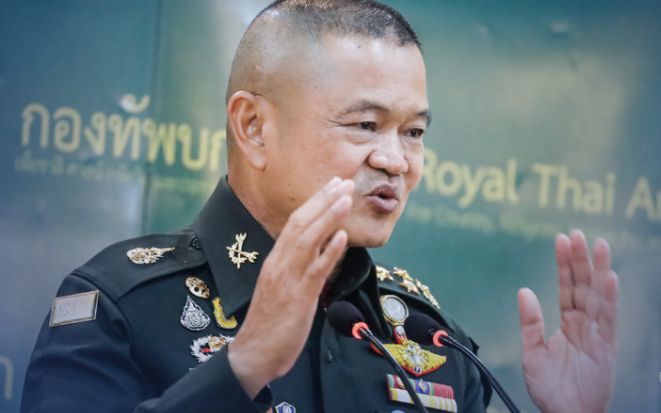 Following a shutdown of 926 Twitter accounts linked to the Royal Thai Army, documents were leaked of what appears to be a contract between the Army and a private company supposedly hired to spread pro-government propaganda.
Army chief Narongphan Jitkaewtae denies the claims and says the Army never hired a company to spread pro-government propaganda through the Twitter accounts.
Last month, Twitter announced that it had suspended 926 accounts linked to the Royal Thai Army for violating the social media company's "platform manipulation" policies.
A report by Stanford Internet Observatory's Cyber Policy Centre says the Army used Twitter to "cheerlead" with pro-government propaganda. The report says the Army used Twitter to criticise the now disbanded Future Forward Party and neutralism criticism after February's mass shooting where an Army soldier killed 30 people and injured 57 others.
Former Future Forward Party spokesperson Pannika Wanich says members of the opposition plan to sue the Army for "using tax money to cause divisions and hatred among Thais."
SOURCE: Nation Thailand
Keep in contact with The Thaiger by following our
Facebook page
.
Never miss out on future posts by
following The Thaiger
.
Thai officials approve transfer of 3 Iranians involved in 2012 botched bomb plot in Bangkok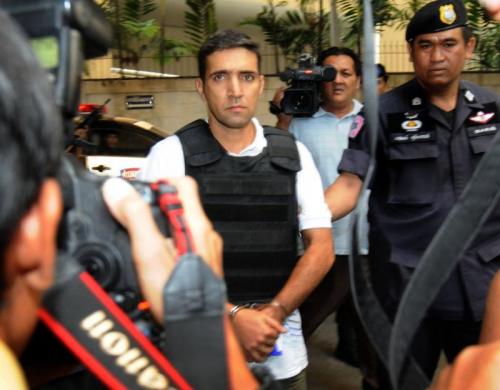 Thai authorities are transferring 3 Iranian inmates to Tehran. The inmates were involved in the 2012 failed bomb plot, which Israeli and Thai officials say, was targeted at Israeli diplomats in Bangkok.
According to Iranian state TV, the transfer was a swap. The report says 33 year old British-Australian Kylie Moore-Gilbert, who was incarcerated for the past 2 years on espionage charges, was released from Iran prison in exchange for the 3 Iranians imprisoned overseas.
Although Iranian media reports the transfer was a prisoner swap, Thai officials have not confirmed the reports. Thailand's deputy general Chatchom Akapin says the transfers are normal and Thailand approved the transfer in an agreement with Iran.
"These types of transfers aren't unusual… We transfer prisoners to other countries and at the same time receive Thais back under this type of agreement all the time."
Back in 2012, a cache of homemade explosives accidentally blew up at a Bangkok villa on Sukhumvit 71 rented by the Iranians. Saeid Moradi fled the home carrying explosives, but dropped them as police chased him. He lost both his legs in the explosion.
While both Thai and Israeli officials say the explosives were intended to attack Israeli diplomats in Bangkok, Iran officials deny the allegations. The men never faced terrorism charges or any charges relating to attempting to kill the Israeli diplomats.
Moradi along with his accomplice, Mohammad Kharzei, were convicted in 2013. Thai Court sentenced Moradi to life in prison for attempting to murder a police officer and sentenced Kharzei to 15 years in prison for possessing explosives. Another suspect, Masoud Sedaghatzadeh, was arrested in Malaysia in 2012 and then extradited to Thailand in 2017.
SOURCE: Associated Press
Keep in contact with The Thaiger by following our
Facebook page
.
Never miss out on future posts by
following The Thaiger
.