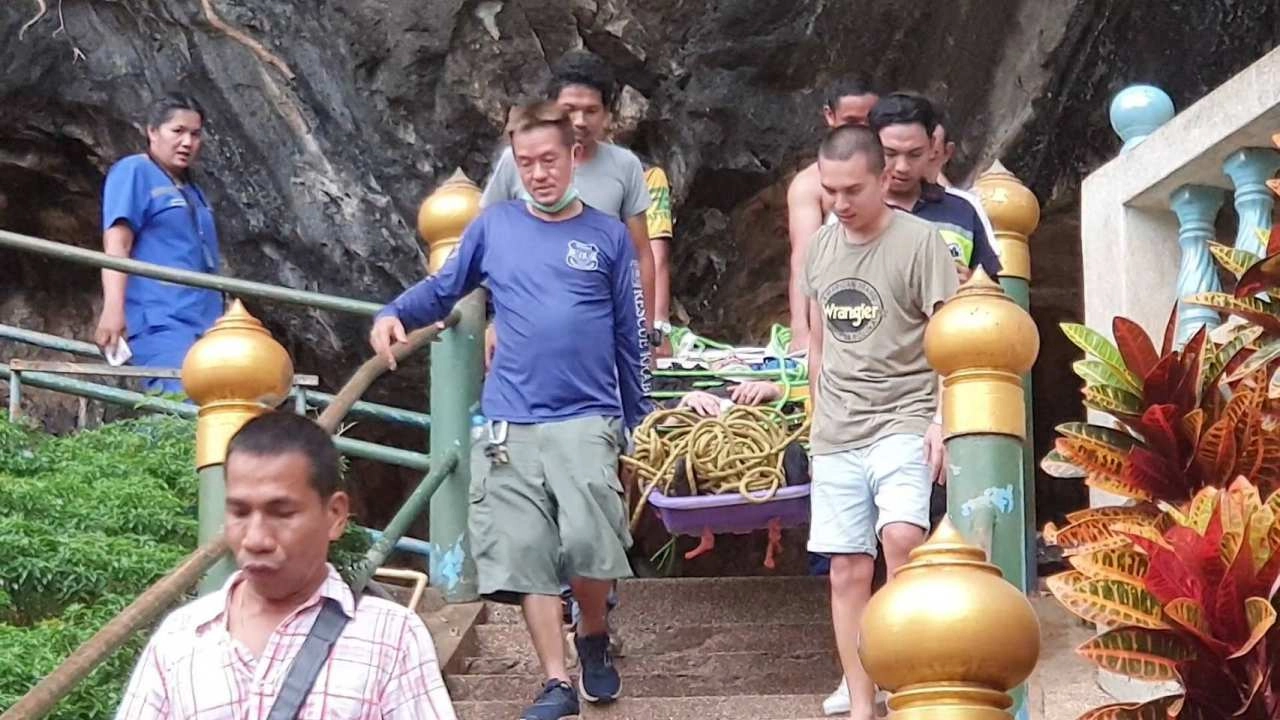 A young German tourist is injured after falling from the top of the stairs at Tiger Cave Temple in Krabi province in southern Thailand yesterday afternoon.
At 3pm, Krabi Tourist Police were informed that a German tourist needed medical help after an accident near the summit of the mountain.
Rescue workers climbed over 1,000 steps, which took more than one hour, to reach 19 year old Eden Lorel, who was lying on the staircase, unable to move, bleeding from the head, and suffering from neck pain.
Luckily, a group of female tourists on the staircase, who were nurses, were able to help the injured tourist while waiting for rescue workers by stopping the flow of blood from his head.
Lorel climbed 1,260 stairs to reach the viewpoint at the summit of the mountain before suffering from dizziness and fainting on his way back down, causing him to fall down around 30 steps.
The rescue workers gave the injured teenager first aid before putting him on a stretcher and carrying him back down the staircase, which took over two hours.
Rescue workers said the staircase's iron railing stopped Lorel from falling down the mountainside and into the abyss.
Lorel is being treated for his injuries at Krabi Hospital and is expected to make a full recovery.
According to the Tourism Authority of Thailand (TAT), The Tiger Cave Temple, or Wat Tham Suea, is a sacred site, "known for the tiger paw prints in the cave, tall Buddha statues and the strenuous flight of stairs to reach the summit."
The temple, elevated at 278 meters, is made even harder to climb due to the uneven height of the stairs, with some being small and others almost knee-high.
Legend has it that tigers used to roam the area and reside in the caves on the mountaintop.
While tigers don't frequent the temple at present, monkeys prowl up and down the staircase, pickpocketing and occasionally biting tourists.