Marine and Coastal Resources check for protected shark meat in Karon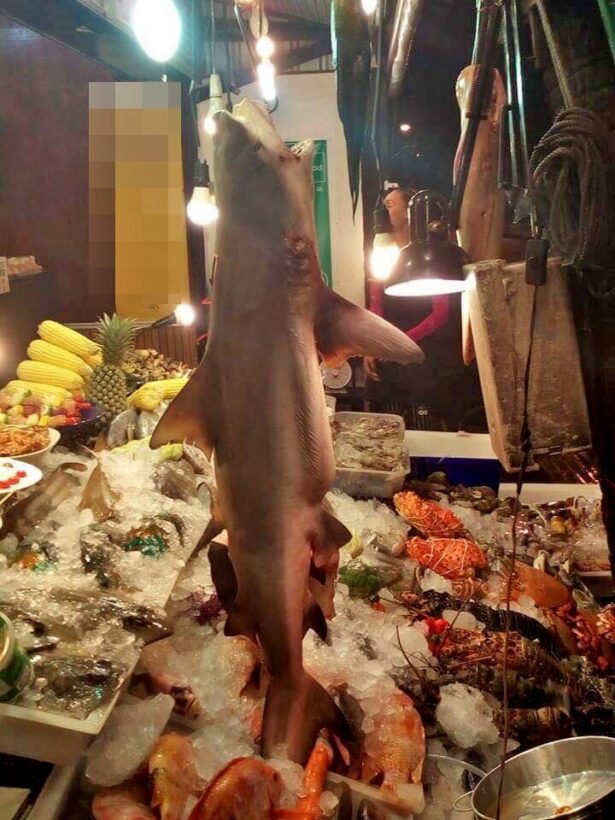 Officers from the Department of Marine and Coastal Resources, Area 9 Phuket Office visited a Karon restaurant after a picture of them selling shark meat had gone viral on social media.
The team visited the avenue on November 19 but couldn't find sharks being sold as in the pictures. The shop owner, Narongchai Thanataweesakul, told the investigating team that the picture was taken at the shop 2 years ago. He apologised that the leopard shark was really at the shop but claims he didn't know about the law and bought it from someone who traded wholesale fish but assured officials that there'd been no more since then.
Dr. Thon Thamrongnawasawat, Deputy Dean of Faculty of Fisheries, Kasetsart University, commented on the shark photos.
"The problem about trading shark meat, especially rare sharks such as leopard sharks, hammerhead sharks and bull sharks, is a never-ending topic. The only hope is that the DMCR need to concretely protect the species. The sharks have been approved by the cabinet as protected animals and the law should be announced soon. Getting people to change their attitude about fishing for, and eating, these protected species will take a lot of time – especially those that have enjoyed eating them in the past."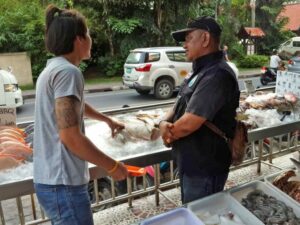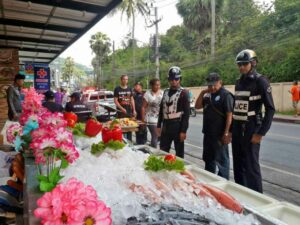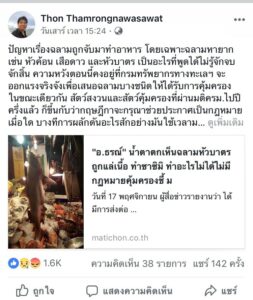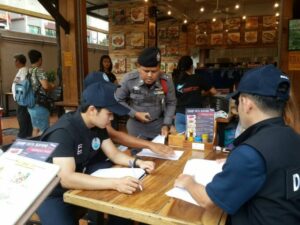 - Kritsada Mueanhawong
Machete-wielding BKK motorist jailed for threatening woman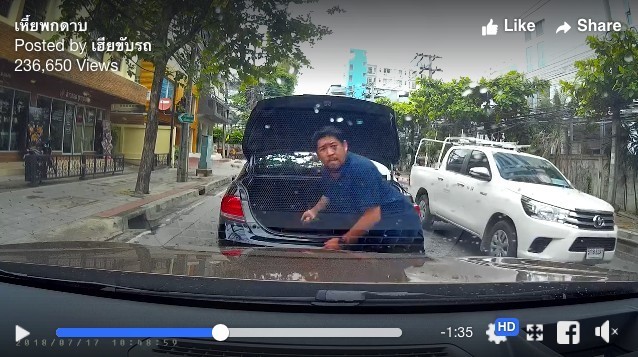 The South Bangkok district court has handed down a sentence today on a male driver. He's been sentenced to 2 months and 15 days behind bars.
The sentence follows the man's indiscretion caught on a dash cam (video and story below), threatening a female driver with a knife on July 18, after he drove against the traffic to cut in front of her car.
Read the original story and watch the video HERE.
42 year old Sitthiporn Suayngarm was arraigned in court by officers from the Thung Mahamek Police Station this morning (Saturday) and the court swiftly handed down the sentence after the defendant pleaded guilty. The video clip was used in evidence.
The court declined to suspend the jail term despite Sitthiporn pleading guilty, as the court regarded his act as a serious crime. Sitthiporn turned himself in to police on Friday and issued an apology to the woman, saying he was in a bad mood after quarrelling with his girlfriend.
The man was slapped with five charges: damaging another person's asset, intimidating another person, carrying a knife in a public place without licence, parking car in a prohibited area and changing lane unlawfully.
The crime took place on Tuesday morning at an intersection on Suan Plue Road in Bangkok's Sathon district near the Bangkok Technical College and was recorded by the dashboard camera of the 64 year old woman.
The clip from the dashboard went viral and had more than a 1 million views. The clip shows a man at the wheel of a black Toyota Camry repeatedly trying to cut in front of a car whose dashboard cam recorded the incident, by driving against the traffic. The man finally managed to complete the illegal overtaking manoeuvre after they drove through an intersection. He then stopped his car, exited, opened the trunk and pulled out a long knife.
The dashboard video showed him walking towards the woman's car before he disappeared from the clip.

STORY: The Nation
Singapore Airlines back on top. Thai Airways in 10th place.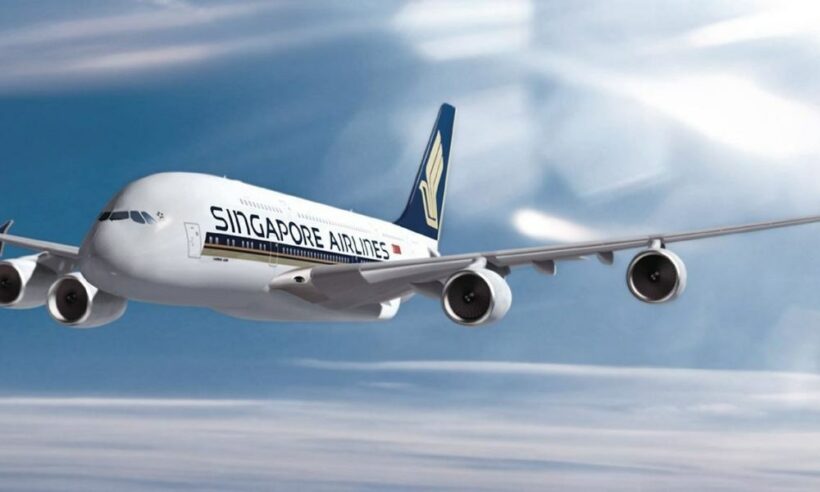 PHOTO: Flyer Talk
Singapore Airlines is back on top after a decade held out of the top airline position by middle-eastern competition. It's their fourth win since the Skytrax World Airline awards started back in 2001.
The island nation's national carrier was named Airline of the Year at the 2018 Skytrax World Airline awards. Singapore Airlines was last top of the list in 2008. This year it forced out last year's top honours winner, Qatar Airways, into second place.
Yeoh Phee Teik, Singapore Airlines's senior vice president of customer experience, said "We're very ecstatic."
The airline  also claimed best airline in Asia, best first class and best first class seat.
Asian airlines made a return to the winner's list this year with ANA All Nippon Airways receiving third place, Taiwan's EVA Air in 5th position, Cathay Pacific in 6th, Hainan Airlines in 7th, Garuda Airlines in 9th (an extraordinary achievement considering their reputation only a decade ago) and Thai Airways in 10th place.
Singapore's victory marked a resurgence in Asian carriers in the annual UK-based aviation industry review. Skytrax began its awards in 2001 and is recognised for its fairness due to passengers voting in all categories. Aside from a win by Hong Kong's Cathay Pacific back in 2014, all past seven years have all gone to middle east based airlines.
"We're glad that our work has been recognised and our customers have voted for us to be the world's best," said Yeoh.
Garuda Airlines, which has turned its service around since the early days of Skytrax, when it was banned from flying into European airspace, was presented with the prize for best cabin staff along with its 9th place overall.
Not one US airline picked up a single award.
Locally Air Asia picked up an award for Best low coast airline – Asia, Thai Airways won the award for best airline catering in Economy Class (The Thaiger thinks the voters weren't flying on the same flight when Thaiger experienced the economy class 'food') and Bangkok Ailines won Best Regional Airline – Asia.
The top 10 world's best airlines for 2018
1. Singapore Airlines
2. Qatar Airways
3. ANA All Nippon Airways
4. Emirates
5. EVA Air
6. Cathay Pacific
7. Lufthansa
8. Hainan Airlines
9. Garuda Indonesia
10. Thai Airways
Best airlines by global region
Northern Europe – Finnair
Western Europe – Lufthansa
Eastern Europe – Aeroflot Russian Airlines
Africa – Ethiopian Airlines
Australia / Pacific – Qantas Airlines
Central Asia / India – Air Astana
China – Hainan Airlines
Central America / Caribbean – Copa Airlines
South America – Avianca
North America– Air Canada
Asia – Singapore Airlines
Middle East – Qatar Airways
Europe – Lufthansa
Best low-cost airlines
Africa – Mango
Australia & Pacific – Jetstar Airways
Asia – AirAsia
Central Asia / India – Indigo
China – West Air
South America – Sky Airline
North America – WestJet
Middle East – Flynas
Europe – Norwegian
Best airline catering
Economy – Thai Airways
Premium economy – Aeroflot Russian Airlines
Business – Austrian Airlines
First class – Air France
Best airline seats
Economy – Japan Airlines
Premium economy – Air New Zealand
Business – Qatar Airways
First class – Singapore Airlines
Best regional airlines
Africa – Royal Air Maroc
Asia – Bangkok Airways
South America – Azul Brazilian Airlines
Central Asia / India – Azerbaijan Airlines
Europe – Aegean Airlines
Best airline lounges
First class – Qatar Airways
Airline alliance lounge – Star Alliance Los Angeles
Independent airport lounge – Plaza Premium Heathrow Terminal Two
First class lounge dining – Air France
Airline lounge spa facility – Thai Awards
Best airlines staff service by global region
Africa – South African Airways
Australia / Pacific – Qantas Airways
Central Asia / India – Vistara
China – Hainan Airlines
Central America / Caribbean – Copa Airlines
South America – Azul Brazilian Airlines
Asia – ANA All Nippon Airways
Middle East – Emirates
Europe – Austrian Airlines

Burmese maid returns bag containing $11,000 to tourist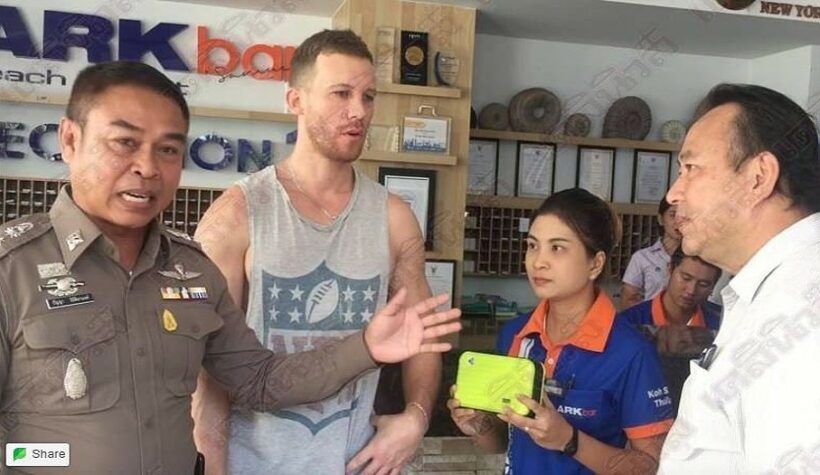 Daily News is reporting that a tourist from the Netherlands has thanked a Burmese maid at his hotel on Koh Samui. 37 year old Sawee Let Mau showed it was not just the Thais who are high up in the honesty stakes.
Sawee found the green bag under some stairs – it contained AUD$ to the tune of 280,000 baht – several years wages for a maid.
Police were called to the Ark Bar Hotel in Chaweng and CCTV was checked before 31 year old Alexander Joseph was confirmed as the rightful owner.
He gave the honest maid $100 as a reward. Daily News praises the maid for helping the tourist image of Thailand.
SOURCE: Daily News