Cabinet approves 435 million baht to control hungry elephants, monkeys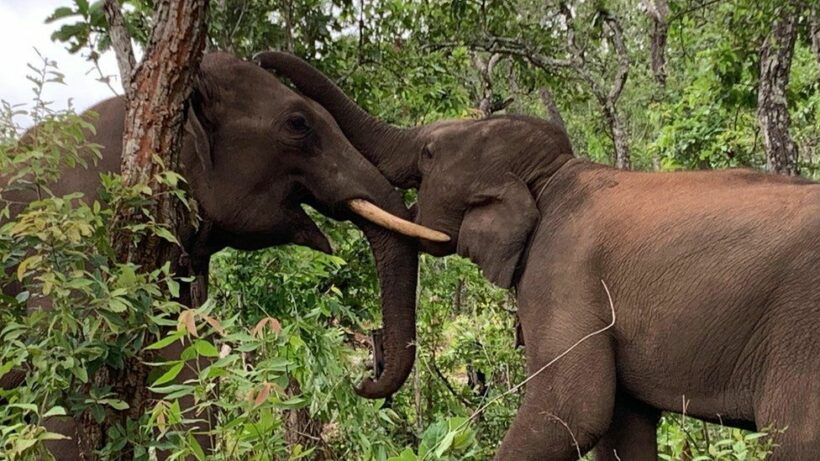 The Covid-19 crisis hasn't just affected humans and businesses; it's had a profound impact on Thailand's wildlife- much of which was dependent on tourism for survival. As a result, the Cabinet on Tuesday approved a budget of 435.3 million baht to reduce the impacts of wildlife on people. The budget was requested by the Ministry of Natural Resources and Environment.
As elephant camps and "sanctuaries" in Chiang Mai and across Thailand's North closed back in May, hundreds of elephants were forced to return to their birthplaces to avoid starvation, straining resources and local economies, which were ill-equippped to receive them. More than ¾ of the budget – 360.6 million baht – will be spent protecting residents and farmers from wild elephants, according to the deputy government spokeswoman. The funds will be used to restore the animals' natural food sources and build fences to protect locals and their farms.
Another 24.5 million baht will be used to tackle problems caused by monkeys, including sterilisation, a database of monkeys and cages to limit the areas they can roam. The move comes after gangs of monkeys in the central city of Lopburi ran amok during the Covid-19 lockdown, when they were deprived of their main food source: tourism.
The remaining budget will be invested to improve the capacity of government agencies to receive and take care of animals, including those seized in criminal cases. New animal clinics will be constructed, while standardised tools will be prepared for officials, the spokeswoman explained.
SOURCE: Nation Thailand
Keep in contact with The Thaiger by following our
Facebook page
.
Never miss out on future posts by
following The Thaiger
.
Veterinarian arrested for giving beauty treatments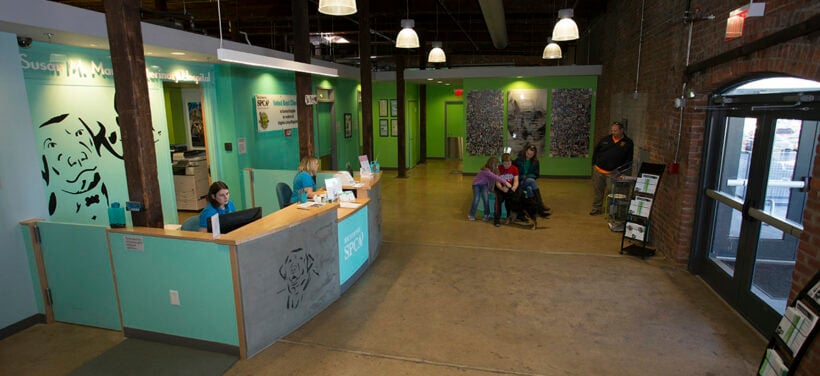 Dogs with breast augmentation? Cats with face lifts?
After customers reported some suspicious behaviour, a veterinarian in Sisaket province, in northeastern Thailand, has been arrested for giving cosmetic beauty treatments at a veterinary clinic in Phitsanulok, Central Thailand. The veterinarian, known as B, was allegedly giving botox and filler injections to customers despite not being licensed to do so. The veterinary clinic where he was allegedly giving treatments was inspected by the Phitsanulok Provincial Public Health Office where officials found many medications without proper serial numbers or sources.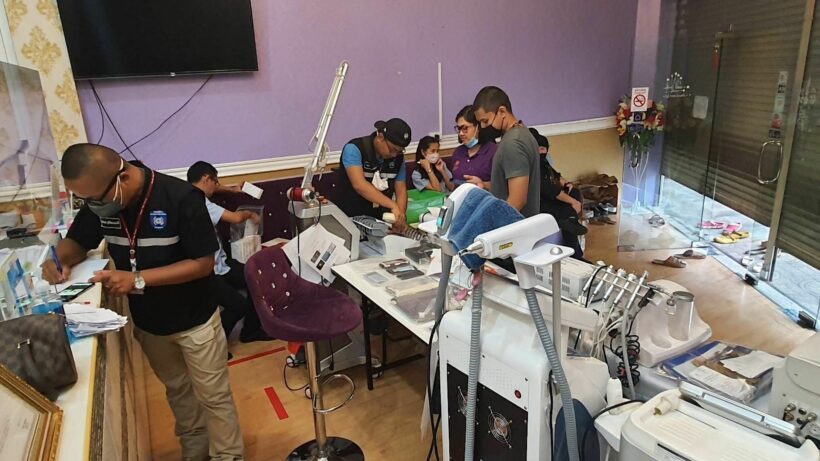 The clinic's registered doctor had cancelled the clinic's medical registration in July 2020, however, officials found the clinic to still be open and operating as normal. Health office officials have requested the clinic to report back on who is actually in charge of the establishment but have not received a response despite the clinic staying open.
SOURCE: Thai Residents
Keep in contact with The Thaiger by following our
Facebook page
.
Never miss out on future posts by
following The Thaiger
.
'Noul' weakens as it pushes through Central Thailand today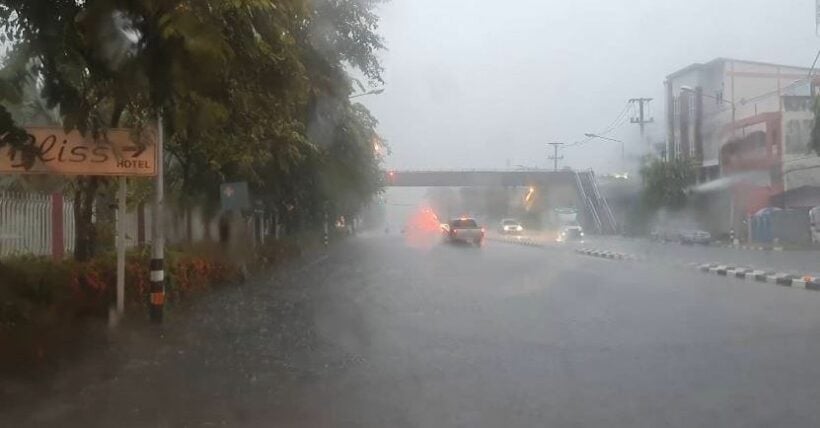 The remnants of Tropical Storm Noul are now situated over Central Thailand after passing over Vietnam's central coast yesterday morning and then into Laos and north eastern Thailand last night with some high winds and rain preceding the eye of the storm.
Provincial officials warned of flash floods and landslides in northern provinces ahead of the storm. The depression, now continuing to weaken, continue to head westwards through Thailand today. The PM this morning asked officials to be "efficient" in attending to any emergency requests.
The Joint Typhoon Warning Centre this morning reported that 'Noul' made landfall on the Vietnamese central coast, just north of Hue, in the early hours of September 18 (Friday, Thai time) and begun to track inland as it slowly started to dissipate and lose strength, whilst dropping heavy rain in its path.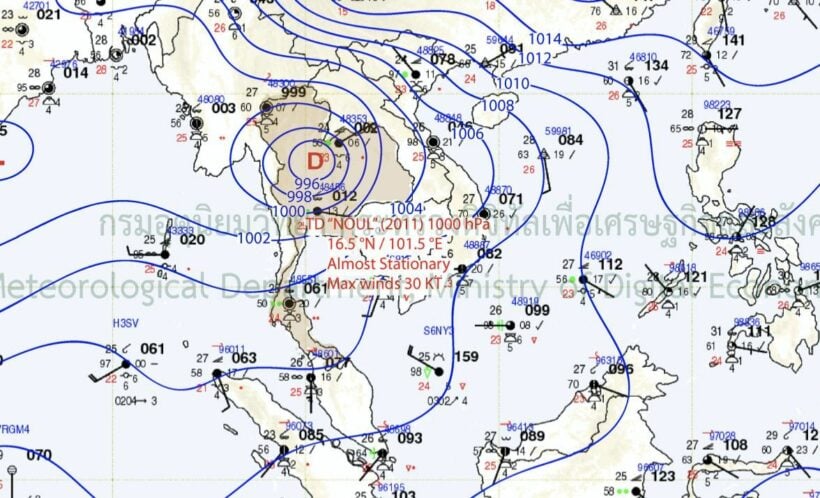 Thailand's meteorological department is still warning those in its path to stay on "high alert" this weekend.
"People were strongly advised to stay indoors and avoid sheltering under unstable structures due to strong winds."
Rain has been heavy ahead of the storm, especially in the north east and eastern regions, with rain expected in many part of the country today. The tropical depression is also dragging moist air from the Indian Ocean, intensifying the south west monsoon and increasing rain in Thailand's south.
Bangkok's forecast today is for the rain to continue. Heavier rain is expected in central and western Thailand, and parts of the north.

Keep in contact with The Thaiger by following our
Facebook page
.
Never miss out on future posts by
following The Thaiger
.
Police crackdown on major drug syndicate, make 3 more arrests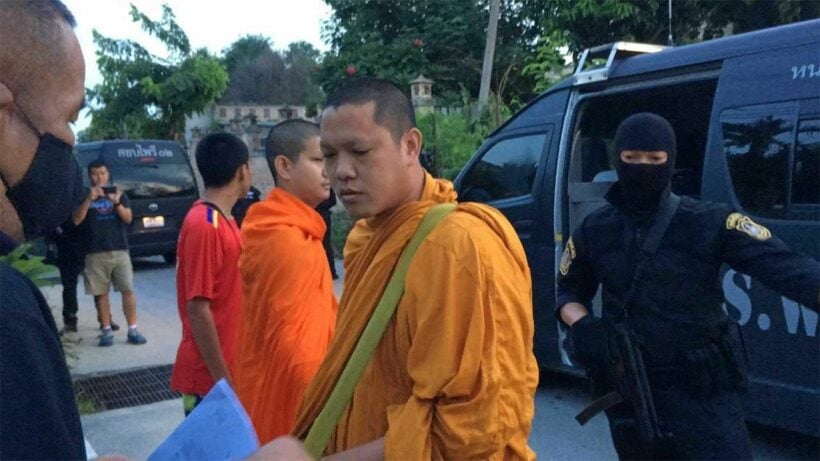 "A warrant was issued for his arrest in 2018, but he wasn't arrested until June of this year."
Police made 3 arrests in an effort to take down a major drug syndicate, totalling up to 16 arrests related to the gang. The 3 arrests, which included a man in monkhood, are all connected to a major drug dealer named Jittaphan Meemuang, also known as the alias Jun Bordin.
Jitaphan's network allegedly smuggles illicit drugs from northern border provinces and keeps them at a Sing Buri warehouse. The drug network operates in the Central Plains region and has about 1 billion baht in circulation. Jitaphan has allegedly been in the drug trade for the past 10 years. A warrant was issued for his arrest in 2018, but he wasn't arrested until June of this year.
Police say his "right hand man" is 21 year old Arnon Kiram. Police recently arrested Arnon in a field about a kilometre away from his home in Lop Buri on a warrant for colluding in illicit drug trade. Police say Arnon runs a soil excavation business and a restaurant as a cover up, possibly to launder money.
Arnon told police he had heard of Jittaphan's drug, but he's not involved. He says a member told him to transfer a small amount of money at an ATM, but that's all.
Commissioner of the Narcotics Suppression Bureau Chinnapat Sarasin says officers first went to Arnon's house. The fan was still turned on, but Arnon wasn't inside. Officers then flew a camera drone and saw the man running off into a corn field. Arnon says an employee called and told him the police were looking for him. He ran because he was scared, he says.
Another arrest was made while the suspect was in monkhood in Sing Buri. 30 year old Pornthep Phucharoenwanit was arrested while he was collecting alms. Not only was he charged with colluding in the drug trade, but he was expelled from the temple.
The third arrest was 30 year old Atchariya Chuenchom in Sing Buri. Police say both Pornthep and Atchariya work for the drug network by finding new customers and collecting money.
SOURCE: Bangkok Post
Keep in contact with The Thaiger by following our
Facebook page
.
Never miss out on future posts by
following The Thaiger
.