ASEAN-Hong Kong, China Free Trade Agreement comes into force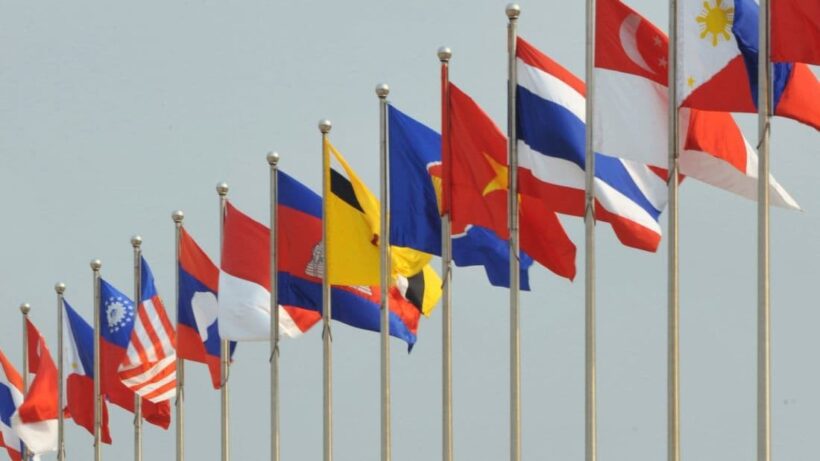 The ASEAN – Hong Kong, China Free Trade Agreement (AHKFTA – that acronym's never going to fly!), came into force this week for Hong Kong and five ASEAN member states, namely, Laos, Myanmar, Singapore, Thailand and Vietnam.
Under the AHKFTA, Hong Kong and Singapore will grant tariff-free access and keep their customs duties at zero upon entry into force of the agreement. Brunei Darussalam, Malaysia, the Philippines and Thailand will eliminate customs duties on 85% of products traded with Hong Kong within the decade and reduce another 10% of tariff lines within 14 years.
Indonesia and Vietnam will eliminate customs duties for 75% of their products within ten years, and reduce another 10% of tariff lines within 14 years. Meanwhile, Cambodia, Laos and Myanmar will eliminate customs duties for 65% of their products within 15 years and reduce another 20% of tariff lines within 20 years.
Dato' Lim Jock Hoi, the Secretary-General of ASEAN says the agreement is a significant outcome for ASEAN and trading neighbours.
"This is also reflective of ASEAN and Hong Kong's support for a rules-based international trade system, and signals our commitment to strengthen trade and investment links among our nations."
It is ASEAN's sixth free trade agreement with external partners, after China, Korea, Japan, India, and Australia-New Zealand.
Thailand is the ASEAN Chair for 2019 and is hosting the 34th ASEAN Summit June 20-23 in Bangkok
SOURCE: ASEAN


Do you need help with your business? Are you searching for a new job? Or an employer looking to hire? Try JobCute today.

More currencies in Asia strengthen – Indonesian rupiah crosses major threshold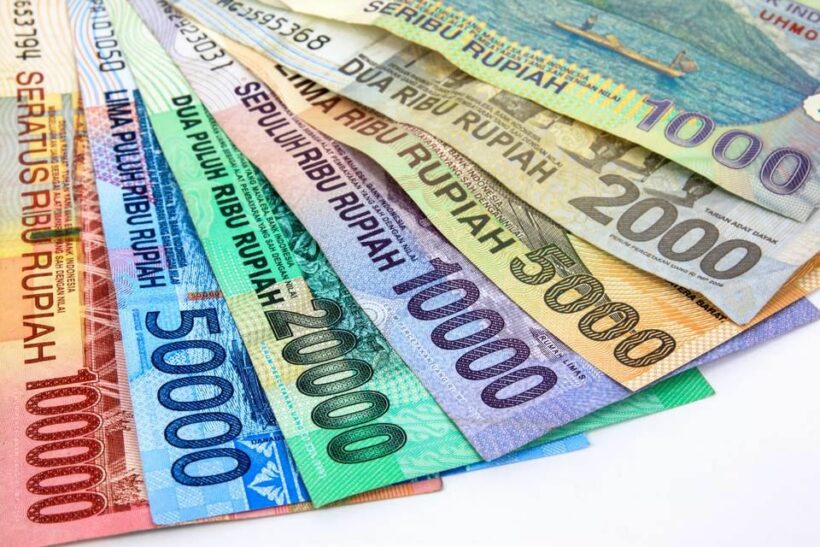 The Thai baht isn't the only Asian currency performing well against some of the western currencies. The Indonesian rupiah has strengthened 0.54% to 13,932 to the US dollar yesterday (Monday) from 14,008 on Friday.
It became the best performing currency in Asia, though other currencies in the region have also also strengthened: Yesterday there was improvement of 0.19% for the Malaysian ringgit, 0.13% for the Chinese yuan, 0.08% for the Taiwanese dollar, 0.05% for The Philippine peso, 0.02% for the Singapore dollar and 0.02% for the Thai baht.
Investment company Money Investindo analyst Faisya said the Indonesian rupiah's appreciation has been triggered by domestic factors, particularly the meeting between Indonesian President Joko "Jokowi" Widodo with his main political rival, Prabowo Subianto, over the weekend.
"The political situation has calmed down and investors are now confident about Indonesia's economic development," Faisyal said as quoted by kontan.co.id, adding that the rupiah exchange rate could be maintained above 14,000 rupiah to the US dollar.
He added that external positive sentiments, namely the speech of US Federal Reserve chair Jeromy Powell who said he was open to the possibility of lowering the Fed's key rate, also contributed to the rupiah's appreciation.
Vietnam pushing to be leading digital economy in ASEAN by 2030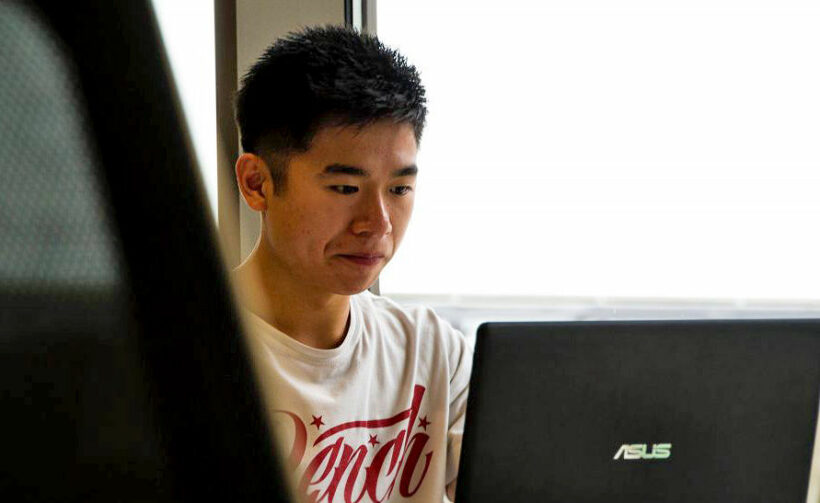 Excerpts from Viet Nam News – Asia News Network
Vietnam wants to be the leading digital economy in ASEAN by 2030.
A draft project on national digital transformation by Vietnam's Authority of Information Technology Application (AITA) is being submitted for approval in November. The project aims to develop the Vietnamese economy based on digital technologies.
Speaking at a conference this week to review MIC's activities in the first half of the year, Vietnam's AITA director Nguyen Thanh Phuc said that all people would be able to participate in the digital economy.
Phuc said the main targets would include improving the competitiveness of the economy, with the average growth rate of the digital economy reaching 20 per cent a year, and labour productivity growth of 7-10% by 2030.
The project also aims to take Vietnam into the global top 20 and ASEAN top three in terms of the global competitiveness index, as well as building a transparent and effective government to be in the world's top 50 in terms of e-government. The project also plans to have everyone using mobile payment services by 2030.
The AITA has proposed that the digital transformation road map in Vietnam would be implemented in three phases…
• the country would digitalise industrial sectors and implement digital transformation of the economy, society and State agencies from 2020-22
• it would focus on digital transformation to improve labour productivity, creating new growth momentum and competitiveness from 2023-25
• it would move towards the development of a comprehensive digital economy and society from 2026-30
Vietnam's Ministry of Information and Communications stated that Vietnam needed to develop a safe network security ecosystem. There would be some 100 network security businesses in the next two years while 50 network security products and services by Vietnamese firms would be widely used. The number of specialists in the sector would reach some 1,000 people and bring the market to US$1 billion to $2 billion by 2020.
Statistics from the ministry show that the network security sector has seen strong development. In the first half of the year, there were 20 firms granted business registration on trading of network security products and services.
Read the full article HERE.
ASEAN commit to eliminating marine plastic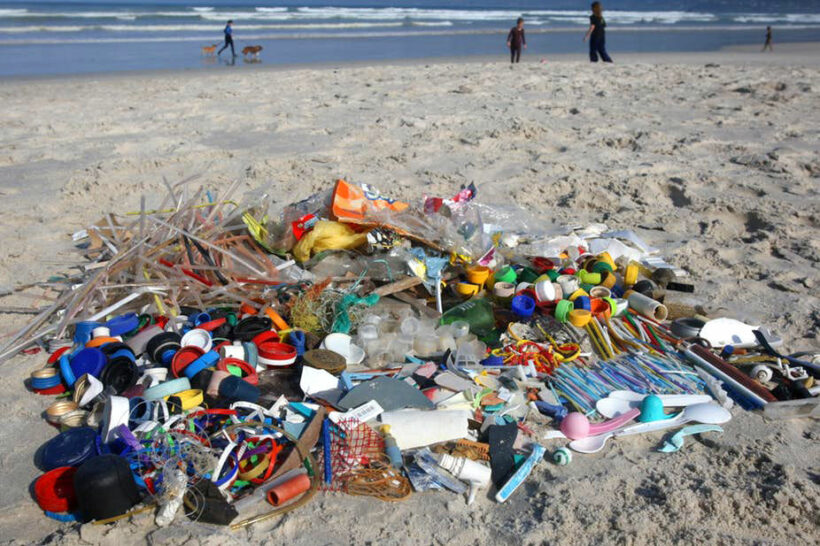 "At present, four ASEAN members are the world's top ocean polluters, namely Indonesia, the Philippines, Vietnam and Thailand."
At the recent 34th ASEAN Summit in Bangkok last month the 10 member states of ASEAN (Association of Southeast Asia Nations) adopted "The Bangkok Declaration on Combating Marine Debris in the ASEAN Region" in an effort to eliminate marine plastic debris in the region. ASEAN officials describe the document as a testament to the group's attempts to address the problem in a serious and sustainable manner.
"ASEAN agreed to concentrate on the issue of marine debris, which has a widespread impact on the well-being, health and hygiene of people, marine life and resources" said PM Prayuth Chan-o-cha.
Thai PBS reports that, at present, four of the ASEAN members are the world's top ocean polluters – Indonesia, the Philippines, Vietnam and Thailand – according to a 2017 report by Ocean Conservancy. Each country is now individually attempting to curb the cataclysmic issue.
For example, Indonesia is the world's second-largest producer of plastic waste after China, contributing around 3.22 million tonnes annually. With Bali's beaches suffering from the plastic litter problem for years, the island's governor has imposed a ban on single-use plastics, aiming to reduce the amount of plastic waste by as much as 70% within a year.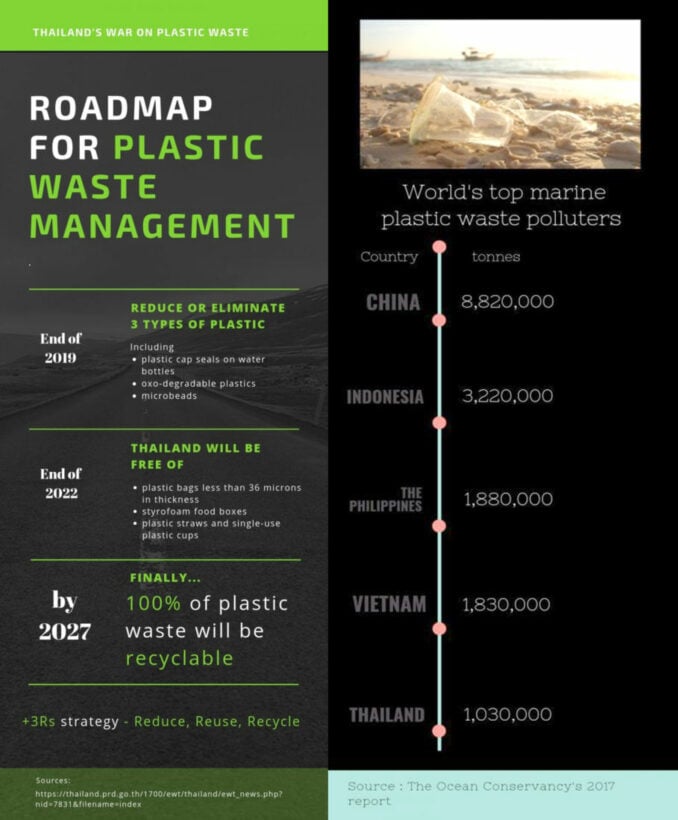 The Philippines generates an estimated 1.88 million tonnes of plastic waste every year.  In a show of its seriousness in dealing with the problem, the Philippines returned 69 shipping containers of illegal rubbish back to Canada after a long-running dispute between the two countries. Likewise, Malaysia, the world's top destination for plastic waste after China, will send as much as 3,000 tonnes of non-recyclable plastic waste back to the countries of origin.
Thailand is currently the world's sixth largest source of plastic polluting the ocean, with 1.03 million tonnes each year. The government has taken a proactive approach by initiating the Roadmap on Plastic Waste Management for 2018 – 2030. The goal is to reduce or eliminate three types of plastic by the end of this year, including plastic cap seals on water bottles, oxo-degradable plastics and microbeads.
By the end of 2022,  Thailand hopes to be free of plastic bags less than 36 microns in thickness, styrofoam food boxes, plastic straws and single-use plastic cups. Finally, 100% of plastic waste will be recyclable by 2027.
"When you reuse, the reduction comes" said Dr. Thevarak Rochanapruk, an expert in petrochemicals and a member of The Interdisciplinary Network of The Royal Institute of Thailand.
"This policy really is a good start, very good, but now they cannot do it alone. The government needs help from public sector and from the media, academia and so on. Raising public awareness is the key because they are the ones using plastic" he added.
ORIGINAL ARTICLE: Thai PBS