Helicopters high over Halong Bay, Vietnam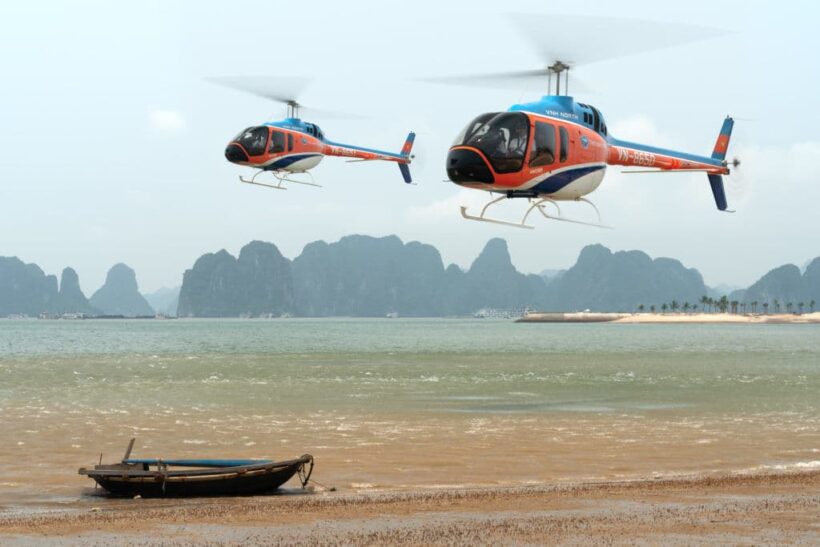 Your visit to Vietnam's Halong Bay, a cruising Mecca for half a century, can now be enjoyed from above. The Northern Vietnam Helicopter Company will now provide scenic flights over the famous bay, one of the most popular tourist destinations in Vietnam.
Flights will start at $125 (3,920 baht) for a 12 minute flight – that will take you over six tourist sites, including Thien Cung cave, Titop island and Bai Tu Long Bay.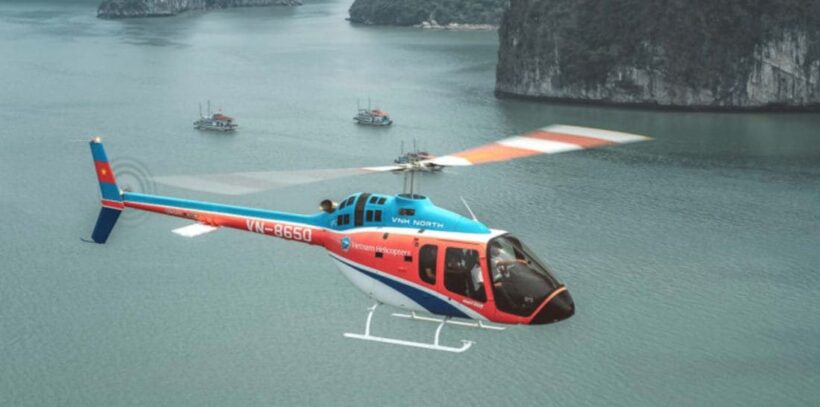 You can choose to take flights up to 40 minutes in length which will cost you $396 (12,400 baht) which will take you over 17 different landmarks around the Bay.
Halong Bay was added to UNESCO's World Heritage List 25 years ago and is filled with more than 1,600 limestone islands and islets, a similar landscape to Phang Nga Bay, north of Phuket in Thailand.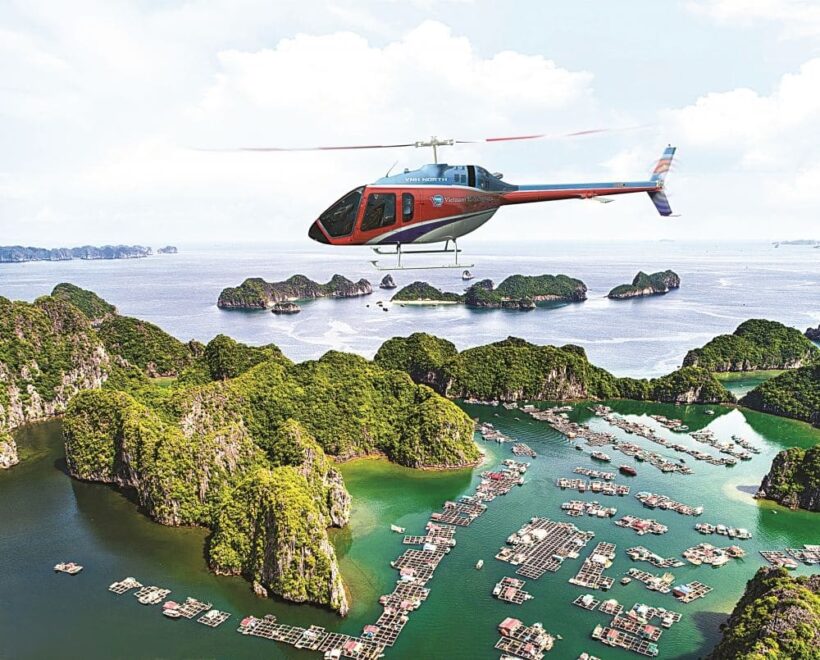 Two Bell 505 helicopters service the Halong Bay Scenic Flight service. Flights depart from and arriving at Tuan Chau island, which is about 170 kilometres from the country's capital Hanoi. The helicopters will carry up to three passengers per flight and promise breathtaking views thought large windows adapted for the scenic flights.
Hai Au Aviation is also operating scenic flights over Halong Bay, this time by seaplane. The 25 minute flights takes off and land from the water at Tuan Chau Island Marina. The costs for the scenic flights by seaplane are also up around the $120 (3,750 baht) mark, depending on the season and includes views of Dau Be Island, Cong Do Island and Bo Hon Island.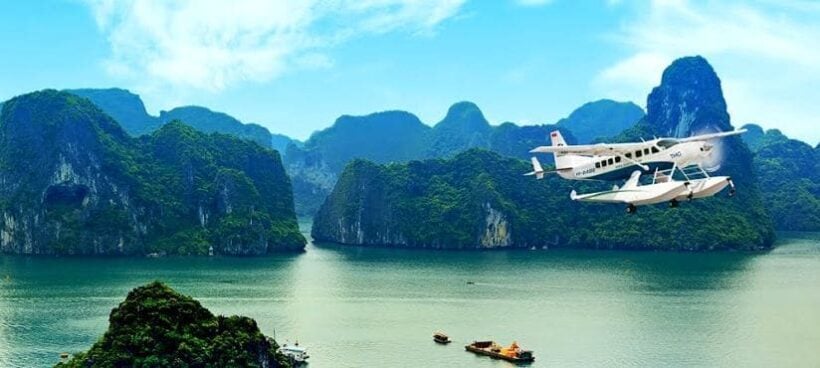 Keep in contact with The Thaiger by following our
Facebook page
.
Never miss out on future posts by
following The Thaiger
.


Find more SE Asian News courtesy of The Thaiger.

Broke? Find employment in Southeast Asia with JobCute Thailand. Rich? Invest in real estate across Asia with FazWaz Property Group. Even book medical procedures worldwide with MyMediTravel, all powered by DB Ventures.

Governor halts movement of goods between Tak and Myanmar amid Covid fears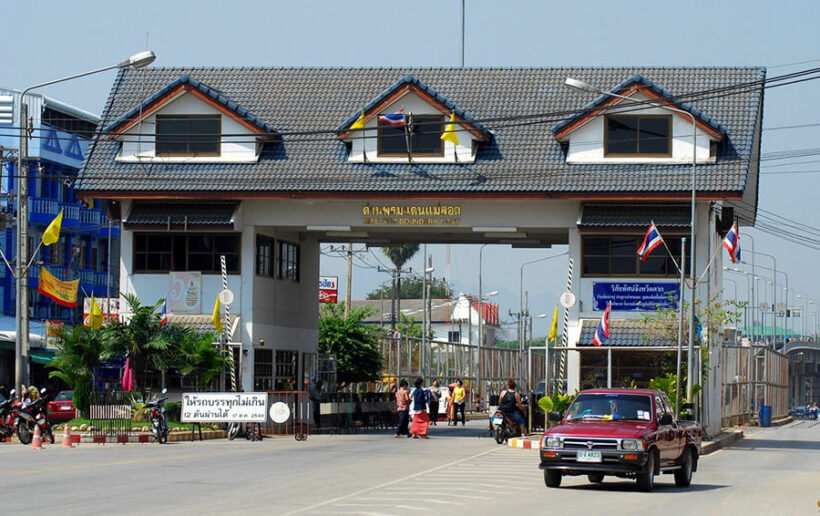 The governor of the north-western province of Tak has put a temporary stop on the transport of goods between the province and Myanmar, just across the border. The suspension comes amid increasing anxiety about the number of Covid-19 cases in the neighbouring country and is expected to remain in force until at least October 25.
Governor Pongrat Piromrat called a halt to the movement of goods after 3 Burmese truck drivers tested positive for the virus, followed by 3 Burmese workers, all members of the same family, who were living in the Mae Sot district of Tak. Last week, residents of Mae Sot gathered at a checkpoint by the Friendship Bridge, which spans the Moei River, and connects Mae Sot with the Burmese city of Myawaddy. They were protesting what they see as lax control of drivers crossing from Myanmar into the Kingdom.
Thai PBS World reports that the area where the latest infections have been discovered is now under 24 hour watch by village guards, with everyone entering and leaving having to undergo health screening, including temperature checks.
SOURCE: Thai PBS World
Keep in contact with The Thaiger by following our
Facebook page
.
Never miss out on future posts by
following The Thaiger
.
King Bhumibol Adulyadej – in remembrance of the "Father of Thailand"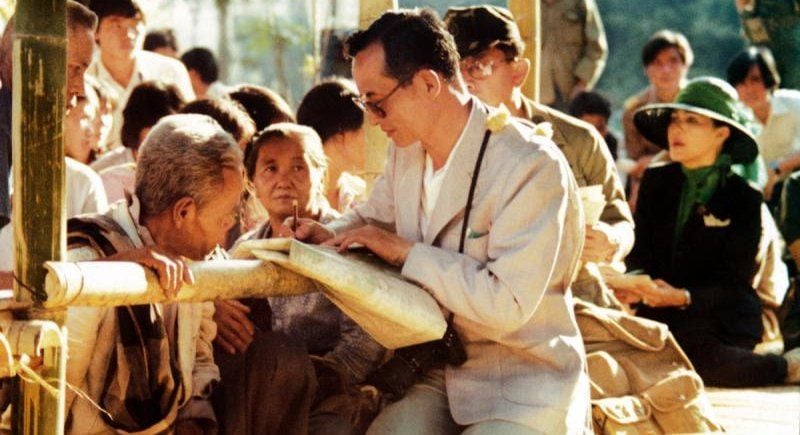 His Majesty King Bhumibol Adulyadej was Thailand's monarch for just over 70 years. At the time of his passing in October 2016, King Bhumibol was the world's longest-serving head of state and the longest-reigning monarch in Thai history. Amongst his many other gifts, he was was revered as a calming and compassionate influence, overseeing Thailand's stormy political history in the second half of the 20th century.
Four years later his enduring legacy casts a wide shadow over the Kingdom of Thailand with his influence shaping, not only Thai culture in the second half of the 20th century, but also Thailand's standing in the region with a deft avoidance of some of the more debilitating conflicts around South East Asia.
His Majesty King Bhumibol, Rama 9, the ninth king of the Chakri Dynasty, was born on December 5, 1927 and passed away on October 13, 2016 at the Siriraj Piyamaharajkarun Hospital in Bangkok. He had been living in and out of the hospital in the years before his passing.
Bhumibol's early days
It's a surprise to some, but Bhumibol Adulyadej was born on December 5, 1927, in Massachusetts, USA, not in Thailand. As the second son born to his parents, and because his birth took place outside of Thailand, young Bhumibol was never expected to ascend Thailand's throne. His reign came about through his older brother's mysterious death.
His father, Prince Mahidol Adulyadej, was studying for a public health certificate at Harvard University. His mother, Princess Srinagarindra, was studying nursing at the same time.
When Bhumibol was a one year old the family returned to Thailand, where his father took up an internship in a hospital in Chiang Mai. Prince Mahidol died of kidney and liver failure in September 1929.
Thailand's democratic revolution
In 1932, a coalition of military officers and civil servants staged a bloodless coup against King Rama VII. The Revolution of 1932 ended the Chakri dynasty's absolute rule and created a Thai constitutional monarchy, with an elected parliament. Princess Srinagarindra took her two young sons and daughter to Switzerland a year later where the children were placed in Swiss schools for their early education.
In March 1935, King Rama VII abdicated leaving his 9 year old nephew, Bhumibol Adulyadej's older brother Ananda Mahidol as Thailand's new monarch. But the child-king and his siblings remained in Switzerland due to his young age and nascent political developments in Thailand. Two regents ruled the kingdom in his name. Ananda returned to Thailand in 1938 but his brother Bhumibol continued his schooling in Switzerland until 1945 .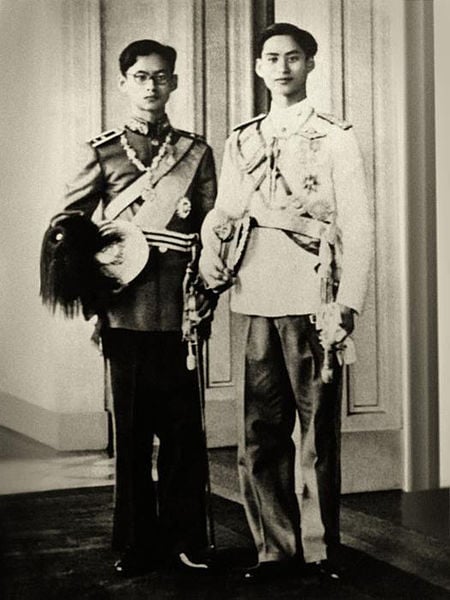 PHOTO: King Mahidol Adulyadej and his younger brother Bhumibol Adulyadej
On June 9, 1946, the young King Mahidol was killed in his palace bedroom from a single gunshot wound to the head. Two royal pages and the king's personal secretary were convicted of assassination and executed, although controversy still swirls around the incident. The young Bhumibol returned to the University of Lausanne in Switzerland to complete his degree and his uncle was appointed Regent, ruling in his place, back in Thailand.
Marriage to Queen Sirikit
The young King Bhumibol met the daughter of the Thai ambassador to France, a student named Mom Rajawongse Sirikit Kiriyakara, during a visit to Paris. Adulyadej and Sirikit began a courtship some time in 1946.
In October 1948, Adulyadej crashed into a truck and was seriously injured, losing his right eye and suffering back injuries. Sirikit spent a lot of time nursing and entertaining the convalescing king. King Bhumibol's mother encouraged Sirikit to transfer to a school in Lausanne so that she could continue her studies and spend more time with the young King.
Adulyadej and Sirikit were married in Bangkok on April 28, 1950. She was 17 and he was 22 years old. Bhumibol was officially crowned a week later to becmme King Bhumibol Adulyadej. Queen Mother Sirikit is still living in Bangkok and is frequently visited by members of the Royal Family.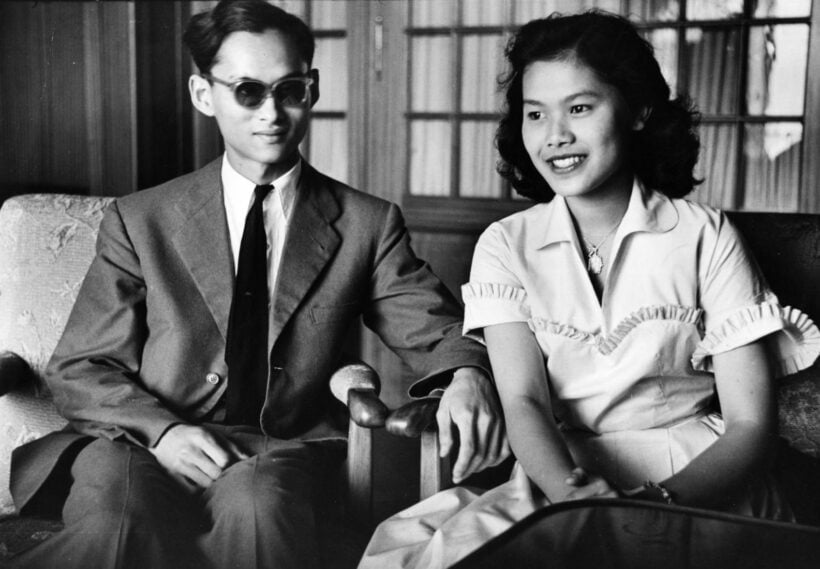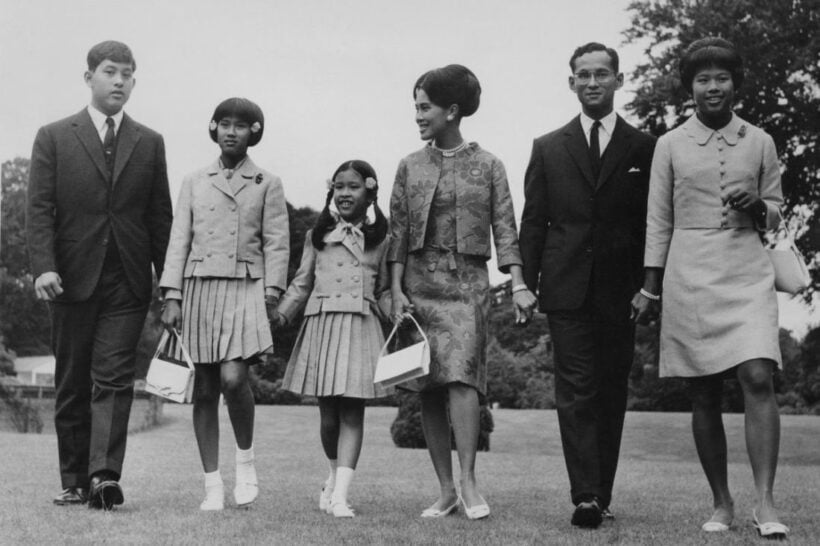 PHOTO: King Bhumibol Adulyadej, Queen Sirikit and his four children (a young Prince Maha Vajiralongkorn on the left)
Half a century of military dictatorships
In the early days of his reign, Thailand was ruled by a military dictator, Plaek Pibulsonggram, until 1957. Then the first of a series of coups, which would dog the Kingdom for the second half of the 20th century, removed him from office. The King declared martial law ending with a new military dictatorship formed under a trusted ally of King Bhumibol, Sarit Dhanarajata.
During the next phase of his rule the young King would revive many abandoned Chakri traditions, including the need for subjects and staff to kowtow – bowing and keeping their head below the monarch. He also started to make public appearances around the Kingdom – an activity which would become a hallmark of his reign, significantly reviving the prestige of the Thai monarchy and standing of the royal family.
Coups took place in 1963, 1977, 1980, 1981, 1985, and 1991 (and more in the 21st century). Although King Bhumibol worked hard to remain above politics, he refused to support the 1981 and 1985 coups, and was seen as a settling influence in the swirling political events, stepping in only when the situation needed to be diplomatically diffused.
Democratic governments
When a military coup leader was selected as PM in May 1992, huge protests broke out around Thailand. Known as 'Black May', the demonstrations turned into riots. Fearing a civil war, Kong Bhumibol called the coup and opposition leaders to a televised audience at the palace.
Adulyadej pressured the coup leader to resign. New elections were called and a civilian government was elected. This intervention was the beginning of civilian-led democracy that has continued, with a few military "interruptions", to this day, most notably the intervention of the military in a coup in 2014 when the National Committee for Peace and Order seized power. A quasi-democratic government, mostly made up of leadership from the 2014 Army coup, was elected in 2019.
King Bhumibol's image as an advocate for the Thai people, reluctantly intervening in the political fray to protect his subjects, became an enduring legacy.
Death
Since 2006, King Bhumibol suffered a number of health issues and was hospitalised frequently. He died at the Siriraj Hospital in Bangkok on October 16, 2016. Crown prince Maha Vajiralongkorn became the 10th King of the Chakri Dynasty, and his official coronation was held between May 4 – 6, 2019 in a grand spectacle watched on by millions of Thais.
Although Bhumibol was never intended to be Thailand's king, he is lovingly remembered as a successful and beloved Thai monarch, who helped calm successive political turbulence over the seven decades of his reign. Indeed, he is fondly referred to as the Father of Thailand, reigning for more than 70 years.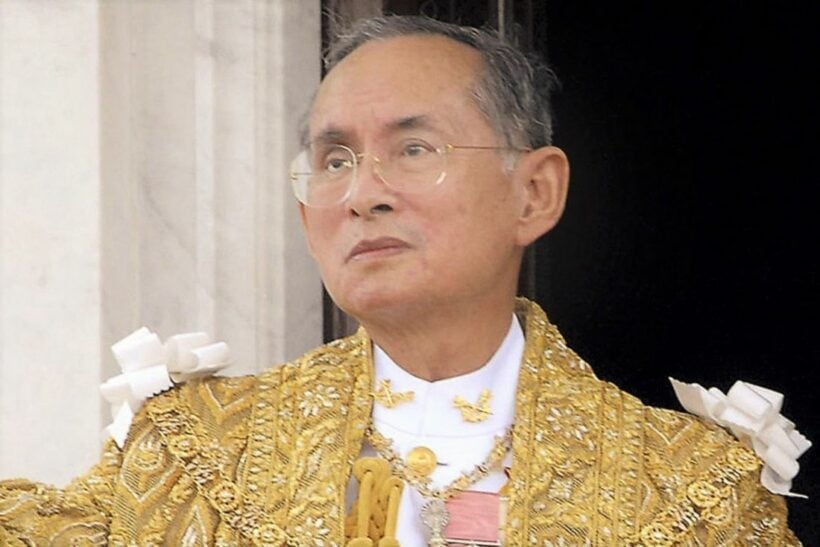 Keep in contact with The Thaiger by following our
Facebook page
.
Never miss out on future posts by
following The Thaiger
.
UPDATE: Covid-19 visitor entry around the region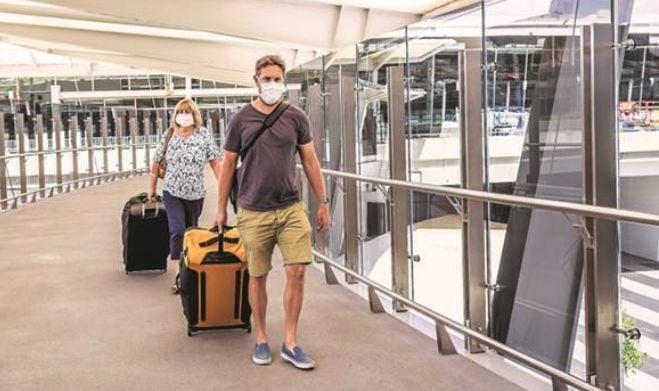 Around the region there are many countries starting to re-open their borders to allow some business or diplomatic visitors, even tourists, to enter their national borders. The situation is changing frequently and we'd urge you to contact the national embassies in your countries before making any concrete arrangements or paying money for airfares or accommodation before you clarify the situation, specific to your circumstances.
Here's some of the latest information as we whip around the region…
THAILAND
Thailand's Foreign Ministry has confirmed that the new Special Tourist visa will only be available to tourists from countries "deemed to be at low risk from Covid-19". At this stage Thai officials have not identified who the low-risk countries are, but it has been reported in Thai media that the list will probably include China, Taiwan, South Korea, Japan and Hong Kong. The Thai Sports & Tourism minister has also hinted that the government would probably be admitting selected low-risk "cities", rather than applying the policy to entire countries. None of these details are currently available.
The launch date of the STV, meant for the start of October, has been pushed back to at least October 25 after officials "postponed" a trial visit of 150 Chinese visitors on a chartered Air Asia flight to Phuket. It was meant to arrive on October 8 but mystery shrouded the arrival of the first batch of new tourists until the date passed, without a plane hitting the ground in Phuket and the Governor announcing that the Carter was pushed back until after the annual vegetarian festival is over.
The 90 day special tourist visa costs 2,000 baht and can be extended twice to give the visitor an overall stay of 270 days. It also comes with a lot of additional red tape and added costs and is being aimed at high-spend, long-stay tourists at this stage.
VIETNAM
Vietnamese officials have decided to lift a mandatory 14 day quarantine period for foreign "experts, investors, managers and diplomats" visiting the country for less than 14 days. The country's Ministry of Health says it will allow the "pursuit of dual goals to combat disease and ensuring economic growth."
These foreign visitors will now be exempt from the earlier 14 day quarantine at centralised state facilities "if they stay in Vietnam for fewer than 14 days".
"However, they have to comply with all other requirements, including wearing a mask and refraining from shaking hands to prevent the spread of Covid-19."
The visitors will also need to complete medical procedures, including a test for Covid-19 every two days. The companies and organisations that invite them into the country will need to guarantee that it, or an international insurance company, will bear any medical or other expenses "if they contract the disease in Vietnam".
The Vietnam Government Portal has announced that the updated quarantine concession will enable the country's industries and manufacturing sectors to bring in the necessary foreign expertise for "short stays" to supervise the installation or maintenance of essential machinery.
Last month, the Vietnamese government agreed to open a travel bubble between Vietnam and "investment partners, such as South Korea. For business people or visitors entering Vietnam for a period longer than 14 days, they will have to register at quarantine sites (hotels or the state-organised quarantine) and present negative Covid-19 certificates 3 – 5 days before arrival. Anyone testing positive will be admitted to medical centres for treatment.
"Those reporting negative results twice can switch from centralised quarantine sites to isolation at home or their place of work or a hotel until they complete their 14 day quarantine period."
HONG KONG
Hong Kong authorities have suspended Nepal Airlines flights until at least October 17. Civil aviation officials in Hong Kong introduced the ban October 4, after several passengers travelling from Kathmandu Airport to Hong Kong Airport tested positive for Covid-19 when they arrived, despite having presented a negative test result prior to departure.
JAPAN
China will be removed from Japan's list of banned countries from November. Along with the Chinese mainland, restrictions will be lifted for 11 other countries and regions, including Taiwan, Australia, New Zealand, Singapore, South Korea, Vietnam and Malaysia.
Japanese businesses say they are particularly keen for their staff to start travelling to China and around south east Asia, where many of their companies have factories.
International business travellers with residency status in Japan will also soon be permitted to reenter the country without undergoing the 14 day quarantine.
NEPAL
For its trekking sector, Nepalese officials have announced that it will give foreign nationals permission to enter the country for mountaineering and trekking from October 17, 2020, subject to providing a valid negative Covid-19 PCR test.
SINGAPORE
Travellers who resided in Australia for the last 14 days, except the southern state of Victoria, or Vietnam, can now enter Singapore subject to a Covid-19 test on arrival at Singapore Changi Airport. They will be exempt from serving a Stay-at-home 'quarantine' if their test was negative.
"Travellers need to complete an Air Travel Pass application between seven and 30 days before their intended arrival into Singapore."
Singapore and Indonesia have also reopened borders between the two countries for essential business and official travel. The new 'green lane' will start from October 26.
SRI LANKA
Entry to Sri Lanka is currently prohibited for all non-nationals. A 14 day quarantine is mandatory for anyone else travelling to Sri Lanka, followed by another 14 days self-isolation at home.
The situation is being updated by governments almost daily and we'll bring you all the latest information about borders re-opening around the region at thethaiger.com
SOUIRCE: TTRWeekly.com
Keep in contact with The Thaiger by following our
Facebook page
.
Never miss out on future posts by
following The Thaiger
.