Road incidents still the biggest killer in Thailand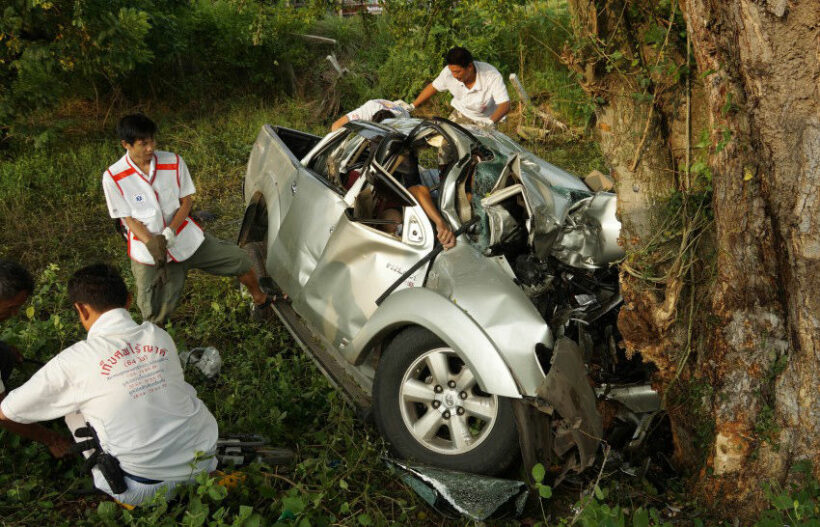 "A third of the victims were men and most were between the ages of 15 and 24."
Road accidents in Thailand accounted for 20,169 deaths last year. Most of those killed were students and young people. The figures are from the Public Health Ministry, the Royal Thai Police and Road Accident Victims Protection.
Motorcycles accounted for 70% of the fatal crashes, followed by 14% involving personal cars or pickups and 10% were pedestrians. These numbers were released as part of the 2018 Thailand road safety situation survey conducted by the Thailand Health Promotion Foundation and road-safety watch teams.
A lecturer from King Mongkut's Institute of Technology LadkrabangPreeda Jaturapong, says the findings show that a third of the victims were men and most were between the ages of 15 and 24. He says the eastern provinces of Rayong, Chon Buri and Chanthaburi had the highest number of road fatalities.
Other high scorers were the provinces of Saraburi, Chachoengsao, Prachin Buri, Sa Kaew, Prachuap Khiri Khan, Ayutthaya and Nakhon Nayok.
The provinces with the lowest road fatalities were Mae Hong Son, Bangkok, Yala, Pattani, Narathiwat , Satun, Nakhon Pathom, Nong Khai, Nong Bua Lampu and Nonthaburi.
Dr Withaya Chartbanchachai, director of the World Health Organisation Collaborating Centre, said that even though there were fewer road fatalities in 2018, the issue of road accidents remains a key and prolonged problem in Thailand, which still holds the top position when it comes to road fatalities in the ASEAN region.
Thailand is also very far from achieving its 2020 goal of bringing road deaths down to less than 20 for every 100,000 people, he said, citing the WHO's suggestion that this goal can only be achieved if problems such as lax law enforcement are solved.
SOURCE: The Nation
Keep in contact with The Thaiger by following our
Facebook page
.
Human hair trade exploits ASEAN women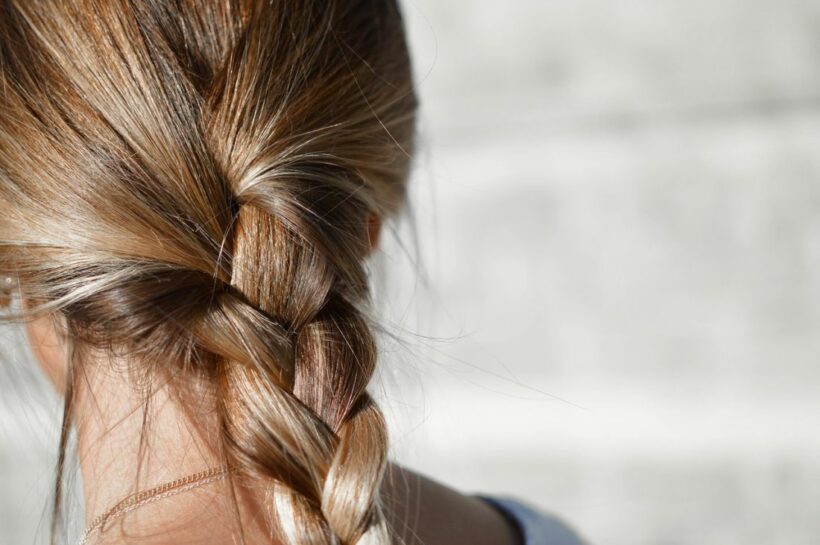 Hair extensions have become an essential part of the multi-billion-dollar hair industry, with estimated annual sales of 250 million to over 1 billion USD. Based on a 2018 Research and Markets report, the global hair, wigs and extension market is expected to surpass 10 billion USD by 2023.
Raw human hair has significant commercial value: it's a coveted commodity to be processed into hair extensions and wigs. According to a report by the Observatory of Economic Complexity (OEC), the global value for human hair exports in 2017 was 126 million USD. Asia exported 72.4 million USD, accounting for 58 percent of the global trade.
In India, the Tirupati Balaji temple earns 10 percent of its income through auctioning hair donated by devotees, raking in a profit of 25 million to 40 million USD annually.
There are three categories for collected hair: Remy, non-Remy and virgin hair. Remy is usually obtained from temple donations and is of the highest grade. Non-Remy hair is a lower grade, collected from individuals, and is typically broken or short. Virgin hairhas never been chemically treated.
In Southeast Asia, long hair is esteemed as a mark of beauty with deep religious and social meaning, especially in Buddhist countries. While most brands opt to acquire hair from India where it's donated for religious reasons, in Southeast Asia, traders target impoverished areas to buy hair from desperately poor people whose poverty makes them easy prey. Hair extensions in the US can cost 500 to 2000 USD, but the owner of the hair usually receives only a fraction of that. For example, Nguyen Thi Thuy of Vietnam says the highest she has ever been offered for her hair is 70,000 Vietnamese dong, or 3 USD. Pheng Sreyvy from Cambodia fared slightly better at 15 USD for her locks.
According to the Cambodian Human Rights and Development Association, women don't know how to bargain over the price of hair. "They decided to sell their hair because they are poor, and they don't know where to sell their hair for international market price," a spokeswoman said.
The high value of human hair has made hair-theft muggings a recurrent problem in some countries, and some companies have resorted to chemical processing or a mixture of human and goat hair.
Increased awareness of exploitation has prompted many companies to collect hair from more transparent and ethical sources. While the human hair trade has provided many communities with income and opportunities, practices that exploit and deprive women of opportunities continue.
SOURCE: theaseanpost.com
Keep in contact with The Thaiger by following our
Facebook page
.
Thai Airways announces cancellation of six routes to four ASEAN destinations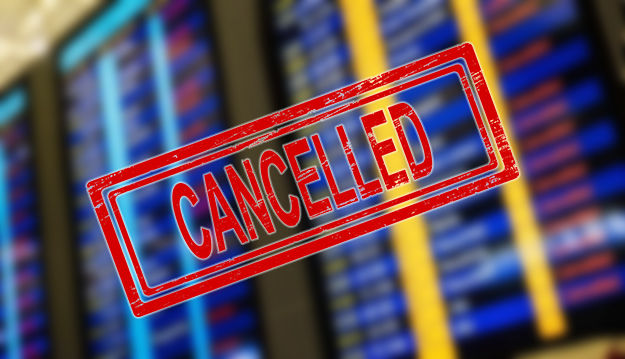 The President of Thai Airways International says the airline is set to cancel six flight routes to Laos, Vietnam, Cambodia, and Myanmar.
The Nation reports that Sumeth Damrongchaitham says the routes in question are all from Bangkok's Suvarnabhumi airport to Vientiane, Luang Prabang, Phnom Penh, Hanoi, Ho Chi Minh and Yangon.
"These routes are all covered by a small number of flights and have low customer capacity. Once the cancellation plan is finalised, THAI will assign Thai Smile Airways to cover these routes instead."
Sumeth cites increased competition as the reason behind the decision and the difficulties presented by rival airlines slashing prices to remain ahead of competitors.
"THAI needs to adjust our strategies too to preserve our reservation rate. We will focus on rolling out promotional campaigns until year end. However, next year's strategy remains to be seen. Our prices this year have been reduced to a record low and if this strategy doesn't work, we may take a different direction, such as seeking more partners for organisation tickets, increasing online channels, or giving privileges to frequent fliers."
SOURCE: nationthailand.com
Keep in contact with The Thaiger by following our
Facebook page
.
China has the most atheists, Indonesia and Philippines the most believers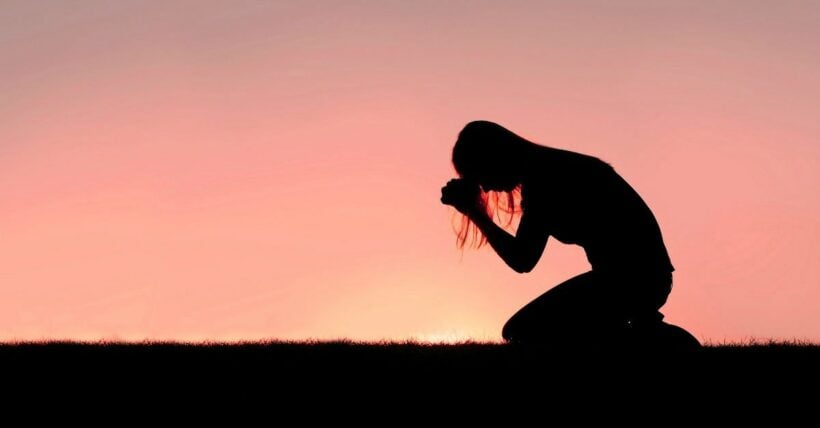 "According to the survey there is a connection between religiosity, beliefs and socio-demographic characteristics like age, income and education level."
China is the least believing country in the world but belief in a God gets 100% mention in countries like Indonesia, Bangladesh and Philippines, according to the survey by Gallup International.
According to the survey exploring religious tendencies of 66,000 people in 68 countries across the world, 62 per cent of people in the world define themselves as religious, 74% of people globally believe we have a 'soul' and 71% believe in a God. Another 56% believe in heaven, 54% in life after death and 49% in hell.
China has the highest percentage of atheists in the world with 67% not believing in any religion. Every seven out ten people are atheists, more than double than any other country. 23% consider themselves as non-religious. Less than 10% identify themselves as religious in China.
China's atheist percentage is followed by Japan, a long way behind in second place at 29%, Slovenia (28%) and Chech Republic (25%). Despite rapid industrialisation and urbanisation religion has stayed relevant in the South Korean region with only 23% identifying as atheist.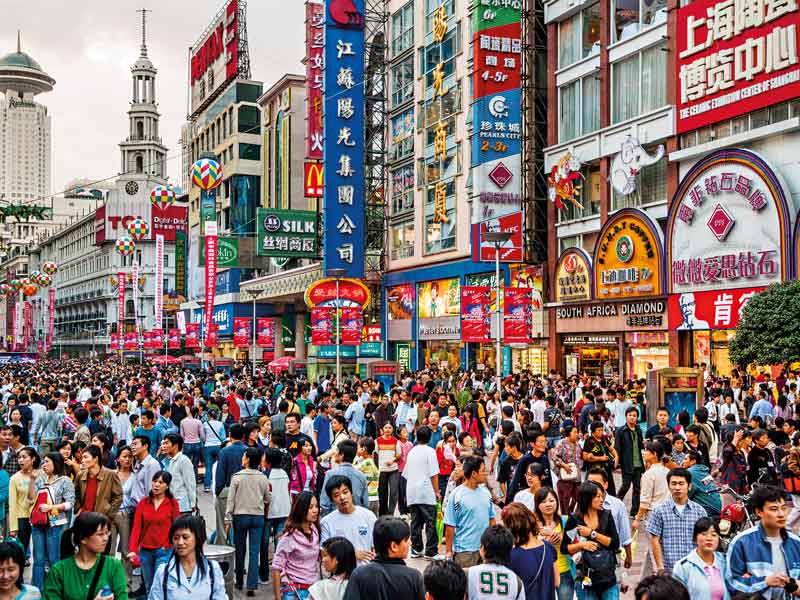 European countries like Belgium (21 %), France (21%) , Sweden (18%) and Iceland (17%) also have a large percentage of believing population.
Bangladesh, Indonesia and Philippines are the most believing countries with entire population claiming to believe in God, soul, hell and heaven. Thailand and Pakistan have 99% believing population, followed by India, Vietnam and Mongolia.
The survey shows that the levels of religiosity diminish as income and education levels increase. While 66% of people with low income affirm to be religious, this percentage drops to 50% among people with higher incomes. The same trend is verified in relation to education levels: 83% of people with lower education level are religious against 49% of higher level.
According to the survey there is a connection between religiosity, beliefs and socio-demographic characteristics like age, income and education level. As education and income levels grow higher, religiosity levels tend to go down. Also, the expression of different beliefs is higher among young people.
The level of education has a considerable influence on the perception of religion by the society. Women and young children show higher percentage for spiritual forces.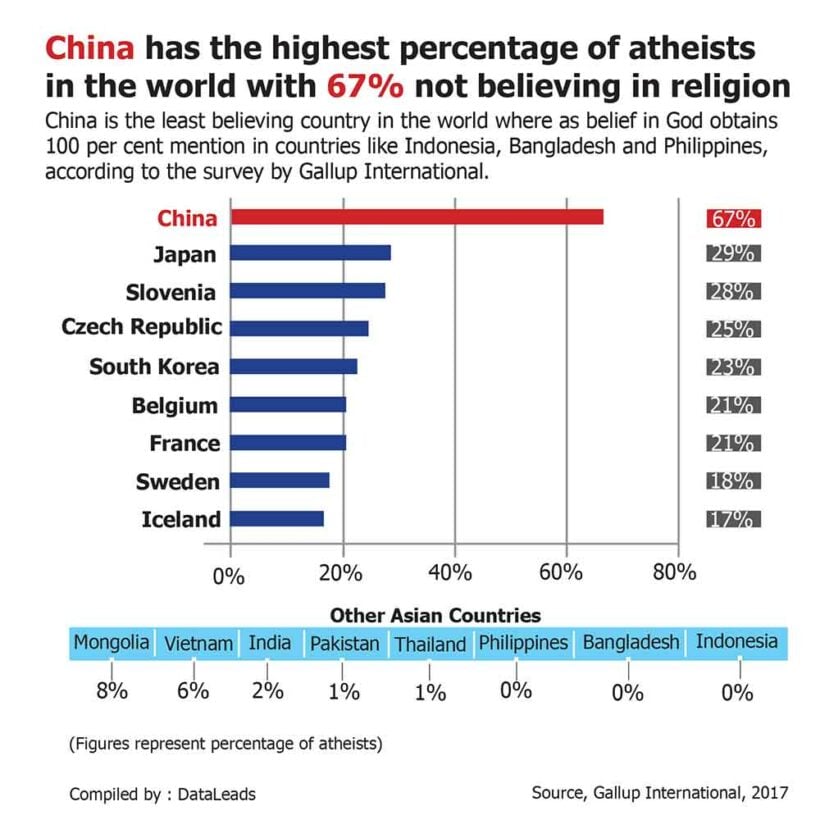 SOURCE: Data Leads
Keep in contact with The Thaiger by following our
Facebook page
.