Road incidents still the biggest killer in Thailand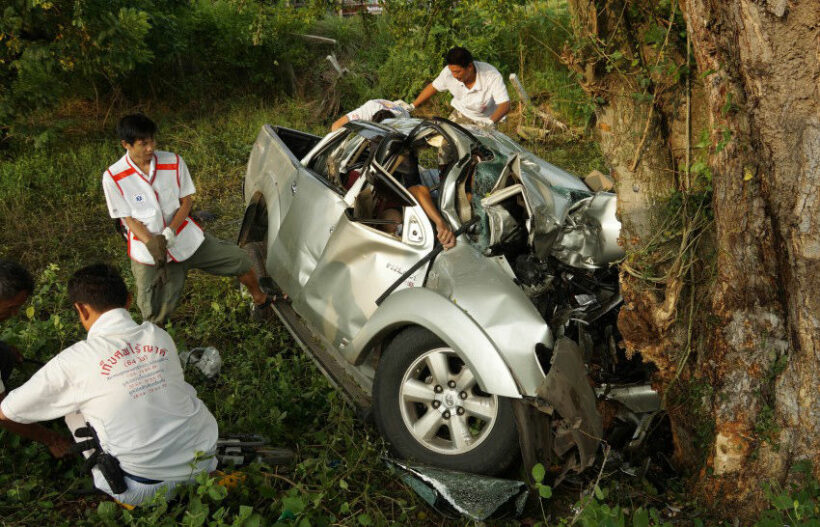 "A third of the victims were men and most were between the ages of 15 and 24."
Road accidents in Thailand accounted for 20,169 deaths last year. Most of those killed were students and young people. The figures are from the Public Health Ministry, the Royal Thai Police and Road Accident Victims Protection.
Motorcycles accounted for 70% of the fatal crashes, followed by 14% involving personal cars or pickups and 10% were pedestrians. These numbers were released as part of the 2018 Thailand road safety situation survey conducted by the Thailand Health Promotion Foundation and road-safety watch teams.
A lecturer from King Mongkut's Institute of Technology LadkrabangPreeda Jaturapong, says the findings show that a third of the victims were men and most were between the ages of 15 and 24. He says the eastern provinces of Rayong, Chon Buri and Chanthaburi had the highest number of road fatalities.
Other high scorers were the provinces of Saraburi, Chachoengsao, Prachin Buri, Sa Kaew, Prachuap Khiri Khan, Ayutthaya and Nakhon Nayok.
The provinces with the lowest road fatalities were Mae Hong Son, Bangkok, Yala, Pattani, Narathiwat , Satun, Nakhon Pathom, Nong Khai, Nong Bua Lampu and Nonthaburi.
Dr Withaya Chartbanchachai, director of the World Health Organisation Collaborating Centre, said that even though there were fewer road fatalities in 2018, the issue of road accidents remains a key and prolonged problem in Thailand, which still holds the top position when it comes to road fatalities in the ASEAN region.
Thailand is also very far from achieving its 2020 goal of bringing road deaths down to less than 20 for every 100,000 people, he said, citing the WHO's suggestion that this goal can only be achieved if problems such as lax law enforcement are solved.
SOURCE: The Nation
Police seeking arrest warrants for planners of August 2 Bangkok bombs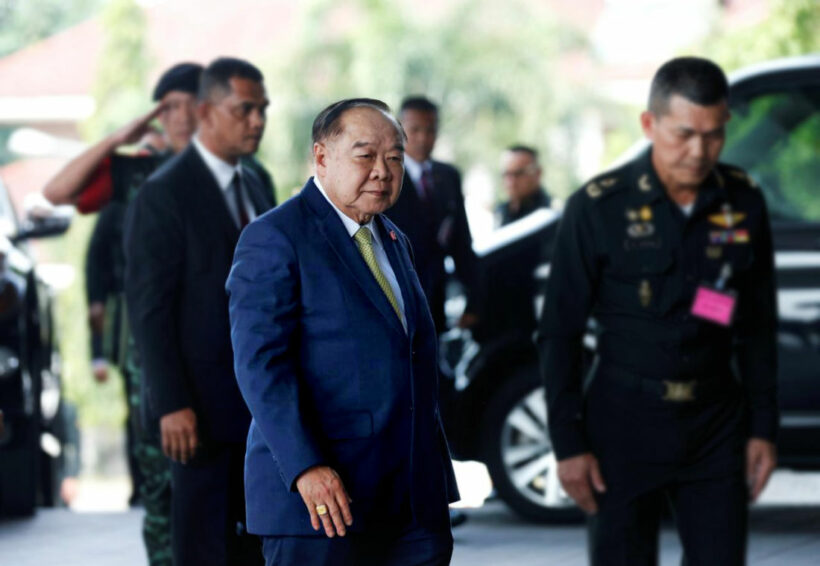 ORIGINAL PHOTO: Reuters
Police now believe that three suspects in the August 2 Bangkok bombings plotted much the attacks in a neighbouring country. Deputy PM Prawit Wongsuwon reported the latest in the investigations to the media today.
Gen Prawit reported that the three suspects were actively involved and have fled back to their country. Without mentioning the country (presumably Malaysia), Prawit said that police are seeking the assistance of their neighbouring counterparts to arrest and return the suspects to Thailand for questioning.
At this stage police have linked the attacks to insurgents in Thailand's far South where some of the Muslim-majority population remain in a long-term civil conflict with Thai buddhists and the government.
Police have also reported that the attacks were planned near the Thai-Malaysian border at a meeting of the planners, bomb-makers and attackers. A total of 15 suspects are believed to be involved in the bombings.
Meanwhile, two detained suspects in the bombings are back in Bangkok after being transported from Narathiwat. More about that story HERE. The Metropolitan Police will seek an extension to their lawful detention at the Bangkok South Criminal Court tomorrow.
Both suspects have been charged with organised crime, attempted murder, carrying explosives and illegal possession of explosives.
The two men are accused of planting two bombs on the steps of the Royal Thai Police HQ in the Thursday late afternoon. At the time authorities claimed the bombs were dummy devices. The bags contained a bomb that was set to go off at 8am on August 2 but were defused by bomb disposal officers. The other bombs went off in locations around Bangkok between 7-9am on August 2, during Bangkok's morning peak hour.
Six bombs and six incendiary devices detonated on August 2 as Bangkok hosted the ASEAN Foreign Ministers Meeting. Police believe the day was chosen to co-incide with the regional meeting to 'embarrass' the Thai government.
Air Asia celebrates ASEAN Day with a special Airbus A320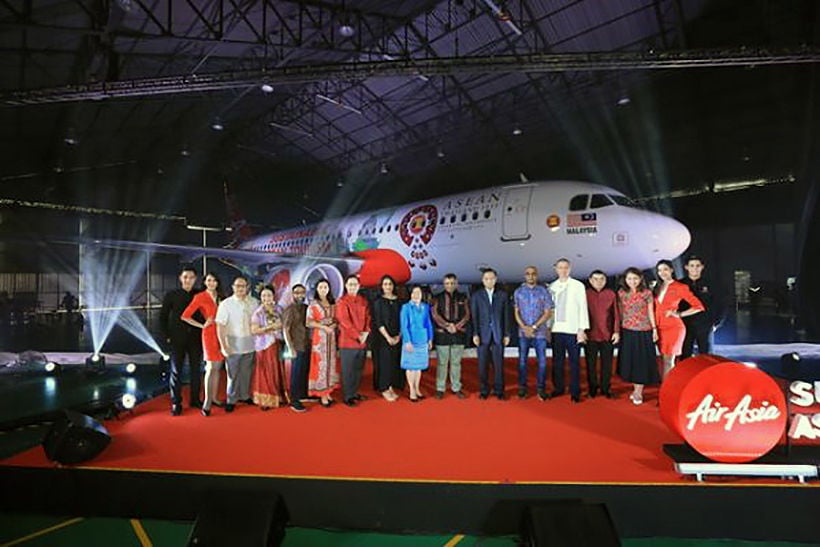 AirAsia introduced a 'Sustainable ASEAN' colour-scheme on a new Airbus A320 to mark ASEAN Day celebrations last week. Thailand is the Chair for ASEAN, the ten country south east asian trading bloc, for 2019.
Alongside the ASEAN Chairmanship logo, the livery features the best of ASEAN tourism icons, helping to advance and support AirAsia's sustainability partnership with ASEAN nations and its mission to create a globally recognised ASEAN brand.
The launch event was attended by ASEAN deputy secretary-general AKP Mochtan, Ministry of Tourism and Sports Thailand Permanent Secretary Chote Trachu and Ministry of Transport Thailand, Chaiwat Thongkamkoon, along with AirAsia Group executive chairman Datuk Kamarudin Meranun and AirAsia Group CEO Tony Fernandes.
AirAsia Group CEO Tony Fernandes said, "As a truly ASEAN airline, we're thrilled to showcase what makes our home special on one of our aircraft and to reiterate our ongoing commitment to sustainability."
AirAsia's sustainability efforts include guest education, carbon reduction and waste management through AirAsia's philanthropic arm AirAsia Foundation.
SOURCE: Air Asia
US-China trade war accelerates formation of RCEP trade bloc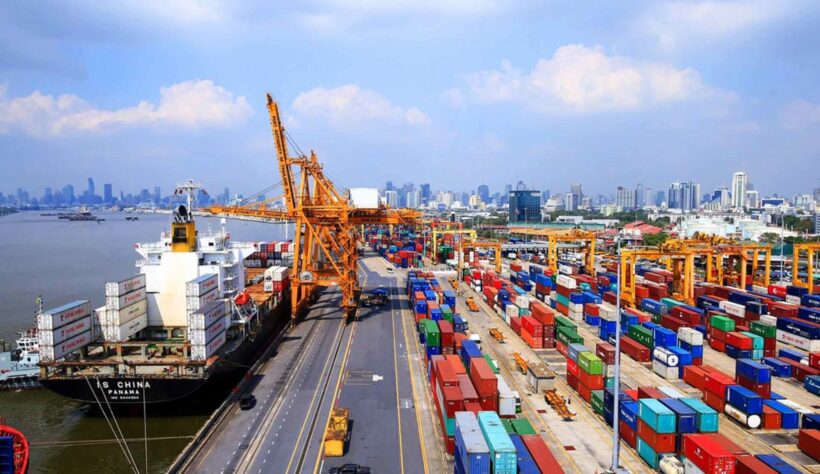 The escalation of the trade war between China and the US might help push forward negotiations of the Regional Comprehensive Economic Partnership (RCEP) free trade agreement.
RCEP, once formed, will be the largest trading bloc in the world.
Trade ministers from China, India, Japan, South Korea, Australia, New Zealand and the 10 ASEAN member states met in Beijing last weekend for the latest round of RCEP. Ministers confirmed their commitment to concluding talks by the end of the year end and signing the agreement in 2020. They are all scheduled to meet in Bangkok next month to finalise the agreement.
The RCEP meeting was held amid an intensifying trade war as the US President Donald Trump announced additional tariffs on US$300 billion of Chinese goods, triggering retaliatory measures from China. That's spurred a war of words between Japan and South Korea as well as traditional trade partners and pathways are disrupted. The countries involved hope that RCEP may provide a forum for members to ease tensions and ensure smooth continuity of regional supply chains amid growing geopolitical tensions.
Negotiations on a total of seven chapters and three annexes have already been concluded, while remaining chapters or annexes near conclusion. Recently concluded annexes include telecommunications, financial and professional services.
Thailand's Trade Negotiations Department Director General, Oramon Sapthaweetham, said the RCEP agreement should provide additional benefits to Thailand's exporters, on top of existing free trade agreements.
For examples, Thai exporters should be able to ship more machinery, electrical appliances, plastics, chemicals, autos and parts, tires, fibre, apparel, tapioca and paper to other RCEP countries.  Additionally, RCEP should lead to clearer trade and investment regulations.
The agreement should also encourage Thai investors to invest in other RCEP countries, in areas where Thailand has strong expertise, such as in construction, retail, health-related businesses as well as the movie and entertainment industries, especially in post-production and animation.
The new RCEP is intended to cover a wide range of issues from trade and investment to services, as well as new areas of business such as electronic commerce. Late last month, the Thai Cabinet gave trade negotiators a mandate to negotiate the intellectual property issue in RCEP.
SOURCE: Thai PBS