"Bad Students" protest group urges pupils to ditch their uniforms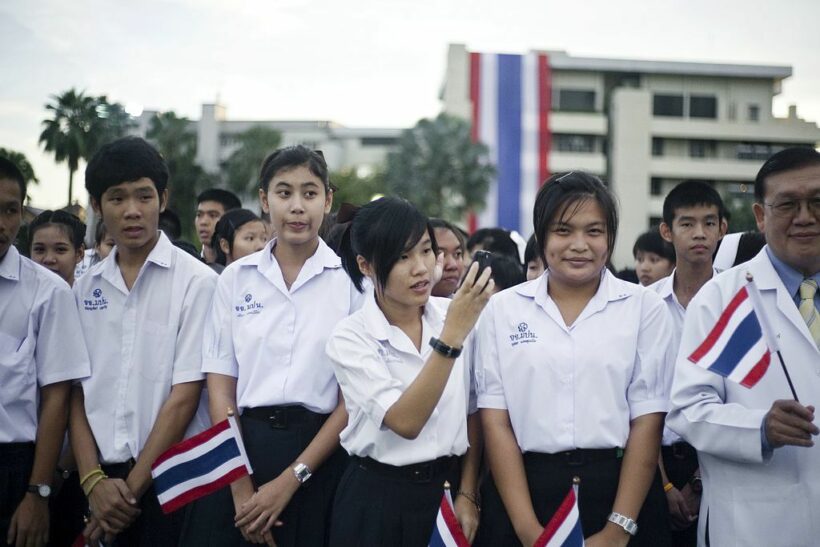 School students are being urged to ditch their uniforms and wear their own clothes from the start of the new term next week. The "Bad Students" protest group has posted an appeal on Twitter, calling on students to wear what they want.
"Finally, we can discard the obsolete uniforms and have the freedom to wear personal clothes. To all students, throw away those uniforms on December 1, and dress the way you prefer to go to school – #saygoodbyetouniforms."
According to a Bangkok Post report, the call has also been taken up by fellow activists in the north-eastern province of Khon Kaen. The Pakee Students KKC group took to Facebook to urge students to ditch their uniforms.
"We would like to invite all students to wear your preferred outfits to school. This is meant to question whether school uniforms are that important. Will teachers not allow us to attend class just because we don't wear uniforms? Why go to school if the principals and teachers are more interested in uniforms than schooling? If students cannot afford to buy uniforms, does this mean having no rights to attend class? Let's try and see if wearing outfits of our choice can reduce inequality. If there are 10 students wearing their preferred clothes, they may be punished. But if all students at a school do so, just imagine the changes this will bring."
Since anti-government protests began in mid-July, students have been railing against the Education Ministry, as well as the wider administration of PM Prayut Chan-o-cha. Amid claims of bullying, sexual harassment, and physical abuse in schools around the country, students have slammed Education Minister, Nataphol Teepsuwan, for his refusal to reform the system.
Meanwhile, Amporn Pinasa from the Office of Basic Education Commission says students refusing to wear their uniforms are in breach of school regulations. She adds that rules are there for a reason and that not everyone in society gets what they want. She points out that, rather than creating disparity, uniforms are more likely to foster a sense of equality among students.
"Wearing school uniforms will not have any direct impact on learning but it has its merits. Actually, wearing uniforms does help reduce inequality. If students wear their preferred personal clothes, it will lead to some students wanting to get the same expensive clothes as their more affluent friends, even though their parents are not as well off."
SOURCE: Bangkok Post
Keep in contact with The Thaiger by following our Facebook page.
Never miss out on future posts by following The Thaiger.
Security guard slaps student for displaying protest sign at Bangkok mall – VIDEO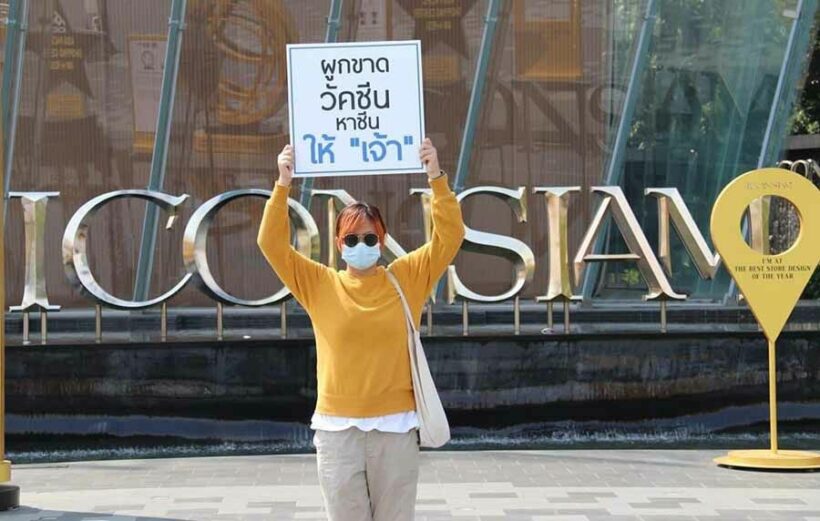 A security guard at the luxury Iconsiam shopping mall in Bangkok has slapped a student activist after she held up a protest sign at the facility. The confrontation occurred at around 2.30pm yesterday, when the Thammasat University student displayed a sign that read, "You monopolised the vaccine so the Monarchy could take the credit."
The student, named as 21 year old Benja Apan, was quickly surrounded by at least 7 staff members, with one security guard grabbing the sign before pushing away a camera that was recording the development. A sharp sound is then heard, followed by Benja screaming that the guard has hit her. She proceeds to call for help, while the men continue trying to restrain her.
VIDEO: Matichon TV
According to a Coconuts report, Benja and an unnamed associate appeared shortly after at Pak Khlong San Police Station, saying the security guards from the mall had taken them there. It's understood the organisation Thai Lawyers for Human Rights have provided Benja with a lawyer. A number of protesters also gathered at the police station in a show of support for the student, while speaking to police about the actions of the security guard accused of hitting her.
A representative of the shopping mall has apologised for the confrontation, saying it's investigating what happened. It says people should not voice political opinions on its premises.
Thailand has set aside 6 billion baht to produce the AstraZeneca Covid-19 vaccine locally. The manufacturer, Siam Bioscience, is a new pharmaceutical company owned by the palace.
SOURCE: Coconuts
Keep in contact with The Thaiger by following our Facebook page.
Never miss out on future posts by following The Thaiger.
Thailand's PM asks people to avoid political gatherings over concerns for their health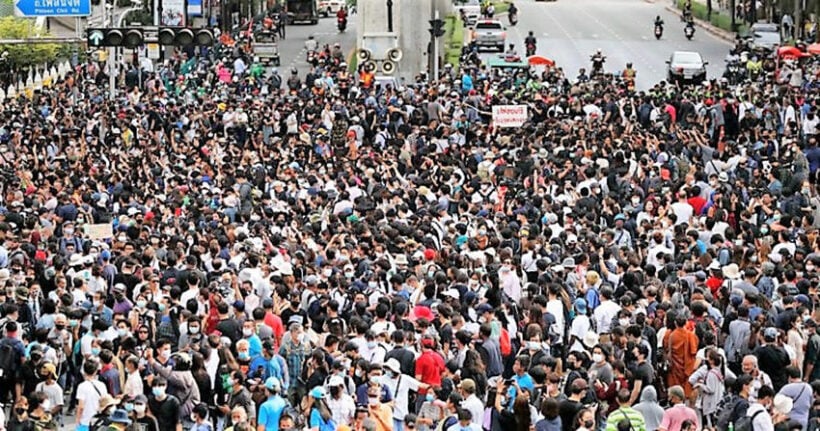 Thailand's PM is asking people to avoid political gatherings over concerns for their health due to the recent cooler weather. As the country is still not out of the woods with the recent Covid-19 breakout, the cold weather, in the northern half of the country, is adding to PM Prayut Chan-o-cha's health concerns for Thai people.
Government spokesman Anucha Burapachaisri says the situation still warrants the government's role to exercise its power under the emergency decree and Communicable Disease Act to help curb the spread of Covid-19.
He says all gatherings should be avoided, but is emphasising political ones and is thanking the "majority who have cooperated." Now, he says the government is set to introduce more measures to help those affected by the new round of Covid and are preparing new economic stimulus programs.
Anucha says another high pressure system from China will cover northern Thailand starting from today and lasting through January 19. The system would see temperatures drop by 2 to 3 degrees Celsius in the northern and central areas of Thailand with the northeastern area seeing a drop of 4 to 6 degrees. PM Prayut has also asked people to be careful when setting up bonfires to keep warm during the cold spell.
SOURCE: Bangkok Post
Keep in contact with The Thaiger by following our Facebook page.
Never miss out on future posts by following The Thaiger.
Student arrested in dormitory at night, charged with lèse majesté offences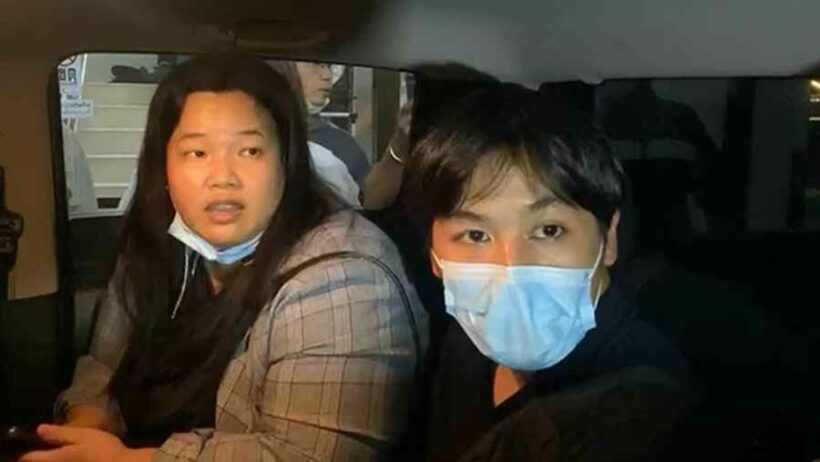 A student at Thammasat University's Rangsit Campus has been arrested and charged with violating Thailand's strict lèse majesté law. Ironically, it was his calls for the law to be abolished that led to Sirichai Natueng, aka, "New", being charged. The group, Thai Lawyers for Human Rights, has confirmed the student's arrest on its Twitter page.
After being taken into custody, the pro-democracy activist was driven to Khlong Luang police station, in the central province of Pathum Thani, just outside Bangkok. Other anti-government activists, including Parit Chiwarak, aka, "Penguin", and Panusaya Sithijirawattanakul ("Rung") followed, accompanied by representatives from TLHR.
Since the arrest, the hashtags #saveนิวมธ (Save New) and #ยกเลิกม112 (Cancel Section 112) have been trending on Twitter. Section 112 of Thailand's Criminal Code is the law governing lèse majesté, which carries a penalty of up to 15 years' imprisonment.
Sirichai, a member of the pro-democracy group United Front of Thammasat and Demonstration, has been charged with 2 lèse majesté offences. He is accused of defacing an image of the Monarchy, as well as the Rangsit campus sign, with graffiti calling for the abolition of the lèse majesté law.
SOURCE: Nation Thailand
Keep in contact with The Thaiger by following our Facebook page.
Never miss out on future posts by following The Thaiger.